01. Introduction: Back to reality with Frontier Airlines
02. Frontier Airlines A320neo Stretch seat San Diego to Austin
03. W Hotel, Downtown Austin
04. Hilton, Austin Airport
05. Frontier Airlines A320 Stretch seat Austin to San Diego
How come nobody ever talks about how difficult it is to figure out how many pairs of underwear to bring on a trip? It requires a not-so-insignificant amount of cognitive thought, which is especially stressful in the hours and minutes leading up to departure when you've got a million other things to think about as well.
Having to carefully plan out each and every shower and bath well in advance, taking into account things like emergencies and the logistics of dealing with unforeseen (and potentially embarrassing) accidents is a lot to think about – especially when you're upset with yourself for not having the foresight to figure all of this out two days ago.
It was at that exact moment when I was standing dazed and confused in my closet when I heard my phone let out an important-sounding notification buzz from across the room. Perfect timing for a distraction!
Thankfully, it was Frontier Airlines informing me that my flight to Austin had been delayed by three(!) hours and there was no point in leaving for the airport quite yet. Yes! Suddenly finding myself with three extra hours lifted what felt like a ton of weight off my back, and I returned to the closet determined to figure out my all-important underwear strategy for the coming days.
I also started doing an in-depth Allegiant vs Frontier comparison in my head, concerned that I may have made the wrong choice for this trip. Things have to be going very wrong to be wishing that you were flying Allegiant instead but…that was where I was at mentally.
F91702
San Diego, CA (SAN) – Austin, TX (AUS)
Saturday, June 23, 2018
Aircraft: A320-251N
Registration: N308FR
Duration: 2 hours 36 minutes
Seat: 3A (premium economy)
For those that don't feel like reading at the moment, here is the video I put together, with music courtesy of Epidemic Sound:
Despite the delay, this trip to Austin on Frontier Airlines was one that I had been looking forward to for quite a while. It had been exactly 3 years since the last time I set foot on a Frontier Airlines plane, and more than anything I really couldn't wait to see how much they've changed since then. After all, based on everything that I've been hearing, the switch to an ultra low cost business model has completely transformed them and this was very likely to be a brand new experience for me.
What wasn't so brand new was dealing with the struggles and frustrations of terminal 1 here at San Diego International Airport. Normally I'm the kind of person who has no problem showing up to the airport three hours early just to sit and watch planes (and people) before a flight, but this time I tried to time my arrival so that my waiting time would be minimized to as few minutes as possible. Let me tell you, that's a very difficult challenge for someone who naturally enjoys arriving at the airport so early. Cutting it close is a new sensation for me indeed!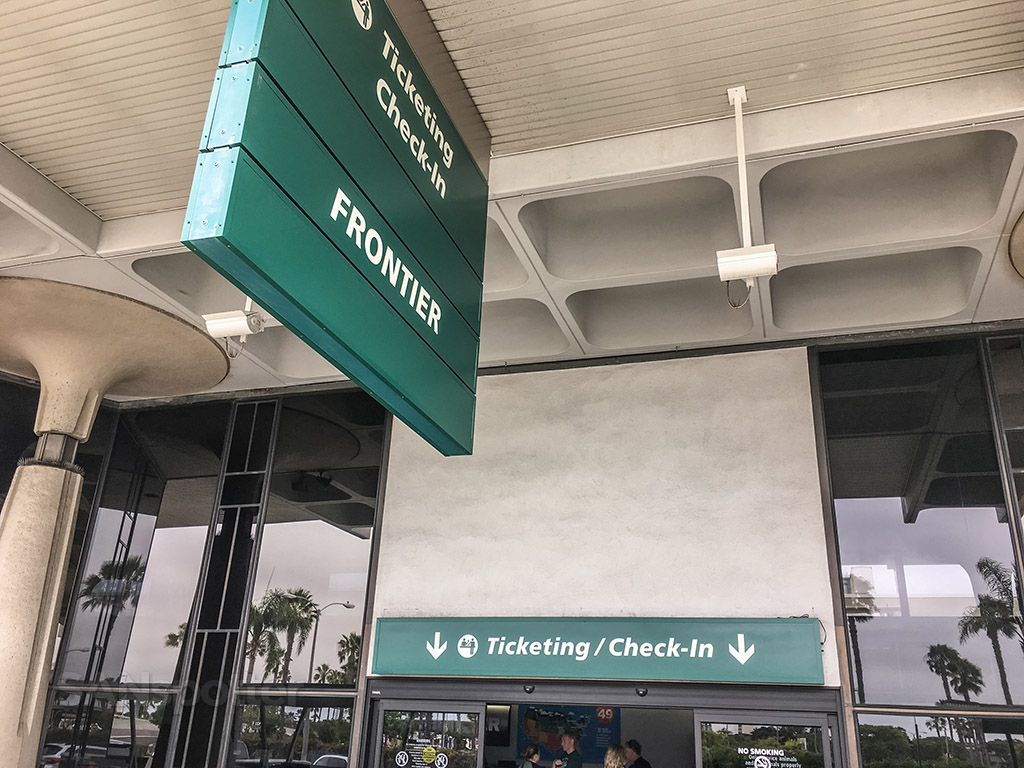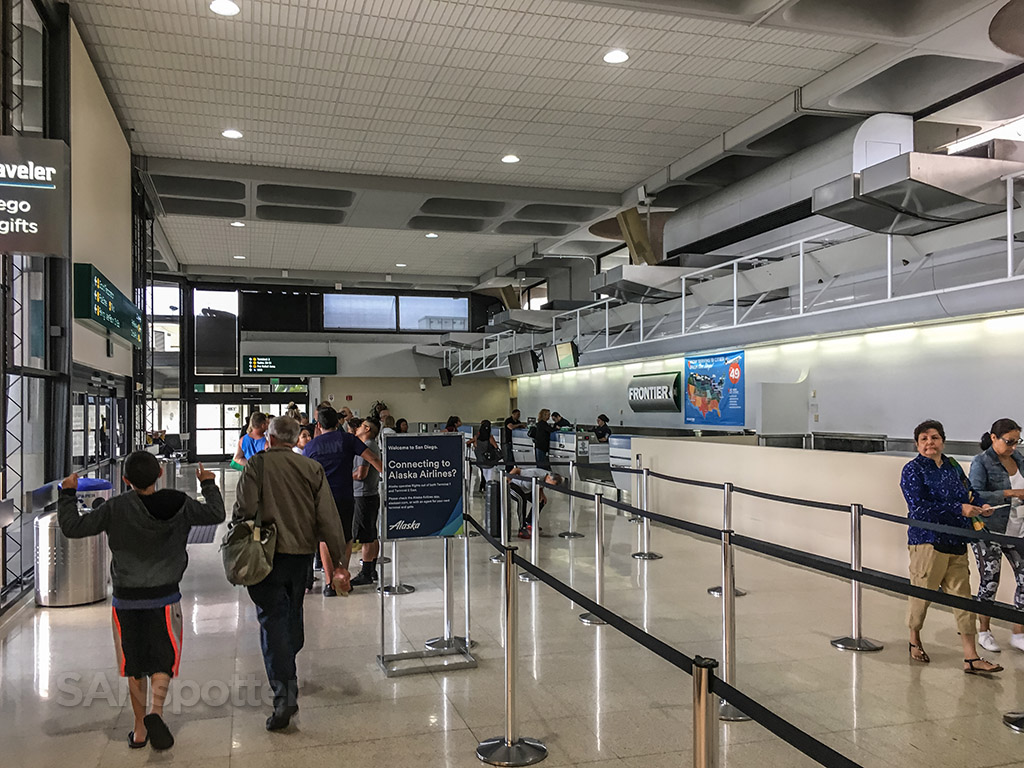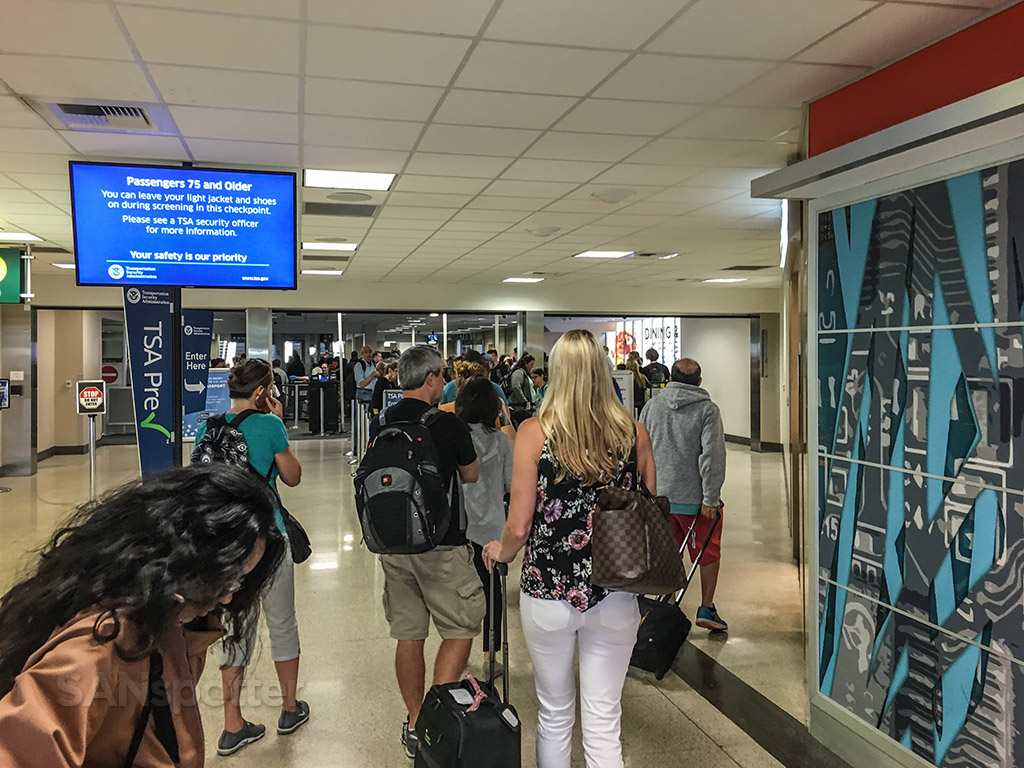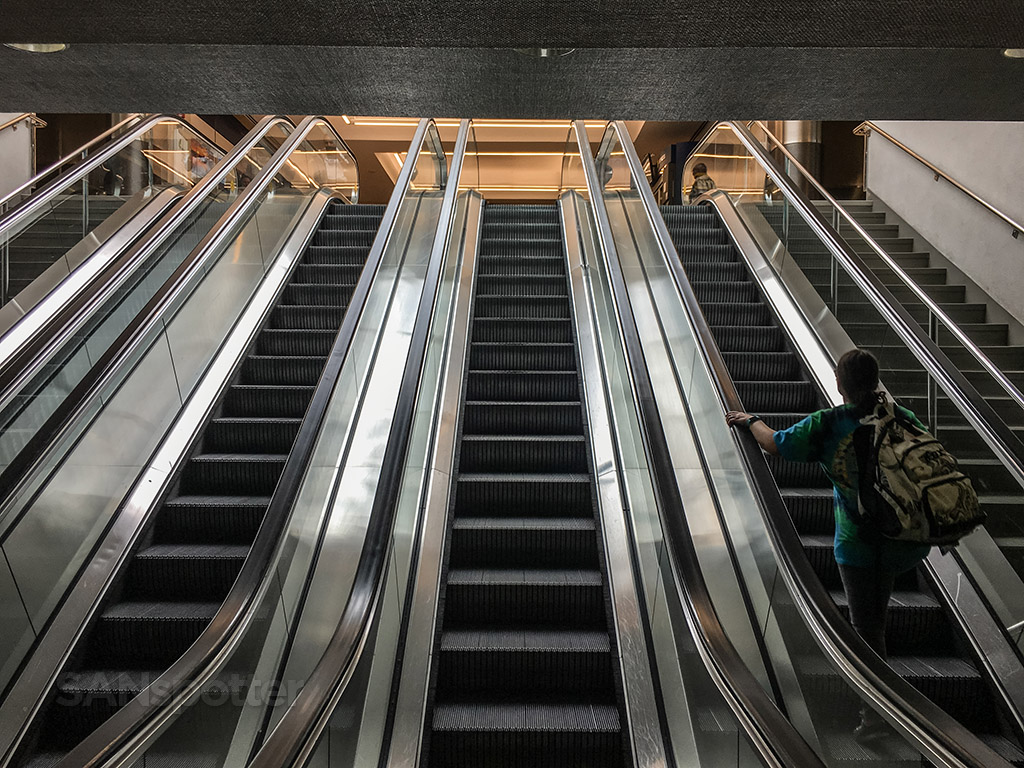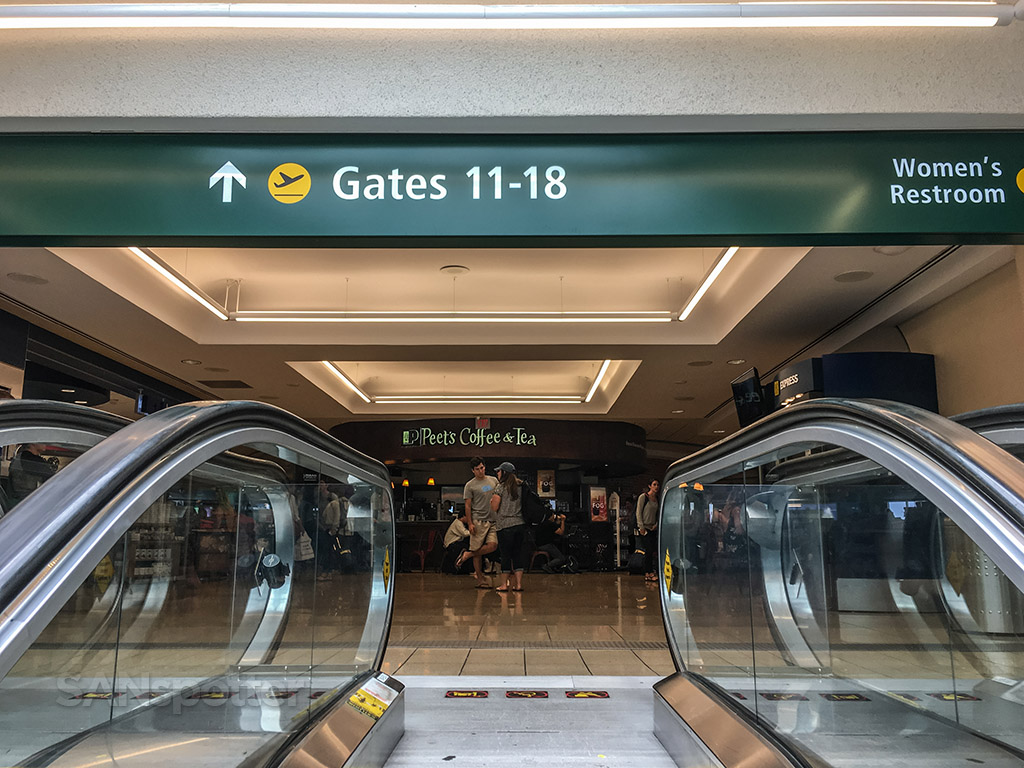 I'd like to state for the record that, despite trying to be late, my timing was way off. By the time I got through security, I still had about an hour to go before boarding was even scheduled to begin! The plane wasn't even here yet for crying out loud, so all of those carefully planned (and very impressive I might add) calculations were for naught. Waiting in terminal 1 here at SAN is the pits.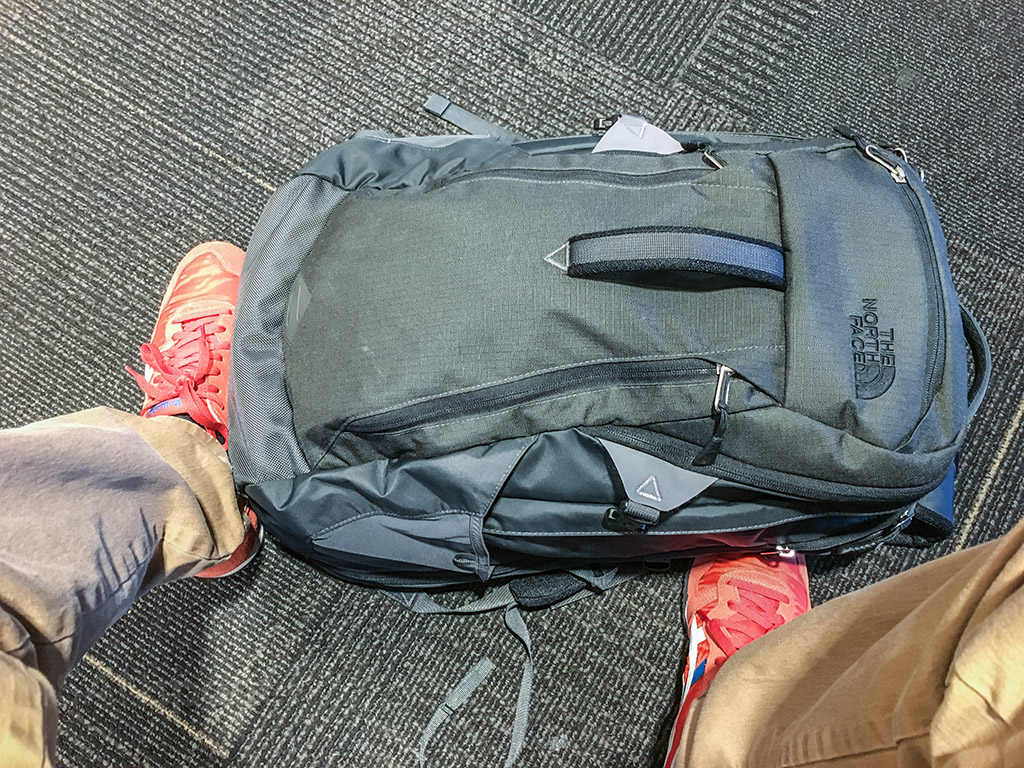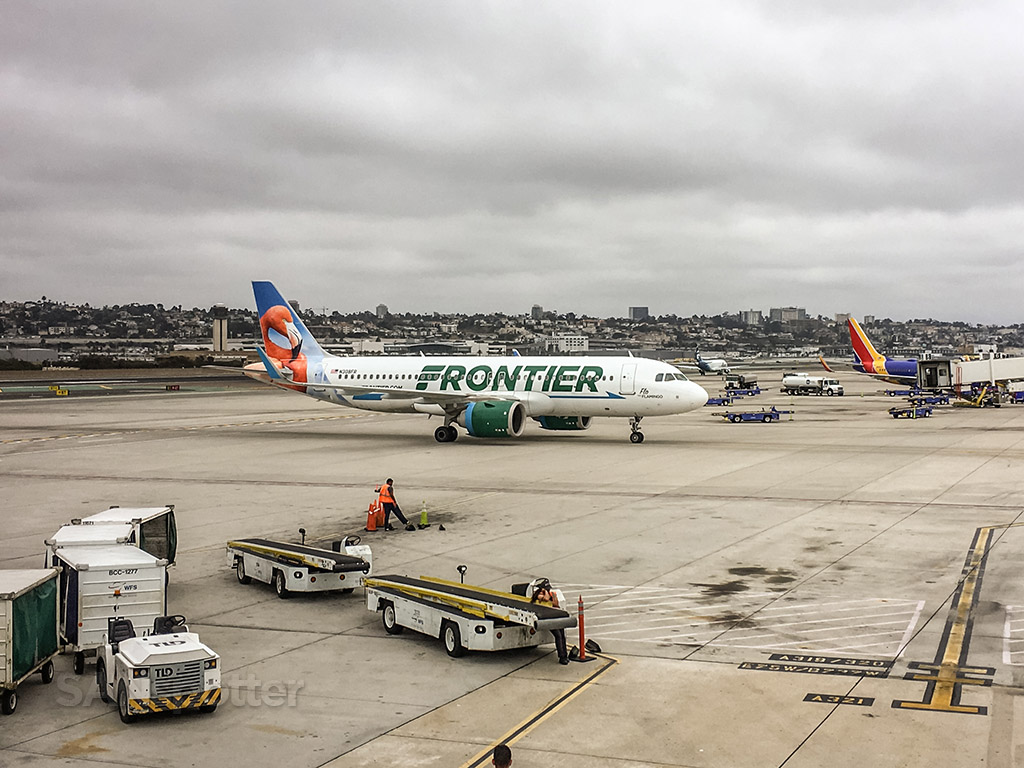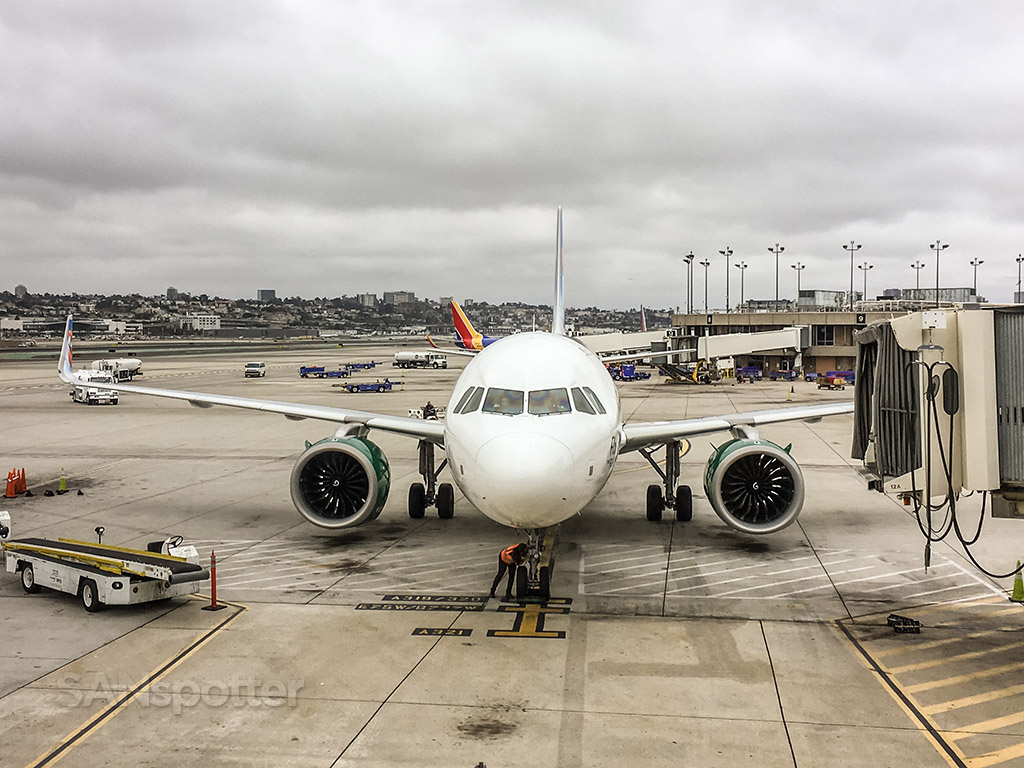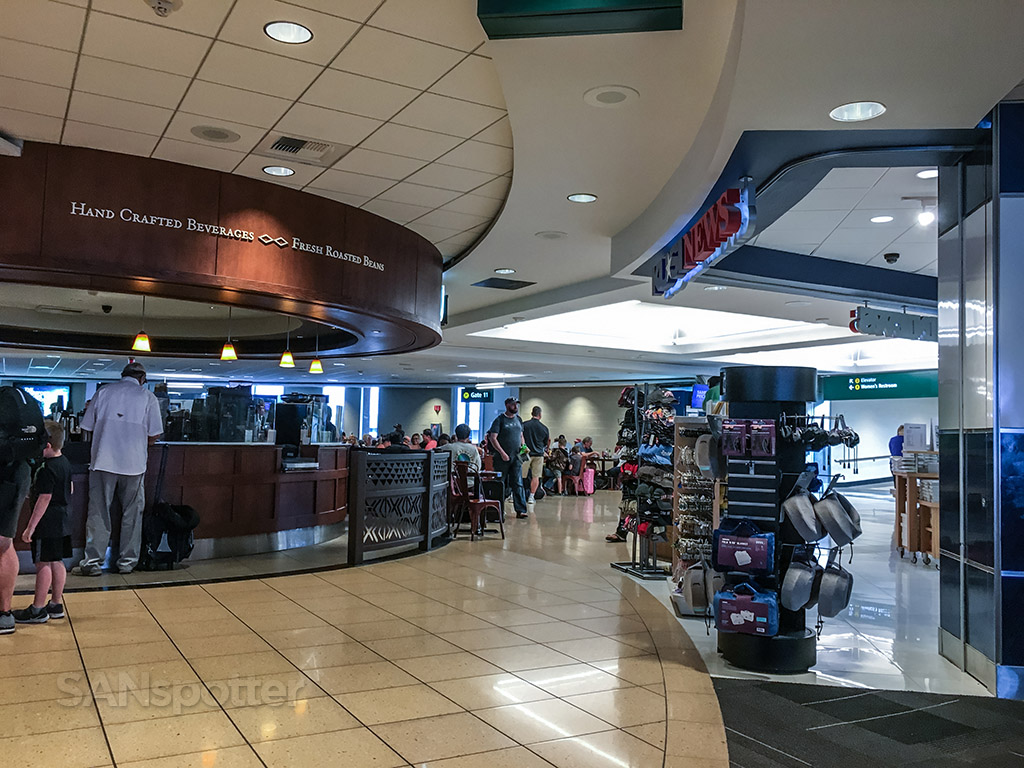 Finally, after what seemed like an eternity (ok it was really more like 25 minutes), they started the boarding process and I was happy to be in the very first boarding group thanks to my "Stretch" seat reservation way up there in row 3.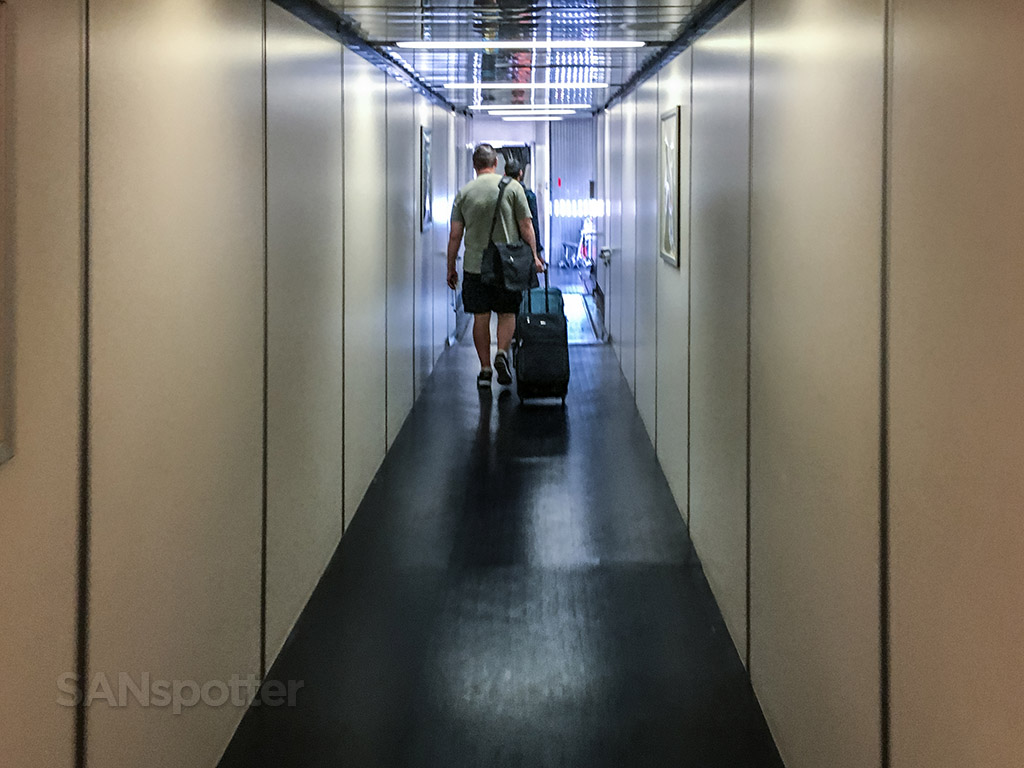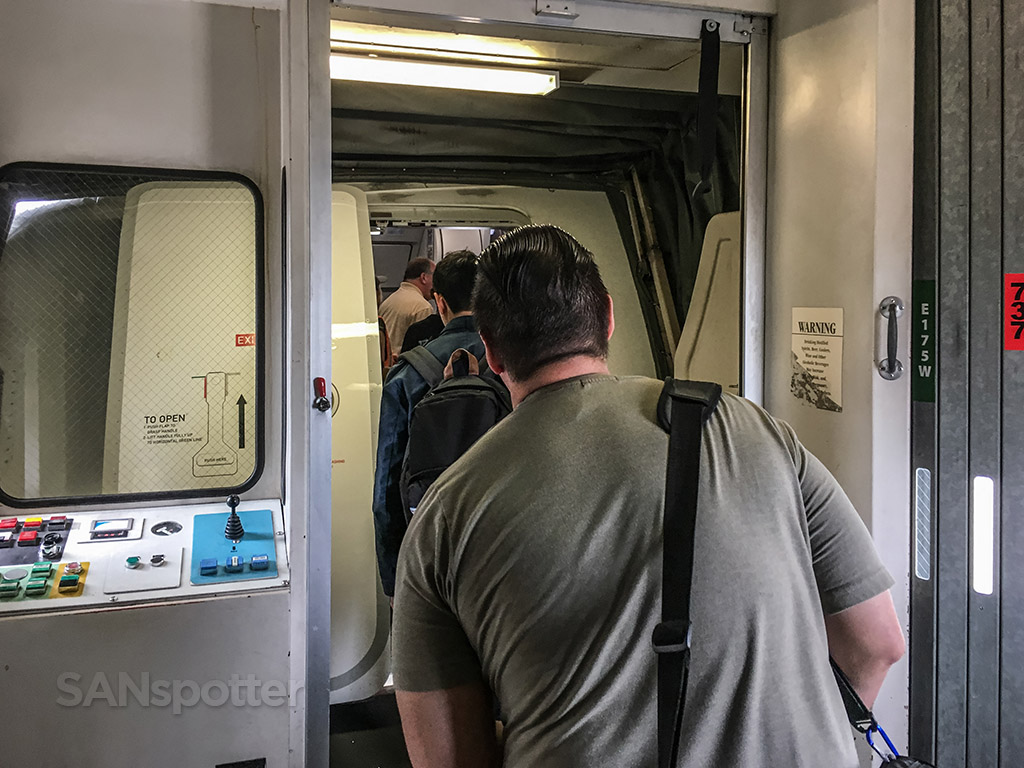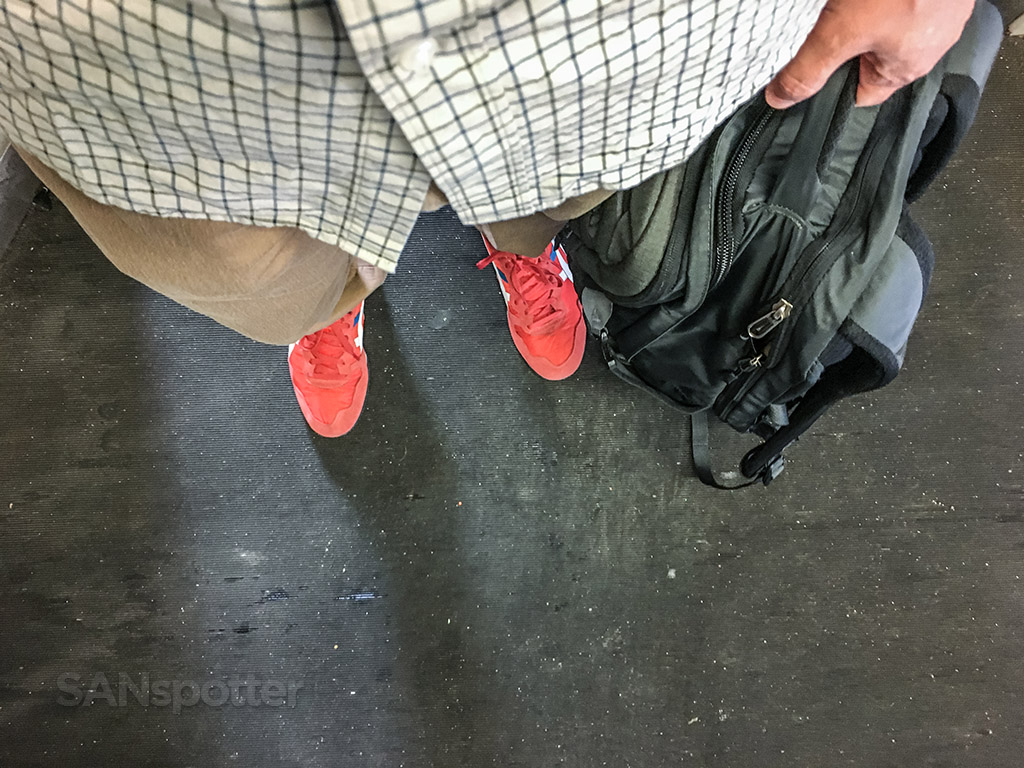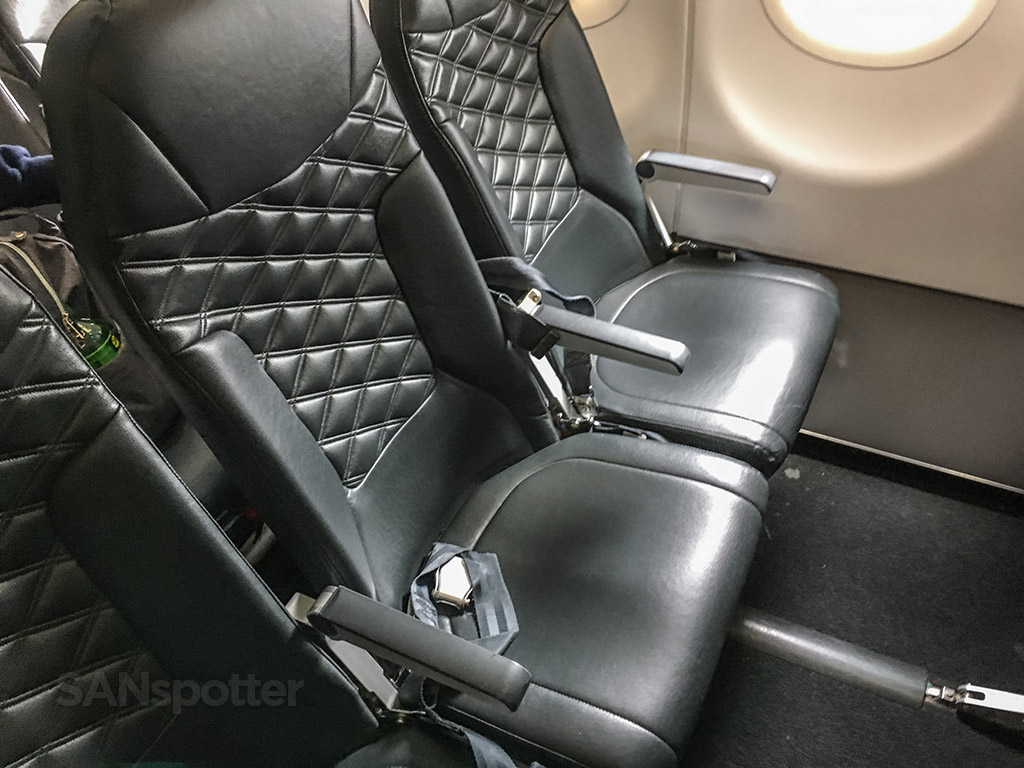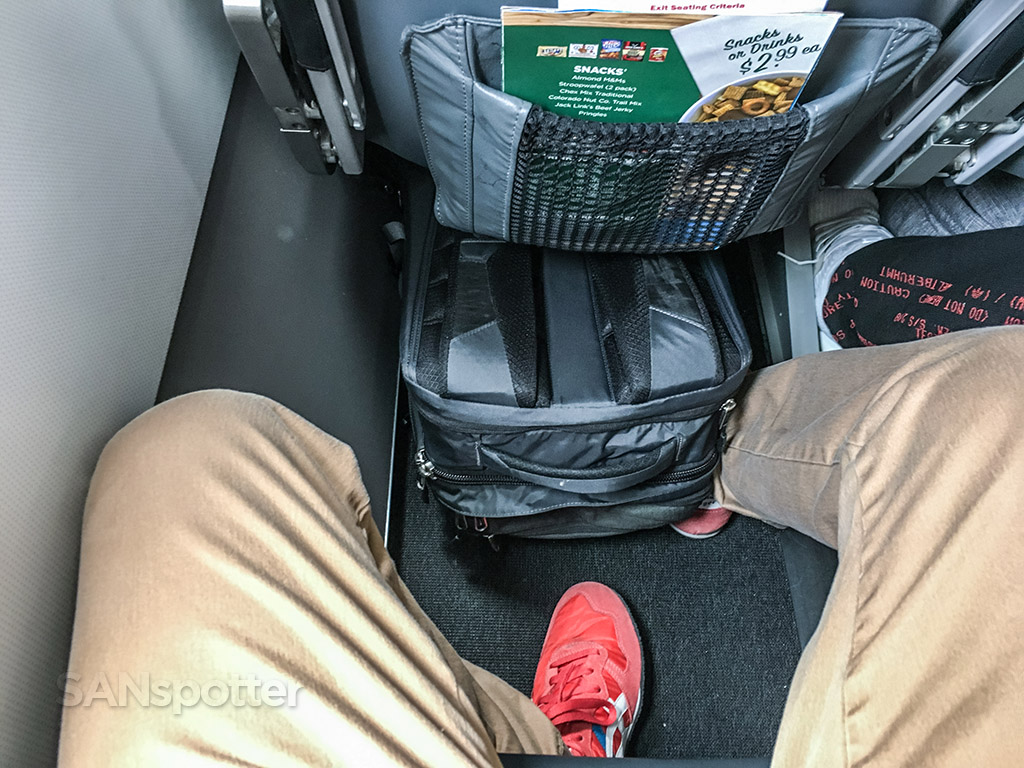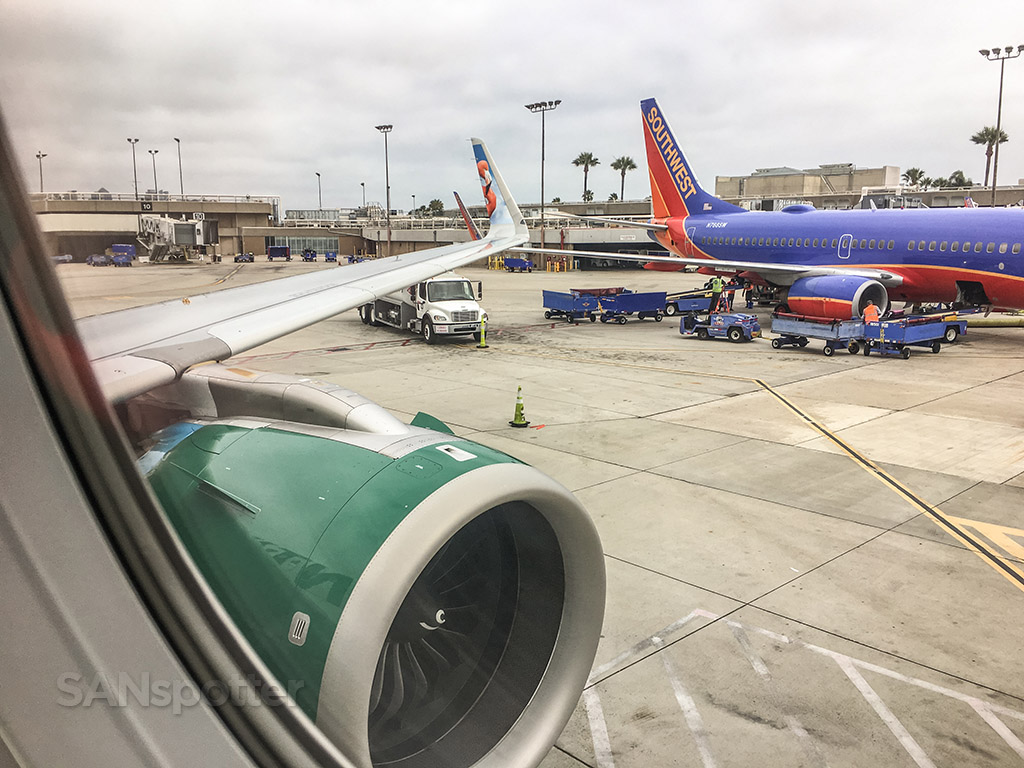 The entire cabin crew seemed to be in very good spirits despite the current 3 1/2 hour delay, and they did a very fine job of getting everyone situated on that airplane until no seat was left and every overhead bin was completely stuffed. I did find it interesting that there was very little apologizing going on despite our nearly four-hour delay this afternoon, but the cheery attitude of the crew calmed the mood and helped to make things feel a heck of a lot less frustrating.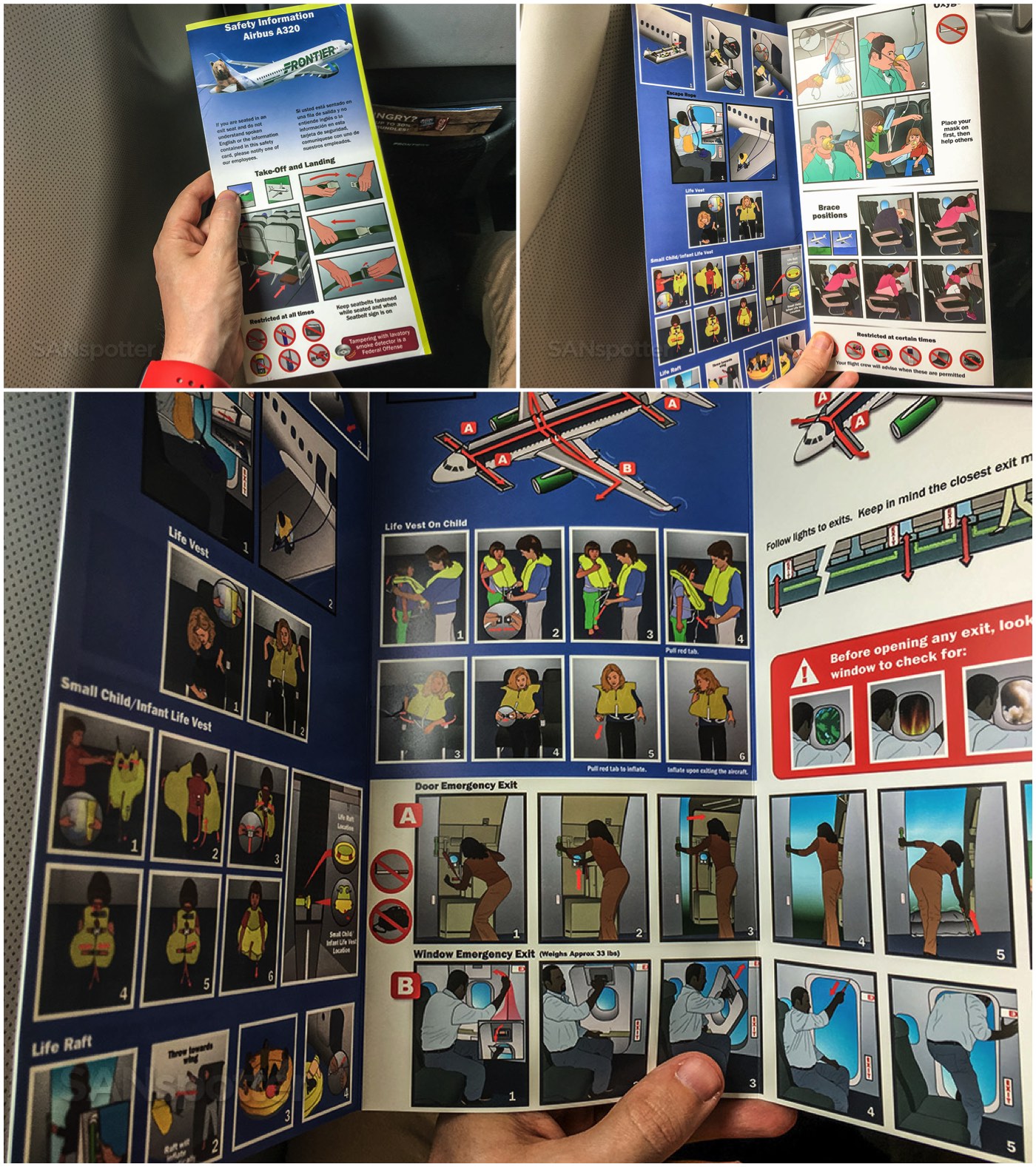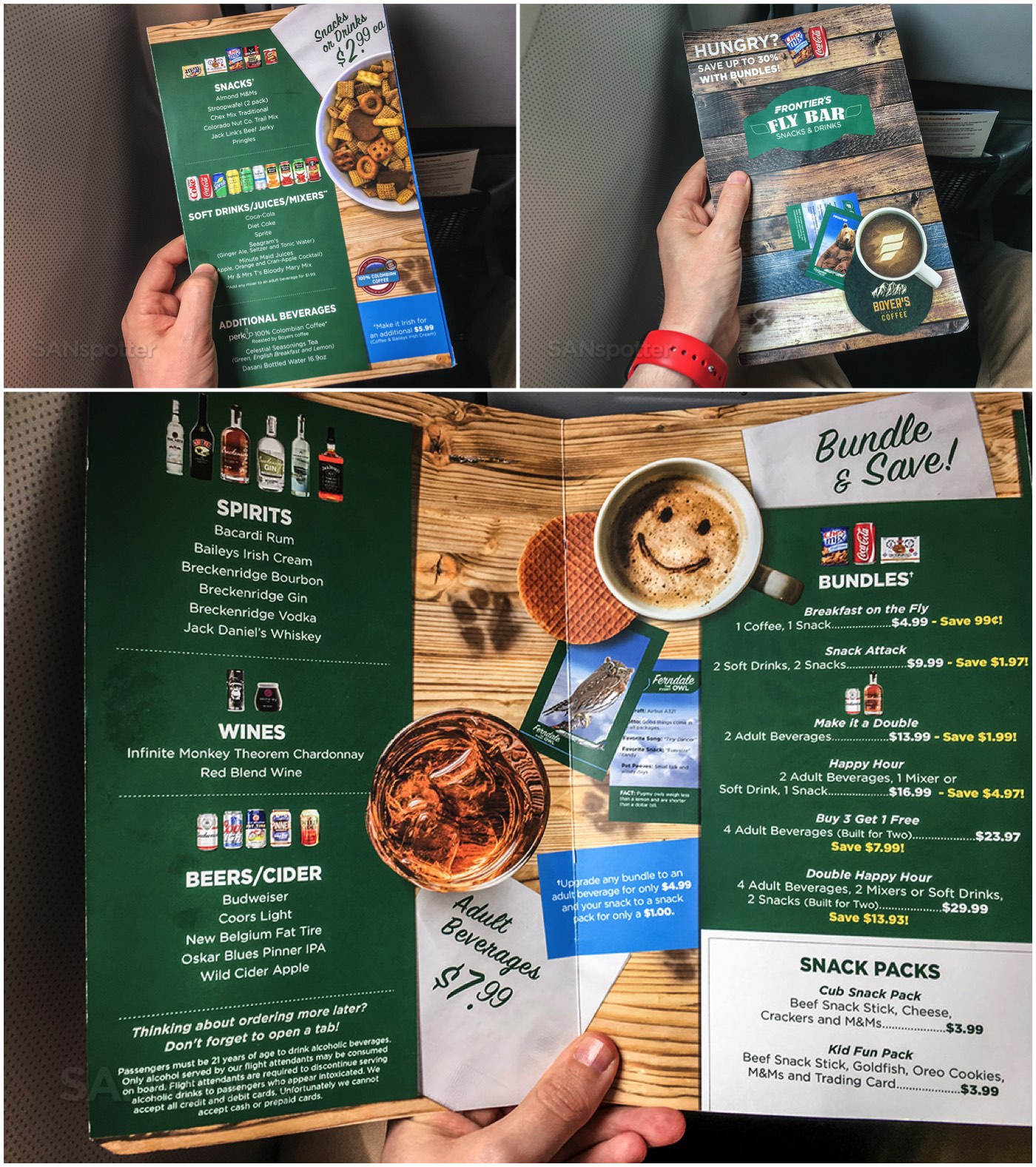 A quick look around the completely full cabin revealed a lot of long and tired faces of other passengers who, as I can only imagine, were throwing around expletives in their heads trying their hardest not to say them out loud.
It was getting to the point where I would actually understand if I started hearing some really colorful bad words echo though the cabin, because we were hit with yet another delay here at the gate when the flight attendants needed to find people in groups who were willing to move to the exit row.
It took a while find enough volunteers to sort out that mess, and by the time we pushed off the gate we were just about 4 hours delayed. Ouch! Especially for all those people onboard who were staying on this airplane all the way to MCO.
By the way, when I was checking flightradar24 to pull the data from this flight for the trip report, I saw that it eventually arrived into MCO the next morning at 1:30am. I hope they got compensated well for that.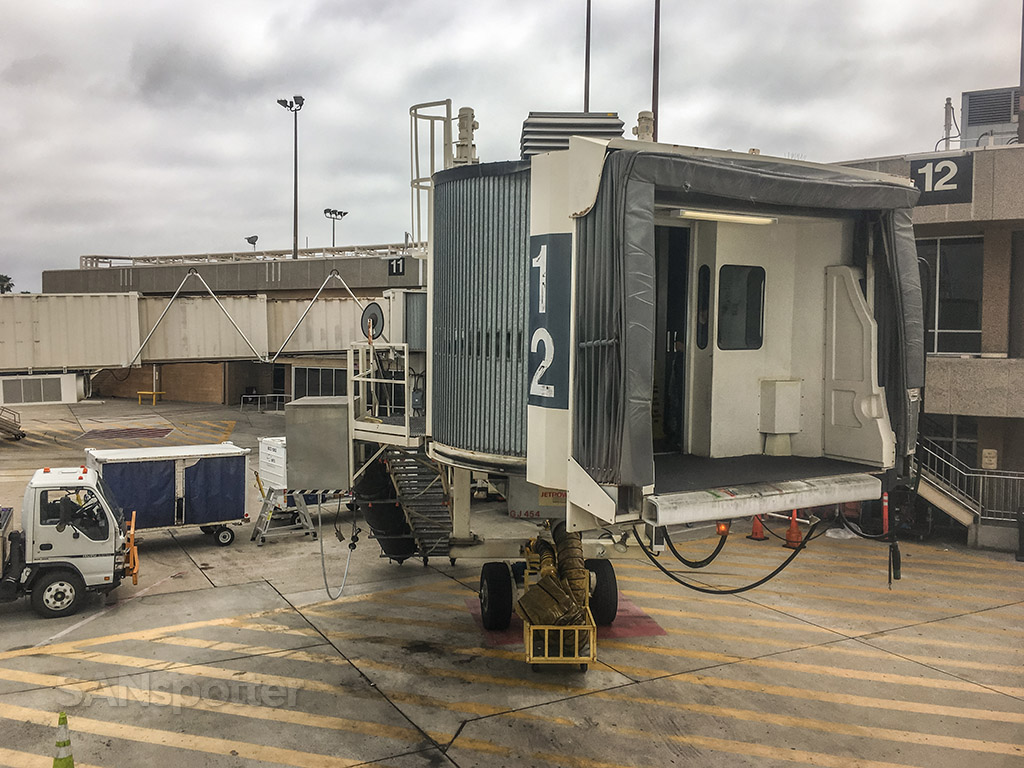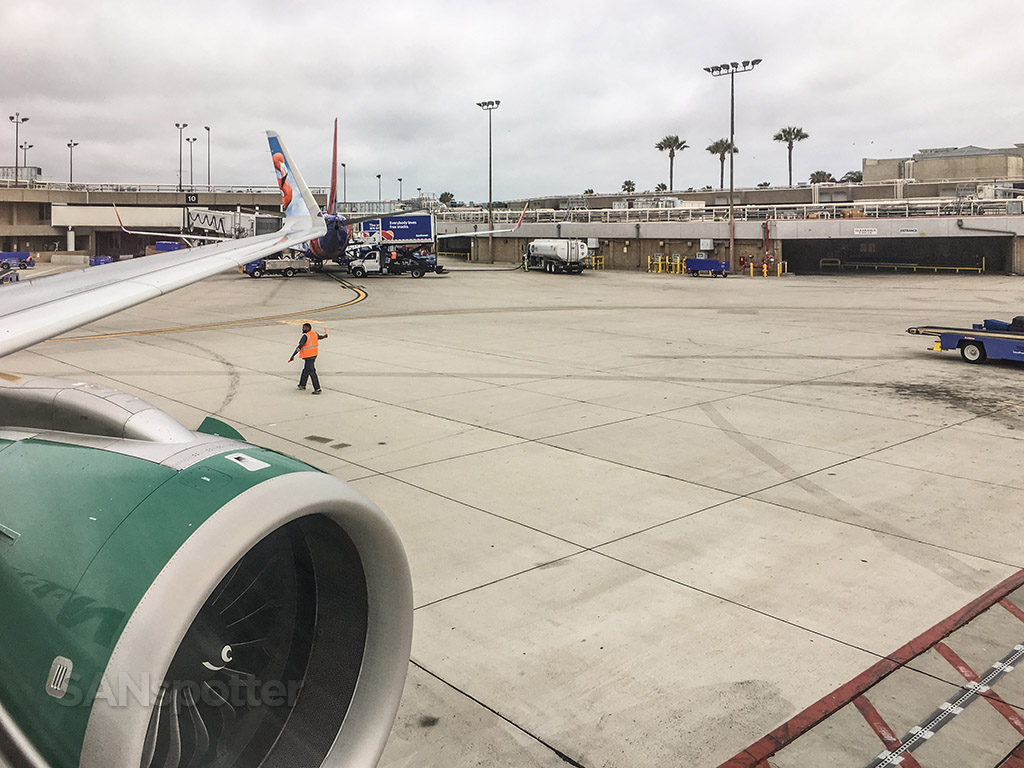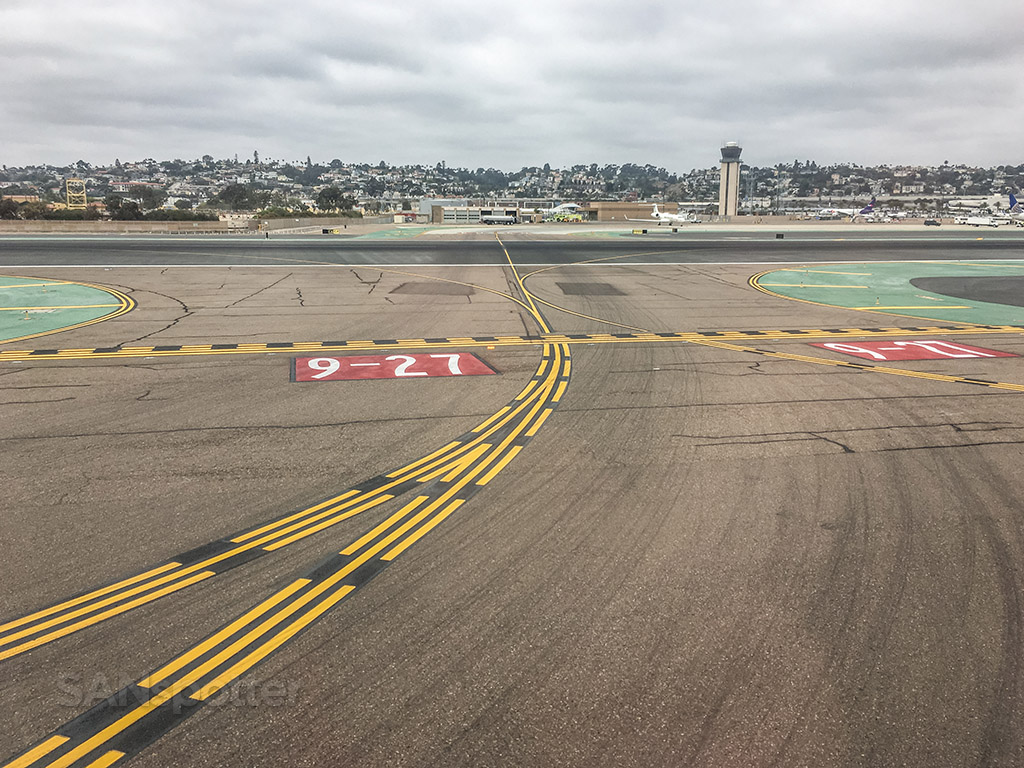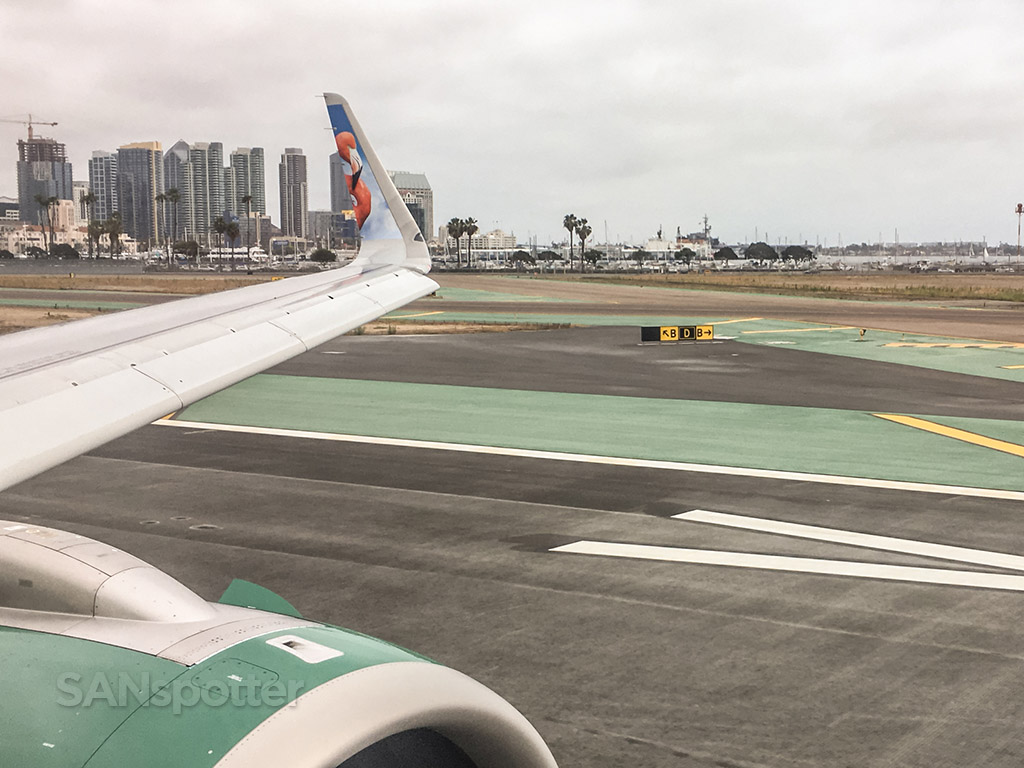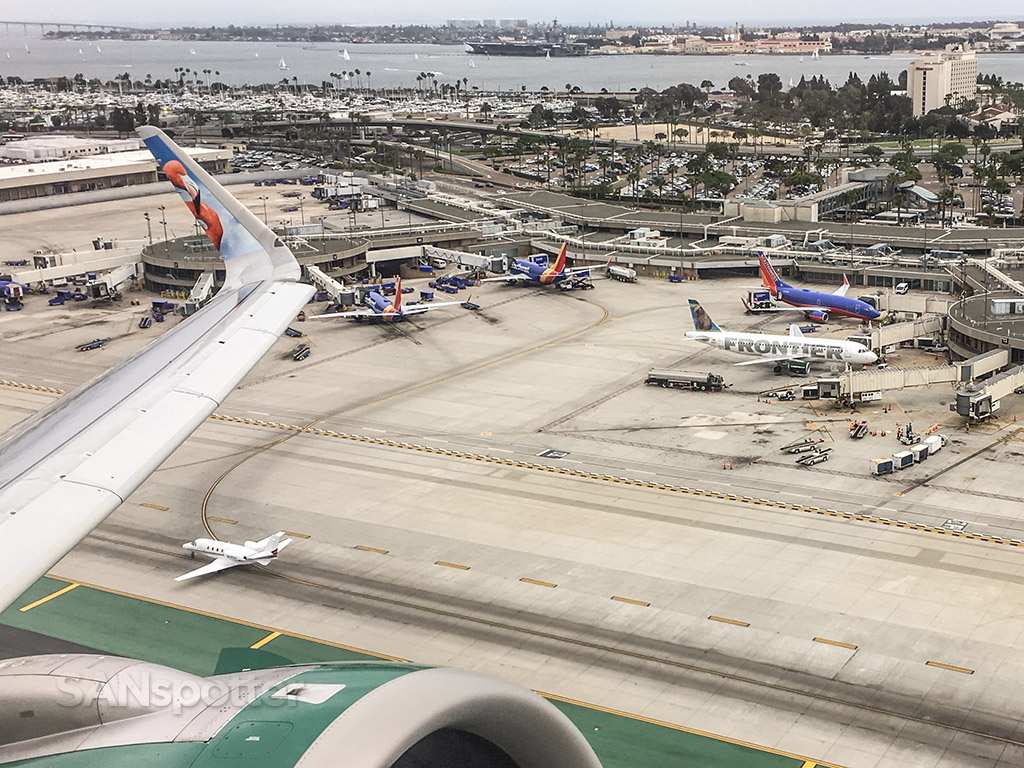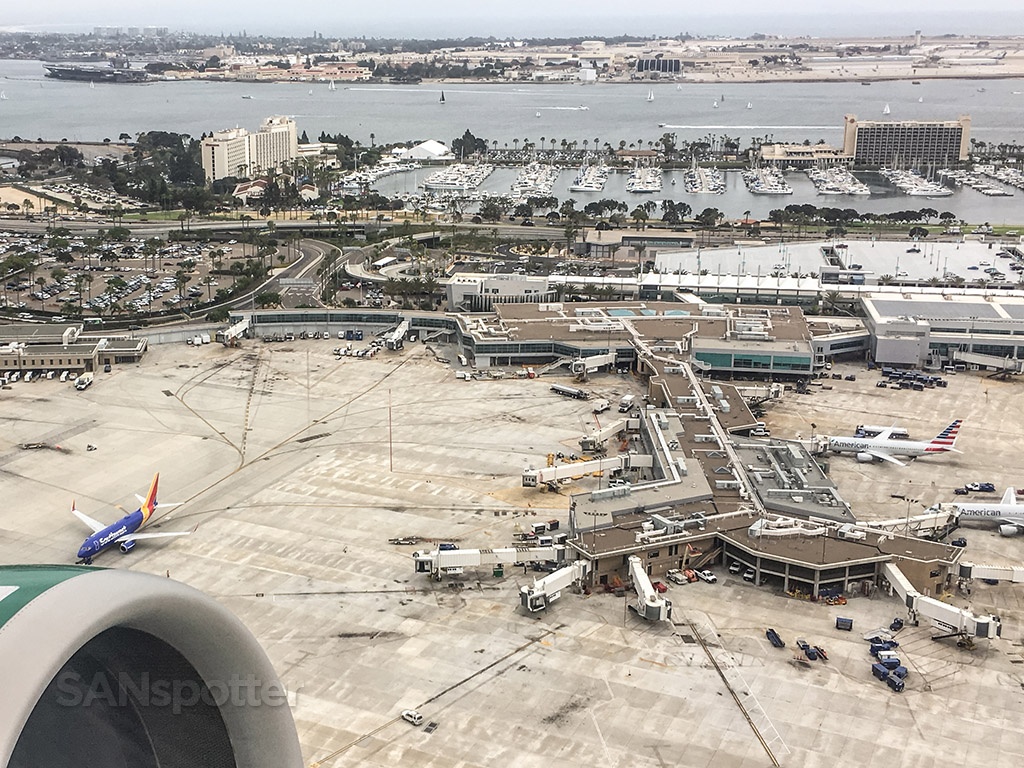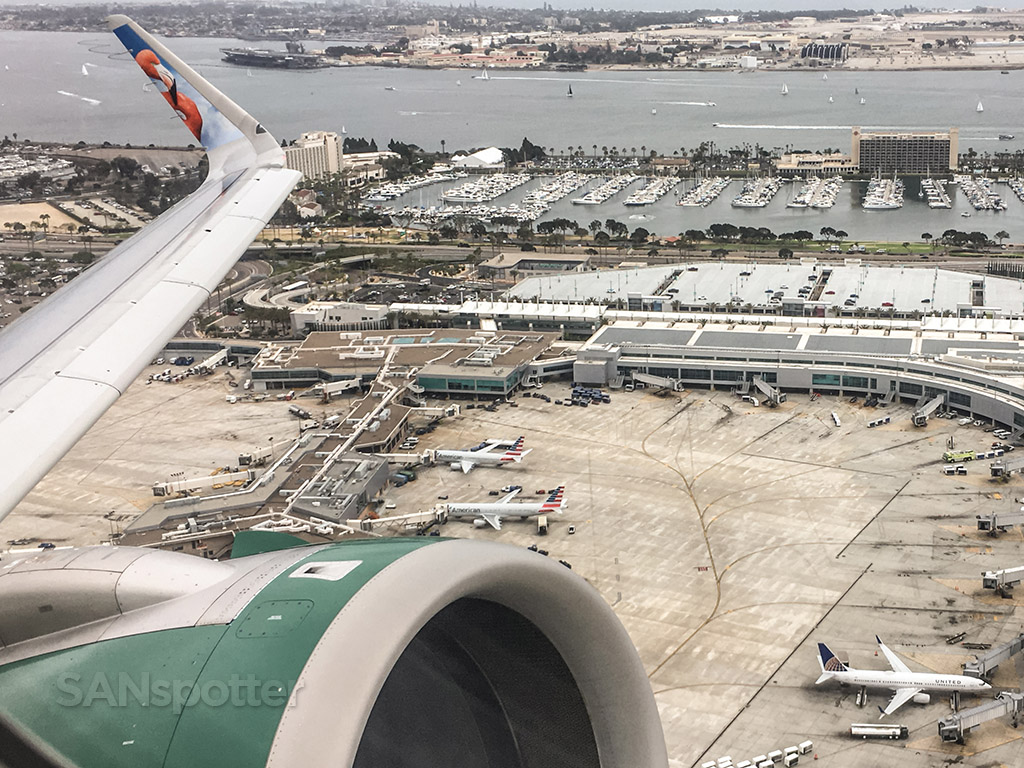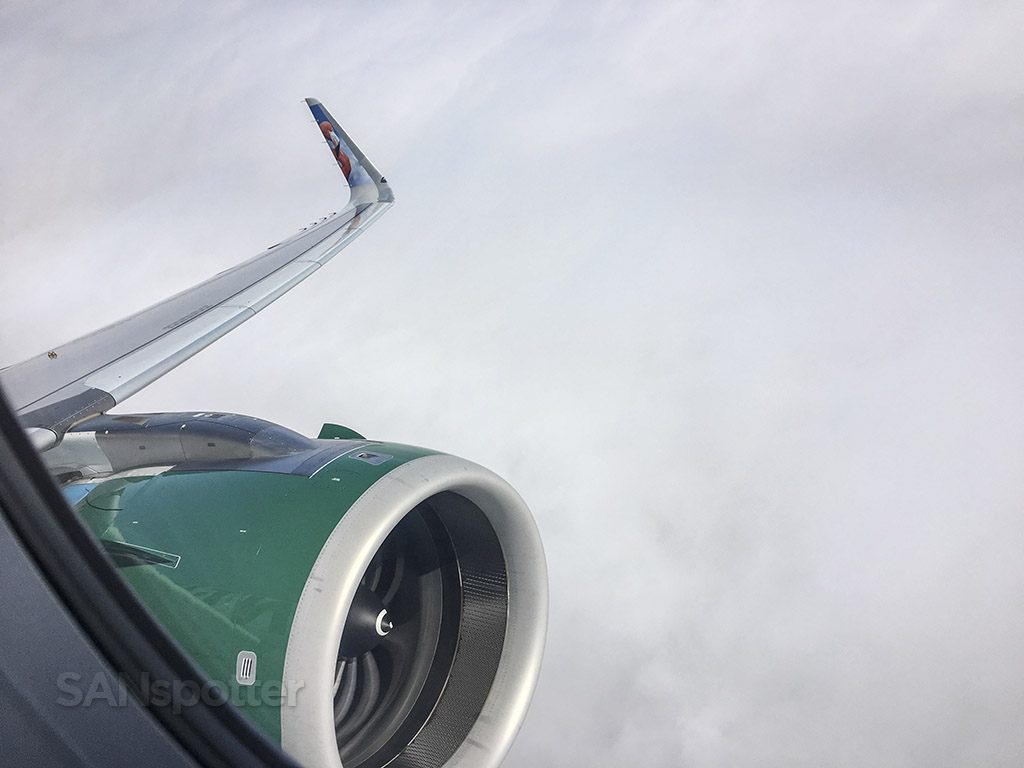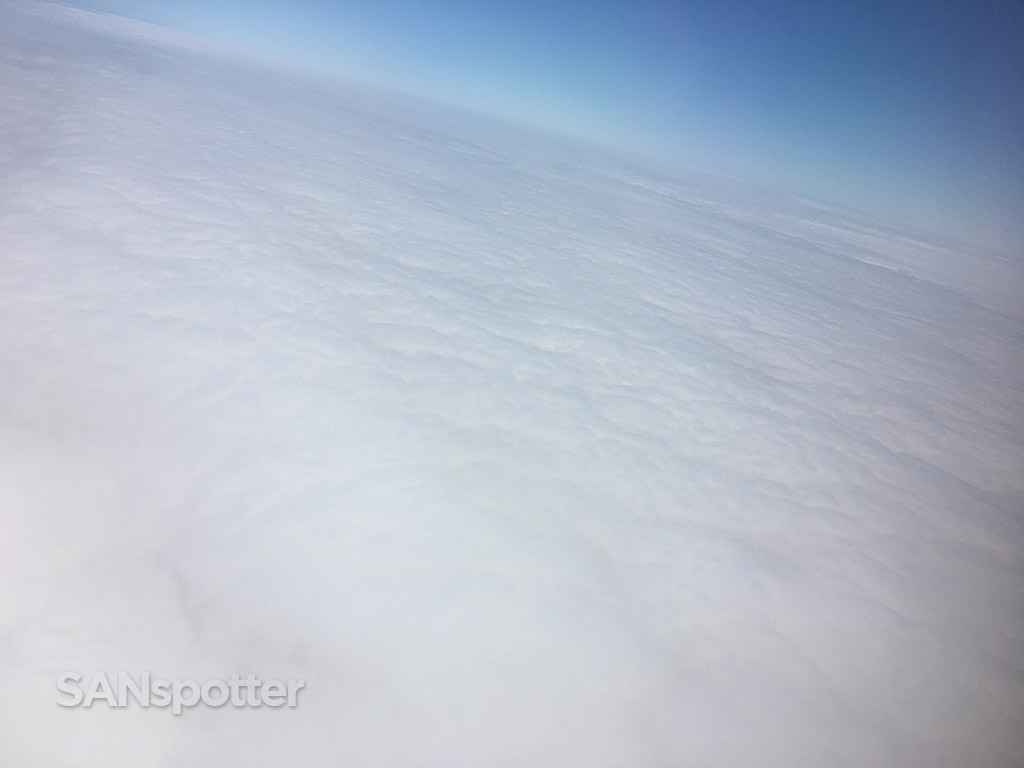 Since Frontier Airlines is an ultra low cost carrier, everything comes at a price. And since I wasn't feeling like spending any money on this 2 1/2 hour flight Austin, there really isn't much to show and say about the experience. Water in plastic cups was complementary, but everything else in the menu (which was quite extensive I might add) came at a hefty cost so I didn't see any of it.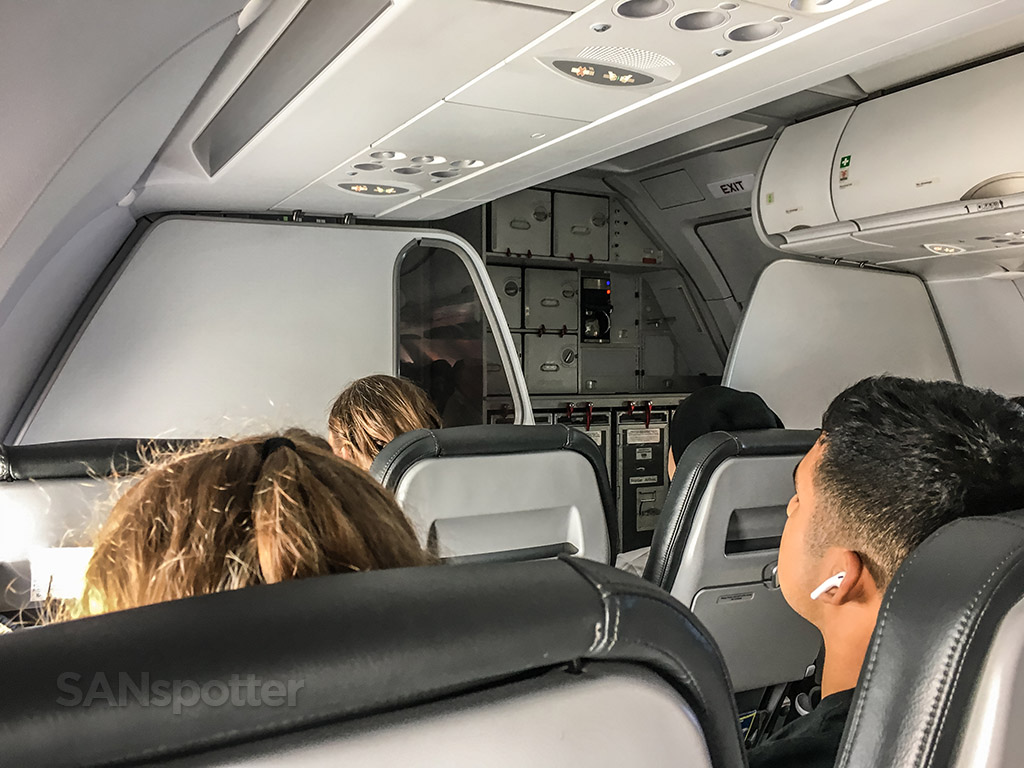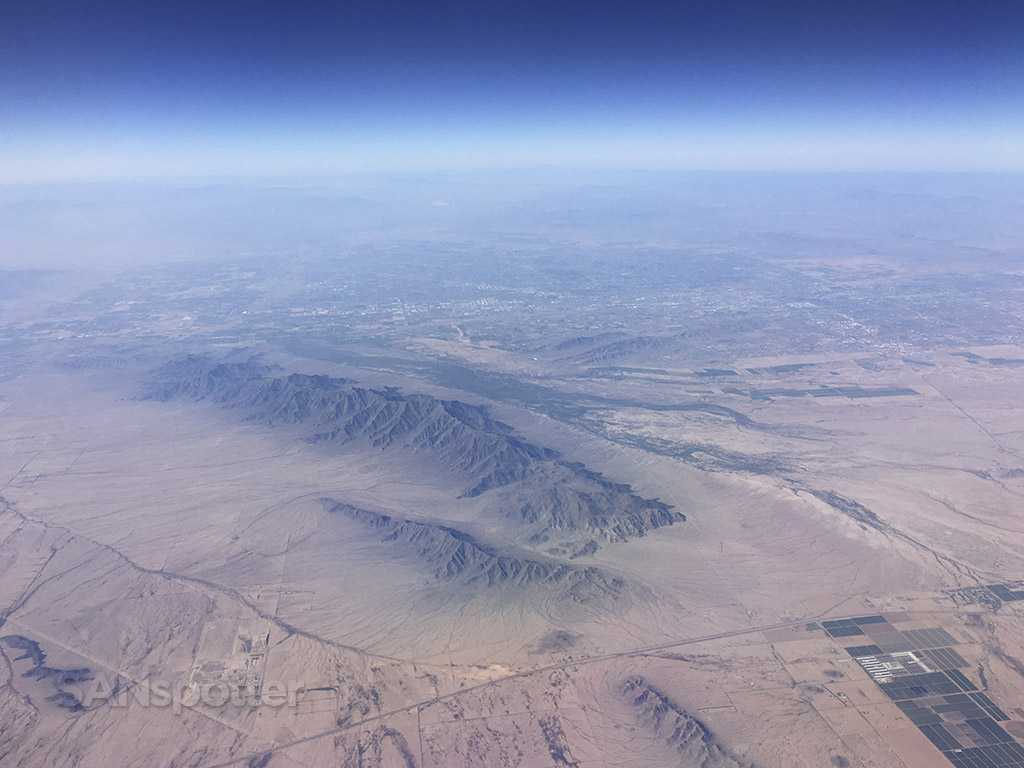 I spent the entire duration of the two and a half hour flight to Austin pinned to the window thanks to the absolutely gargantuan guy sitting next to me, who also happened to be fidgety as hell and wouldn't stop moving around trying to get comfortable. He was a really nice guy, but he just wouldn't stop fidgeting, which made me uncomfortable trying to get pictures and videos for this trip report.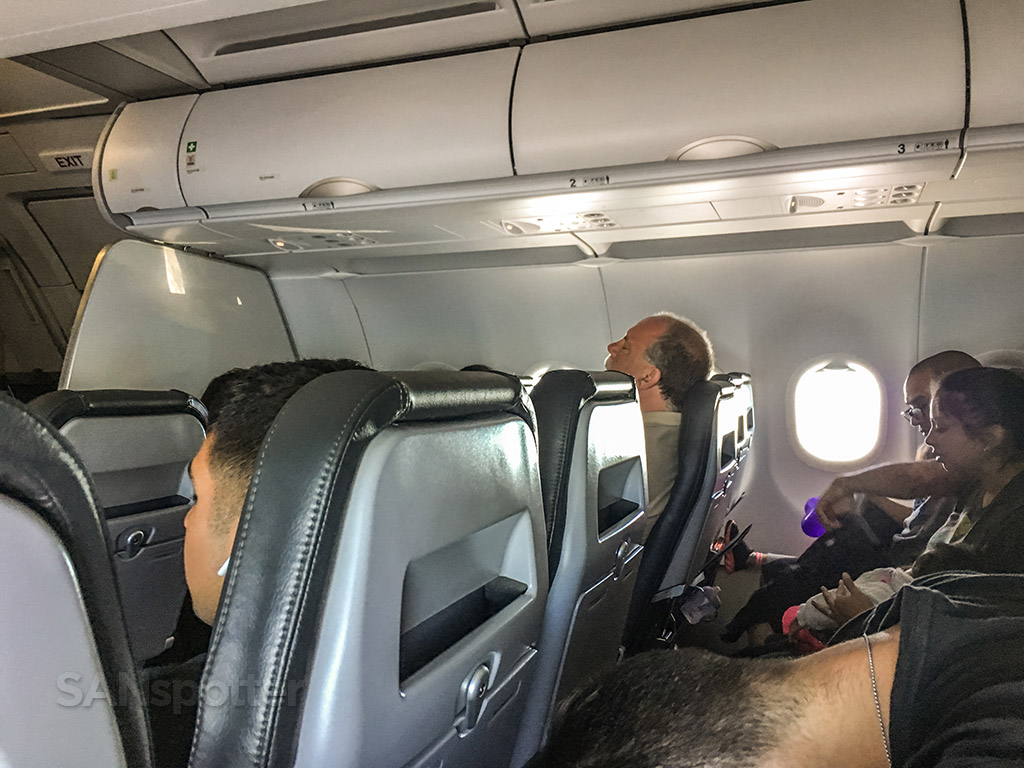 Those of you who don't take pictures and videos in such confined spaces with so many other people around have no idea how awkward it is. Especially on flights – I can only imagine what most people who have no interest in travel or aviation think of people like me who are trying to get content for a blog and YouTube channel! I guess it would be like sitting next to someone at McDonalds who takes a picture of their Big Mac after every bite. I would definitely raise an eyebrow at that – but then again, I'm sure there are people out there with fast food blogs who think that sort of thing is completely normal…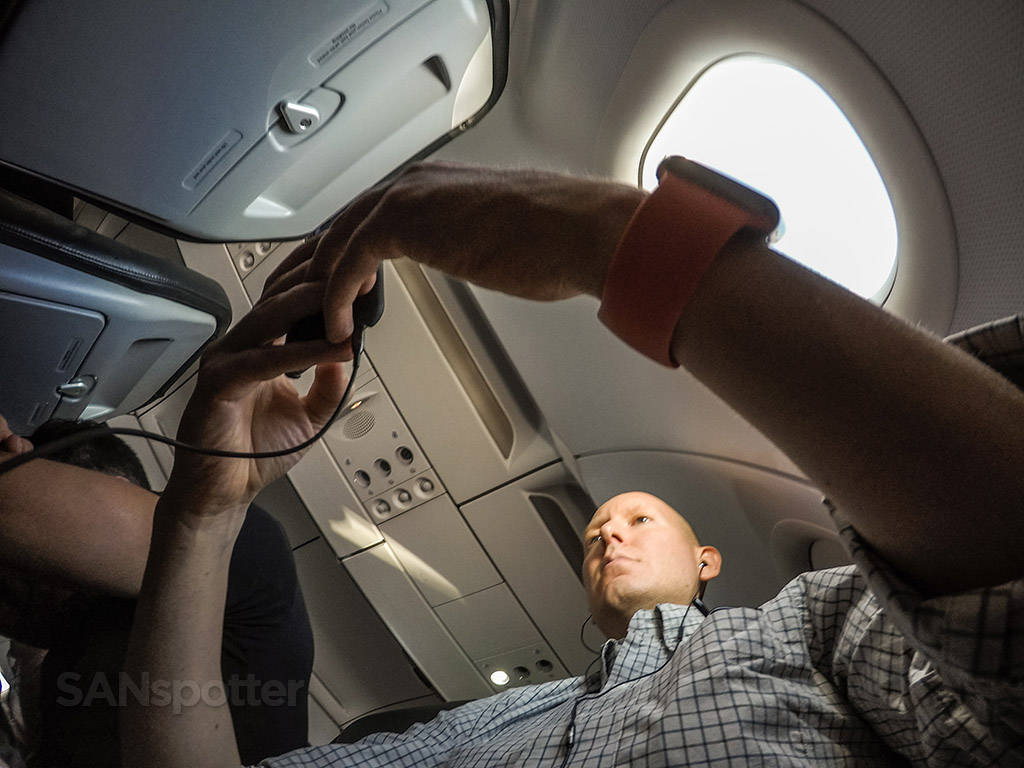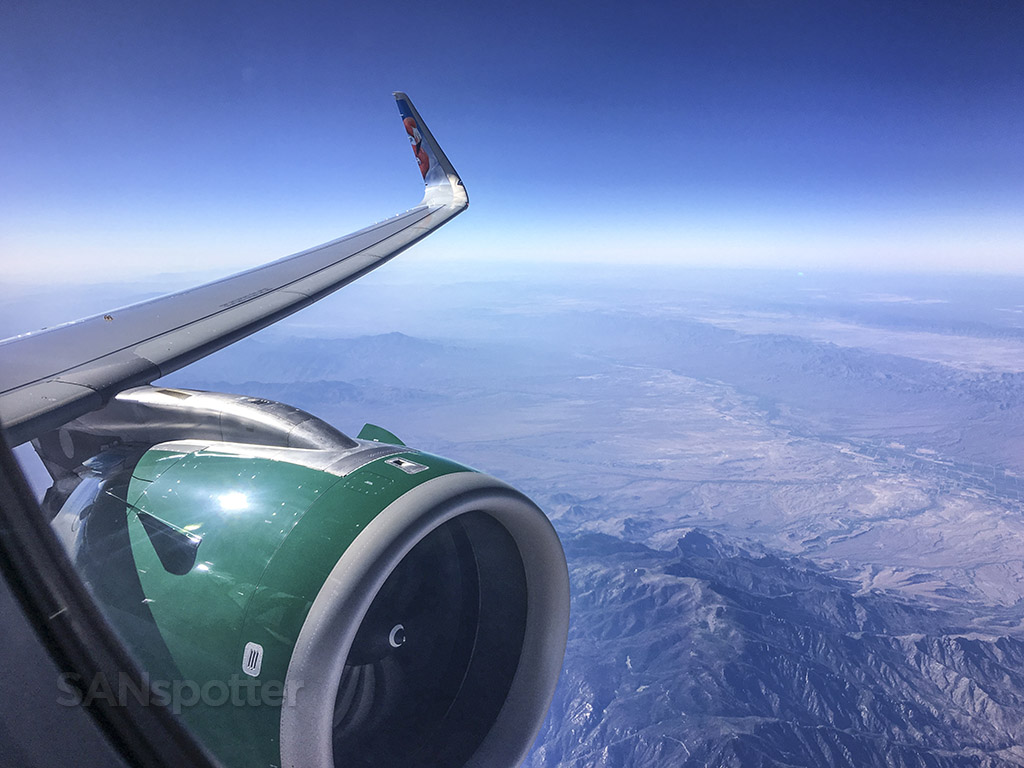 The weather was absolutely perfect all the way across the desert southwest this afternoon, and it wasn't until we started the descent into Austin when some really gnarly looking thunderheads started popping up to the north. The pilot said that the weather conditions in Austin were completely clear and beautiful (though really hot), so I was happy just to enjoy the view as we dodged around some of those massive clouds and zipped down into Austin Bergstrom Airport.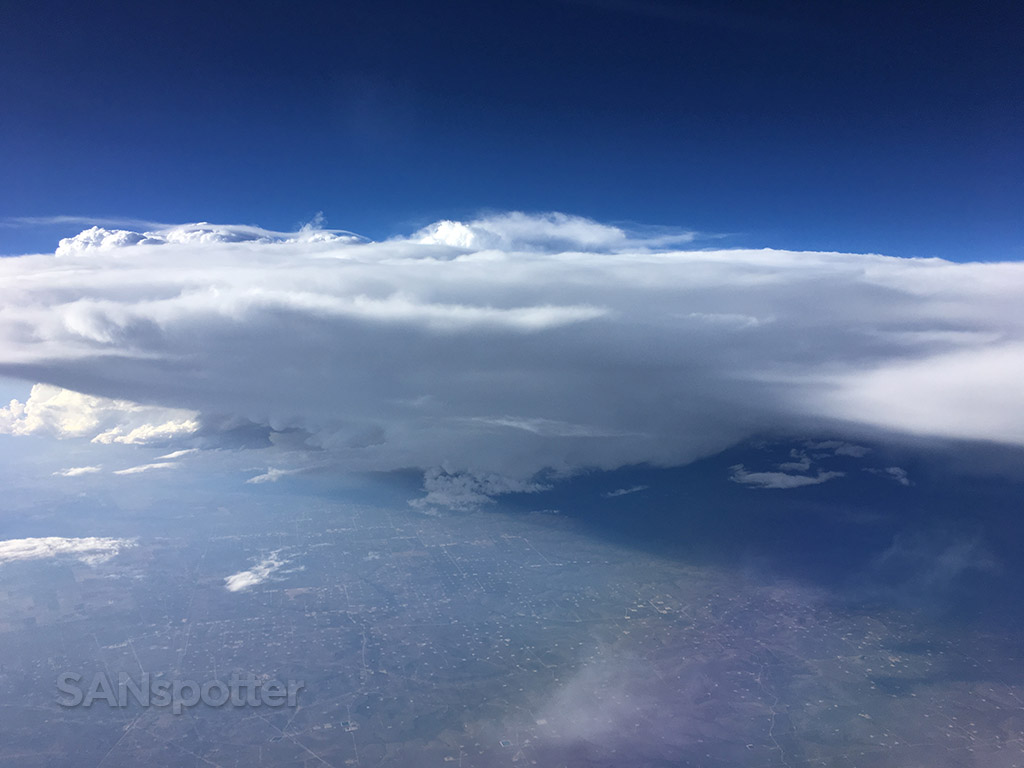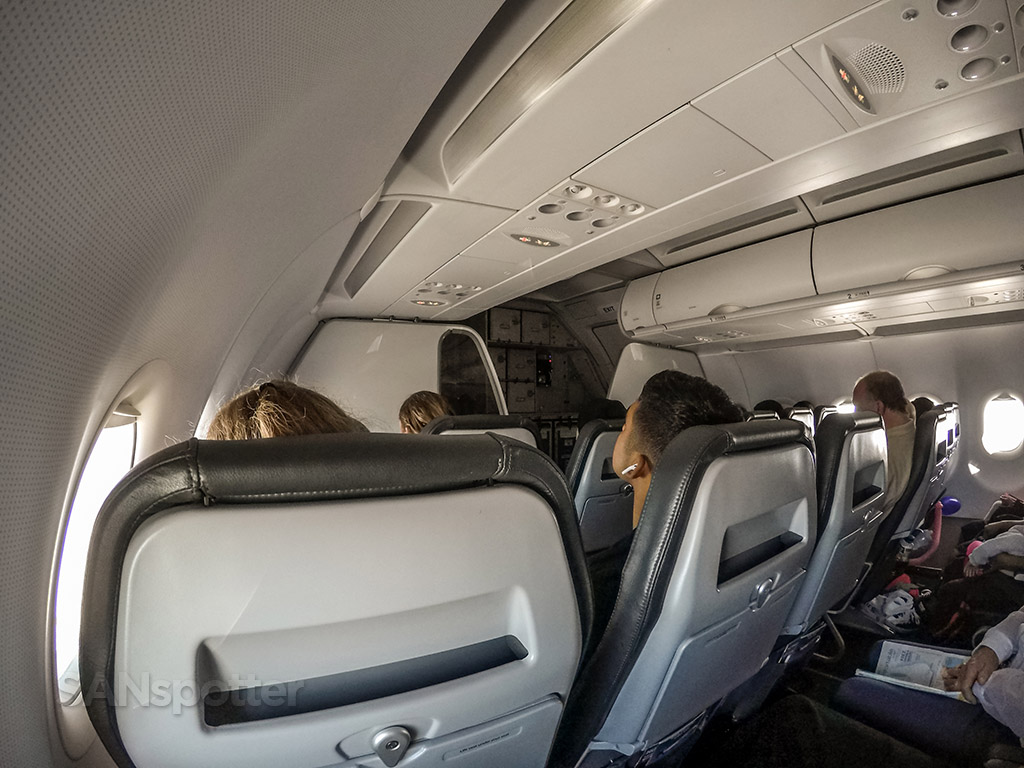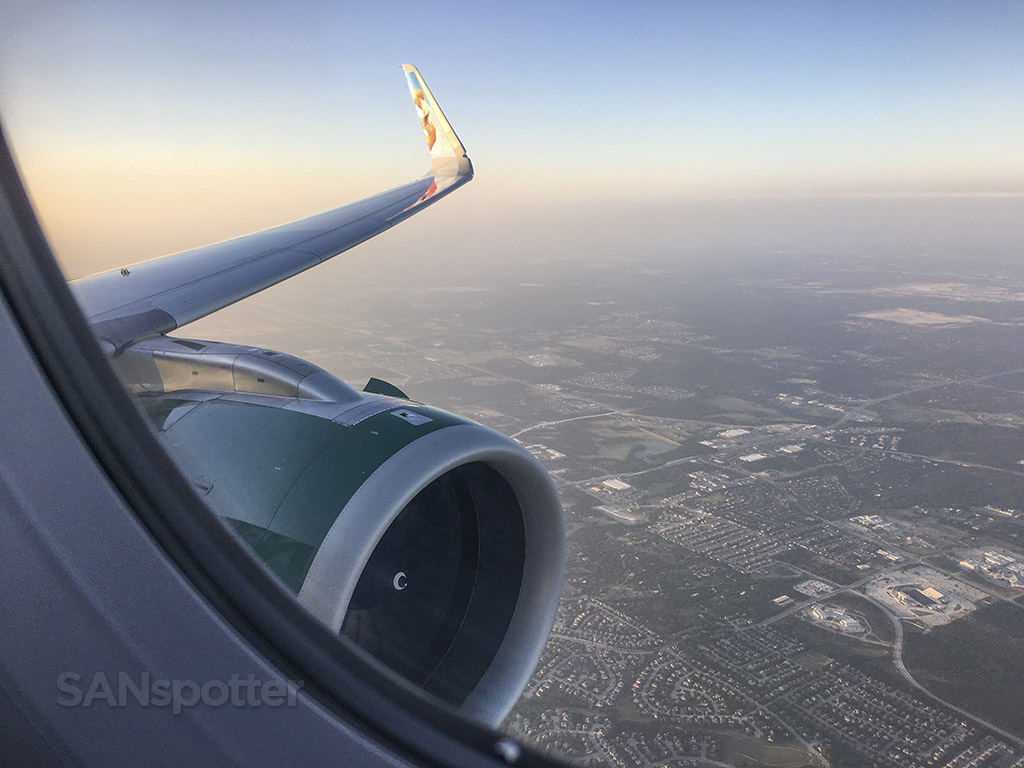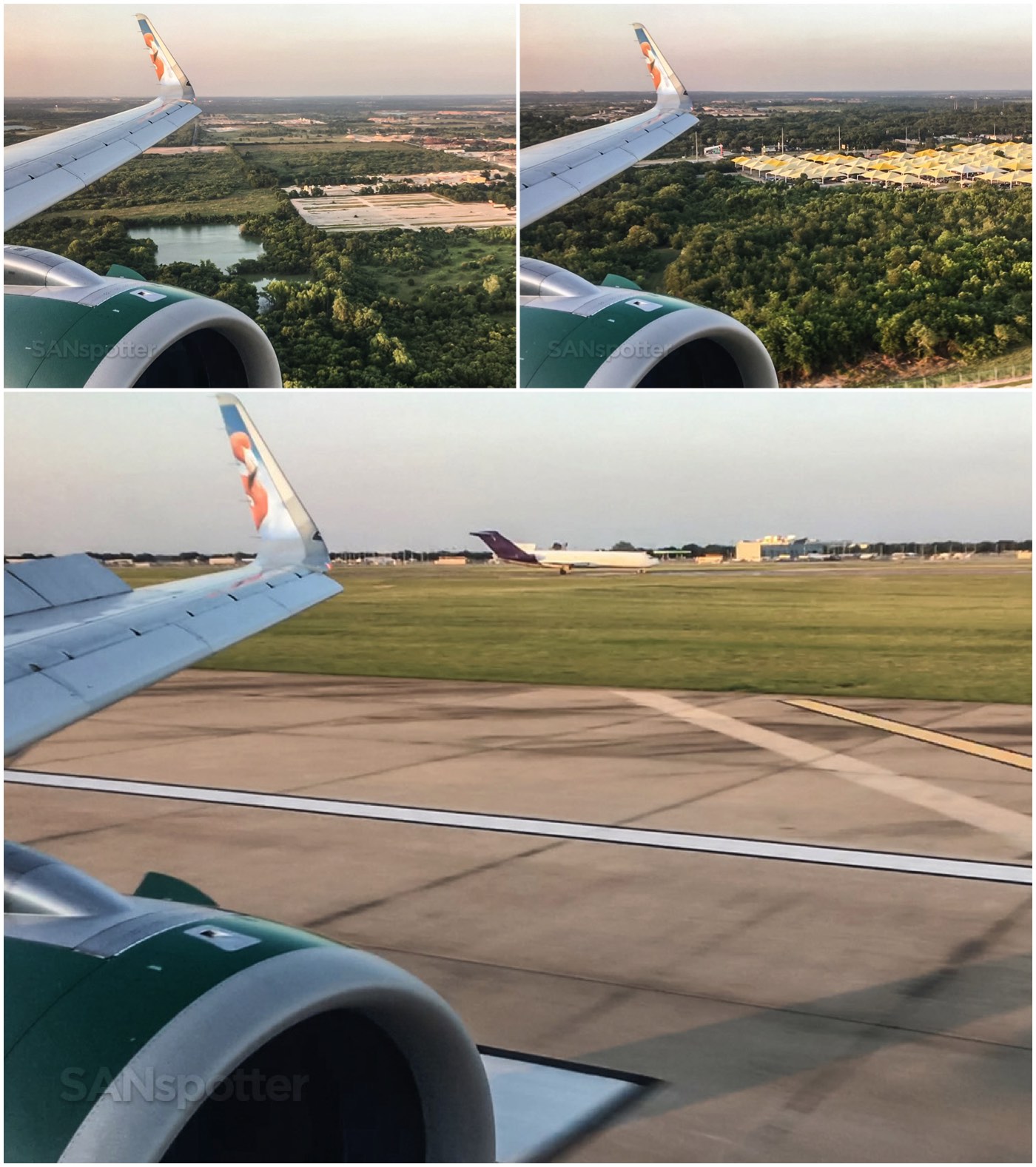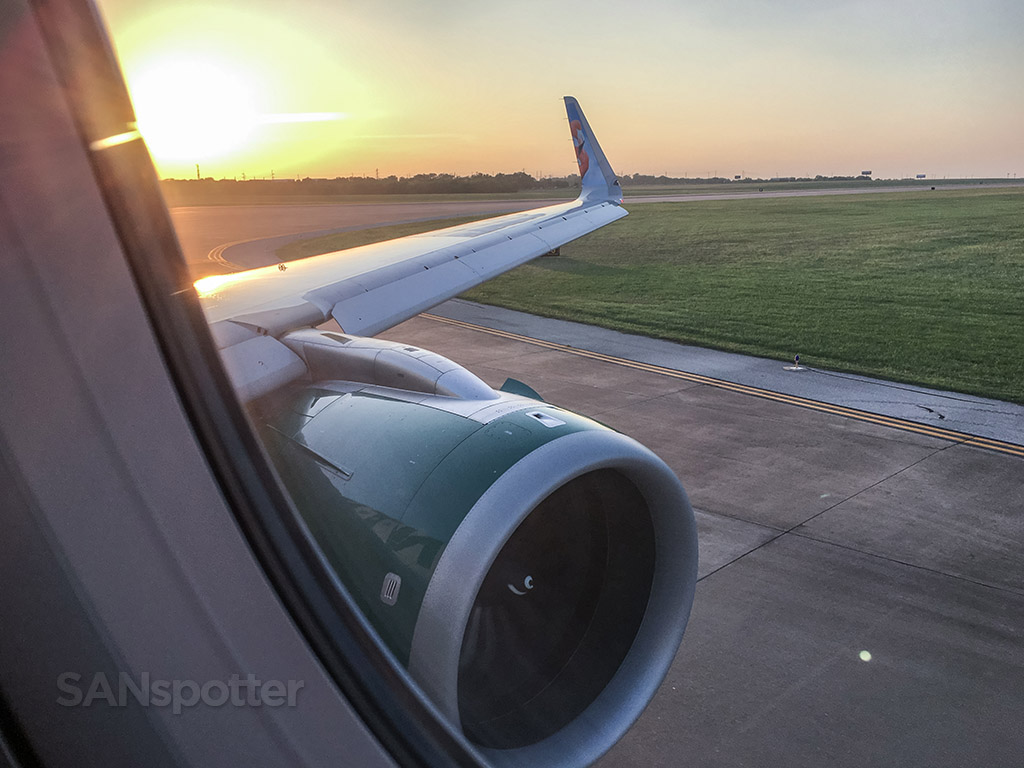 Some of the other passengers started getting feisty as we were pulling up to the gate, as it seemed as if many of them had onward flight connections and were in grave danger of missing them completely. There was a lot of anxiety in those final moments with everyone trying to get their bags as quickly as possible so they could run to their next gate, so I just held back a bit and let the really aggressive ones go first before I dared setting my foot into the aisle.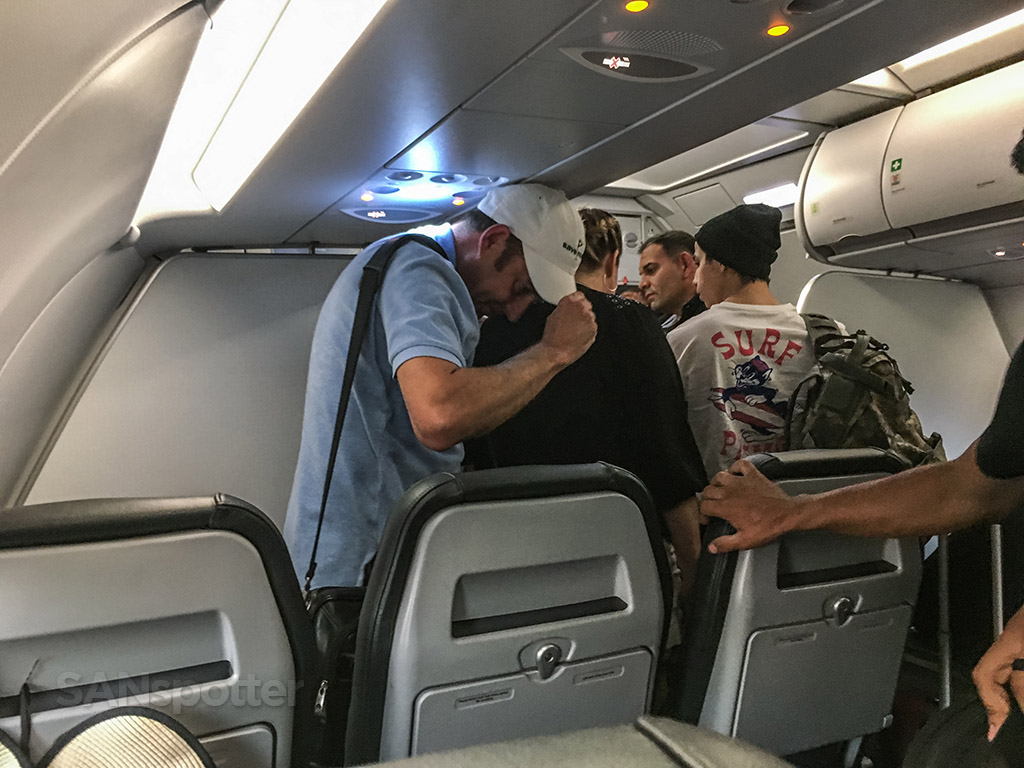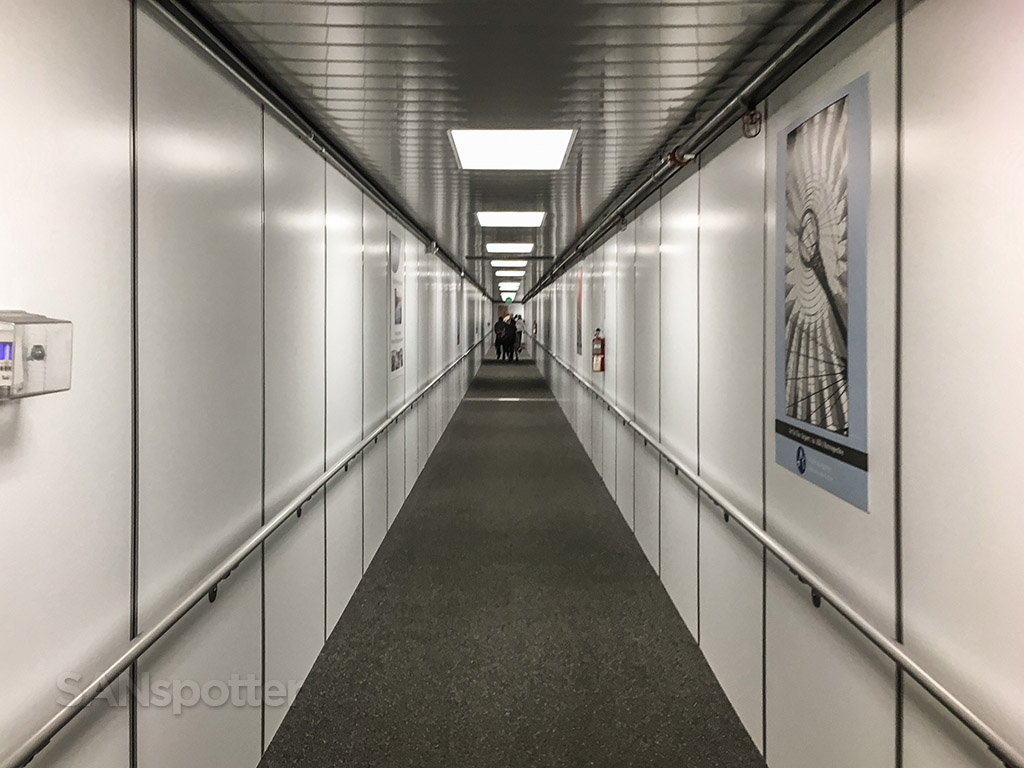 That massive delay out of San Diego this afternoon wasn't really the best way to get me reacquainted with this fun and quirky little airline, but once on the ground in Austin and thinking back on the entire experience, I can honestly say that it was a really good flight and I was very much looking forward to my return to San Diego with Frontier in just a few days.
It's also worth mentioning that having those three extra hours to think about my underwear strategy for this trip was super beneficial and never once was I worried about having to walk out the door wearing previously-worn (or the wrong color) skivvies. Thanks Frontier! With your help, I totally nailed it.