As I mentioned in my previous post, today was a day that I had been looking forward to for quite some time. Korean Air has been at then top of my "must try" airline list for a long time, and watching my good friend Okyoung from Instagram fly around the world on this airline has only made that itch stronger. All those pics of the in-flight experience look so good!
I know what you're thinking. What's so special about Korean Air? For the most part, it's the principle of the matter that has brought me to this point. Mix together natural curiosity with the inability to find award space in Prestige Class on the A380 to and from the US (ExpertFlyer's awesome award search tools help a lot though), and that was all it took for me to put them on such a high pedestal in my mind. It's like when you were a kid and your older sister dangles something in front of your face that you really want, then snaps it away right before you can grab it. That's the kind of frustration I've been feeling with Korean Air lately.
KE17
Seoul, South Korea (ICN) – Los Angeles, CA (LAX)
Tuesday, January 31, 2017
Aircraft: A380-861
Registration: HL7614
Duration: 11 hours 3 minutes
Seat: 10H (Prestige Class / business class)
My short attention span got the best of me while sitting in the lounge, and it was hard to resist the urge to leave a bit early so that I could have enough time to wander the terminal a bit before the flight. I really like ICN – it feels like a world-class airport, which I like, and I can easily have just as much fun wandering up and down the terminal as I could sitting in the lounge with a delicious snack and a cold drink in my hand. Today was no exception, and I ended up having about an hour to wander before boarding commenced for KE17 to LAX.
The sense of anticipation was strong as the gate agent called for Prestige Class passengers to board, and oddly enough there was a feeling of satisfaction coming over me as well. Finally, after all these years, I am getting my chance to fly Korean Air.
I've mentioned before how dangerous it is to be filled with so much anticipation before trying a new airline (it's a recipe for major disappointment), so I tried to chill out a bit as I handed my boarding pass and passport to the gate agent. "Be cool Scott, be cool…"
Stepping onboard this A380 seemed oddly familiar to me thanks to Okyoung's detailed pics over the years, and right away I felt perfectly at home and familiar with the light green and gray materials covering all parts the business class cabin. The seats here in Prestige Class are not as private as the A380 business class seats on Asiana Airlines, but what they lack in privacy they more than make up for in legroom. Never in my life have I seen so much leg room in a business class cabin!
Despite the seats looking a bit outdated, they were perfectly comfortable and I knew I wasn't going to have an issue getting comfortable. It took me a few minutes to get familiar with all the buttons and controls, and while doing that, the flight attendants were coming around with pre-flight snacks and drinks. Noise-cancelling headphones were also distributed while on the ground, but hot towels and menus were not. Those would have to wait.
None of the flight attendants on this flight seemed to be very proficient in English, and it was amusing to watch the lead FA introduce herself to each passenger one by one. She was much more talkative to the Korean passengers than anyone else, and I could tell she was struggling with English when she greeted me. All I got from her was a quick "welcome aboard Mr. SANspotter, please let me know if you need anything during the flight". It's times like this that I wish I knew more languages! I always feel bad for having someone struggling to speak my language to me when I don't know any of theirs.
Our push off the gate was delayed 10 minutes due to airport congestion, and the flight attendants did well to keep the business class cabin passengers happy with plenty of drinks and snacks. The safety demonstration video was also played during this time, which was surprisingly robotic and bland. Korean Air could use a new marketing team, that's for sure!
Once off the gate and taxiing to the runway, we had another 10 minute pause – airport congestion was a definite problem today here at ICN. While waiting, I took the time to look around the seat a bit and it was then that I discovered that the menu was actually in the magazine rack on the seat back in front of me. I had missed it earlier no doubt due to the fact that it's impossible to reach without getting up out the seat and walking over to it. Yes, there is that much leg room here in Prestige class. I've never seen so much room between seats!
Take off in an A380 is a non-event due to how quiet it is. It's so weird. You'd think an airplane of that size would create a noise on take off that could be heard (and felt) for hundreds of miles, but it's so quiet that you can actually have a quiet conversation with your seat mate without raising your voice. I wasn't having any quiet conversations with my seat mate though – he was a Korean businessman who appeared to know very little English. He was very nice though – we exchanged smiles and laughs as we both took pictures of our seat before sitting down.
That famous in-flight Korean Air hospitality began shortly after takeoff, with hot towels coming first and then followed up with appetizers. There were no snacks served with the drinks – they simply got right into the meal service without skipping a beat.
The dinner service, as I anticipated, was superb. The food wasn't anything I'd call spectacular, but the service from the flight attendants and care that they took in presenting the meal more than made up for any lack of quality. I chose the Korean meal option and it did not disappoint. For comparisons sake, it tasted exactly the same as the meal I had on Asiana a week prior. All this stuff is probably made in the same factory anyway.
Part of what made this meal service seem more professional than what I experienced on Asiana was the fact that meals were served from a cart, and they assemble your dish to your liking right there in front of you. Dessert was also served this way, and I really feel this level of presentation goes a long way to enhance the in-flight experience.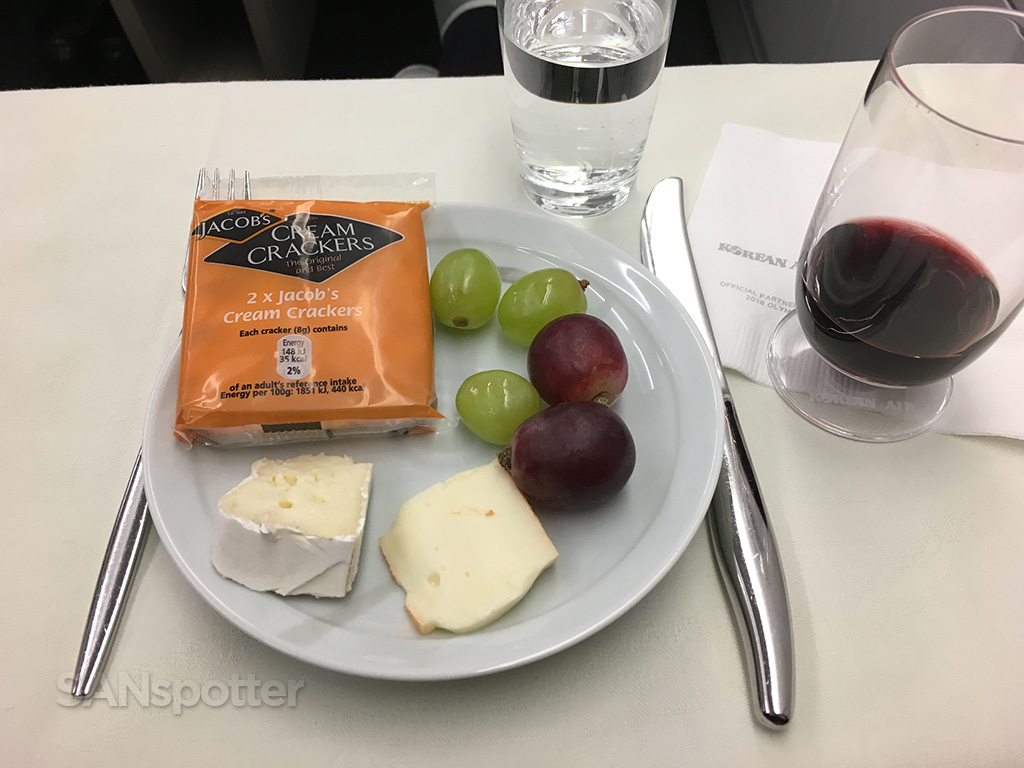 My only gripe about the meal service was that they left the cabin lights on full blast for the entire time. In that sense it felt more like cafeteria dining rather than being in a fine restaurant. It wasn't until the last tray had been cleared that they finally dimmed the cabin lights, and I kind of like the way they did it. The light started dimming so slowly that I didn't notice at first, and it was gradually replaced with red and blue mood lighting. But only for a minute or two, fading away fully until the cabin was completely dark. I wish they would have left the mood lighting on a little longer. It was so pretty in that cabin for those few brief moments!
I started watching Nerve during dinner, and then continued with it after the lights had been turned off. I didn't think it was a very good movie at all, but I will admit that it held my attention to the very end. Casey Neistat even made a brief appearance in it, which totally threw me for a loop when I saw him. I didn't know he was in it!
Right before putting my seat into it's fully lie flat position, I checked our location on the moving map display and was floored to see that our ground speed as 730mph. Wow! We were obviously getting a nice ride on the jet stream, and I am thinking that may have been the fastest I have ever moved. Like forever ever. The only downside with riding the jet stream like that were the few brief moments of butt-puckering turbulence we had several times during the night.
Turbulence over the North Pacific Ocean can be gnarly at times, and it's a scary feeling to be woken up from a dead sleep with the plane violently jolting side to side and up and down with no land for thousands of miles in every direction. If something bad happens to the airplane way out here, you're pretty much screwed. The flight attendants handled it all perfectly though, with the lead flight attendant coming over the PA to briefly tell the other FA's to sit (all in Korean, of course), sounding calm and cheerful the entire time.
I somehow managed to sleep really well despite the turbulence and the noise of the galley which was right behind my seat, and I felt like could have slept for another 8 hours as the lights were slowly coming on for the breakfast service.
I wasn't hungry at all, and sleep was the only thing on my mind, but I couldn't refuse another meal from this amazing cabin crew. I went with the congee for breakfast, which was light enough to not make me feel like a total pig. There's no way I could have done a full western option with eggs, potatoes, and sausage.
The descent into southern California was beautiful on this clear and sunny morning, and those of us on the right side of the airplane got really nice views of LAX and downtown LA as we made our downwind approach.
It was right then, as we were scraping the rooftops of the buildings just east of the airport that I was actually starting to feel a bit bummed and sad that the fun parts of this trip were now over, and it may be a long time until I get to fly Korean Air again.
We glided down and landed gently on 24R, and that was that. My first ever Korean Air experience was now over and it was time to snap back to reality.
So I'll bet you're just dying to know: did this experience live up to the expectation I had built up in my mind? Well…yes and no. Starting with the negative first, I'll just say that I did not like the "open" layout of the Prestige Class cabin on the A380. I prefer as much privacy as possible when flying in premium airline cabins, and the Korean Air business class product is anything but that.
On the other hand, the Korean Air cabin crew working this flight was one of the best I've ever experienced. Their professionalism, care, and politeness towards every passenger is something western airlines can (and should) learn from. It was such a good experience that I've realized that I shouldn't let the lack of available award space keep me from flying this airline in the future.
I've even got ExpertFlyer searching for award space 24/7, and I'm getting automatic notifications when something pops up. That's a huge time saver! But still, even if I can't find award availability that works for me, I actually wouldn't think twice just to buy a ticket outright. There are very few business class products I'd be willing to pay out of my own pocket for, and Korean Air is now one of them.