After years of doing my best to avoid flying on a 737 to Hawaii, it finally happened. The entire goal of this trip was to see as many parts of the Hawaiian islands as I could that I've never seen before, and with the limited amount of time I had, kicking off the trip with an Alaska Airlines 737-800 flight from SAN to KOA ended up being the best option to get me positioned for some really fun inter-island flights.
So what's the problem with flying on a 737 to Hawaii? Honestly, nothing at all, but you have to understand that I grew up in a time when the only way you could get to Hawaii was on something big (like a 747, DC-10, L-1011, or 767).
I was conditioned from a very early age to expect nothing but wide body service to the islands, and to be honest, flying on a little 737 across the pacific to this tropical paradise takes a bit of the romance out of the experience.
At least it does for me – I know plenty of people who don't care one way or the other and the only thing that matters to them is not crashing into the ocean on the way over. Yeah, that's important too, but…bring back the 747's I say!
AS185
San Diego, CA (SAN) – Kona, HI (KOA)
Saturday, April 29, 2017
Aircraft: 737-890
Registration: N538AS
Duration: 5 hours 32 minutes
Seat: 21C (economy class)
Alaska Airlines has a rather impressive schedule in and out of SAN these days, with plenty of service to and from Hawaii covering a multitude of destinations (beyond just Honolulu).
The good thing about that is they are fighting tooth and nail with Hawaiian Airlines and their daily A330-200 service to HNL (Hawaiian Airlines A330-200 first class kicks butt btw), which is keeping ticket prices low and service levels high.
This is a very good time to be a San Diegan if you travel to Hawaii on a regular basis! I've always favored Hawaiian Airlines over Alaska in the past, but I was looking forward to changing things up a bit and giving AS a chance to win me over.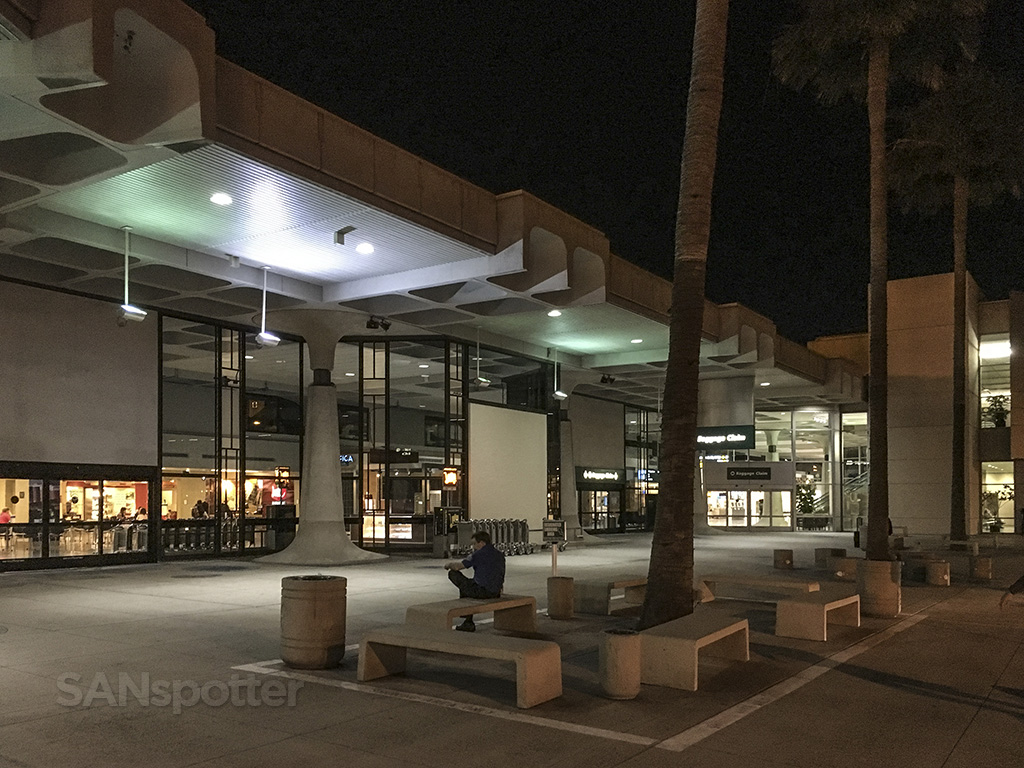 I checked in online for this flight at exactly 24 hours before departure, and at that time, the fight looked to be about 70% full with an empty middle seat next to me. Nice! The opportunity to be able to spread out and relax a bit on this flight was looking good, so I was especially chipper and ready to go the morning of departure. Things appeared to be starting off well!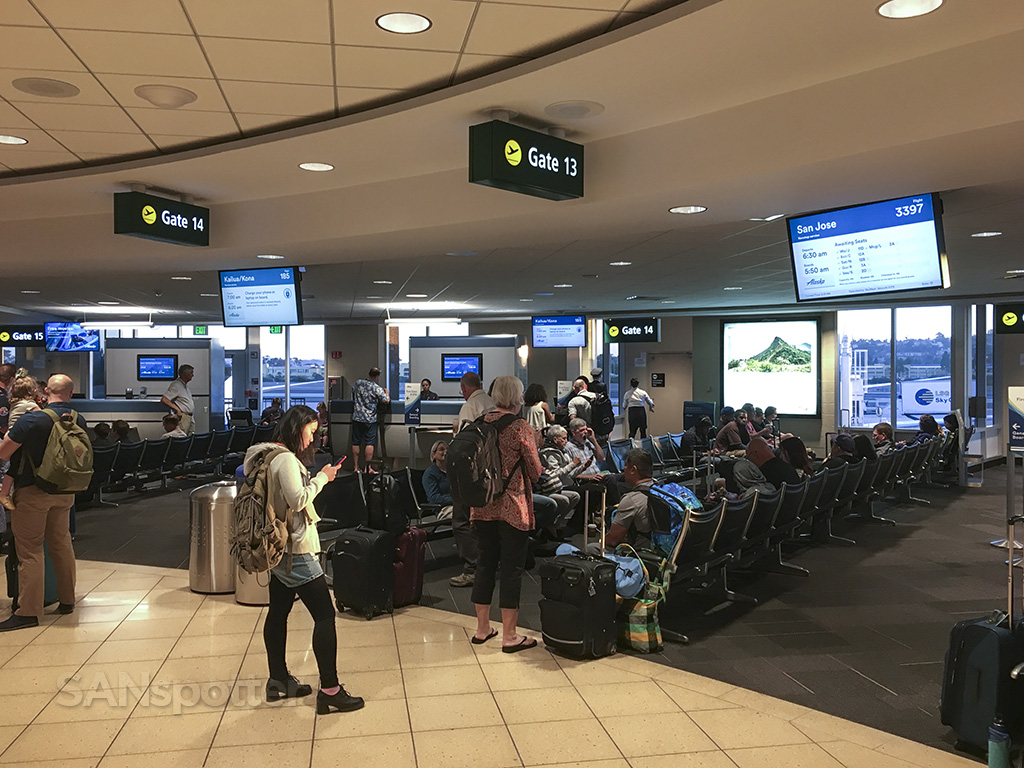 Boarding was called just as the sun was rising, which really helped to brighten the dull atmosphere of terminal 1 here at SAN. I'm not a fan of this terminal at all, and the more that I think about it, it's probably (subconsciously) another reason why I don't fly Alaska Airlines or Southwest all that often. Terminal 2 is so much bigger and nicer with a lot more places to sit and relax in peace and quiet.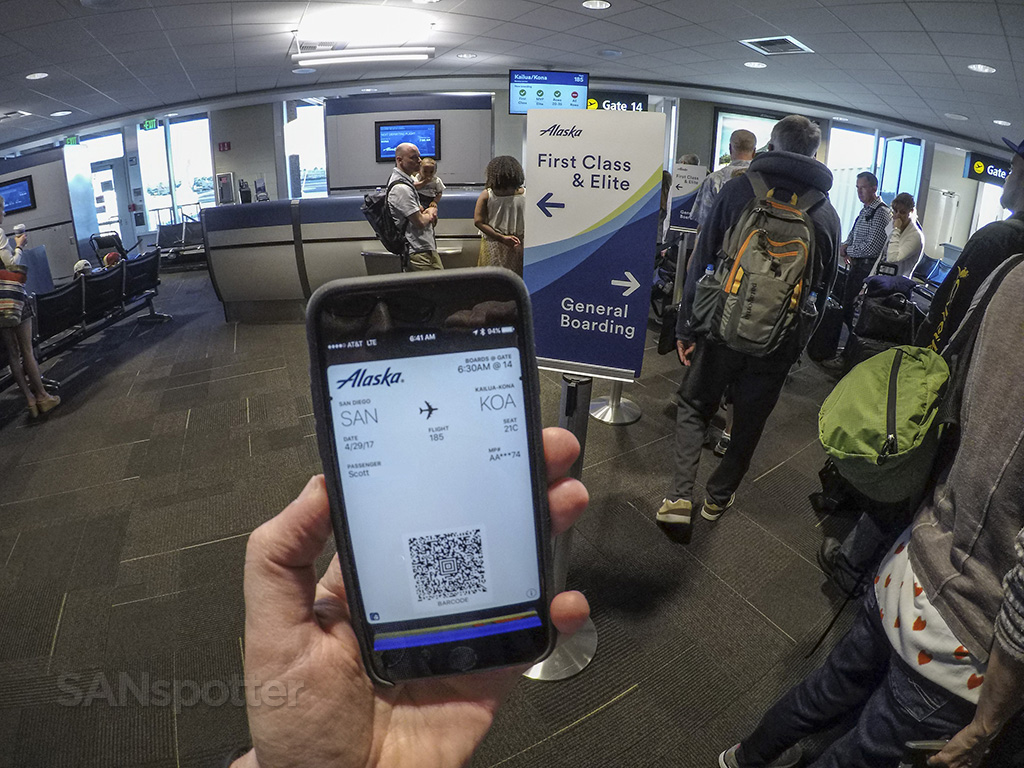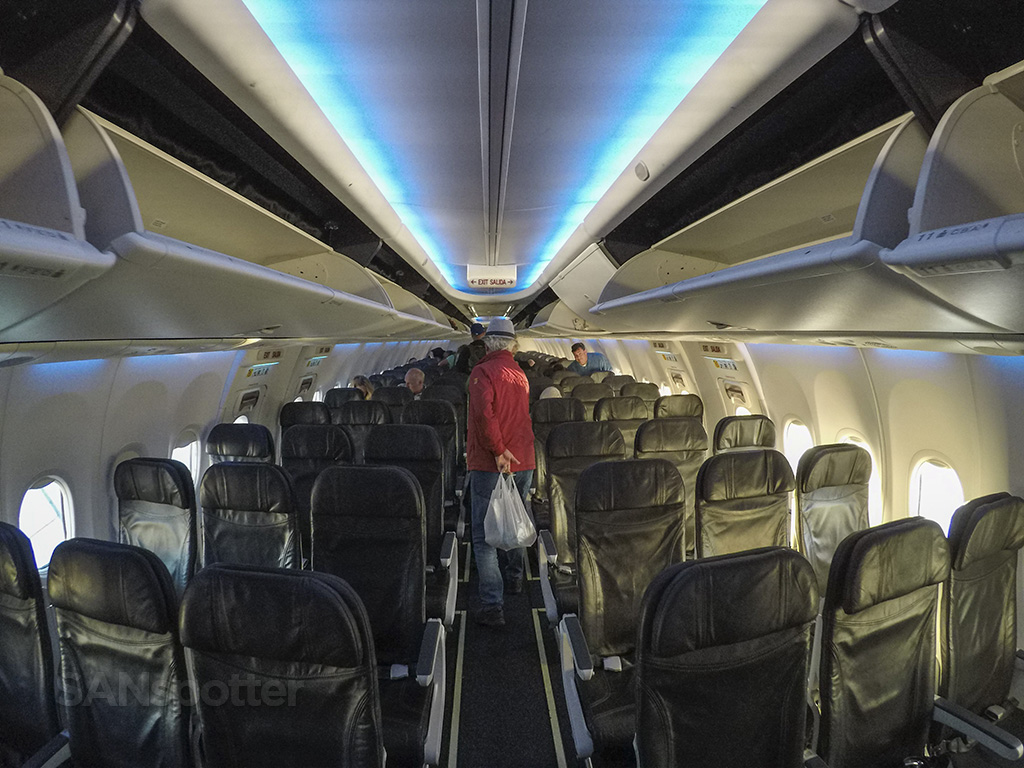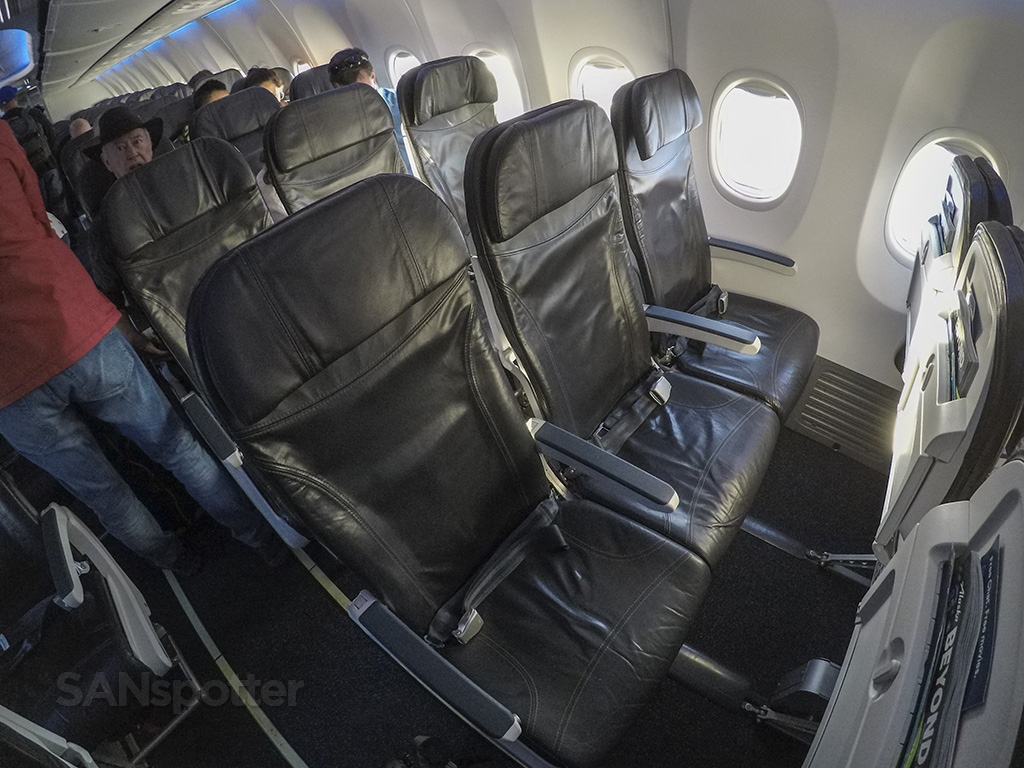 Unfortunately, the middle seat next to me ended up being occupied. To make matters worse, two minutes after I sat down, he rang the flight attendant call button and asked if they had any extra barf bags available. What?? He said he wasn't sick, but does get motion sickness very easily, so it was just a precaution. Oh jeez. Can you imagine sitting next to someone puking into a little bag for 5 and a half hours? I could, and it was not pleasant. I did feel bad for him (motion sickness is not fun) though. All I could do was hope for the best and pray for a smooth ride.
It turned out that he was a pretty nice guy actually. He and his girlfriend (seated in the window seat) were heading off for a week of rest and relaxation on the big island, and I was really hoping for his sake that he could hold it together and not start off their romantic getaway with dribbles of puke on his shirt…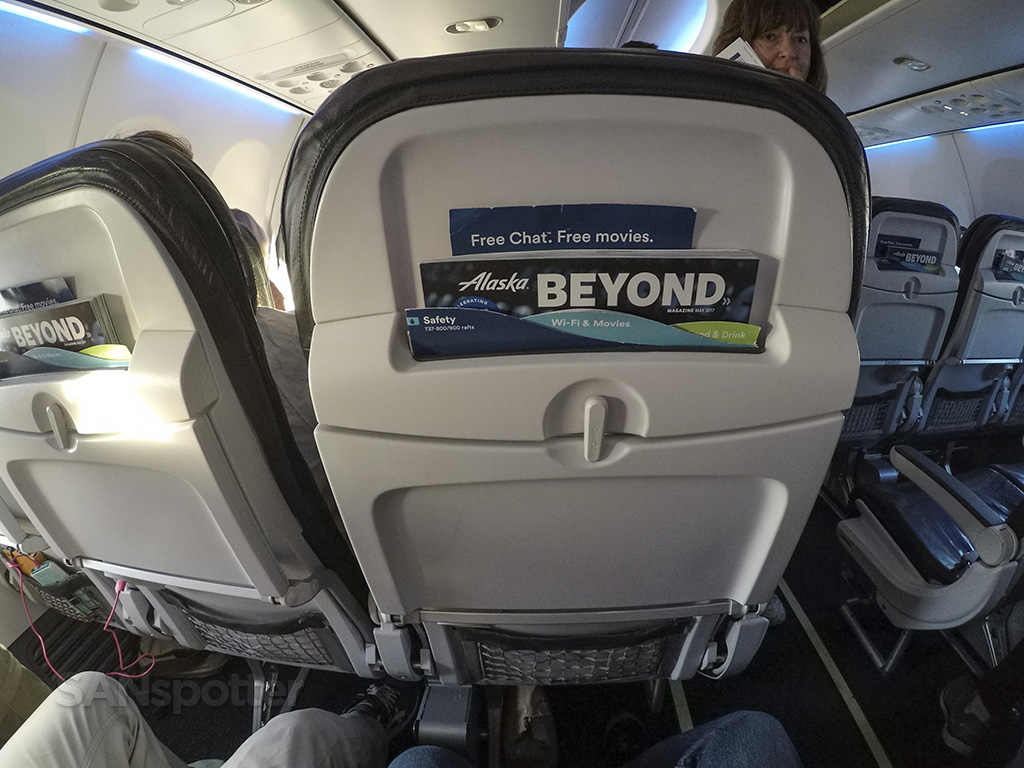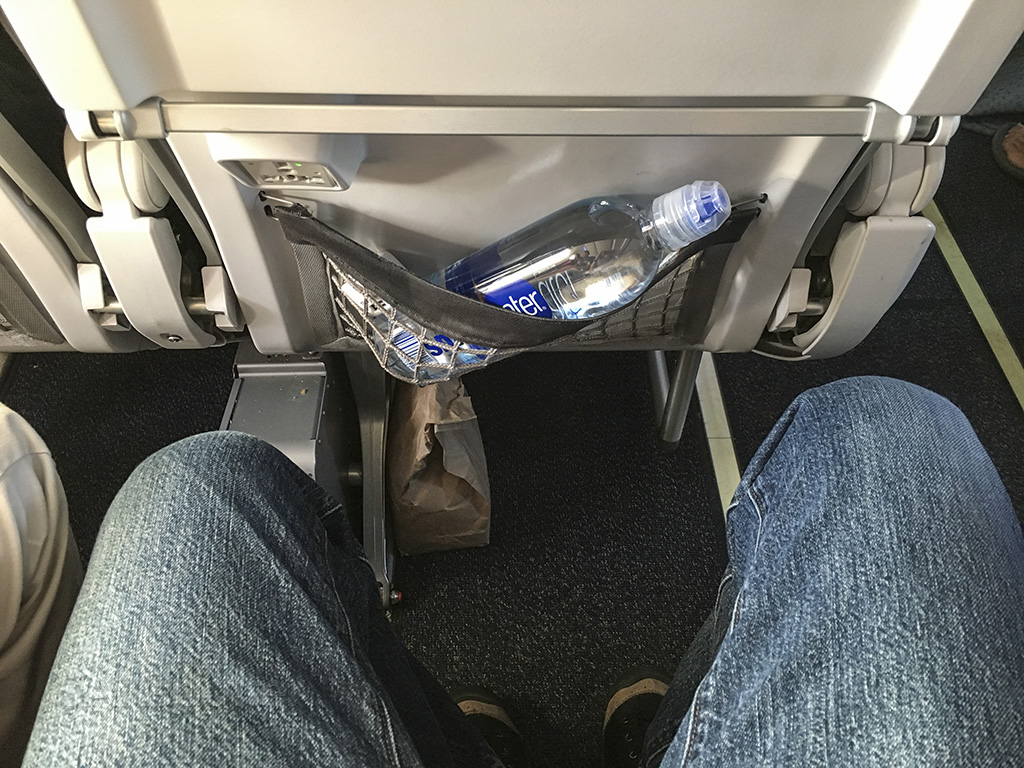 Normally I'm seated in a window seat, but today I purposely chose an aisle. There's noting to see between San Diego and Hawaii anyway, and having the option to get up and walk around (perhaps maybe to get away from a puking seat mate?) was nice. The only downside is that I don't have any takeoff and landing pics for this trip report. The upside is that it makes me try and be more creative with my photography to make up for the lack of window view pics.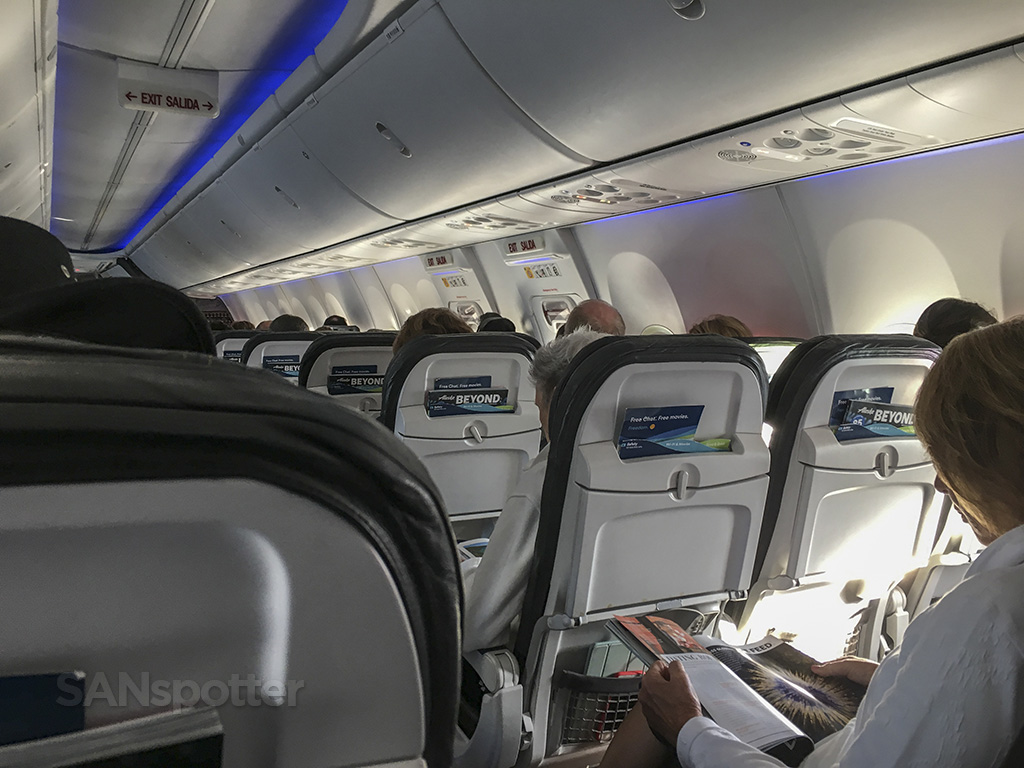 In flight service started within 10 minutes of departure, consisting of drinks and snacks for purchase. Out of curiosity, I pre-orederd a fruit and cheese tray on the Alaska Airlines website the day before departure, just to see how the process worked. I didn't have to pay for it on the website – it was simply a reservation.
Anyway, it worked like a charm. When the snack cart arrived at my row, the FA asked if I had reserved a fruit and cheese tray. I didn't even have to mention it. Isn't technology grand?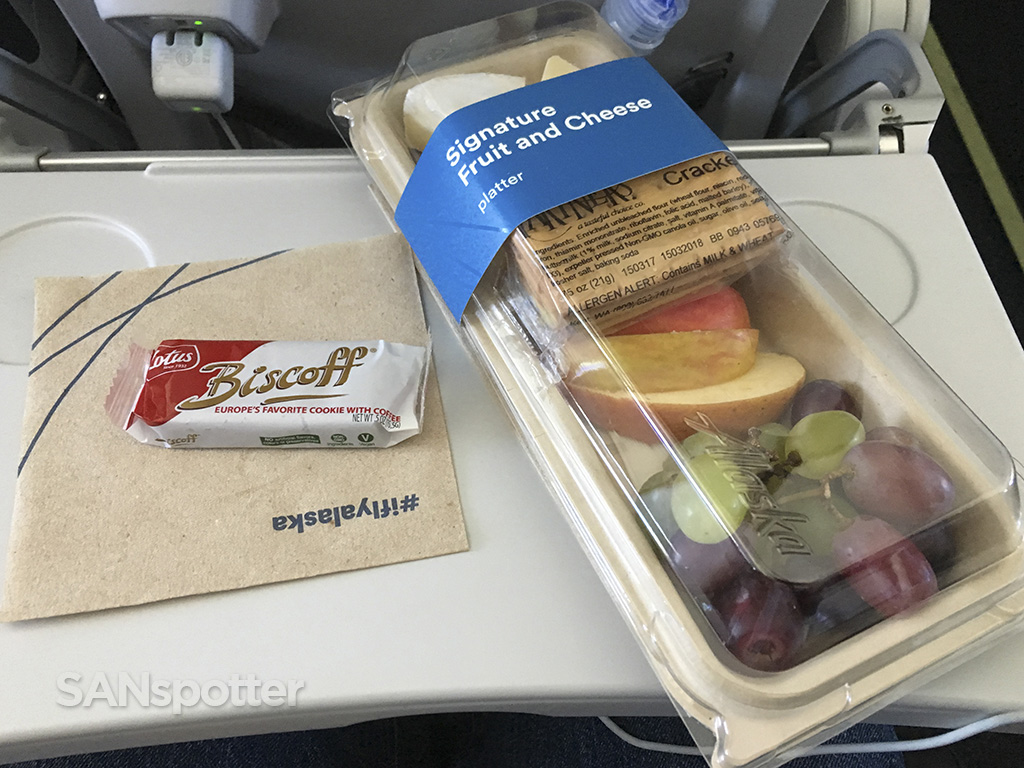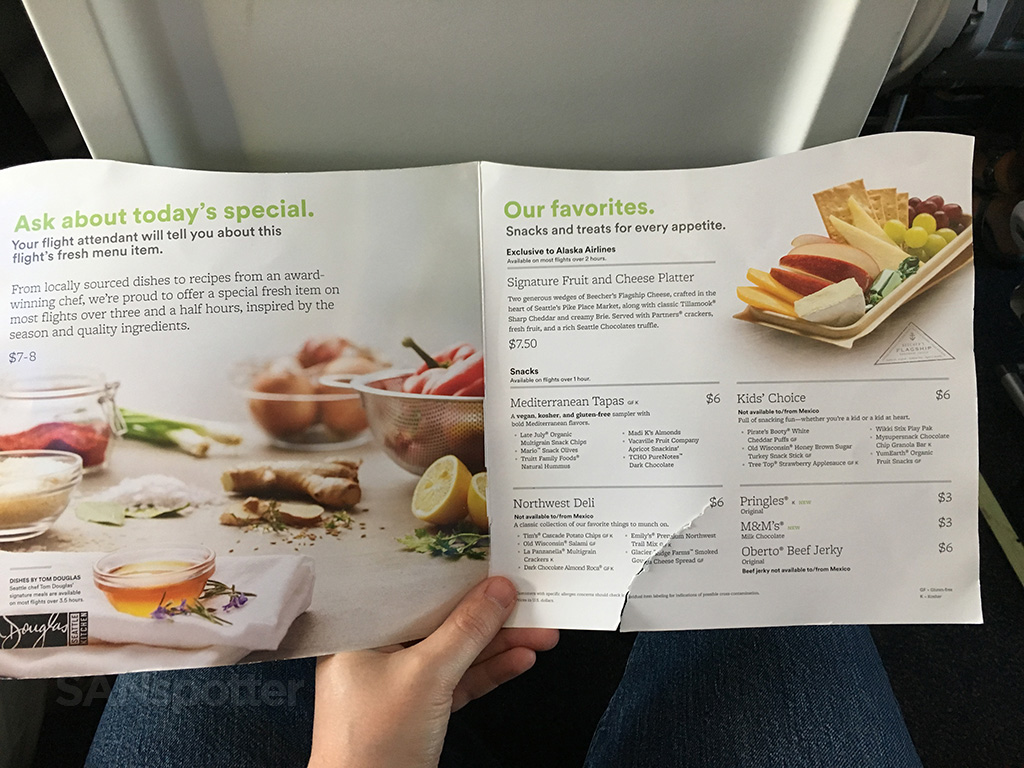 The service was really good on this flight, thanks in large part to some of the happiest flight attendants I have ever seen. There was one young woman in particular who stood out as being someone who I think deserves to be working in an international first class cabin somewhere. She was just so happy, so friendly, and she even carried energetic toddlers up and down the aisle to give parents a much-needed break. I wish I would have got her name so that I could post it here as a way of giving her some attention she deserves!
I listened to music and tried to sleep as much as I could during the flight, and thankfully, my seat mate never once held that barf bag to his face and let loose. He actually looked happy and fine for the entire flight, so I was quite thankful of that.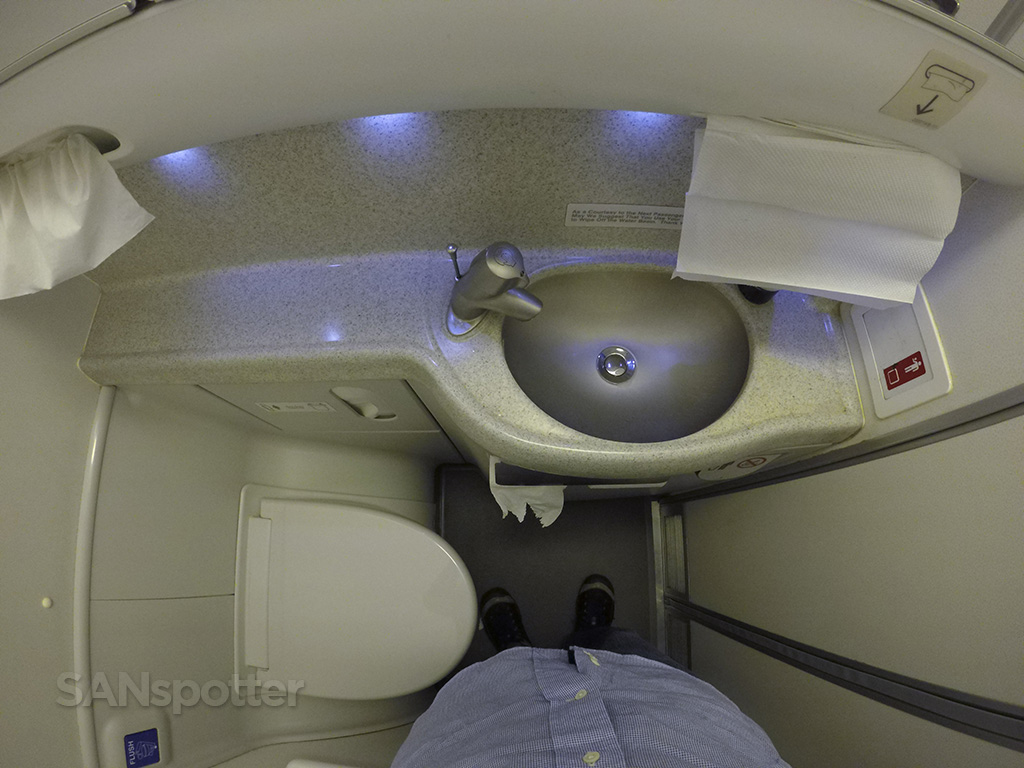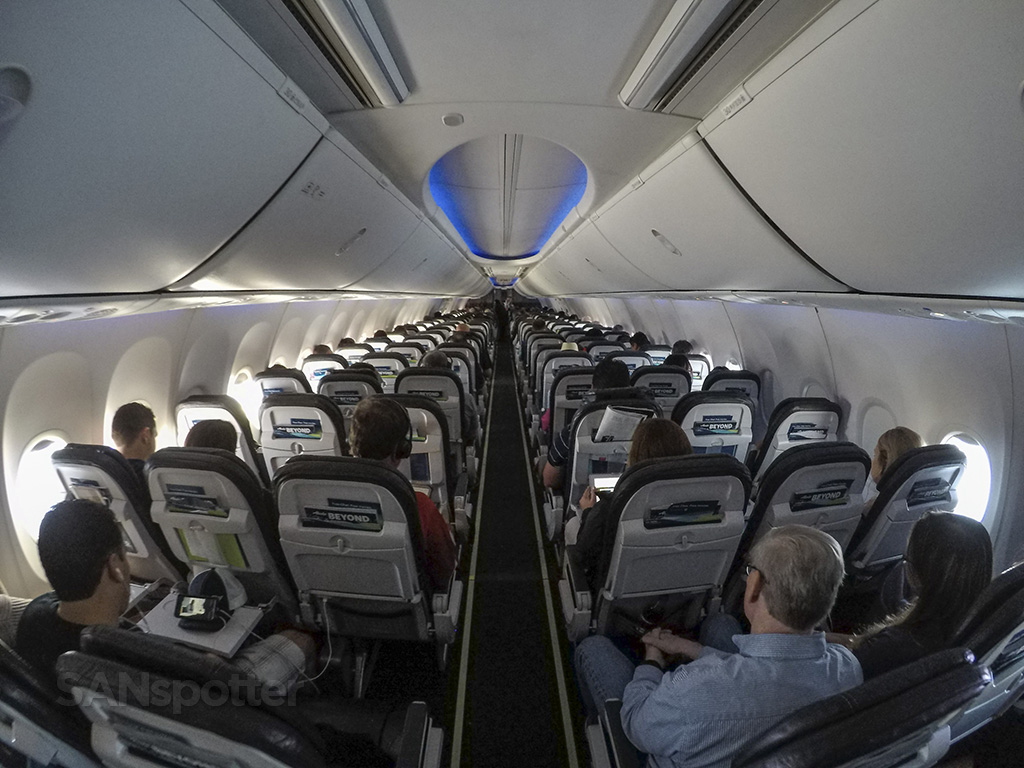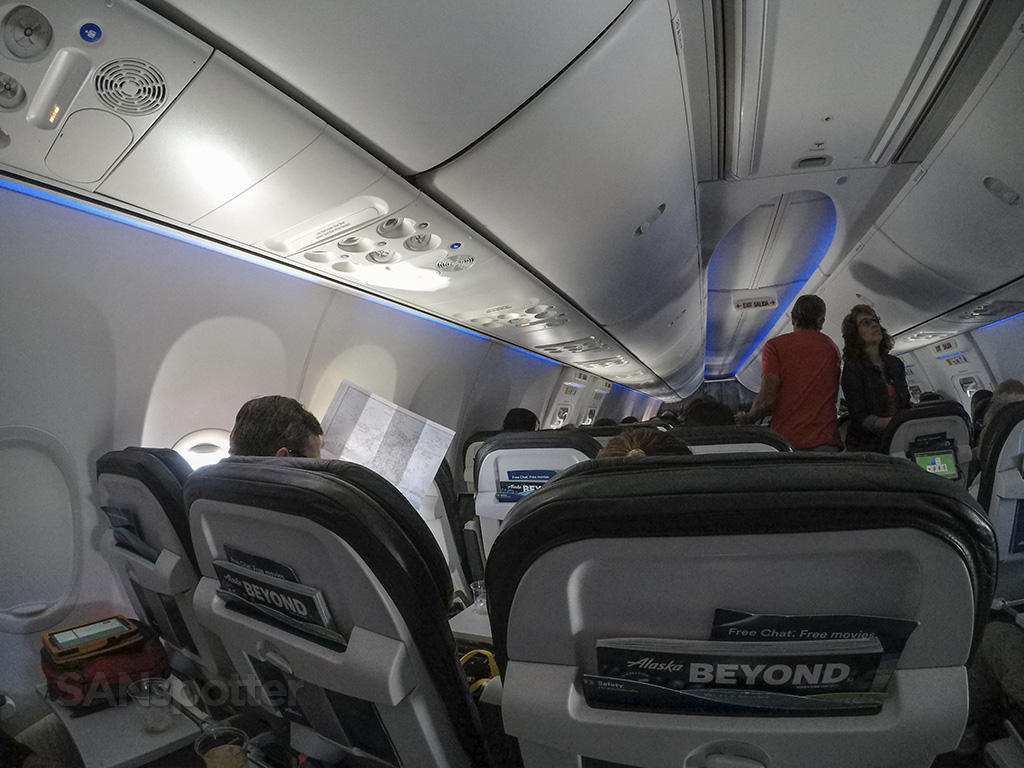 The final drink service began with just over an hour to go, and free Mai Tai's were offered to everyone over 21 as a welcome to Hawaii. Watching them come down the aisle, it appeared that a majority of passengers took them up on their offer, as they were slingin' those Mai Tai's fast and furious from row to row. I'm not normally a fan of sugary drinks, but I had to do it because…well…Hawaii.
On a side note, I had a look at the bottle from which they were pouring from, and it was standard-issue stuff from Trader Vics. Not that I'm complaining, but it made me chuckle because I had to wonder who's job it is at Alaska Airlines to run out to Trader Vics and load up on plastic bottles of ready-to-drink Mai Tai's for their Hawaii flights. They probably make the interns do it!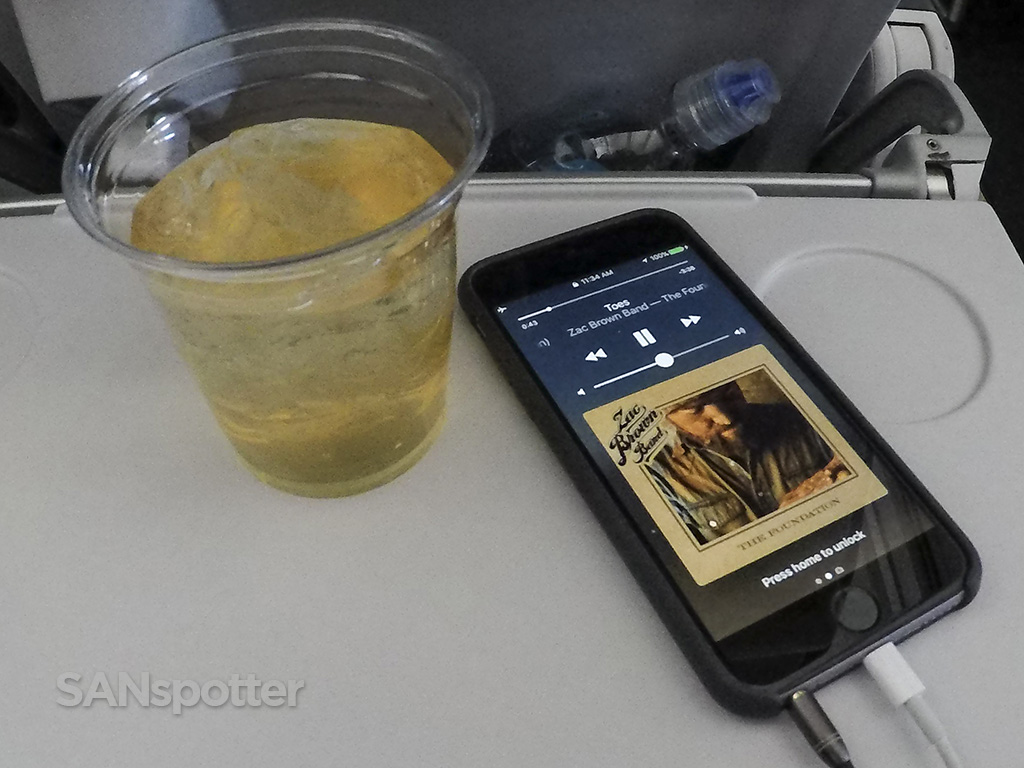 I was regretting my choice of an aisle seat as we were making the descent, as there were some pretty spectacular views of what looked to be rugged volcanic terrain out there. Too bad I couldn't get any pics of it. Oh well. We did end up landing 30 minutes early though, so that was nice.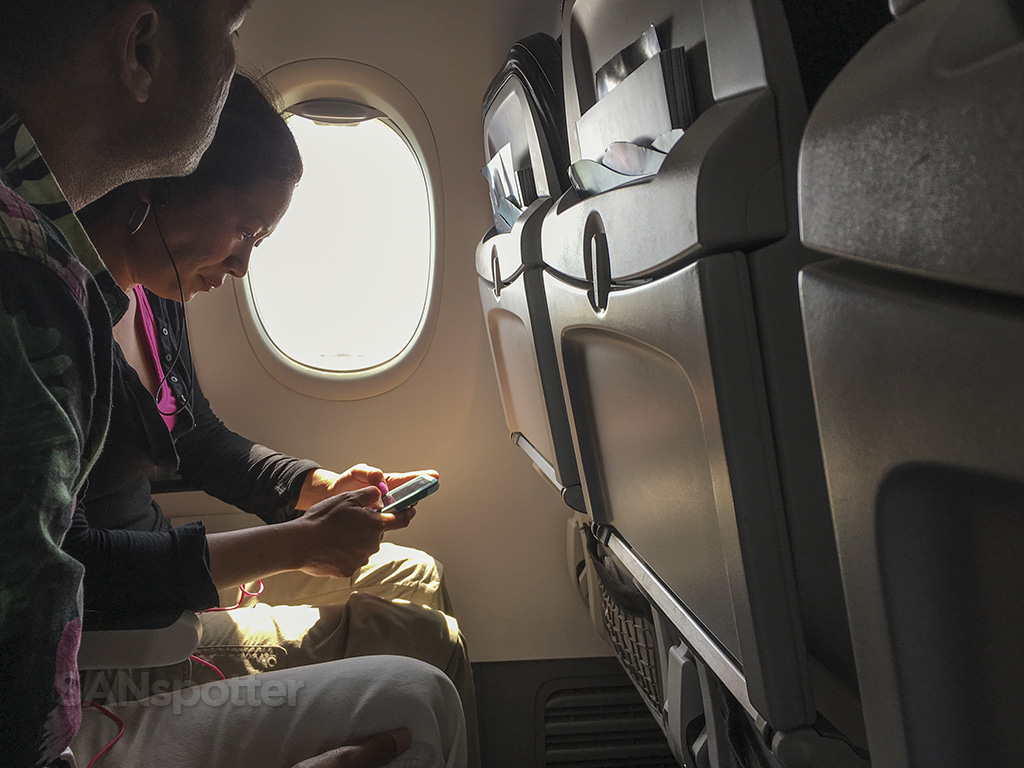 Kona International Airport is a lot smaller than I expected it to be, and our taxi from runway to gate took all of 30 seconds. And there are no jet bridges here, so I was pretty excited about being able to get some nice pics of the plane from the air stairs. I was not disappointed.
They were letting passengers out the front and rear of the plane, and since I was seated in the middle of the aircraft, I could have chosen either door. I held back for a few minutes in favor of deplaning through the rear door though – that would give me better photo opportunities.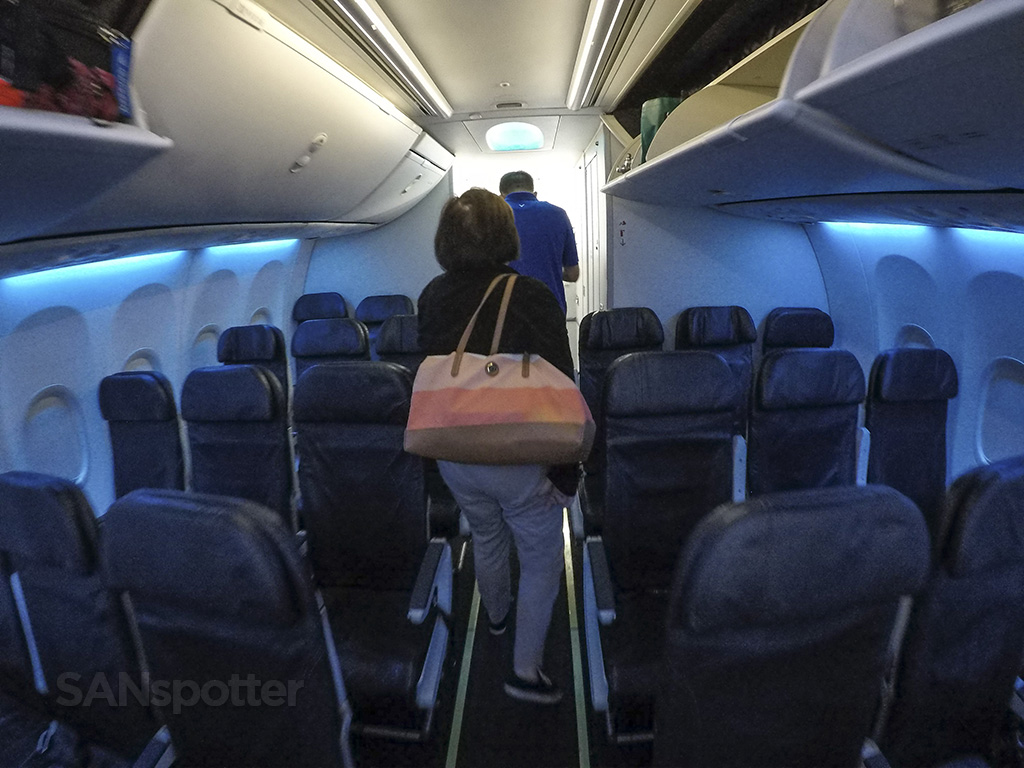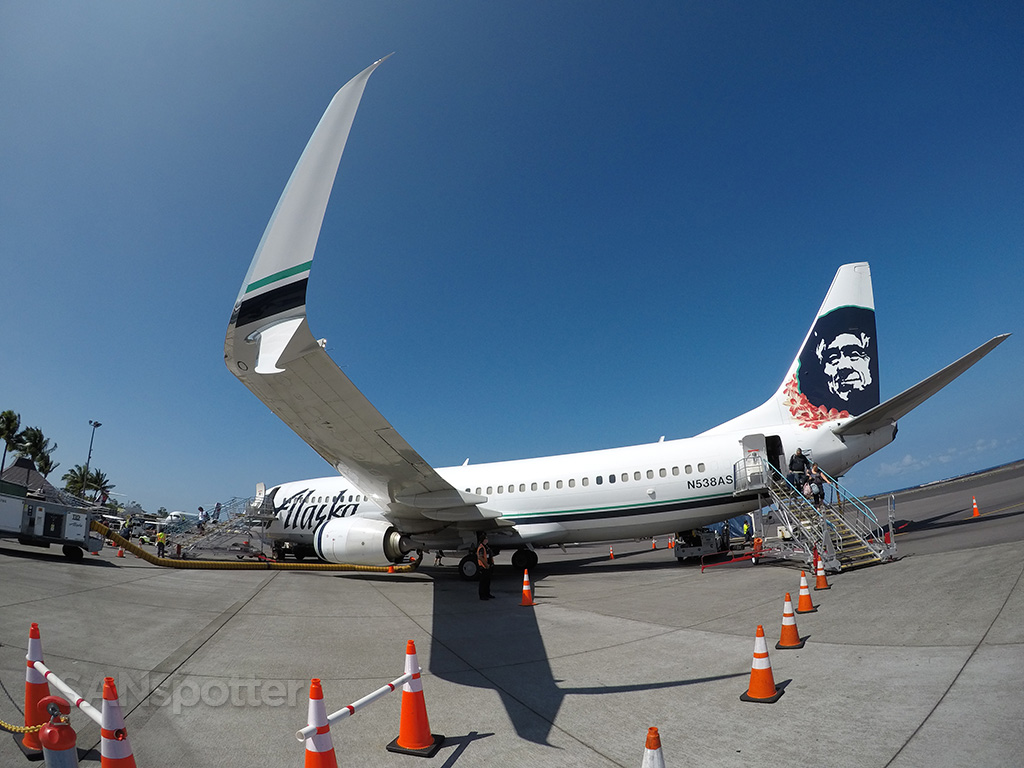 Once off the plane and into the terminal, I was simply in awe. Kona airport is so tiny, and it's it's a completely outdoor facility. I mean completely. There are no barriers to the airplanes, and all it takes is just a small hop over a bush to run out onto the runway. I found all this amusing considering how jail-like most other commercial airports in the world are, with locked bulletproof doors separating the terminal to the outside world. Things are much more relaxed on the big island I guess.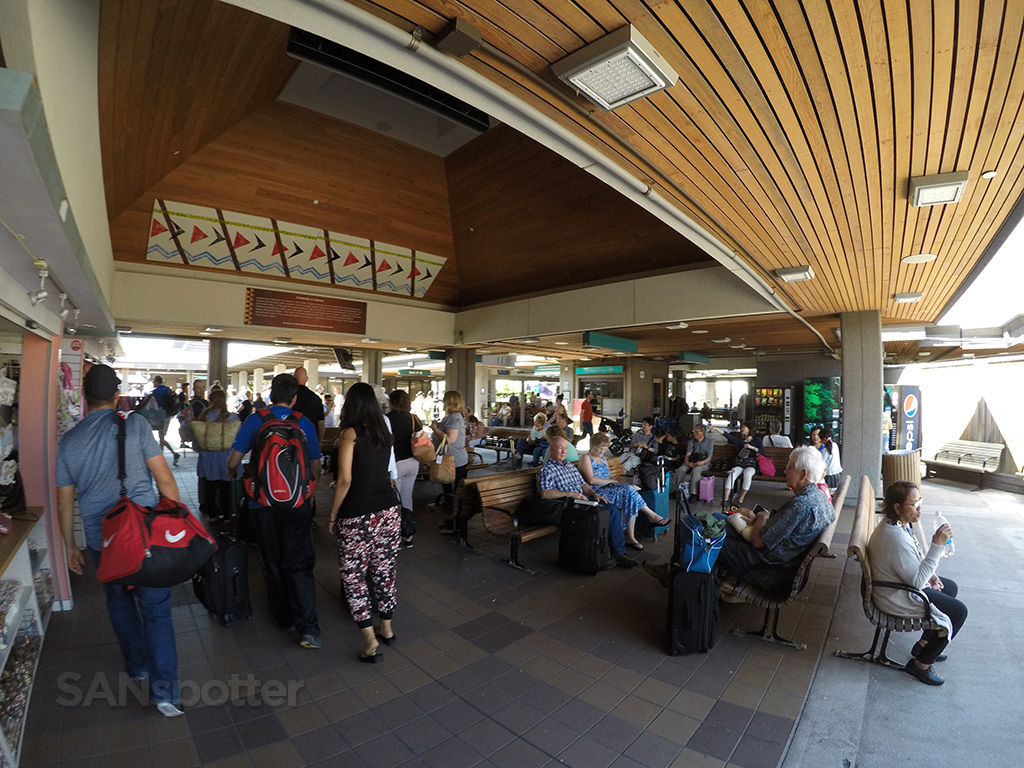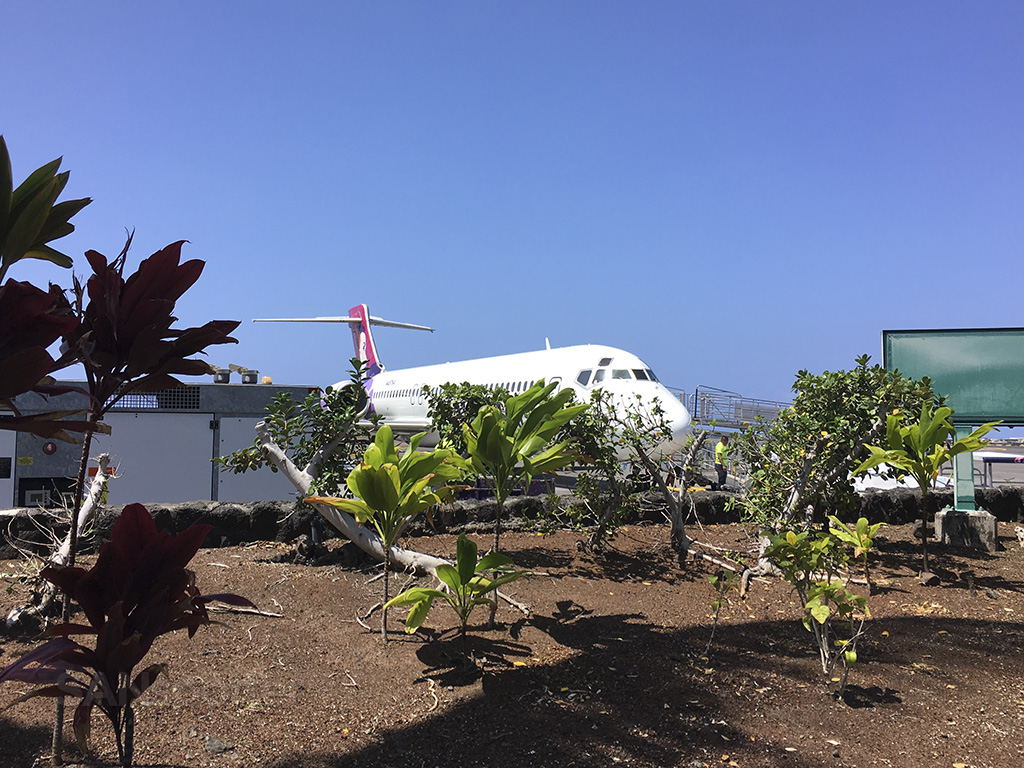 So what did I think of my first ever 737 flight to Hawaii? It was fine. It wasn't uncomfortable. And the sense of "fun" about flying to Hawaii still filled the cabin. But as long as Hawaiian Airlines offers A330-200 service between SAN and HNL, I'm going to choose that every time over an Alaska Airlines 737. Long live wide bodies to Hawaii!