One of the biggest challenges in a traveler's life trying to is figuring out the formula for arriving in style with clean, wrinkle-free clothes. Some types of clothing are easier to manage than others, but I'm about to discuss the biggest challenge of them all: how to bring a suit on a plane without destroying it (or your sanity).
Long story short, the easiest way is to use a hanging bag specifically made for suits. However, you can also pack it in a traditional suitcase, roll it, or even wear it.
There's a lot more to it than that though, and the following is an insanely detailed overview of all the techniques you can use to keep your suit in great shape. Even after a long flight!
The best (and safest) ways to bring a suit on a plane
As I've already mentioned, you have several different options for how to bring a suit on a plane. I've tried everything over the years, and the the following 4 methods are what have worked best for me (don't worry – it's easier than flying with a cat – but maybe not as difficult as flying with ashes):
1. Use a high-quality hanging bag
The best option for traveling with a suit is a hanging bag. It's specifically designed to hold suits, jackets, and other items that are difficult to pack into a suitcase. Nevertheless, it's a good idea to check with your airline first, as a hanging bag might count as your one permitted carry-on.
If you do use a hanging bag, you're better off bringing it on the plane instead of checking it. That's because most luggage handling systems (and personnel) will be too rough on hanging bags, which have soft sides that will wind up getting crushed by heavier luggage.
You have two choices for storing a hanging bag on a plane:
Ideally, you can hang it up in one of the closets, which are typically in the First Class and Business Class sections. However, closet space on a plane is limited and might only be available for passengers sitting in those sections.
If you can't store your hanging bag in a closet, the next best storage location is the overhead compartment. Fortunately, most hanging bags fold in half, saving space without wrinkling the suit. Try to place your bag on top of any other luggage in the bin.
2. Pack it in your suitcase
As long as you pack carefully, you can put your suit in a regular suitcase. Here's how:
First, pack the suitcase with your other clothing.
Then, turn your suit inside-out.
Place one shoulder of the jacket into the other shoulder.
Move your rolled-up socks into the shoulders to help keep the suit wrinkle-free.
Now you're ready to pack the pants. Fold them at the seams.
Then, place them into the suitcase with the waist flush with one side. Let the legs hang down off the other side.
Put your dress shirt on top of the pants with the sleeves crossed and folded.
Next, put the jacket on top of the shirt.
Finally, fold the pant legs back into the suitcase, covering the jacket.
The same technique can be used if your luggage happens to be a cardboard box. Yes, it is possible to check a box as luggage (and I highly recommend it if you are transporting precious cargo such as a suit).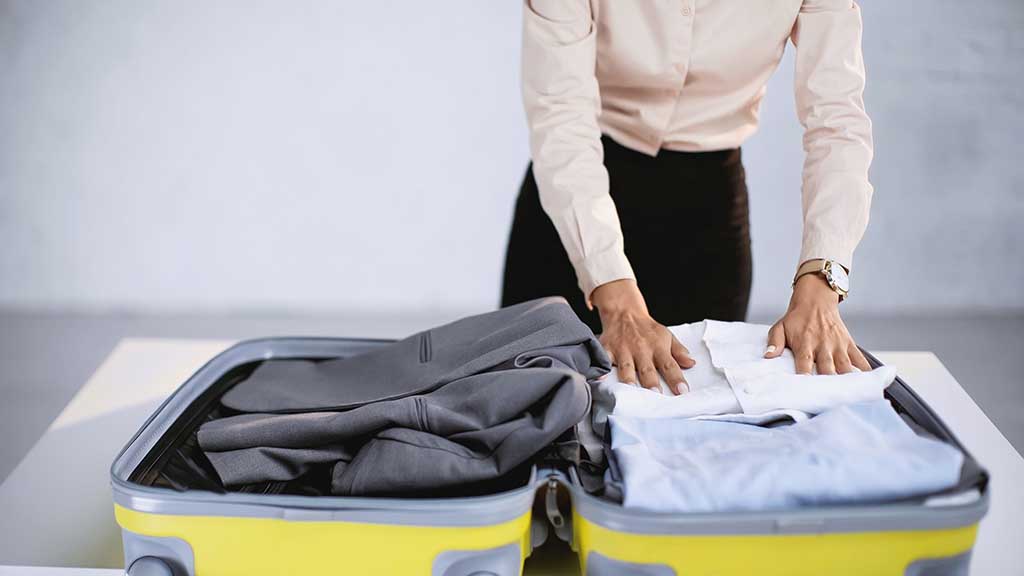 3. Roll it up
If you want to pack your suit in a suitcase, but you don't have much room to spare, you can roll up each part individually. The rolling method takes up the least amount of room in your luggage. However, wrinkles are more likely with this technique than any other, so make sure you roll carefully.
First, steam the suit to remove all wrinkles.
Then, place each item on a hard surface, such as a kitchen table. Roll each item separately.
Make the roll as tight as possible. Pull sections taunt before wrapping, and try to line up the edges of the material evenly as you go.
Tying the roll with a ribbon can help keep it tight during travel.
Place the rolls into your luggage. Try to pack other clothing tightly around each roll to help keep everything secure. Alternatively, you can place the rolls in the webbed compartment of your luggage.
4. Wear it (like a boss)
If your flight will be short, you can skip packing the suit entirely and instead wear it on the plane. It's an excellent option if you plan to head to a function immediately after landing.
Before sitting, take off your jacket. Ask the flight attendant to hang it up in one of the plane's closets. If that's not possible, lay the jacket across your lap for the duration of the flight.
Wearing your suit on the plane is easy but does pose certain risks. Sitting in a cramped airline seat, especially for a long time, can make your suit look wrinkled and worn. Fortunately, if you're only on board for a few hours, wrinkling should be limited to around the waist area, which is generally covered when you're wearing the jacket.
Also, make sure you avoid food or drink during your flight. One clumsy spill can ruin your entire appearance, as you might not have time to find a dry cleaner once you land.
Products to make traveling with a suit easier
Most methods for how to bring a suit on a plane are based on technique. However, there are a few pieces of gear can make travel easier:
Hanging bag
Frequent travelers will likely want to invest in a high-quality hanging bag. The PLX Hanging Garment Bag and the Misslo Travel Garment Bag are both affordable and well-made choices perfect for travel:
PLX Hanging Garment Bags for Travel
Great for traveling: Each non-woven bag completely covers garments, helping protect valuable clothing from most environmental conditions.
Completely cover clothing in 40" x 24" bags: Each bag is designed to completely cover each garment for maximum protection.
Store all of your coats, suits, blouses, tuxedos, uniforms, winter coats, fur coats, costumes, dance recital clothes, pants, slacks and dresses up to 36" in length depending on the hanger.
Check Price on Amazon
Note: I may earn a commission if you make a purchase, at no additional cost to you.
MISSLO 43″ Gusseted Travel Garment Bag
43 Inches long zipper suit garment bag with 3.5 gusset which holds 3 suits and 1 dress while traveling with ease.
Wardrobe bag carrier with 5.4 wide square see-through window allows you to see which the garment is inside without opening the bag.
Check Price on Amazon
Note: I may earn a commission if you make a purchase, at no additional cost to you.
Note: you'll want to avoid hanging bags made for home storage, as they're usually too flimsy for the demands of air travel.
Steamer
A portable steamer can remove wrinkles from your suit quickly and easily. The Hilife Handheld Garment Steamer is durable, portable, and weighs less than two pounds.
Hilife Handheld Garment Steamer
240ML capacity, lasts for 15 minutes of continuous steaming.
700W Steamer produces soft and long-lasting steam; 9ft Power Cord.
Whats in the Box: 1 Hilife clothes steamer, 1-cup, 1-brush, Power cable, user manual.
Check Price on Amazon
Note: I may earn a commission if you make a purchase, at no additional cost to you.
Another excellent option is the Polardo Portable Travel Steamer, a lightweight, cordless steamer that you could even use in an airport bathroom.
Anti-wrinkle spray
If you don't want to travel with a steamer, you can instead bring along anti-wrinkle spray, such as Grandma's Secret Wrinkle Remover Spray. A few quick sprays will remove wrinkles and odors.
Grandma's Secret Wrinkle Remover Spray, 3 oz (Pack of 3)
No More Wrinkles! Grandma's Secret Wrinkle Remover is a convenient way to look fresh and wrinkle-free in no time! Just a spray and you're on the way!
Easily removes wrinkles & odors. Just a few sprays and you're ready to go. Safe on virtually all fabrics.
Buy Now
Note: I may earn a commission if you make a purchase, at no additional cost to you.
11/29/2023 04:26 am GMT
To save space in your luggage, you can pour some liquid from the original bottle into a smaller spray bottle.
One final tip (for when all else fails)
Despite your best efforts, your suit still might get wrinkled during the flight. Fortunately, sprucing it up is usually a painless process. In fact, you can turn any shower into a makeshift steamer (it's my favorite method actually). Here's how:
Hang your suit on the back of the bathroom door.
Turn on the shower as hot as possible.
Leave the curtain pulled back or the shower door open.
Close the door, keep the shower running, and let the steam build up in the room for at least 15 minutes.
Switch the shower off but leave the suit hanging in the bathroom. By the time the steam clears, the suit should be wrinkle-free and ready to wear.