Choosing to start and end a trip from Tijuana instead of my home airport (SAN) was something that I've been wanting to do for a very long time. Considering how time consuming it is to cross the border at the usual spots at Otay Mesa and San Ysidro, flying in and out of Tijuana has never been a realistic option for me because, well, hey – I hate waiting in line!
I've been wanting to do it for years, but the thought of sitting at the border crossing for hours each way just to try a new (to me) airport never sounded worth the effort involved. But the Cross Border Xpress bridge (CBX) connecting San Diego with the Tijuana airport (TIJ) has changed the game completely.
What is the Cross Border Xpress (CBX)?
The CBX is a pedestrian trans-border walkway between San Diego and the Tijuana airport which makes expedited border crossings between the US and Mexico a reality. While there is a fee to cross ($12 each way), the fact that only ticketed airline passengers are allowed across makes this a pretty big deal – crossing the border between San Diego and Tijuana has never been faster!
I was a bit apprehensive on my drive down to the bridge on the morning of my my flight to Mexico City in Aeromexico 787-8 Premier Class, as I never was able to ascertain how good (or bad) the long term parking situation is. All the research I did beforehand revealed that there is indeed a large parking lot there with decent daily rates ($10/day at the time of this writing).
But how crowded does it usually get? And what happens if it's completely full? Will there be anywhere else to park my car? I tend to over worry about stuff like this, so I did the best I could to put it out of my mind as I made my way down I-5 and then on to the 905 east.
Arriving at the Cross Border Xpress
It's been a long time since I've been that far south in San Diego, and right away I started to appreciate the wide open land and ease of entrance into the Cross Border Xpress parking lot – compared with the traffic that surrounds SAN on a daily basis, this was completely mind blowing to me as a San Diegan. There was literally no traffic, and I was able to zip into the parking lot with no effort at all.
Finding a parking spot was a bit more difficult however. The lot was about 90% full as far as I could tell, and I did notice many people parking on side streets just outside the parking lot. This bridge seems to be popular! I did consider parking on the street as well (to save the parking fee cost), but I just decided to play it safe and park in the lot due to the fact that I didn't really didn't want to take the chance of having my car towed.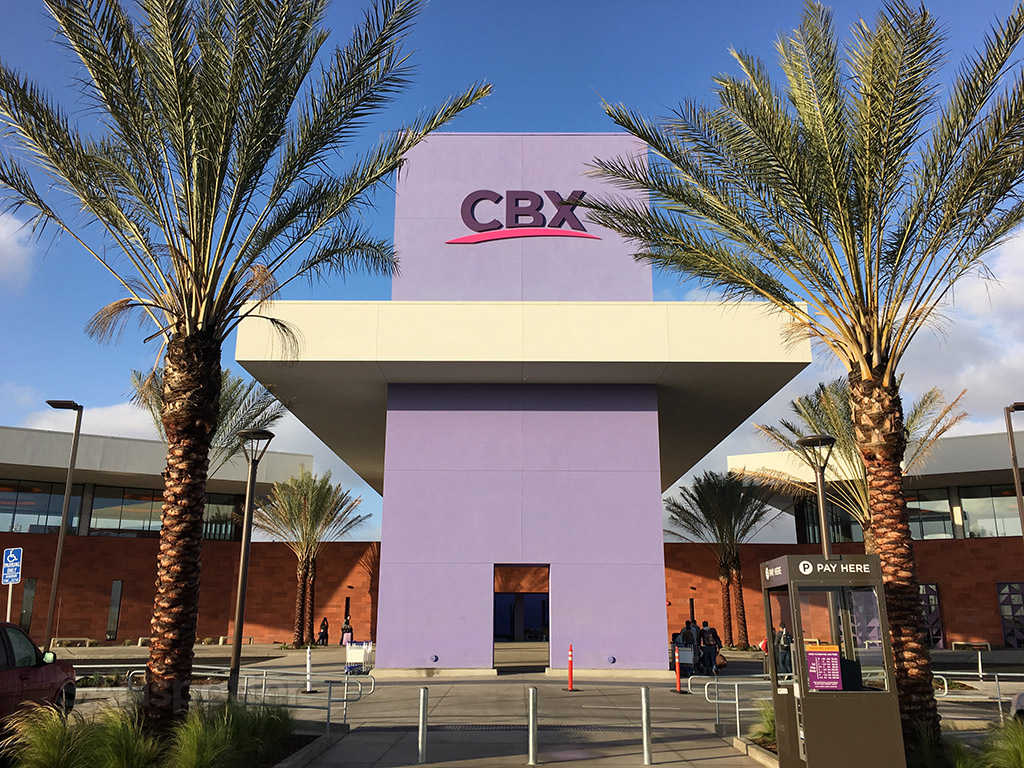 Purchasing a ticket
First impressions of the Cross Border Xpress lobby were pretty good. This is a very nicely designed building, but the layout was slightly awkward. The first thing you hit as you walk in is the queue to enter the bridge. But you can't stand in that line yet – you need to walk beyond that queue and purchase a ticket first. You can purchase a one-way or round trip ticket, and I chose the round trip for $24.
Crossing the bridge
Ticket in hand, I took my position in the line to enter the bridge. The line wasn't long at all, and it was moving rather quick. The only issue here were the two large families in front of me who seemed very disorganized and chaotic. They all had large suitcases with them, and at one point they got of out line completely but left their suitcases there right in front of me, blocking the entire line and leaving me standing there looking dazed and confused. Shenanigans!
Entrance to the bridge was simple. The agent simply scanned my AeroMexico boarding pass and my bridge ticket, and I was on my way.
And as much as I would like to say otherwise, crossing the bridge was largely anticlimactic. It was a slightly winding 3 minute walk through a series of small brightly lit corridors, and there were no views to the outside world. You walk into it in one county and come out the other end in another. Simple as that.
On the other end of the bridge was the typical immigration process for entering a new country. But once again, I was fighting my way around large families who were in a constant state of disorganization so it did take some time to weed my way thought that chaos. I spent about 15 minutes in the immigration hall due to the fact that I was told that I needed to fill out an application (and pay a fee) to enter Mexico. It ended up being that I didn't need to pay the fee though since my stay would be less than 72 hours.
Things to know before you go:
Parking on the US side might be difficult. I arrived on a non-holiday Saturday morning at 7am to find the parking lot about 90% full.
Street parking (for free) just outside the main lot looks to be an option – I noticed many people parking on the street and walking into the main building.
If you book your ticket on AeroMexico.com, you can pre-purchase your Cross Border Xpress ticket and include it in your ticket price (I didn't realize this until after my trip, so it wasn't that obvious at the time of booking).
The promise of a 5 minute border crossing seems realistic – the lines are short and move fast.
The longest part of the bridge crossing experience was trying to get through immigration in Mexico. Lots of confused passengers here (especially since it's necessary to fill out an application to enter Mexico once you enter the immigration hall), but this isn't the fault of the bridge and it's infrastructure.
Walking back across the bridge to the US was much easier due to the fact that there was absolutely nobody in front of me and I didn't have to wait for anything. It took all of 5 minutes to reach the arrivals hall on the US side.
All in all, using the Cross Border Xpress bridge between San Diego and the Tijuana airport was a very simple and pain-free experience. Does that mean that I'm going to start flying out of Tijuana instead of San Diego from now on? Hardly. SAN will always be the more convenient option for me despite fighting the traffic to get there, but I would definitely use TIJ from now on for any trip to Mexico or most of Latin America. More than anything, I'm glad that we have this option now!