In nearly every written trip report here on this blog (as well as every video on my YouTube channel), you've seen a glimpse or two of my poor little carry-on bag stuffed to the max with what only God (and me) knows what. So – If you've ever wanted to know what's in my bag, this is the post for you.
Actually, you'd be surprised how many requests I get for a peek of what's inside my carry-on bag. At first I thought it was kind of creepy that y'all wanted to see pics of my dirty underwear, but as the requests kept pouring in I realized it was all about the gadgets and tools – and not the dirty underwear.
I recommend getting out pencil and a notepad before proceeding any further, because some of the things I'm about to show you have been total life savers for me while I'm out on the road doing the travel blogger grind. They might save your travel life as well!
Please note: Some of the links on this page are affiliate links. I (Scott / SANspotter.com) am a participant in the Amazon Services LLC Associates Program, an affiliate advertising program designed to provide a means for sites to earn advertising fees by advertising and linking to Amazon.com.
What's in my bag? Lots of stuff actually.
Even though it may look like that I travel light, my bag is stuffed to the max nearly every trip. Because there's so much stuff, The most organized way to see what's in my bag is to examine it compartment-by-compartment. Don't worry. I'll spare you pics of my dirty underwear.
The bag
I think the best way to kick things off is by telling you about the bag itself. It's a Swiss Gear TSA-friendly 15″ laptop compatible backpack, which I picked up from Amazon last September. It's been a great carry on bag for me so far, and I can't say enough good things about it. As a matter fact, I love it so much that I wrote an entire article about the specific one I purchased – which goes fairly in-depth into my process of choosing it over several others.
I love how compact and versatile it is, and there's tons of little pockets to store all the little gadgets that I'm about to show you.
In the interest of full disclosure, I will say that it's not perfect. My biggest complaint has been the obnoxious laptop strap in the rear compartment. I still haven't taken a pair scissors to that flappy thing yet, but it's definitely gonna happen before my next trip. It's always getting in the way!
The front compartment
The front compartment of my carry on bag is by far the most important. It contains all of the chargers and cables I need for all of the devices I have stuffed elsewhere in the bag, plus a few extras. I've been totally paranoid about carrying extra cables with me ever since losing my iPhone charger on a flight from Tokyo to Beijing two years ago and I never want to make that mistake ever again.
The contents of this compartment include:
If you're curious, the reason why I use the front compartment for all of these chargers and cables is because they are my most frequently used items during any point of my travels. I am always charging devices, whether it be in an airport or on an airplane, and I need really quick access to that stuff.
The side compartments
One of the really nice features about my Swiss Gear backpack is the fact that there are two small quick-access pouches on the sides. Although not quite deep enough a bottle of water, they still do come in quite handy.
Contents of the left side container:
Contents of the right side container:
I should probably mention that I could easily get away with only one side container if I had to. As a matter of fact, I really wish this Swiss Gear bag had a dedicated water bottle holder in place of one of these side containers. That would be incredibly convenient! However, in the grand scheme of things, it's not that big of a deal. You'll see why in a moment…
Contents of the three main compartments
My Swiss Gear backpack has three main compartments – not including the front compartment that I already told you about. I am a fairly organized person, and I always use each compartment for the same thing on every trip. What I'm about to tell you applies to each and every adventure that I take. I'm definitely not anything like Casey Neistat – throwing all my stuff in a bag 10 minutes before leaving for the airport would stress me out to the max. I need to be organized!
1. Main compartment #1
This is the smallest compartment of the three, so I use it to hold a lot of my little gadgets and trinkets that I'd need fairly quick access to at any given time. It's easily the most important compartment of the bag.
The specific contents of this compartment include:
If there is anything at all to take away from this "what's in my bag" article, it's that this first compartment is the most important by far. It contains all the things vitally necessary for travel, and I keep it relatively simple because don't want all my really important stuff mixed in with other less-used things (such as dirty underwear).
2. Main compartment #2
The middle compartment is the most boring and unflattering compartment of my carry-on bag. Yep, this is the compartment that holds all my dirty underwear. Well, technically it holds things like dirty underwear, socks, pajamas, and other light clothing such as T-shirts.
I keep light clothing in this compartment for two reasons:
It's not as large as the rear compartment (which I'll get to in a moment).
There is also a zippered pocket in this part of the bag where I keep all my toiletries. Things like soaps, lotions, and general grooming tools that (when added all up) take up a lot of space. It's difficult to cram in a lot of bulky clothing in there as well.
Although this is the most unexciting part in the "what's in my bag" post, there are several items in here that you might be interested in:
3. Main compartment #3
This is the largest compartment in my bag, and the one where I keep my bulkiest and most expensive stuff.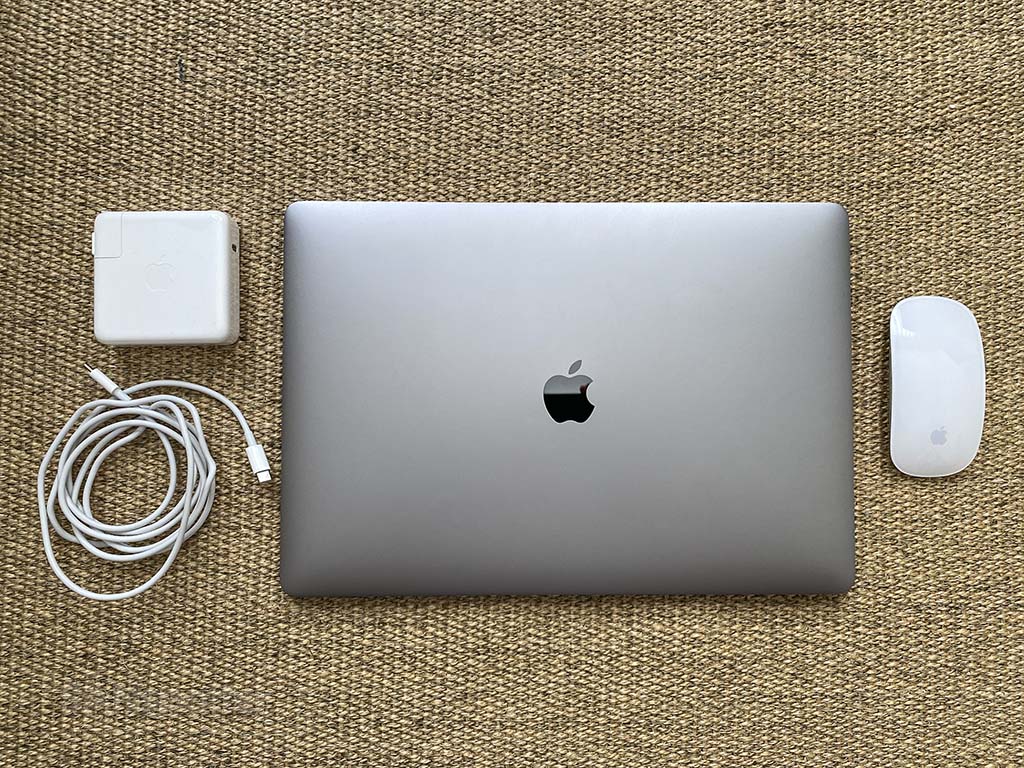 A few final words about my travel bag (and the contents of it)
I pride myself in never having to check a bag whenever I fly. Of course I'm forced into it sometimes, and I'm cool with that, but I like the idea of having everything I need right at my feet (under the seat in front of me) on a flight.
My Swiss Gear backpack holds a weeks worth of travel gear – plus all the clothes I'll need along the way. The best part? It does it in a compact enough way to fit under the seat of nearly any commercial airliner (even tiny regional jets). Consider me satisfied!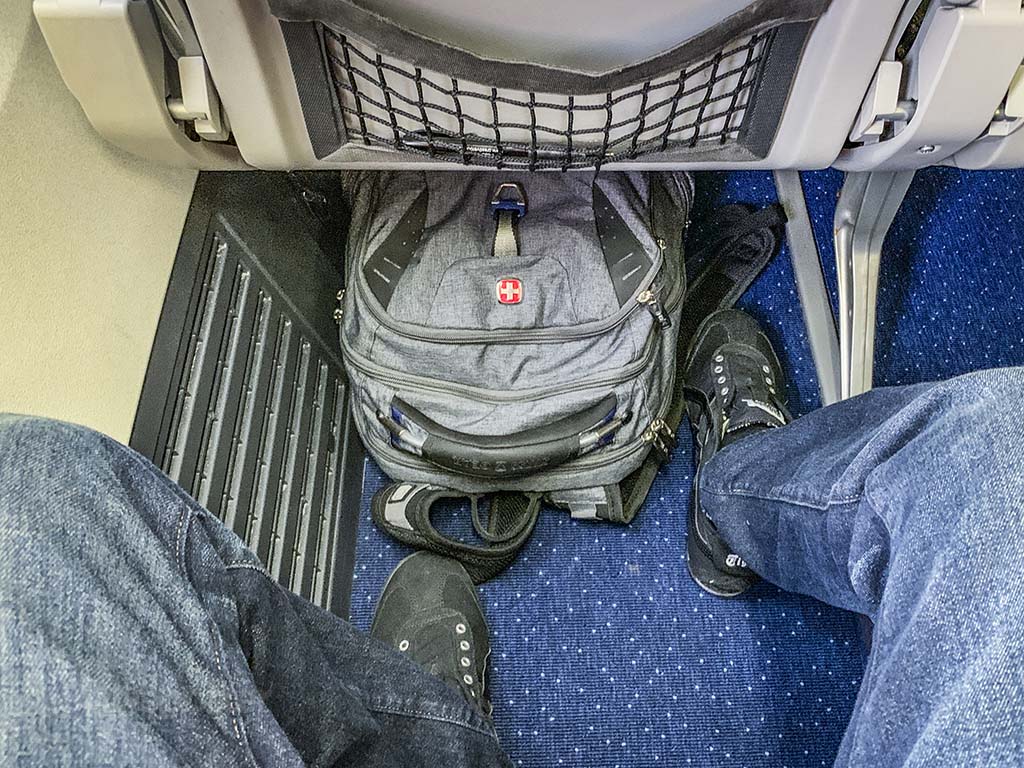 Finally, I plan to make a "what's in my bag" article just like this on an annual basis from here on out. I hope it's helpful to you – especially if you're a first time flyer who needs a little help (or inspiration) when it comes to packing for a trip.
Speaking of being helpful, I'd love to know what's in your travel bag! Do you have any trinkets or gadgets that you just can't travel without? Do let me know in the comment section below!