The aviation geek in me is ashamed to admit that I didn't even know beforehand what type of aircraft was scheduled for this short hop up to ATL. I've flown this route on Delta a million times (more or less) and it's usually one of three aircraft: a 767, 757, or MD-88. The 757-200's are the most common though, and I that's what I assumed it would be this time.
My line of thinking was that there was no way it would be an MD-88 due to the fact that it was high-season in south Florida, and they probably needed all the lift they could get. I nearly broke my arm patting myself on the back for thinking so logically, so I was a bit more than surprised (and humbled) when a MD-88 rolled up to gate C3.
DL1109
West Palm Beach, FL (PBI) – Atlanta, GA (ATL)
Saturday December 27 2014
Aircraft: MD-88
Seat: 3A (First)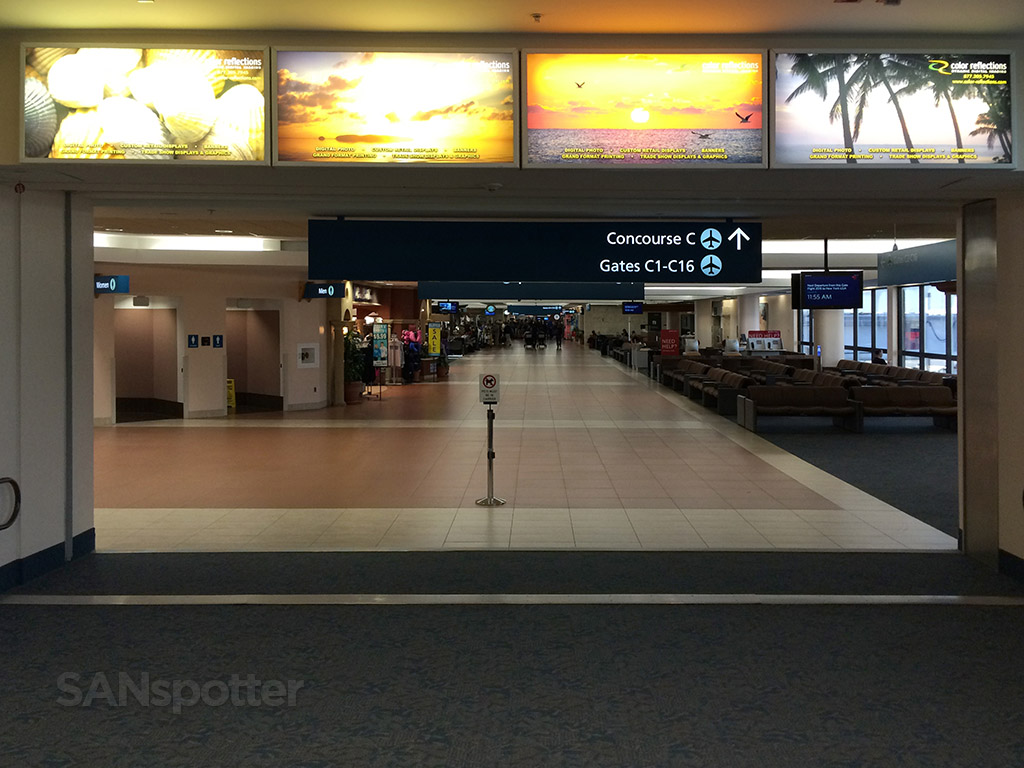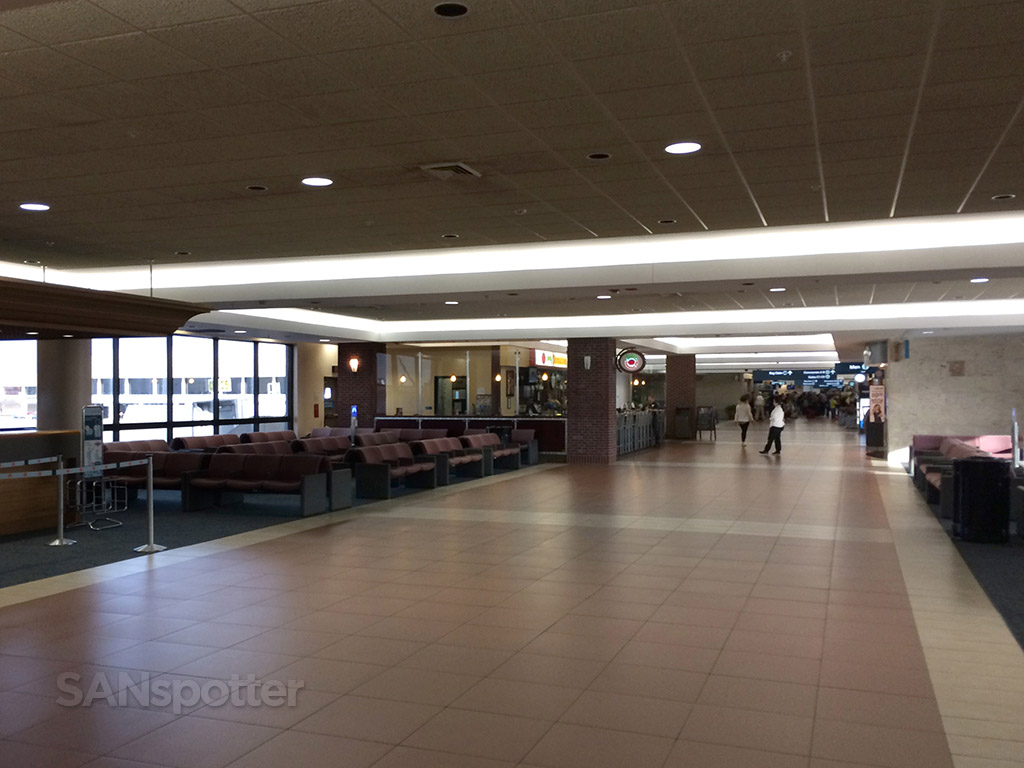 We had a cat to rescue from the pet hotel in San Diego before they closed for the day, so it was important that all our flights were on time for the day! You know how the saying goes: "if the cat ain't happy, ain't nobody happy". Or something like that. 🙂 But it's true – our cat would be none too pleased with having to spend another night in jail, so I was really happy to see that our flight to Atlanta was right on time. On top of that, the weather looked pretty good all the way north so I wasn't anticipating any delays.
July 12, 2012 was the last time I was on an MD-88 (this same route as a matter of fact), so I didn't mind the fact that we didn't get a 757 for this leg up to ATL. Making it even better was the fact that this aircraft was outfitted with Delta's new first class seats, which is the first time that I've had the chance to try them out. Not only do they look cool with the race car red stripe, but they were fairly comfortable as well. Firm and supportive, but still squishy enough to feel like a first class seat. These may look like typical slimeline seats, but I assure you they are not.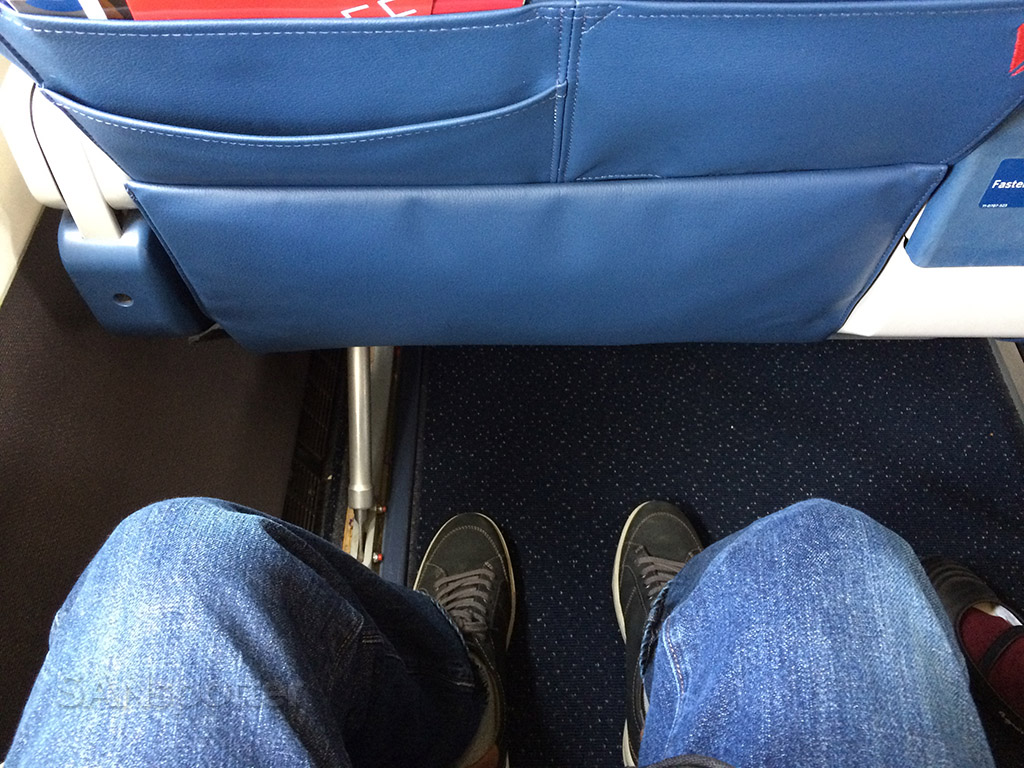 PBI is a small enough airport that the time from pushback to liftoff is always minimal with very little waiting. We blasted off runway 10 right on time, with some great views of West Palm Beach and coastal Florida as we turned north for ATL.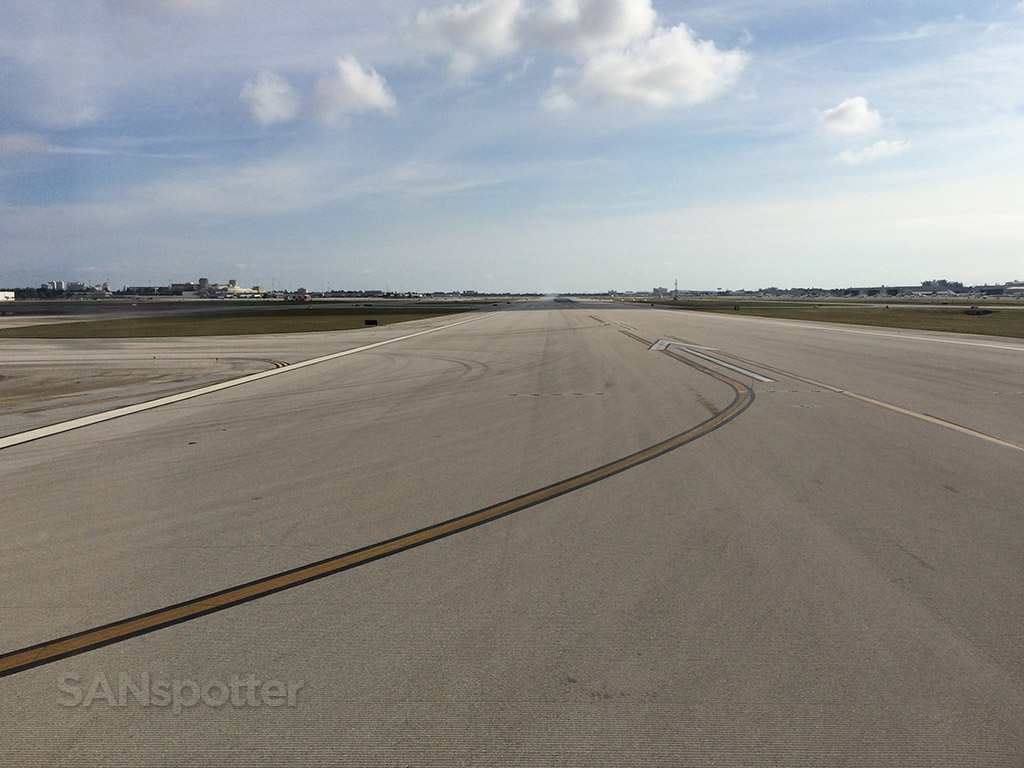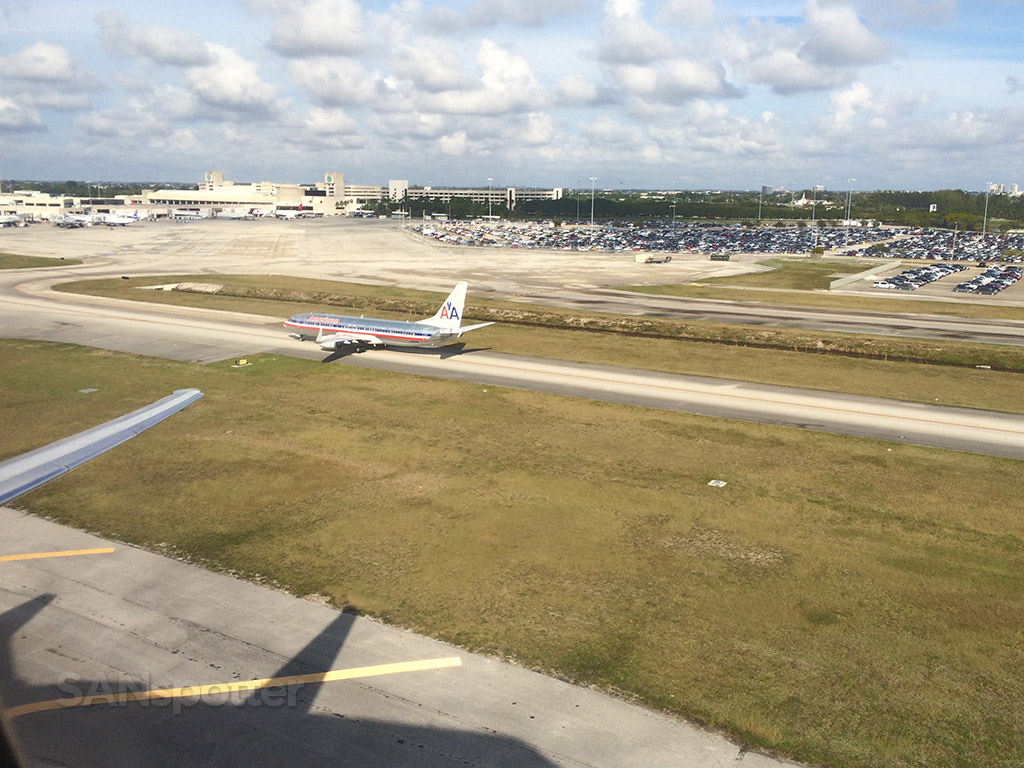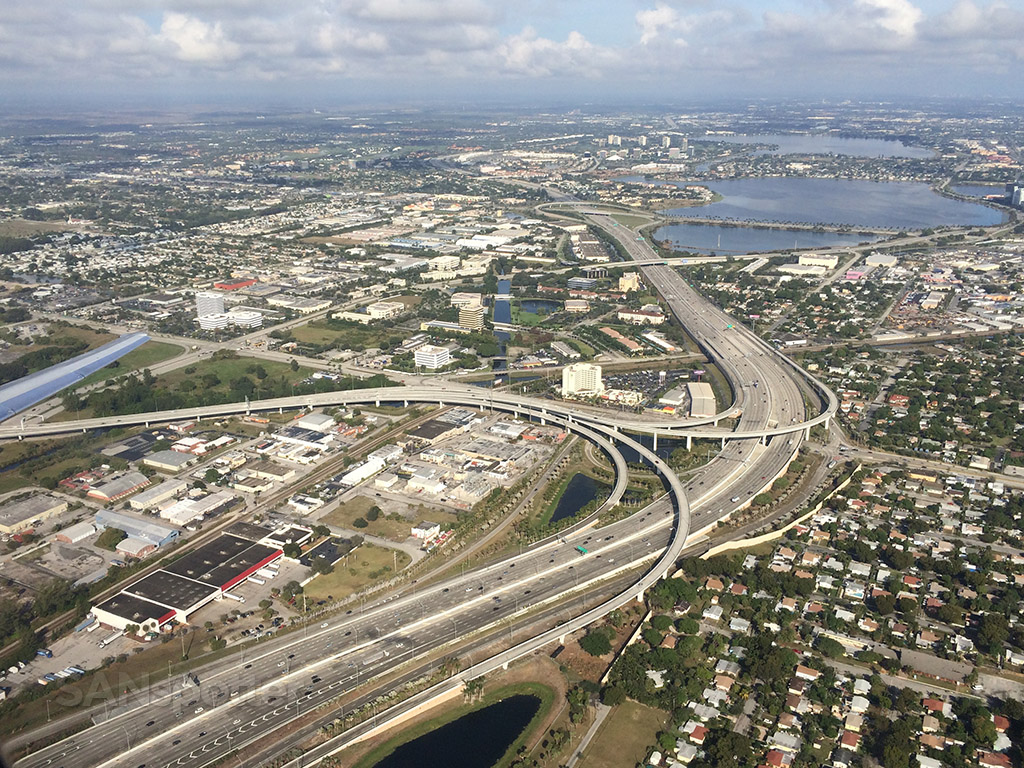 I'm happy to report that in-flight service was a whole heck of a lot better than what it was on our trip down to PBI the previous Tuesday. The flight attendant was cheerful and pleasant, constantly roaming the cabin checking in on everyone.
As usual with Delta domestic first class service, hot towels were distributed immediately before drinks and snacks were served. There was no meal on this flight (none was expected), but the flight attendant made several passes through the cabin with the snack basket for those who were hungry.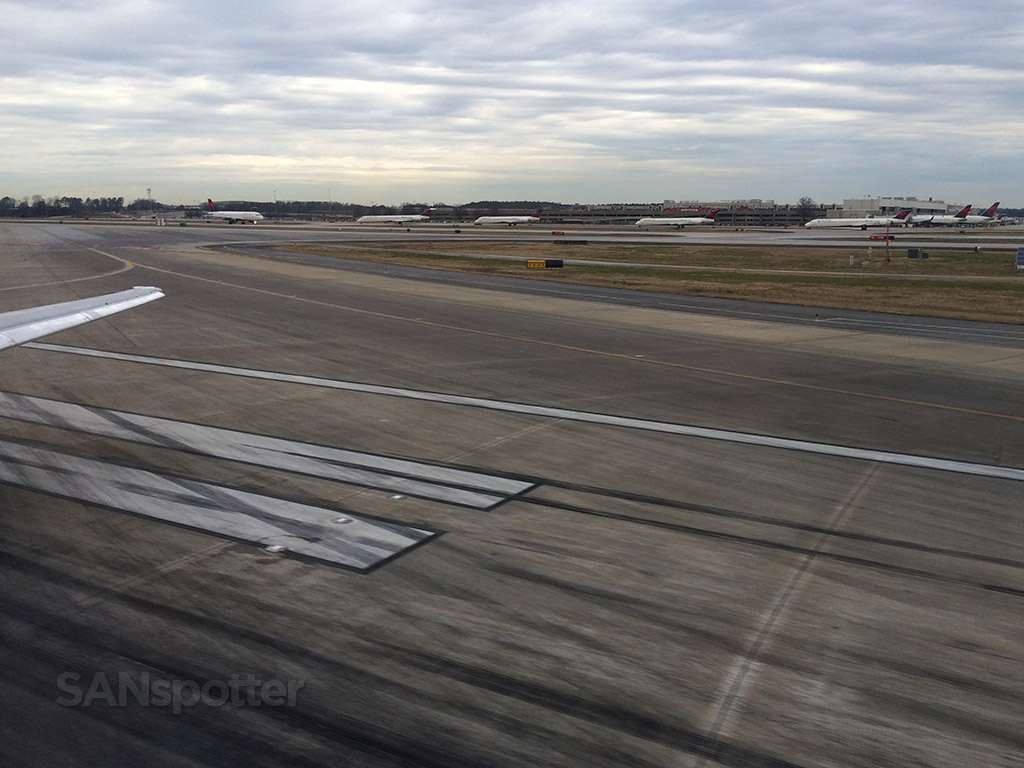 Much to our cat's pleasure, we arrived into ATL right on time, giving us approximately two and half hours before our connecting flight home to San Diego. I didn't mind the layover though – as a matter of fact, the longer the better at ATL if arriving during meal times. There are a plethora of restaurants to grab a bite – even healthy choices, which I highly appreciate.