Walking into Union Station to catch the train down to San Diego was kind of bittersweet for me. On one hand, thanks to the awesome ride up from San Diego yesterday, I was a seasoned train traveler now and I felt like a pro instead of a clumsy newb – and that felt great.
On the other hand, I wasn't feeling as half excited as I was yesterday, and I was almost seeing this train ride as a minor nuisance that stood between us and a relaxing afternoon at home. But hey – at least I didn't have to drive.
Amtrak California Pacific Surfliner No 774
Los Angeles, CA (Union Station) – San Diego, CA (Santa Fe Depot)
Saturday, June 24, 2017
Locomotive: EMD F59PHI
Locomotive Number: 456
Duration: 3 hours 50 minutes
Seat: 57 (business class)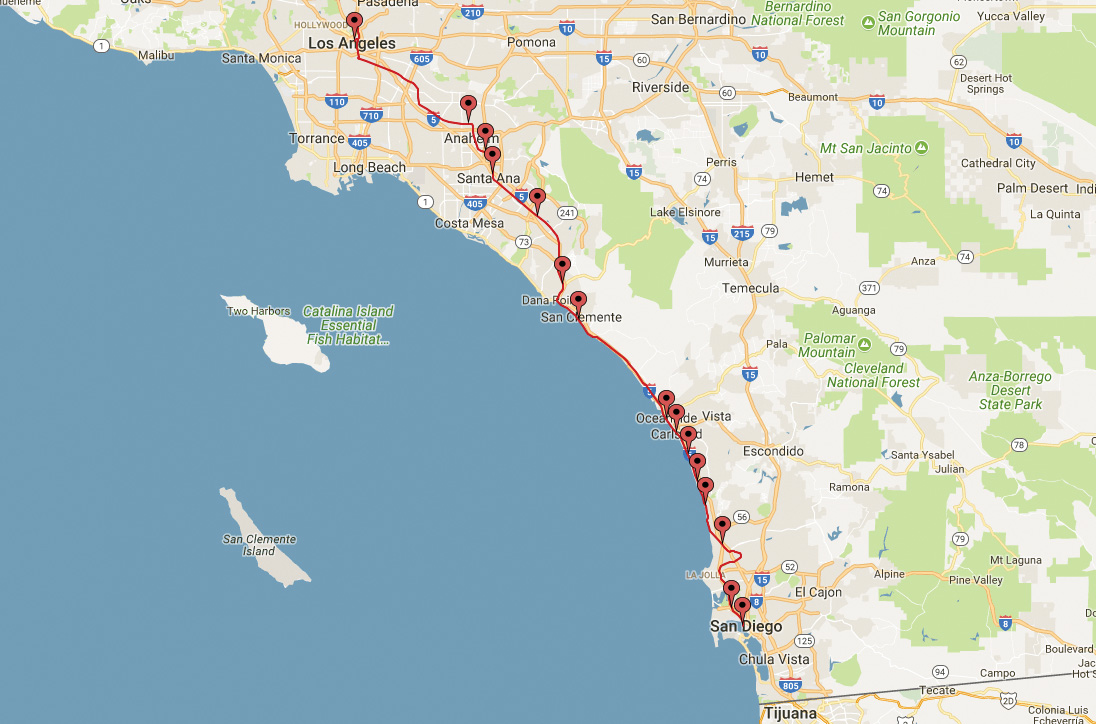 Today's route down to San Diego, as you might expect, will be the exact opposite of the trip north. We will be stopping at all the same stations, but this time in reverse:
Fullerton
Anaheim
Santa Ana
Irvine
San Juan Capistrano
San Clemente
Oceanside
Carlsbad (2 stations)
Encinitas
Solana Beach
Sorrento Valley
Old Town
My wife and I took full advantage of the relaxed ways of train travel by taking our time and not worrying too much about being the first in line or any silly thing like that. We were simply enjoying the moment of a calm and relaxed morning in the train station, and I was thinking that it was a really nice change of pace from being in a busy airport.
We wandered down to the platform at exactly 20 minutes before departure time. Big mistake. Although we felt like seasoned pros, we unfortunately underestimated the volume of passengers that would be boarding the train for the trip south to San Diego this morning.
We thought it was going to be a calm and casual boarding process just like it was at the SantaFe depot in San Diego yesterday, but we were in for a bit of a shock. No, there were no long lines or anything – as a matter of fact there were no lines at all. The shock came once we boarded the train and realized that nearly every business class seat was taken and that we may not be able to sit together. Oops.
Luckily we found two seats together on the left side of the upper deck in the second car (which is the overflow business class car). While it was nice to have a window seat on the side that faced the ocean, we were a bit bummed that we were in the overflow car. However, I didn't really find this seating arrangement to be all that much different than the main business class car. There was still plenty of room, and the seats were just as comfortable.
There was a problem, however. Although this was business class, there was no attendant attending our car. We could see him in the car ahead handing out snack boxes and offering drinks just as we experienced yesterday on the trip up from San Diego, but we weren't getting any of that service today way back here. I actually had to ask one of the attendants who eventually walked by, and he was able to confirm that yes, this car was indeed business class. Ok then.
The ride down to San Diego was pretty much an exact copy of what we experienced yesterday – although in reverse. We were never offered a snack box though, which was OK considering that I brought lunch with me. However (thankfully), free drinks were still provided so all was not lost.
Rolling time (rail time? ride time?) was advertised as three hours, which was slightly longer than the trip north yesterday. At first I wasn't sure exactly why this was considering that it was all the same train stations on the same track, but by the time we got to Anaheim it was obvious as to what was happening.
We ended up sitting a lot, waiting for northbound trains to go by. I'm not sure if today was an exception or not, but it seemed to me that northbound trains have priority on this track. Can anyone confirm this? I'd love to know…
The ride down through Oceanside and into San Diego was as beautiful as ever, and interestingly enough it seemed that the people sitting around us at that time were completely different than the group that started out with us in Los Angeles.
A lot of people came and went at various train stations, and all we were left with by the time we hit Oceanside were a middle-age couple from Orange County who were getting drunk on cheap wine, and two young friends from Huntington Beach who were traveling down to San Diego to catch a theater performance that evening. We knew this because the drunk couple were starting to get loud and they began talking to the two friends.
By the time we reached Del Mar, the noise from our neighbors was becoming intolerable. Our car was essentially empty, but these four people sitting behind us were talking so loud that it was hard to enjoy the experience of the beautiful scenery right outside our window. Combine that with the fact that our three-hour trip was already pushing four hours, and it started to become somewhat miserable considering the fact that we were dead tired and just wanted to be at home.
To be honest I don't even know why we didn't move. There were plenty of other seats available, but we just sat there and took it. The only bright side through all of this was rolling past our house once again shortly before arriving into downtown San Diego and arriving at Santa Fe Depot. Why is it so cool to see your own house from an airplane or train? I really have no idea, but it has always amused me.
By the time we rolled into Santa Fe Depot, this train ride ended up being four hours long. I didn't think we were sitting that long during our stops, but we must have, because we were horribly late. So late as a matter fact that the two friends missed the performance they were going to see, and had to change their plans to catch the later performance instead (and stay in San Diego for the night).
As far as I can tell, the only happy people walking off the train that afternoon were the drunks. God knows what they got up to that evening.
Despite the slightly annoying passengers in the last part of this trip down to San Diego on the Amtrak Pacific Surfliner, I have to say that overall, our experience was really good. So good in fact that I'm already looking for excuses to take this train again sometime soon. Does anybody need anything from LA? Because I'd be more than happy to go and get it for you…