I had pretty high expectations going into my first ever Virgin Atlantic A340-600 business class experience, which is never good when it comes to international air travel. Things always seem to go much better when expecting the worst, but for some reason or another I just couldn't get it out of my mind that Virgin Atlantic Upper Class would be anything but phenomenal.
The biggest reason for that, I think, was how much fun my recent Virgin America flights were – even in economy class. And for as long as I can remember, I've always heard that Virgin Atlantic was the hippest and most progressive airline around.
Sir Richard Branson is a master at brand creation after all, and the pictures and videos I've seen on the internet from other VS experiences gave me no reason to think this was going to be my greatest flight ever. Whoa…that's dangerous thinking right there. I tried my best to keep my thoughts in check as I made my way over to LHR terminal 3 that morning.
VS003
London, England (LHR) – New York, NY (JFK)
Wednesday, October 19, 2016
Aircraft: A340-642
Registration: G-VWEB
Duration: 7 hours 7 minutes
Seat: 12K (Upper Class / business class)

First of all, let's kick this trip report off with the video I put together which documents this entire flight. The written portion (with all the pics) will follow just below:
As you can see in the video, my day started at the Heathrow Hilton located adjacent to terminal 4. I had to take the Heathrow Express over to terminal 3 (which only took a few minutes), and then I was inside and past security in no time at all. Heathrow isn't so busy this time of morning it seems! Either that or I just got lucky.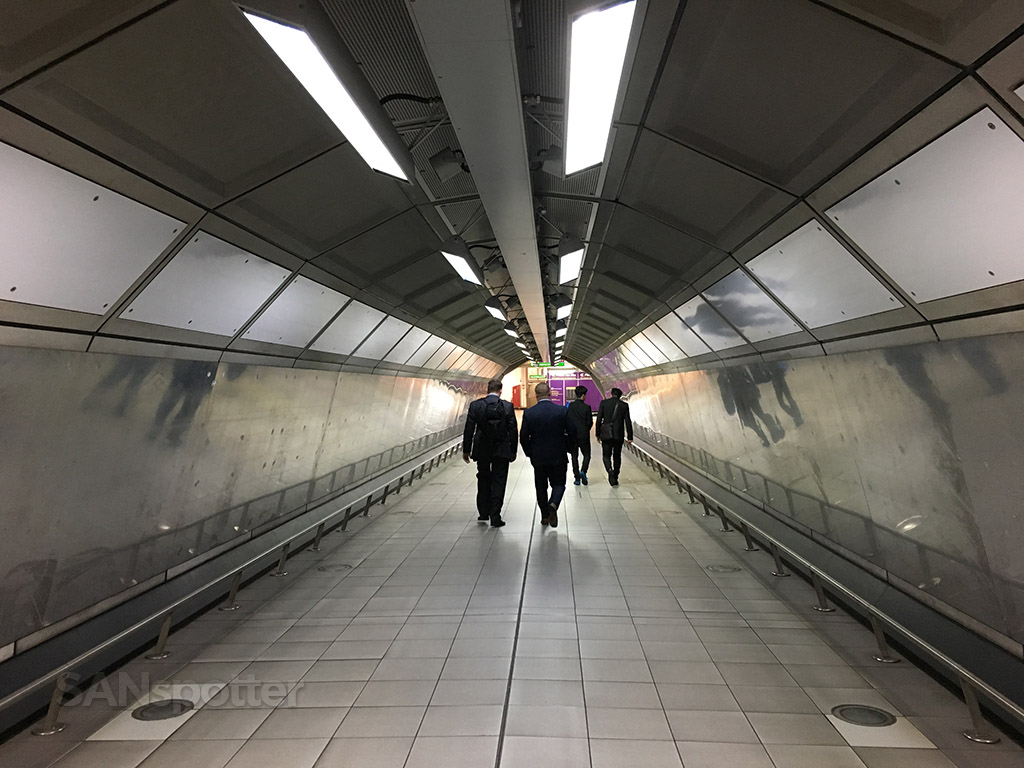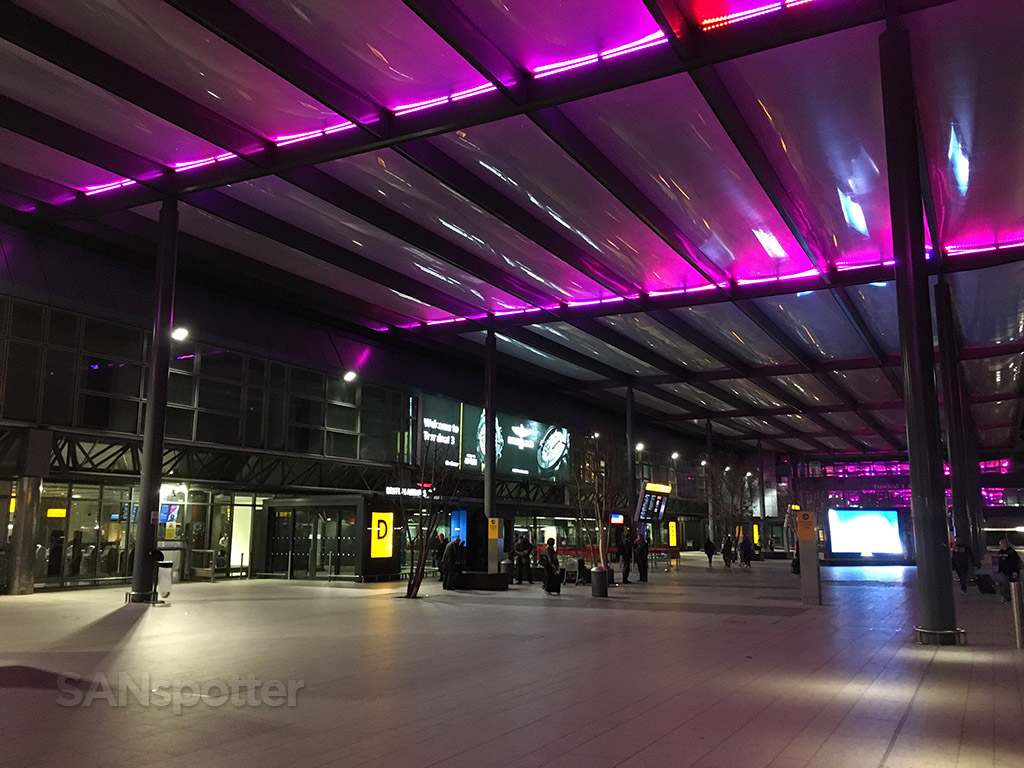 I spent some time in the Virgin Atlantic Club House before heading back downstairs into the main terminal to have a look around before walking to the gate, and I'll just say this about terminal 3 at LHR: Meh. The center point of the terminal is quite nice with all the shops and restaurants (including duty free), but it is quite noisy and chaotic with few places to sit.
Well, I take that back – there are plenty of places to sit, but in the time I was there, most of the seats were occupied by other passengers. To make matters worse, there really isn't any place to escape that mess unless you have lounge access. The gates for each flight aren't posted until about an hour or so before departure time, so there are no gate areas to wander off to in search of peace and quiet.
And speaking of gate areas here at terminal 3, shocked isn't a strong enough word to describe the feeling as I walked into the gate area for the flight to JFK this morning. Imagine the most sterile government office you can think of, then sprinkle in a bit of "hospital operating room" into it. That's pretty much what these gates look like and I really couldn't believe how bland everything was.
I don't have much experience flying through LHR, but I did get to experience terminal 5 for my British Airways trip to Stockholm in 2013 and I considered that to be a world-class facility. Because of that, it should be no surprise that I couldn't help but to feel a touch sorry for Virgin Atlantic because of their abysmal gate situation here at LHR. British Airways wins the ground experience category here at LHR – no doubt about it.
Luckily I didn't have to wait long in the gate area. I arrived about 10 minutes before they announced boarding for first and business class passengers, and I was one of the first ones to step onboard. Apparently all of the other Upper Class passengers were still in the lounge, because I was alone in the cabin for about 5 minutes before any others came onboard. That ended up being really great for taking pics!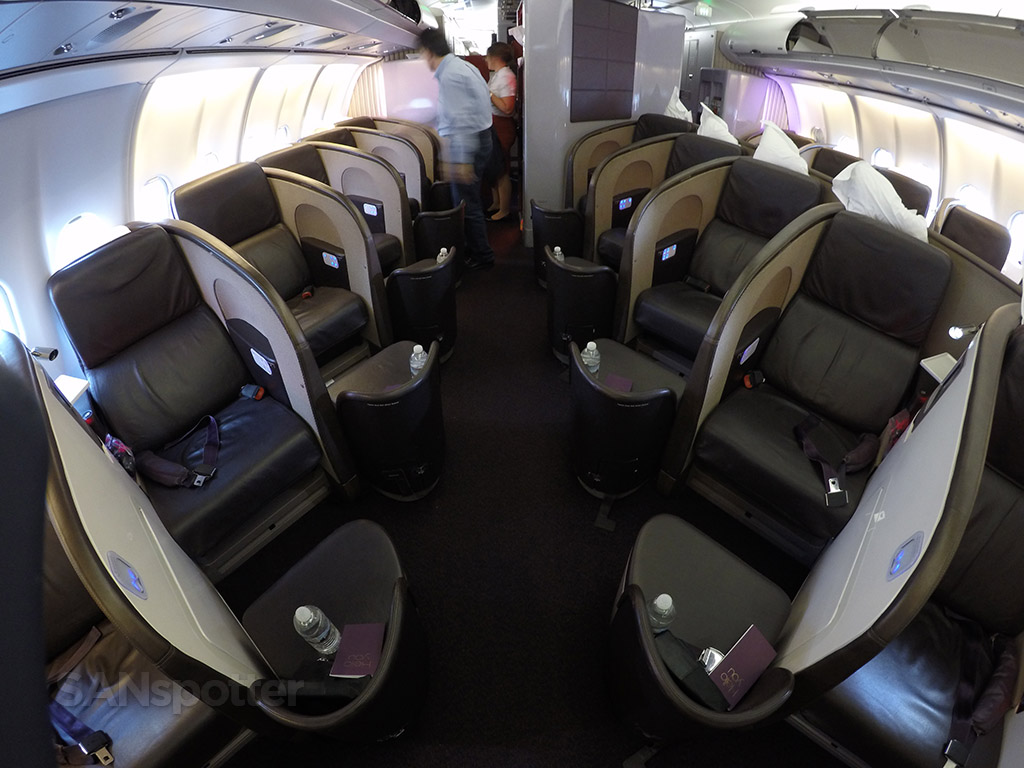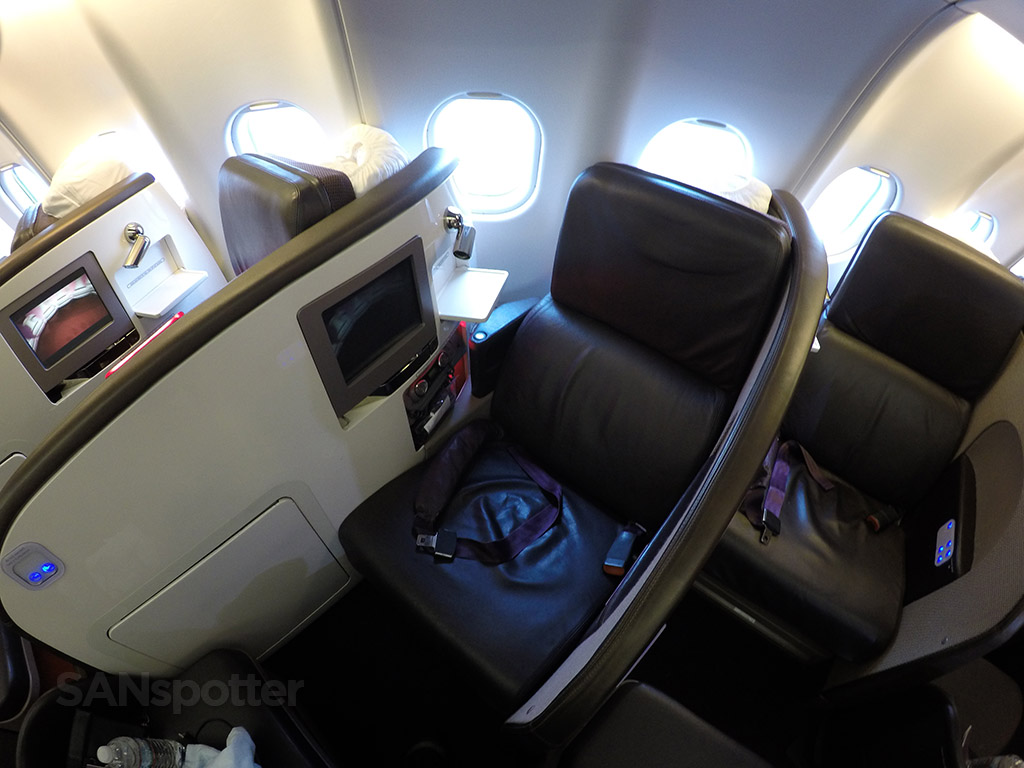 Almost immediately, I could tell they designed the Upper Class cabin for social interaction. The seats are all angled toward each other and away from the windows, with ottomans that double as an additional seat for your traveling companion – which works great for eating together or doing business. Unfortunately, I prefer business class cabins with more privacy so this was a bit awkward to me right from the get go.
Much like the British Airways Club World seats, these Upper Class chairs are narrow and lack usable storage space.
Making matters worse is that there aren't any power ports – so make sure your devices are fully charged before coming onboard. It should be noted that power adapters (which plug in to the A/V jack) are available from the flight attendants, but quantities of those are limited and they are distributed on a first-come first serve basis. Luckily for me, I was one of the first passengers to ask. It didn't take long before I overheard the FA's tell other passengers that there were no more power adapters available.
Drinks were severed (several times) during the boarding reprocess, and hot towels were distributed just before pushback. Also just before pushback, the the captain's PA announcement revealed that there were 284 passengers and 4 infants onboard today's flight to JFK, which isn't all that unusual. The stats geek in me found it to be a golden nugget of info though – I wasted no time in scribbling down that info for future reference, as I though it would be perfect material for the trip report. 😃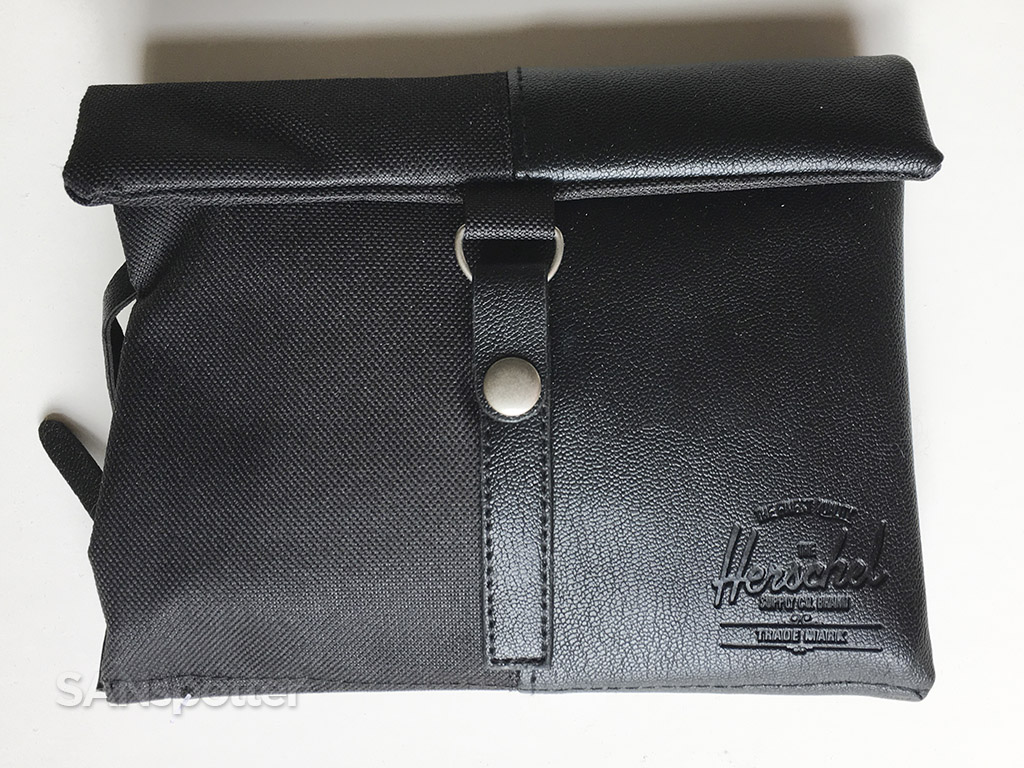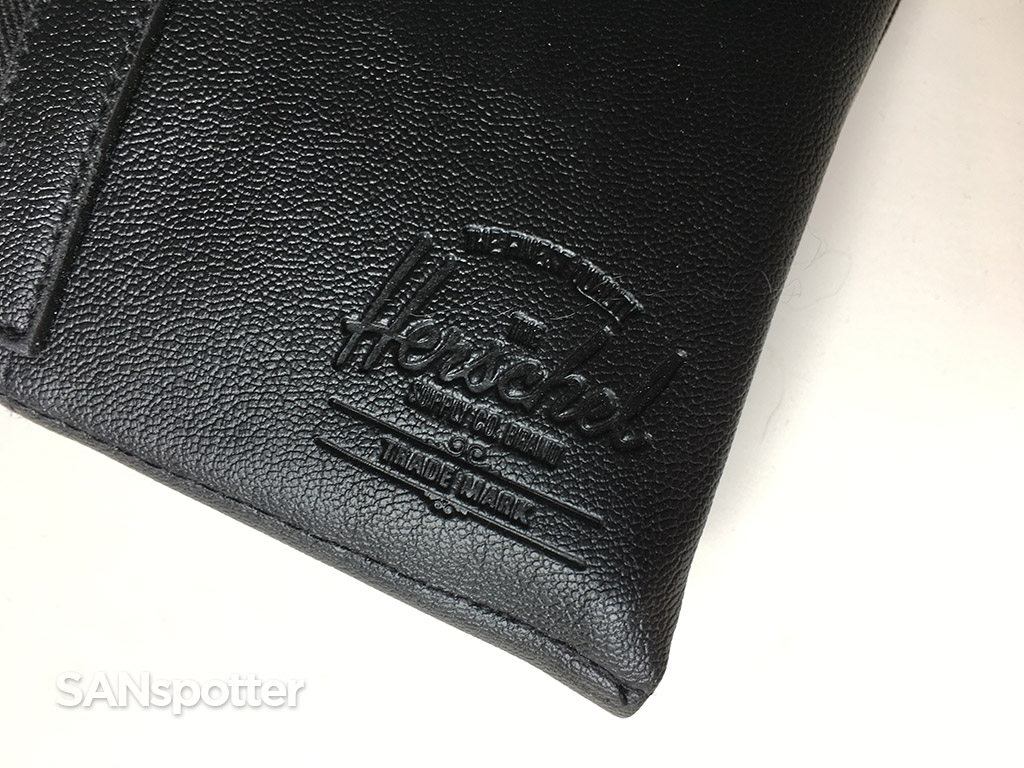 Also worth noting is that the awkward seating position made it difficult to watch the safety presentation on the video screens as we taxied out to the runway. The screens, when in their stowed positions, are exactly perpendicular to the seating position. I suppose they could be extended for the sole purpose of watching the safety video, but I didn't see anyone doing that.
As we departed and climbed out of LHR, the layout of this Upper Class cabin seemed more and more awkward to me. All passengers were essentially forced to look at each other, and I found it to be very difficult to relax and zone out. Making matters worse was the fact that I would have much preferred to be looking out the window, but it was extremely difficult since the seats were angled towards the interior of the cabin.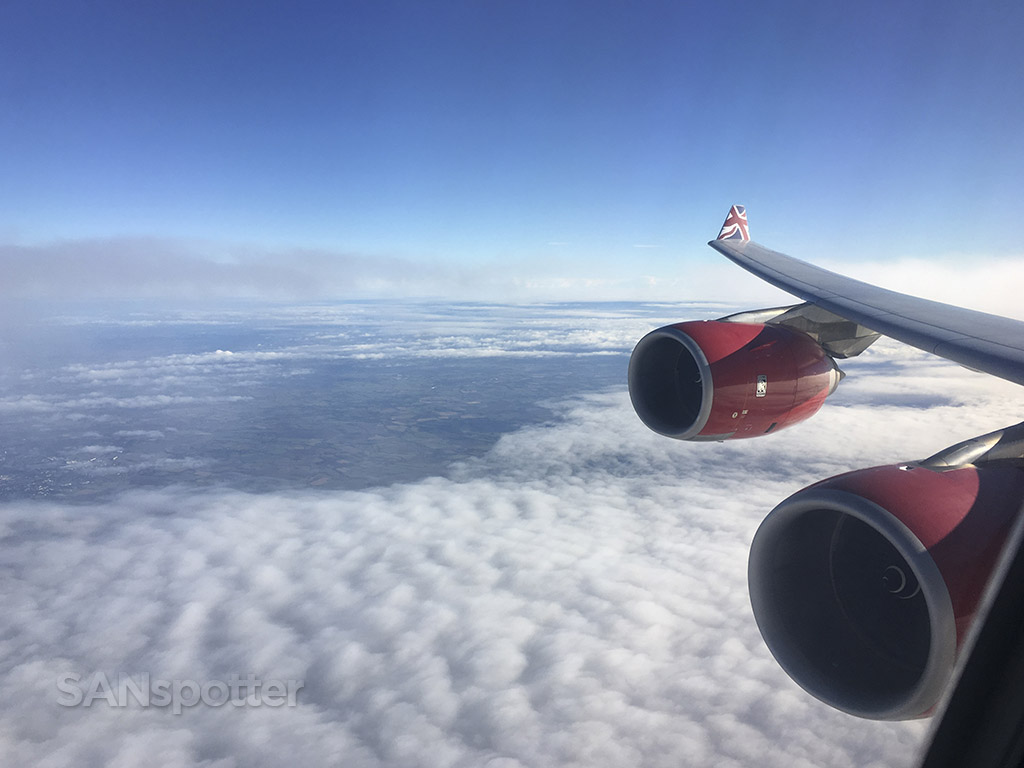 And not to sound like I'm complaining too much (good stuff is coming, I promise!), I found the seat controls and audio port to be highly difficult to reach. What's the deal with placing the audio port down in a crevice between the seat and divider wall? Luckily I've got small hands – otherwise I would have never been able to reach it.
Ok, on to the good stuff. Drinks were served soon after departure, along with kettle cooked potato chips in a little porcelain dish. Whether you like potato chips or not, that beats the snot out of the cheap bag of nuts that British Airways serves as a snack.
I spent the next 25 minutes or so nibbling on this while watching Modern Family on the in flight entertainment system, every so often getting a whiff of what they were cooking up for lunch in the galleys. Whatever it was, it smelled good and it was getting me psyched for the meal service.
Luckily, what was served had lived up to the anticipation. I went with the curry dish for the main course, and I found it to be quite good by business class standards. I even opted for dessert, which was an unwise decision due to how terrible I felt afterwards. It was perfectly tasty – but I'm not a very big fan of sweet treats, and the sugar rush that followed wasn't worth it at all. Still, it was a fun experience to be wined and dined at 37000ft while watching episodes of Veep, Modern Family, and Vice Principles from the comfort of my Virgin Atlantic Upper Class seat. Interesting to see was that there were many passengers who made use of the in-seat ottomans to enjoy eating lunch with their traveling companions.
Once the sugar rush wore off, I put the seat into the flat position and managed two hours of solid sleep before being awaken by the flight attendants as they were coming through the cabin with then pre-arrival snack service. The options were sandwiches, cake, or scones – all of which sounded good, but I just couldn't do it. I was still too full from the lunch service just a few hours prior.
The descent into New York's Kennedy airport was smooth and uneventful, though I did make things a bit more interesting by dumping nearly a half bottle of water into my seat as I was trying to get it back into the seated/upright position. I ended up with a very wet rear end for the remainder of the flight, which was quite embarrassing to say the least. Luckily the dry cabin air took care of most of that moisture in no time flat and my pants were mostly dry by the time we landed. But that seat though – I hope it was ok for the next guy…
So that wraps up my first ever Virgin Atlantic Upper Class experience. Was it as phenomenal as I thought it was going to be? Not so much. I actually found the hard product to be quite dated and mostly awkward, but the flight attendants and food (soft product) were a notch above what I experienced in British Airways Club World.
This was a bit disappointing to me considering how high of a pedestal I had put VS on in my mind, but I'm glad that I got to experience it in order to reset my expectations. This was a perfectly fine flight and I don't have any major complaints, but given the choice, I'd choose Club World over Upper Class for future trips to the UK.