01. Introduction: the trip report that almost didn't happen
02. United Airlines A320 economy class San Diego to San Francisco
03. San Francisco Airport Marriott Waterfront
04. United Airlines A320 economy class San Francisco to San Diego
As I mentioned in the introductory post for this trip report, I actually walked into the airport this morning fully intending to forgo a trip report for this flight. I was totally convinced that these flights were going to be so dull and routine that there really wasn't any point in trying to take pics of everything and that it would be a waste of time to write it all up for the blog. And you know what? I was right. The flights were dull. The hotel wasn't anything special. Nothing exciting happened. But taking pics while traveling is so routine for me now that it just happens naturally, and without even thinking about it I ended up coming home with over 5GB of data. So yeah…the trip report is on.
UA400
San Diego, CA (SAN) – San Francisco, CA (SFO)
Saturday, February 25, 2017
Aircraft: A320
Registration: N428UA
Duration: 1 hour 10 minutes
Seat: 36A (economy class)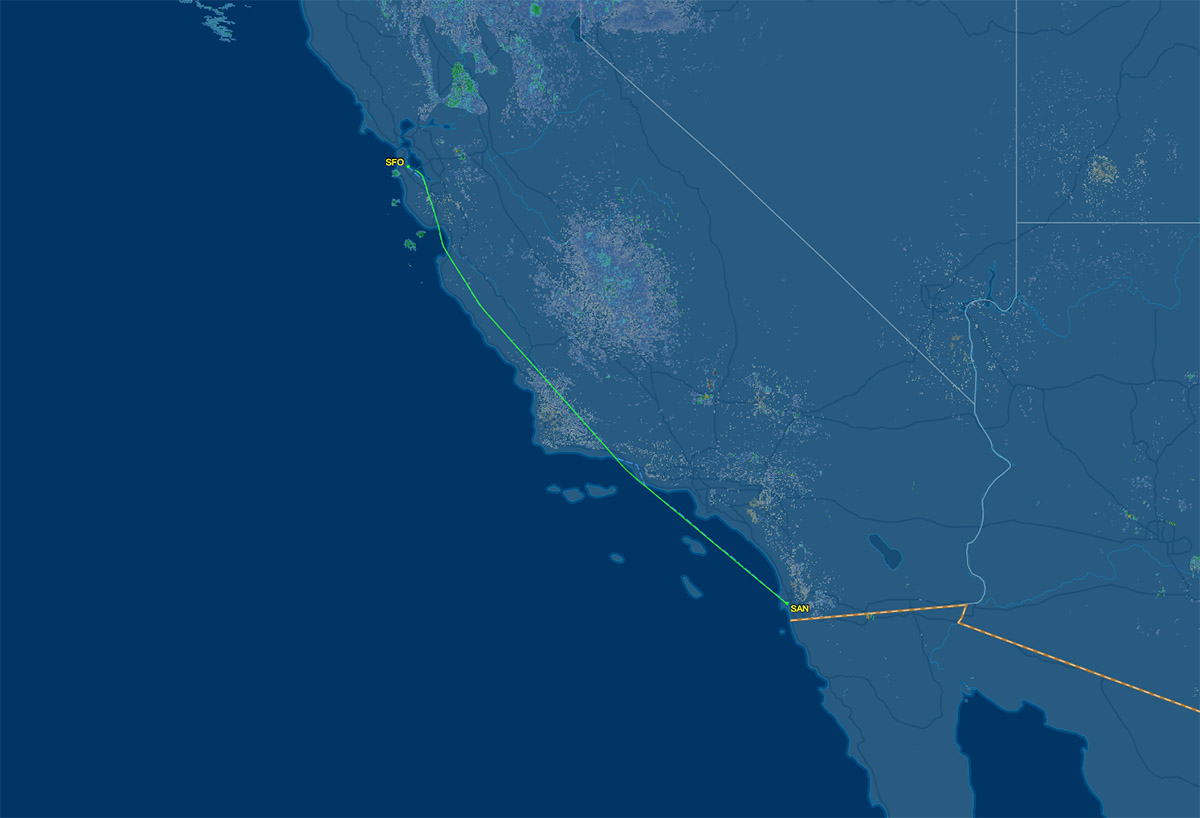 This was a very early morning flight (the kind that starts boarding at 5:45am), and at that early hour it's hard to get excited about flying on a United Airlines A320 in any class let alone economy. I was especially glad that this was just a short flight up to SFO – my last experience on one of these things wasn't anything special, and the memories of rock hard seats and ultra-tight leg room are not good. I'd never voluntarily book a UA A320 in economy class for any flight over 1.5 hours, so the flight up to San Francisco this morning was pushing the envelope of what I deemed an acceptable form of transportation.
The coffee shops are the only places open in the airport at this early hour, which is kind of a bummer if you're feeling hungry and looking for breakfast. I wasn't super hungry or anything, but I felt like I needed something to give me the energy to get going. Coffee is the morning energy source for most people I know, but for me, I need real food. Without it I'm weak and worthless and I'd never get anything done.
Unfortunately the line for Starbucks was the longest I've ever seen it (no way I was going to stand in that line), but Pannikin came through with a hot toasted bagel in less than a two minute wait. Ahh, that hit the spot. I may still have been dead tired, but I was now fueled up and ready to travel.
Boarding for this flight was called exactly on time, and to be honest I wasn't in any real hurry to get onboard. These UA A320's aren't any more comfortable than what you'd find on an LLC such as Spirit or Allegiant, so I thought I'd be nice to my knees and hold back a few minutes before getting on the plane.
Once onboard and seated, I never really could find a seating position that was comfortable. Sitting straight up with my lower back pressed to the seat was easy on the knees, but hard on the back. Slouching a little was a little more relaxing, but with my knees wedged into the hard plastic of the seat in front of me, that wasn't going to work either. All I could really do was alternate between these two positions for the entire duration of the flight, so by the end of it, I ended up with sore knees and a bad back. Yay United!
The curfew at SAN isn't lifted until 6:30am, so there's usually a long line of aircraft waiting to depart at this time. This required us to cross over the runway to the north side in order to keep the main line of departures (on the south side) from getting too long. Once the curfew is lifted, aircraft on the north and south sides simply alternate to take off. Luckily we weren't at the back of the pack so we didn't have to wait long.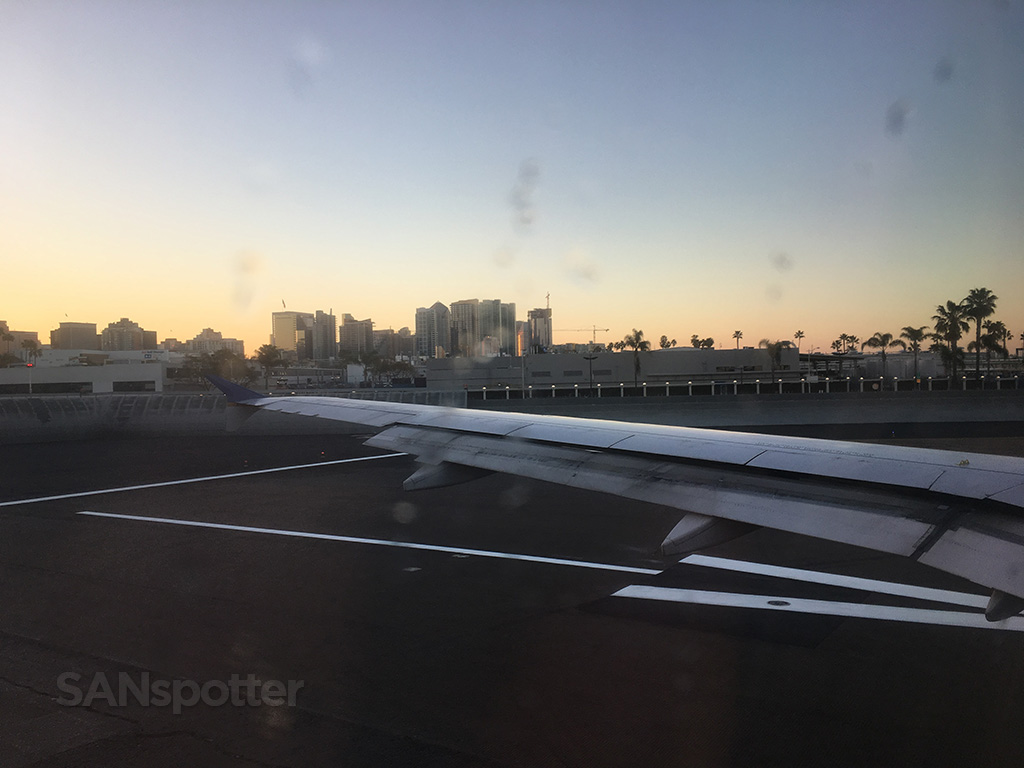 It was a wet but beautiful takeoff from SAN, and it was a bit unfortunate that the condensation on the window didn't clear until we crossed over the beach and were out over the ocean. "I'm not doing a trip report so pics don't matter. I'm not doing a trip report so pics don't matter. I'm not doing a trip report so pics don't matter." These were the words I was chanting to myself as I waited for the condensation to clear…
The ride up to San Francisco was smooth and uneventful, and I actually slept for a bit in those rock hard seats. I couldn't believe I was actually sleeping when I was awoken by a giant head bob that seemed strong enough to wake people in the next row. Apparently I was dreaming about flying to SFO, because I woke up and was totally confused about what had just happened. One moment I'm enjoying the view from the window, and the next moment I'm jolted awake with the feeling of my head falling into my lap like a bowling ball. Trippy.
Ok, who's still with me? I suspect most of you have already clicked the back button on your browser by now desperately looking for something more interesting to read, but for those who are still here, consider yourself lucky. Flying into San Francisco on crisp clear winter mornings are always beautiful, and this one was no exception.
As we were coming to a stop after landing, I was trying to remember any other time in my life that I've landed on a runway other than 28L at SFO. It's always the same thing every time I fly into this place, and I'm actually hoping that maybe someday I'll get to experience something different. Not like I think that it would be a total life-changing experience or anything – it's just something I want to add to my "been there done that" AvGeek list. Yeah, I've got one of those.
There was another aircraft occupying our gate once we came around the back side of the terminal, so we ended up having to sit and wait 15 minutes before we could scoot on in there and dock.
There. I did it. A full trip report for a routine United Airlines A320 economy class flight that I swore I wasn't going to do. And it's not over yet! I've still got to write another one about the return flight to SAN…