Does anyone happen to know where I can get one of those fancy alarm clocks that Tom Cruise had in the movie "Vanilla Sky"? You know, the one with the soothing voice of Penelope Cruz gently whispering "open your eyes…open your eyes…" over and over? I think I need one of those. It sure would be a heck of a lot better than the sound of my current alarm clock, which instinctively makes me want to throw it through the window before the first beep is even complete. Especially when it jolts me awake at 3:45 AM like it did this particular morning.
Early-morning flights are the worst, and I'm starting to think that the only way that I would be able to roll out of bed that early with a smile on my face is to be awakened by the sweet sweet voice of Penelope Cruz tickling my eardrums. "it's time to fly, Scott… it's time to fly…"
UA1289
San Diego, CA (SAN) – Los Angeles, CA (LAX)
Thursday, November 23, 2017
Aircraft: 737-924/ER
Registration: N73445
Duration: 23 minutes
Seat: 4F (first class)
Believe it or not, I somehow managed to get myself together and into an Uber headed for the airport by 4:15. Traffic going down Interstate 5 at that ungodly early hour is minimal, so I found myself curbside at terminal two a short 15 minutes later. I guess that's one really good thing about waking up so early to catch an morning flight – traffic is never a problem.
Unless you get unlucky trying to cross the railroad tracks just north of SAN and there's a long freight train crawling through. Those of you from San Diego who have been stuck on the wrong side of one of these trains knows exactly what I'm talking about. Thankfully there wasn't a freight train in sight and it was clear sailing all the way to the airport.
The security checkpoint is usually quite thin at that early hour as well. Maybe it's because everybody else who has an early flight is a lot smarter than I am and they don't even bother showing up until 30 minutes before departure time. I know that I could sleep a little bit longer before these early-morning flights, but that would cut into my precious Camden Food Company bonding time. Yes ladies and gentlemen, even at 5 AM I'm hungry for a Healthwhich.
Domestic first class isn't much to rave about, but I think the thing that I like the most about it is walking into a very crowded gate area where it's standing room only, and pushing past everybody to take a spot in the priority / first class line. The gate area for this particular flight up to Los Angeles was as crowded as I've ever seen it, but I was easily able to snag the number two spot in line just a few minutes before boarding commenced.
I still think it's kind of interesting that United is using such a large airplane on the San Diego to Los Angeles route, but it makes total sense and I'm really glad they're not using smaller regional jets as much anymore.
United Airlines shuffles a ton of people between Los Angeles and San Diego every day, so having a proper first class product on this flight (even though it's so short) is very nice to see. This isn't the first time that I've taken a 737-900/ER up to Los Angeles from San Diego. The last time I did it I had the misfortune of sitting in row five – which lacks windows. I learned from that mistake, and chose a seat in row 4 for this flight.
Just before pushback, the Captain mentioned in his welcome announcement that there was a chance that we would be arriving at LAX on runway 7R due to the strong Santa Ana winds coming from the east. My eyes and ears perked up at that point, since I've never landed the opposite direction like that at LAX before. I'd wager to bet that I was probably the only person on the entire flight who was excited to hear that, but I was very much looking forward to getting pics and video of the reverse-ops experience.
Our departure out of San Diego was totally beautiful but otherwise noneventful, and I was glued to the window anticipating arriving into LAX from the west. Cabin service was pretty decent for such a short flight, but most people up here in first class were too tired to drink anything but coffee and most didn't even drink or snack on anything anyway. I sure didn't need anything.
It was about the 20-minute mark that we made the unfortunate right hand turn over Long Beach, which meant that our arrival from the west had been shot to hell, and we were coming around for a runway 25L approach instead. Dammit! I've flown from San Diego to Los Angeles like a billion times already (well, 6 to be more exact but it feels like a billion lol), and I know that these SAN-LAX trip reports are starting to get repetitive.
But landing in the opposite direction at LAX could have made this one a heck of a lot more interesting, and it kind of hurt to realize that this one wasn't going to be all that special either. Oh well – someday I'll get my chance to land on runway 7R at LAX.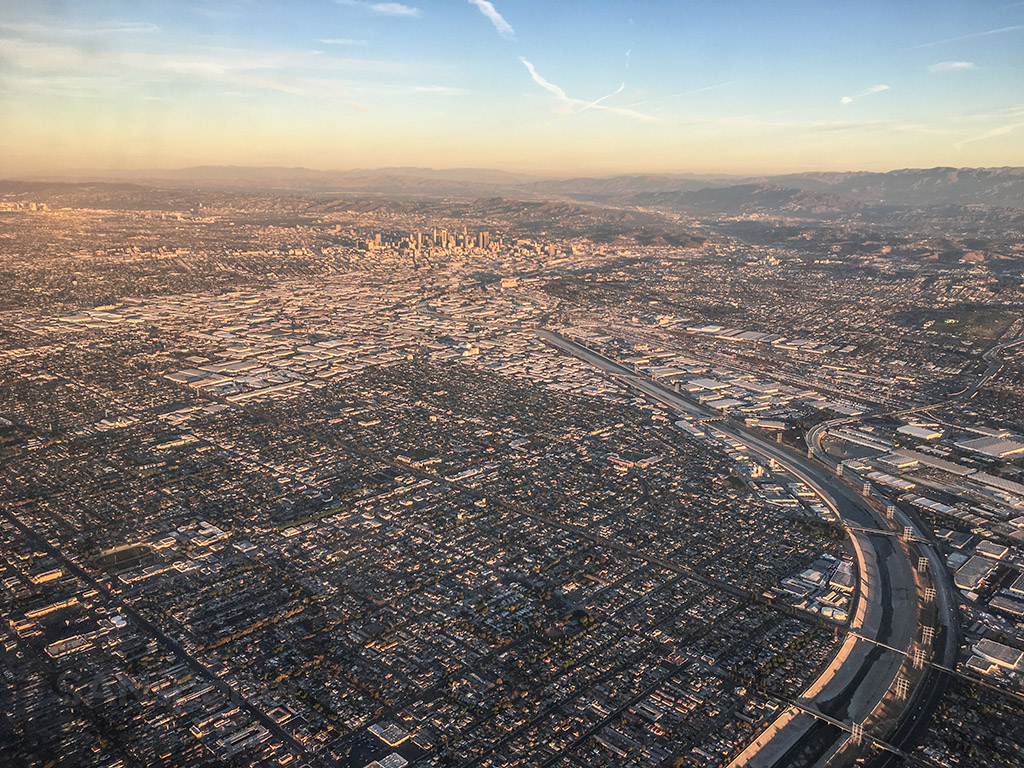 After our beautifully smooth approach and touchdown, and I was actually feeling fully awake by the time I walked off the airplane. Maybe (just maybe) it was because I was secretly hoping that I would see Penelope wandering the terminal here, and that she would invite me over to whisper "it's time to fly Scott… It's time to fly…" right into my ear.