The days leading up to this flight went by painfully slow. Yeah, I was excited about finally getting back in the air again after being on the ground for a few weeks – and the fact that I was really excited about a short hop over to Phoenix and back says a lot. I was that desperate to hit the road again.
Despite being excited about this trip, it wasn't until the evening until departure that I realized that I had a 6:30am flight out of SAN. Somehow I thought it was an 8:30am flight, so that caught me a little off guard. No matter though – I was anxious enough to get going so an early departure didn't phase me at all.
The drive down to the airport in the morning was fast and easy as usual considering the early hour. Once I arrived at the airport, it was quiet and dark, which provided an excellent opportunity to take a few nice pics of the newly built extension built onto terminal 2 west.
Since I already had my boarding passes (printed the night before), I went right through security and out into the main terminal. Despite the fact that there are many 6:30am flights out of SAN every morning, the airport seemed awfully quiet.
US567
San Diego, CA (SAN) – Phoenix, AZ (PHX)
Saturday December 7 2013
Aircraft: Airbus A321
Seat: 26A (economy)
Boarding was right on time, though a bit chaotic due to the fact that this was a full A321 flight and there was construction going on directly in front of the gate.
This was my first flight since the FAA relaxed it's rules on mobile device usage, and before this flight I was thinking that I'd probably be using my iPhone from the moment we sat down all the way until we took off. It didn't quite happen that way – it was early and I was tired…my brain wasn't ready for information overload.
It was kind of a gloomy morning in San Diego, and the sun disappeared behind the clouds as we pushed back from the gate and made our way to the threshold of runway 27 for departure. We had a 15 minute wait once we got there, because of flow control into PHX (which according to the pilot, was a regular occurrence that early in the morning).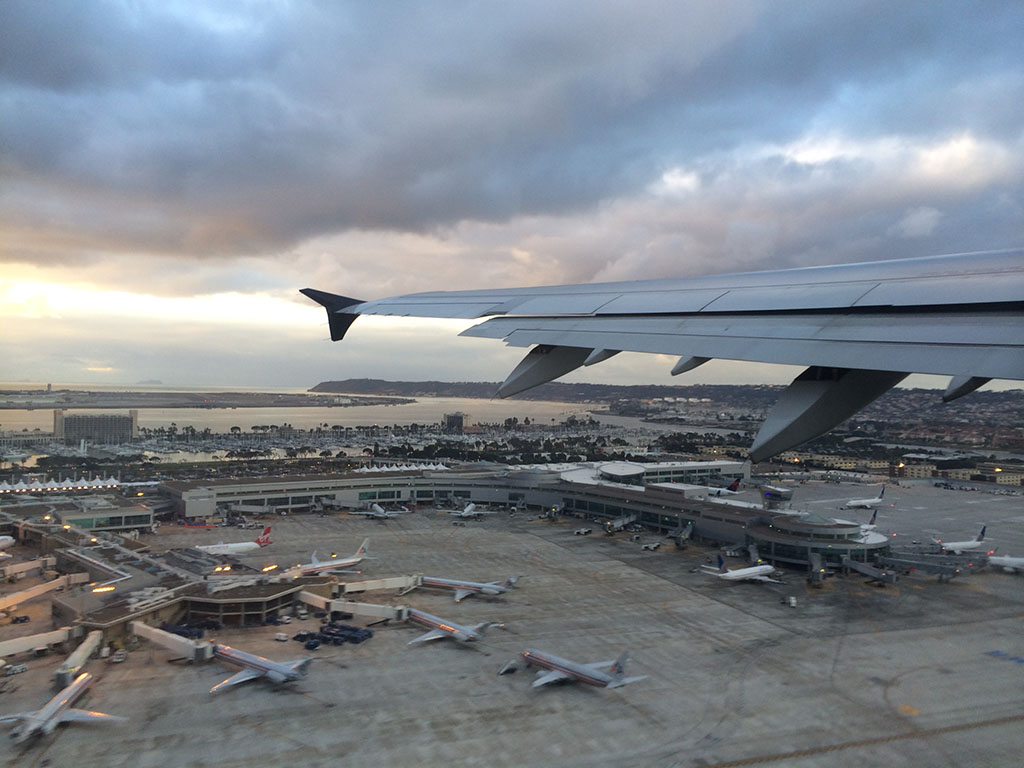 The flight was short – only 45 minutes or so from wheels up to wheels down. Due to the winds out of the east, we flew straight into runway 8, overflying downtown Phoenix on the way in.
I had a window seat on this flight, and the husband and wife in the aisle and middle seats asked me if I was in a hurry while the plane was deboarding. I said "no", so they waited until pretty much everyone got off the plane before getting up themselves. It would have been irritating if I was trying to make a tight connection, but since I had no hard plans, I really didn't mind. Once entering the terminal, I was surprised to see that it hadn't changed at all since the last time I was there (over 7 years ago).