01. Introduction: San Diego to Reno on Southwest Airlines
02. Southwest Airlines San Diego to Las Vegas
03. Southwest Airlines Las Vegas to Reno
04. Two days of skiing at Heavenly / Lake Tahoe
05. Southwest Airlines Reno to Las Vegas
06. Southwest Airlines Las Vegas to San Diego
After a fun-filled long weekend of skiing at Heavenly, it was time to head back home to San Diego. Our flight was scheduled to depart at 10:30am from RNO, and the cabin we were staying at in South Lake Tahoe was about an hour away. Considering that we also had to refuel / return the rental car and check bags, we left the cabin at 7:40am.
The drive to RNO was beautiful, and we arrived at the Southwest Airlines check in counters at about 9am. The bummer was that they are located all the way down at the end of the long ticketing area that all the airlines at RNO use, so it was quite a trek to get all the way to the end.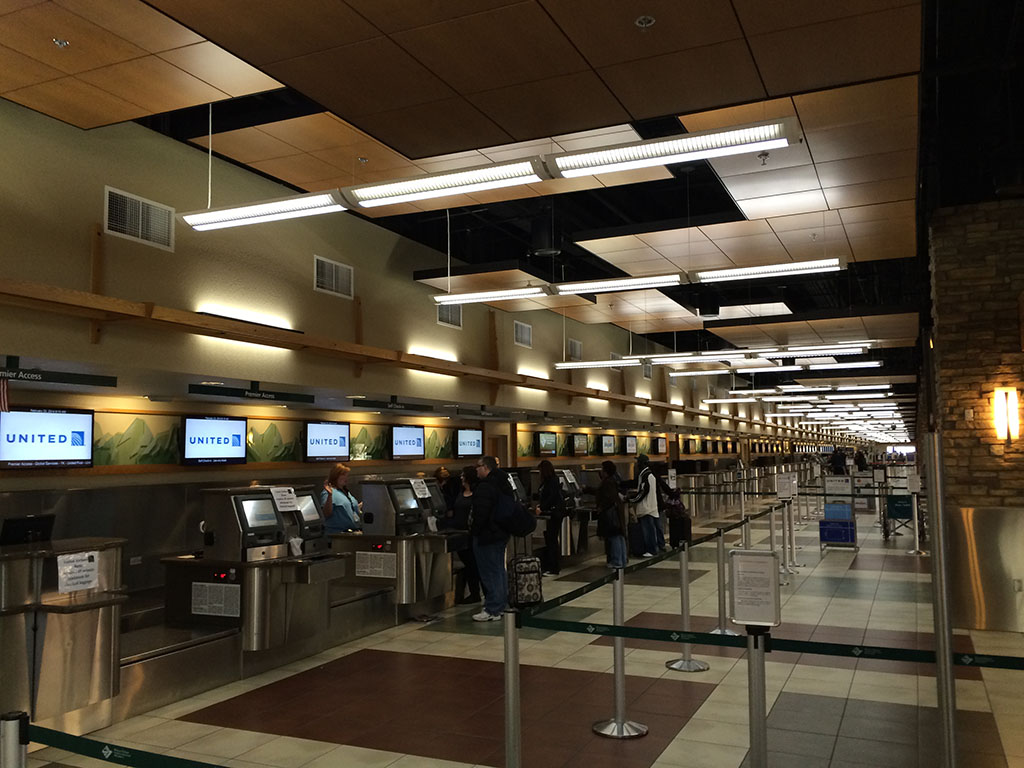 And once we had checked in our bags and got our boarding passes, we had to do the same long walk back to the ticketing area. Thankfully, the lines were short and we didn't even have to wait to use one of the self-serve check-in kiosks.
I still get a kick out of seeing slot machines in Nevada airports, and RNO is no exception:
We were through security in a matter of minutes and at our gate (B1) shortly thereafter. I love the "small town" feel of the Reno airport, even though it's actually quite a big place. The decor is very outdoorsy, with flashing slot machines mixed in everywhere you look.
WN695
Reno (RNO) – Las Vegas (LAS)
Sunday February 23 2014
Aircraft: Boeing 737-700
Seat: A window seat (D) somewhere just behind the wing. Yeah, I forgot to take note of my seat number!
We had boarding cards for B20 and B21 this morning, which still made me a bit anxious about being able to score a good window seat. I really wanted to get some in-flight photos of the scenery as we departed, so I crossed my fingers as I boarded the plane. Luckily, I'm happy to report that the aviation photography gods were looking out for me and I was able to grab a window seat located just behind the wing.
We pushed back right on schedule, and made a quick departure on runway 16R shortly thereafter. Climb-out was smooth and scenic, though the sun position wasn't what I had hoped – so the pics I took aren't all that great. But hey…I'm definitely not complaining.
This was a short one-hour flight, and just like always, they managed to serve drinks and snacks to everyone onboard in that short amount of time. Props to Southwest Airlines!
Our approach into LAS seemed long and complex, turning so many times that I actually lost track of which direction we were headed. It must have been a busy flow that morning, because I don't ever recall so many twists and turns landing in Las Vegas before. Anyway, we eventually lined up for runway 25L and made one of the smoothest landings I've experienced in a while.
We docked at gate C14, and were shocked upon deplaning – the terminal was a total zoo. Standing room only for as far as we could see. It was going to be a long two hour layover…