01. Air Tahiti Nui A340-300 economy class Los Angeles to Paris (CDG)
02. Qatar Airways A380-800 business class Paris (CDG) to Doha
03. 5 Instagram-worthy things to do in Doha
04. Qatar Airways 777-300/ER economy class Doha to Amsterdam
05. easyJet A320 main cabin Amsterdam to London (LGW)
06. Norwegian 787-9 main cabin London (LGW) to Los Angeles
As excited as I was to try Qatar economy class, it occurred to me during the taxi ride to the airport this morning that I did things a little bit backwards on this trip. You see, the business class flight down to Doha two days ago was the pinnacle of this journey. It came at a time when I was still filled with peak levels of stamina and excitement, and frankly, I could have been just as happy stuck on a United Airlines CRJ-200 with a seat adjacent to a broken lavatory door that wouldn't shut all the way. The trip was still young, I was overflowing with a raging sense of adventure, and I certainly didn't need business class at that particular moment.
But this morning, slumped over in the back of that taxicab at 5am, stamina and excitement levels were dangerously low. Starting the long journey home after an amazing trip is never easy, and while I was feeling excited to experience what Qatar economy class was like, I couldn't help but to think that business class on the way home would be far more beneficial to my body and soul than business class on the way there.
Then, just as we were pulling into the airport, I saw a billboard advertising Qatar's stunningly beautiful Qsuite product. And if that wasn't a strong enough kick in the junk, my taxi driver then asked "business class or economy sir?" Ok – that's it. Next time I do a mixed class itinerary, it's economy first, THEN business. Now let's see if I have the mental capacity to actually remember that before I book my next trip….
QR273
Doha, Qatar (DOH) – Amsterdam, Netherlands (AMS)
Thursday, March 14, 2019
Aircraft: 777-3DZ/ER
Registration: A7-BAP
Duration: 6 hours 49 minutes
Seat: 47F (economy class)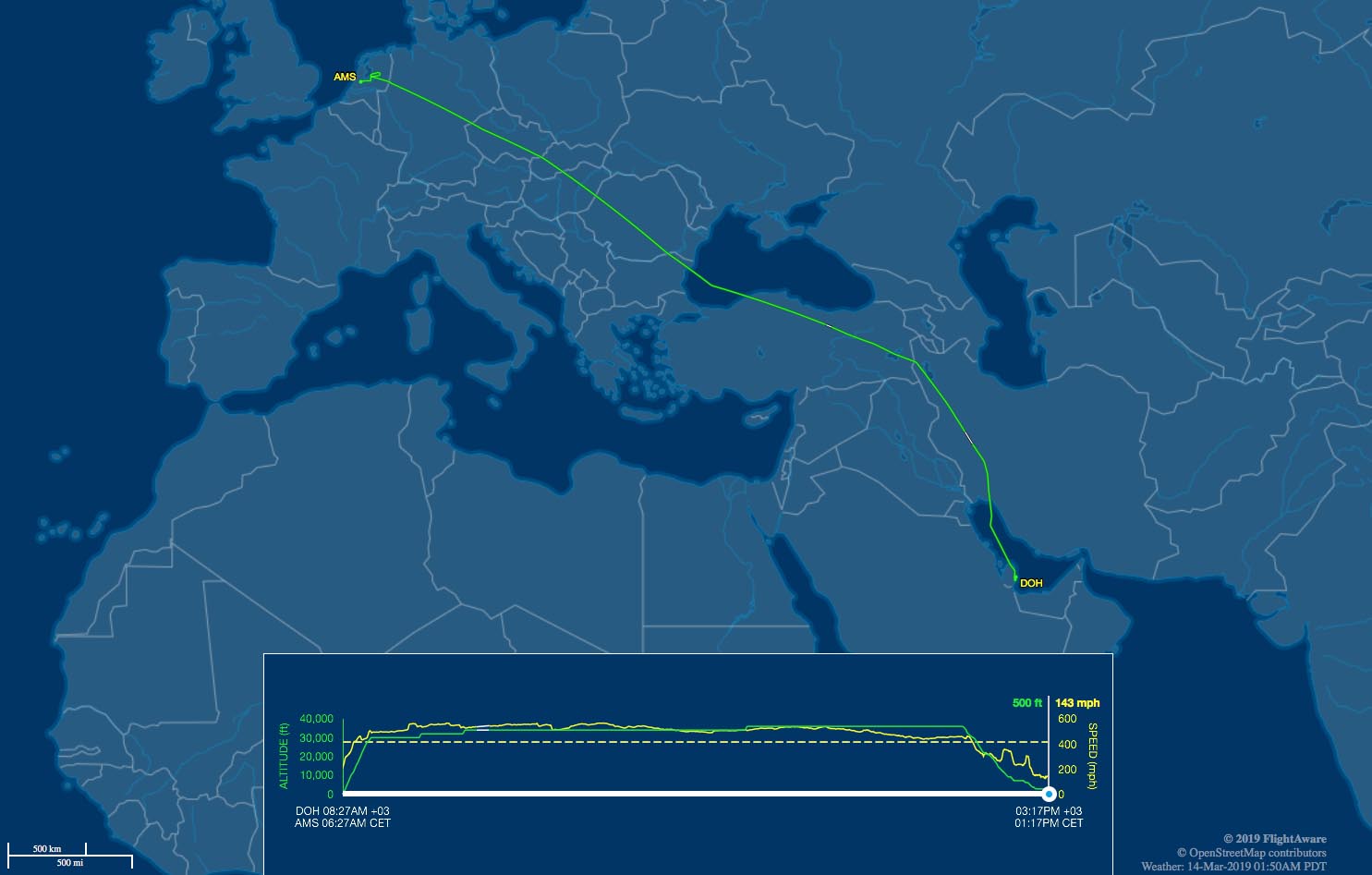 The video for this Qatar economy flight to Amsterdam was another one of those "oh crap I don't think I have enough footage" stress-fests that had me worried. I like to be fairly detailed in my videos, and browsing my footage of the flight as I was firing up Adobe Premier Pro had me squirming in my chair. I really didn't think I had enough to pull it off.
Somehow I managed to eek out a 9-minute video review of this flight even though I was in an aisle seat with no views to the outside world. And now that I think about it, being forced to create compelling videos under constraints like this is what helps me to grow as both a filmographer and editor. So even though I was cursing at myself under my breath for not getting as much footage as I would have liked, I felt like I learned another thing or two about the challenges of video production. Mostly that I'm an idiot and I need to get more footage next time…
Yes, I actually do enjoy flying economy class. Especially Qatar economy.
As much as I make sarcastic jokes about how much I'd rather be flying business class, the truth is that I'm extremely thankful to be a self-employed full time blogger who gets paid to fly around the world. I spent my fair share of time chained to a desk in the corporate world, and I'm happy as heck to be free of that. Economy class or business class is fine with me.
Similar to how my long haul Emirates economy class experience began in Dubai last year, arriving at the airport here in Doha was a near religious experience. Hamad International Airport is nothing short of stunning. It's big, bold, and extremely beautiful from every angle (I was going to say "just like Ms Piggy!", but I won't). What is it with these middle eastern airports and the overwhelming sense of scale and glitz?
Standing in the center of the terminal soaking up the ambiance that is DOH is a difficult experience to describe. It's truly the crossroads of the world with connecting passengers from all parts of the globe roaming about, and it's easily one of the most fascinating airports I've ever been to. This Qatar economy experience was getting off to a really great start, thank you very much.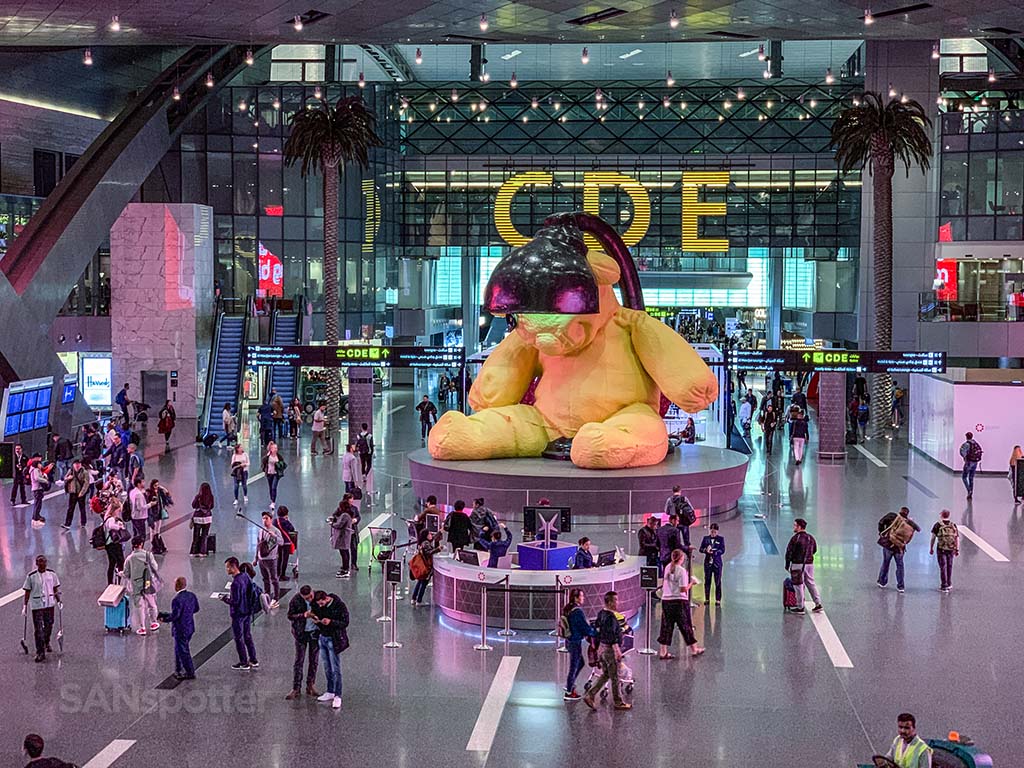 Even as a Qatar economy passenger, the ground experience here in Doha can't be beat
First of all, I just want to make it explicitly clear that I'm not saying really nice things about this airport just because there's a Camden Food Co here. Yes, I was nearly as excited as a miniature chihuahua who tinkles on the floor every time the doorbell rings when I came around the corner and saw it, but I'd still be in love with this place if even if it didn't exist.
Once I was able to pry myself away from the culinary black hole that is Camden Food Co, it was easy to understand why this is one of the best airports in the world. It's a stunningly beautiful place to roam, and it wasn't difficult to find vacant nooks and crannies to hide and get away from the masses. Not that I'm antisocial or anything…
One minor nitpick about about DOH: most of the food options are contained within the food court (which is located at the center of the terminal). This is a massive airport, and you're going to have a lot of walking to do if you're feeling hungry at the farthest ends of this place. One of the few drawbacks of being a Qatar economy passenger I guess. I'll bet business class passengers don't have to go far for food!
My very first look at Qatar 777-300/ER economy class
The boarding process started just a few minutes late, but overall it was fairly efficient. Except for the part about the gate agent walking away with my passport after scanning it. She had a very concerned look on her face, then told me to "please wait one moment sir…" as she walked away (with my passport and boarding pass in hand). As far as I know, I'm not on any "lists", so…I had no idea what to think as I stood there holding up the line for a minute and a half. Yeah, I was THAT guy.
Thankfully she returned all smiles and I was fee to go. From there, it was down the jet bridge and onto the plane.
Overall, Qatar Airways economy seemed nice in those initial few minutes, and I was very much looking forward to the 7 hour ride up to Amsterdam this morning. Even better was the fact that the seat next to me remained vacant. Yet again! And I certainly wasn't complaining.
Do yourself a huge favor
Travel the world in style on Qatar Airways
Hands down, they offer one of the best airline experiences in the world (in all classes of service).
Connect in Doha (DOH) - one of the most interesting airports I've ever been to.
It'll be a flight you remember - every flight I've taken on Qatar Airways has been nothing short of amazing. Even in long haul economy!
Book Now
Note: I may earn a commission if you make a purchase, at no additional cost to you.
Wanna know what the food is like?
Of course you do. You wouldn't be human if you didn't. FYI, this was a seven hour flight, so there was two meal services. The first were breakfast, followed five hours later by a light snack. Neither were anything I'd call "spectacular", but both were decent and tasty enough.
Being seated all the way in the back gave me all the reason in the world to believe that there's no way they'd still have my primary choice (eggs) available by the time they got to me. Miraculously, they did. And you know what? I worked so hard to psych myself up for the pancakes that I almost chose that instead. lol
For comparisons sake, I'm going on the record as saying that the Emirates economy class breakfast I was served last year from DXB to LAX was slightly better. Not that I'm knocking Qatar economy or anything, but EK is a direct competitor and I'd be foolish not to mention it.
Five hours later (just as my stomach was yelling "ok, send more!"), the flight attendants came by with snack boxes. These steaming-hot boxes consisted of a "hot pocket" type of thing (curried pizza is the best way to describe it), which was…ok. The guy across the aisle at three of them, thanks to a generous flight attendant who had extras she was trying to get rid of.
Final thoughts on this economy class experience to Amsterdam
I know it's not really fair to compare this Qatar economy experience with my Emirates economy experience from last year (since that EK flight was a 16-hour ultra long haul), but I'm going to do it anyway.
Everything about that Emirates experience was slightly better. Not by much, but indeed slightly better. The food seemed a bit more fresh, the cabin crew seemed more eager to please, and the video entertainment system was more diverse with a better selection of movies to watch. Again, I'm not at all complaining about Qatar economy class – I'm just making an observation based on the things I've experienced.
It's worth noting that while the overhead bins on the 777 are large, they are also quite deep compared to similar aircraft (something I talked about in my 777 vs A330 comparison). You might have a problem retrieving your carryon bag from the overhead bin on a 777 if you're vertically challenged!
I guess the best way to sum up my thoughts on Qatar economy is to say that I'd have absolutely no problem at all doing it again on an ultra long haul flight such as LAX-DOH. As a matter of fact I'm sort of tempted to try it just to give it a proper comparison against Emirates. But if I do that, then I'd have to try Etihad as well.
Hmmm, I smell another awesome trip brewing…