I've been writing these trip reports for many years now, and it's always baffled me how the most common request I get (over and over) is to do a Ryanair review.
Wouldn't it be more fun to read a review about Qatar Q Suites? Or Etihad Apartments? Why does everyone want to see me squirm on an ultra low cost carrier out of tiny overcrowded airports I can barely pronounce?
But hey. I live to serve, and today I'm serving up a Ryanair review from London (Stansted) to Dublin. Squirming included!
FR225
London, England (STN) – Dublin, Ireland (DUB)
Saturday, September 21, 2019
Aircraft: 737-8AS
Registration: EI-FRS
Duration: 52 minutes
Seat: 6A (regular economy)
The video
The video I put together for this flight (FR225 STN-DUB) was one that I had a lot of fun with. Well, more than usual that is. You see, I quickly discovered how fun it was to create Ryanair reviews due to how different some of the procedures can be. This ain't no normal airline, and the video ended up being quirkier than normal. If that's even possible.
The soundtrack for this one (sourced from Epidemic Sound) was especially fun to put together. I started the review off on a somewhat angry note (it'll be very obvious why), then finished up on a more happy / upbeat note to help drive home the point about how much I enjoyed this flight. But I'm getting ahead of myself here. Let's get this Ryanair review started!
My first ever Ryanair review didn't begin like I imagined it would
Do I dare kick off this Ryanair review with the admission that I paid $300 to ride in a car from one end of London to another? Well, I knew it was gonna be expensive to take a taxi from LHR to STN but…my god! It would've been cheaper to fly! Oh well.
My delayed arrival into Heathrow from Dubai forced me into it since it was the fastest option and I really didn't want to miss Ryanair flight number 225 (FR225) over to Dublin.
How is Stansted Airport even considered to be London? Figuring in the time and cost it took to get here, that's like calling San Diego International Airport an alternative to LAX. It's just not.
In addition to the visa issue, one of the things that always confuses me when traveling in internationally is the process for going through customs when making a connecting flights in Europe. No, I wasn't technically making a connection today, though I was technically traveling between two European countries.
Did I need to go though customs and passport control for this? Long story short: yes. Yes I did.
The Stansted Airport terminal is nice – but extremely crowded
I had a few minutes to spare after clearing security (and customs), so why not spend even more money on an overpriced lunch? By the way, if it wasn't obvious by now, the angry music I chose for the intro to my video didn't happen by accident. I was still feeling quite bitter.
If there was anything pleasantly surprising this morning, it was the realization that Stansted airport is pretty nice actually. Yeah, it's a little crowded, but it wasn't hard to find a quiet spot to get away from it all.
On a side note, how much you wanna bet that taxi driver laughed his ass off all the way back to Heathrow?
Boarding Ryanair flight 225 (FR225) to Dublin
The gate for my flight over to Dublin was posted just 10 minutes before boarding was scheduled to begin. I guess they were trying to keep everyone in the main terminal spending money in the shops and restaurants, which totally worked because, well, I'm not even going to admit how much I paid for that noodle bowl.
When it comes to flying Ryanair, there are two choices: Non Priority, and Priority. I splurged for the Priority option, only because I wanted a seat ahead of the wing for decent views of the wing and engine. Which have been totally lacking from my reviews lately, I know.
This being my very first Ryanair flight and all, I found the boarding process to be…interesting. You see, I assumed that we'd actually be boarding the plane once they let us out onto the tarmac. Silly me. There were still people deplaning from the previous flight!
As a hardcore AvGeek who likes being around airplanes, I didn't mind having to stand out here in the hot sun while the cabin crew did what they needed to do to prep this flight over to Dublin. The guy standing behind me, however, was spewing profanity like an angry marine.
Ok, here we go! It's not often I'm able to get air stair footage such as this, and I was quickly reminded of how awkward it is to be pointing a camera directly into the rear ends of complete strangers.
The Ryanair 737-800 interior
As I mentioned earlier, I paid a little extra to be seated towards the front for this Ryanair review, which ended up being a decent choice. However, even though I've watched every single one of Rory's Ryanair videos, it wasn't enough to prepare me for the yellow headrests.
For a guy who had been up all night flying a redeye in from Dubai (and then being extorted out of $300 to get from Heathrow to Stansted), I was in an awfully good mood just moments before pushing off the gate. 
Which should have been obvious in the video by the fact that the music wasn't angry anymore.
Taking off from Stansted Airport
Hard to believe we didn't crash and burn on the takeoff, isn't it? YES, I'm joking. But seriously, despite all the negativity I've heard about Ryanair over the years, this had been a pleasantly normal experience so far. Except for the yellow headrests of course.
What is the service like on Ryanair?
Much how it is on Spirit Airlines back in the US, there is indeed full cabin service on Ryanair. However, you're gonna pay dearly for it, and I couldn't justify spending the money. Yeah, I was still just a little bitter about that $300 taxi ride this morning.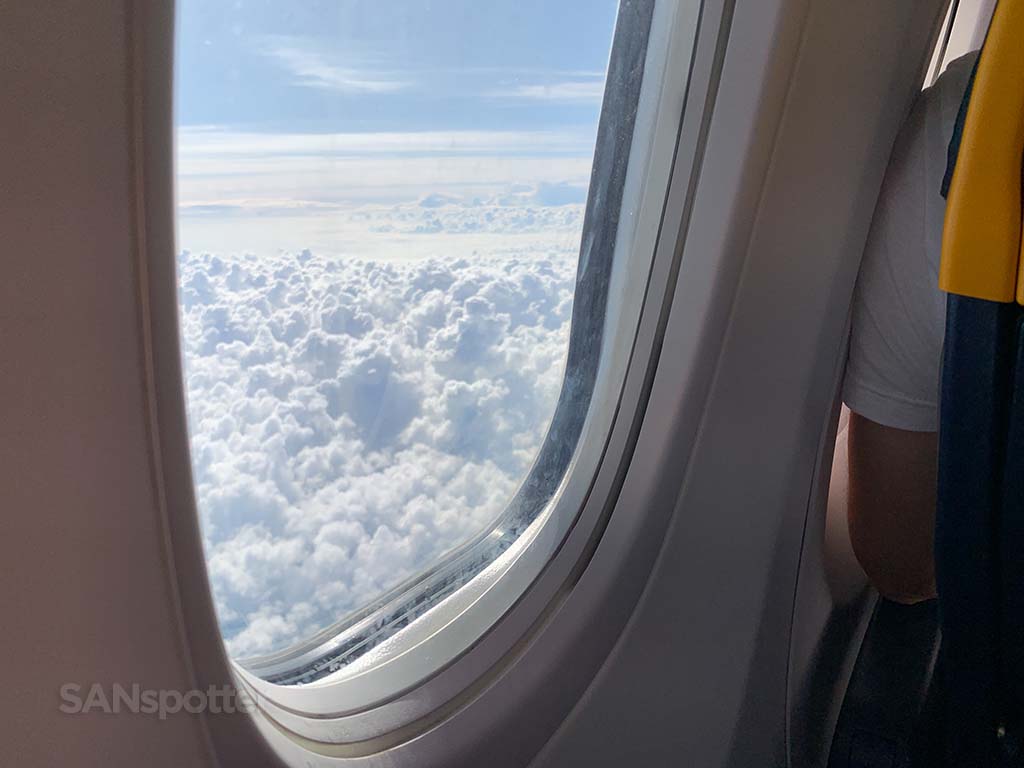 The descent and landing into Dublin
Flying time between London and Dublin is just a short 45 minutes, and there was actually very little cruise time at full altitude. As soon as we were up, we started the descent down, and…man I've forgotten how beautiful Ireland is.
As we made the approach into Dublin, I had an interesting thought: I snickered when I first saw the safety information printed so boldly on the headrest, but having evacuation instructions right there in our faces will come in handy if we survive a crash landing. Call me morbid, but it's actually quite a brilliant design detail.
Welcome to Dublin!
It's been many years since I've last been in Ireland, and it was a pretty good feeling to be back. It was also a pretty good feeling knowing that it was a Ryanair review that brought me here. Why? Well, it helped me reach the conclusion that this isn't that bad of an airline actually. Yeah, the boarding process was a bit sketchy, but I think that I'd fly Ryanair all the time if I lived in Europe.
I'd also highly recommended paying a little extra for perks such as reserved seats and priority boarding like I did. Although, priority boarding might mean standing out on the tarmac for 15 minutes while everyone else gets to wait inside, so beware.
Anyway, that's it for today. I hope you'll stay tuned for the next post, which will be a review of my Aer Lingus flight home to LAX. It was another good one for sure.
Frequently asked questions about flying Ryanair
The problem about really short flights such as FR225 is the fact that the trip reports end up being kind of short as well. And because I like to provide as much value as possible in my reviews, I figured I'd end this particular review of Ryanair with some FAQs (frequently asked questions). The kind of questions and answers you're not gonna find on Ryanair.com.
Is flying Ryanair a completely miserable experience?
If you've read the entire trip report up to this point, you'll know that my particular spirit experience was good. As a matter of fact, I didn't really consider it to be all that much different than any other airline these days (anywhere else in the world).
The only parts that I could consider to be potentially frustrating was check in and boarding. The check in procedure can be a bit chaotic, especially since they are extremely strict about the entire process. There are a lot of rules to follow, but you can read here, and they won't hesitate for a second to charge you extra fees if you don't abide by those rules.
As far as the boarding process goes, I found it to be awkward how they initiated it so early (even when the airplane wasn't ready) so don't expect that you're actually boarding the airplane when they initiate that boarding process.
What's the food like? Is it good?
I'm sort of kicking myself for not including a food purchase in this Ryanair review. I feel like I missed a huge opportunity to make some fun jokes about how overpriced and bland the menu is. But you know what?
From what I could tell, food on Ryanair is very much like how it is here in the United States on airlines such as Spirit and Frontier. There's a menu at every seat, and the flight attendant will come down the aisle with the food cart, but just know that nothing is free and you're going to pay dearly for anything. Even water.
As far as the food itself, it looked to be exactly the same as what we will get here on either Spirit or Frontier. It's basically prepackaged cafeteria food (the kind with a long shelf life) and you're going to pay quite a lot for very little.
What is the ambience like on a Ryanair flight?
Yeah, this may seem like somewhat of a silly question, but you've got to admit that some of the Ryanair stories we hear about in the news are juicy. Remember the time that a passenger's nose was bitten off during a mid-flight brawl? Or how about the time that a passenger vowed to kill everyone onboard as he tried to open the door? Does this sort of thing happen on every flight?
Again, just as I mentioned in the first question of this FAQ, flying Ryanair is (generally) a completely normal experience. Yes, there are likely a disproportionately larger number of first-time flyers on this airline, but overall I found everyone to be extremely obedient and well behaved. There were no fistfights or drunkards that had to be dragged off the plane. Everyone was kind, polite, and it was like any other airline experience I've ever had.
I can't say that it's slightly disappointed though. You see, this was my first ever Ryanair review after all, and I was hoping to make it a little more spicy then it ended up being. Oh well.
Is it worth the cost savings to fly Ryanair over a higher-priced airline?
I'd say the answer to this question depends largely on your own personal situation. For me, as a traveler who arrived at Heathrow airport wishing to fly over to Dublin as cheaply as possible, I'd say that no. It was not worth the cost savings to fly Ryanair. Ground transportation between Heathrow and Stansted airport is extremely expensive. It's also time-consuming as well. Without traffic, it ended up being an hour and 45 minutes.
The point I'm trying to make is that one of the ways that Ryanair can offer such low prices is by flying out of smaller airports way out in the boonies. If you live way out in the boonies by one of the smaller airports, then yes – it's probably going to be extremely beneficial for you to take advantage of Ryanair's low prices.
Everybody is different, and I value my time quite highly. If I have to go way out of my way to save a few bucks, it's probably not worth it.
Is Ryanair safe?
Of course it is! According to this article, Ryanair is one of the safest airlines in all the world. And I completely believe it based on everything that I saw both on the ground and in the air. Again, I was kind a hoping to see some raunchy things to make this the most entertaining Ryanair review ever, but the truth of the matter is the employees and crews of this airline are top notch.
I saw nobody taking shortcuts anywhere in the entire process. If anything, I'd say that the ground staff and cabin crew were overly cautious more than anything else. This overcautiousness slowed down the process a bit (especially when it came to boarding), but that's not exactly a bad thing is it?
Will this be my last ever review of Ryanair?
Heck no! As I mentioned above (and in the video), I'd probably fly this airline a lot if I lived in Europe. Of course that would necessitate me living way out in the boonies (or at least traveling to the boonies), but the cost savings over a traditional airline are not insignificant.
I'm still not sure what I think about the yellow head rests, but given enough time, I think I could learn to deal with it.