I was pretty excited when I booked this reservation, mainly because I've never had the chance to try Hawaiian Airlines first class before. I knew it wasn't anything special compared to other airlines, but still…the service on every other Hawaiian Airlines flight I've been on has been top notch so I was expecting good things in the front cabin. However, the air was let out of my tires slightly when a press release was announced a few days later stating that Hawaiian Airlines will be reconfiguring the first class cabins of it's A330 aircraft with flat bed seats next year.
I don't know about you, but that sounds a lot better than the recliner chairs that are in first now. Oh well – I'll just have to do this again next year to try out the new first class cabins! You don't have to twist my arm too hard to convince me to do this again…
I arrived at SAN about three hours before departure, which to most probably seems absurdly early. I wouldn't disagree, but I like to arrive early to avoid any and all stress. Besides – airports (especially terminal 2 here at SAN) are nice places to hang out and get some work done assuming that things aren't too busy. Friday mornings aren't usually busy anyway, and this morning was no exception.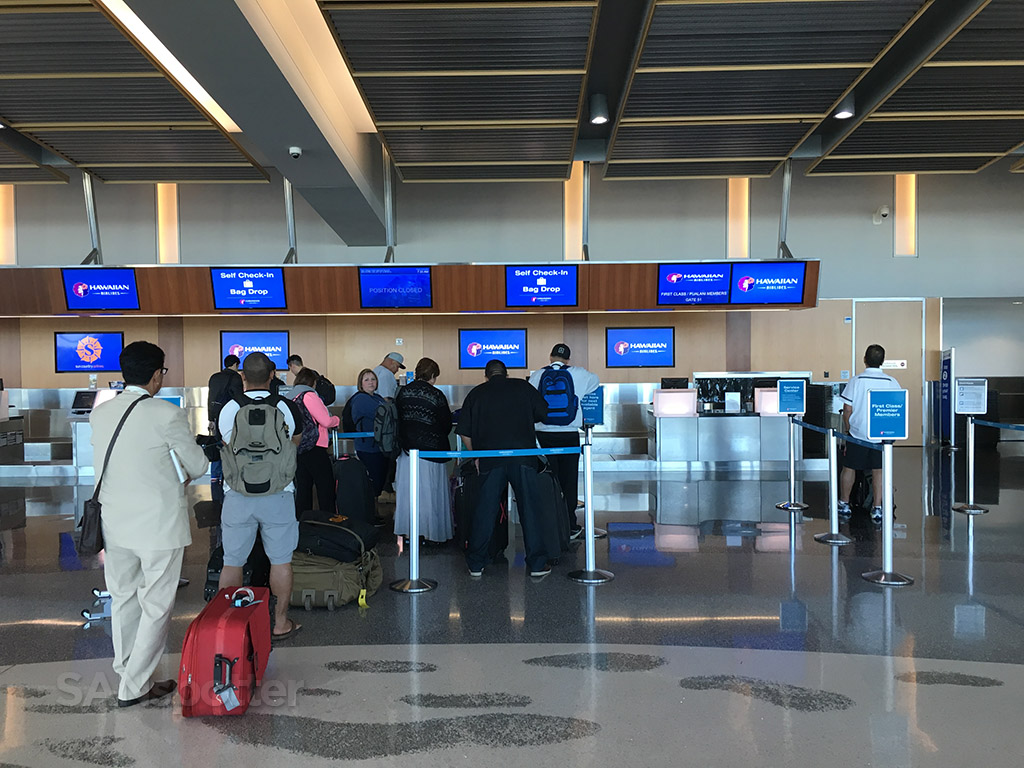 I hung out at the departure gate (51) for a while, then decided to get up and walk around once it started filling up with other passengers. Gate 51 has a very large and wide open seating area, but it fills up fast with Airbus A330 sized loads.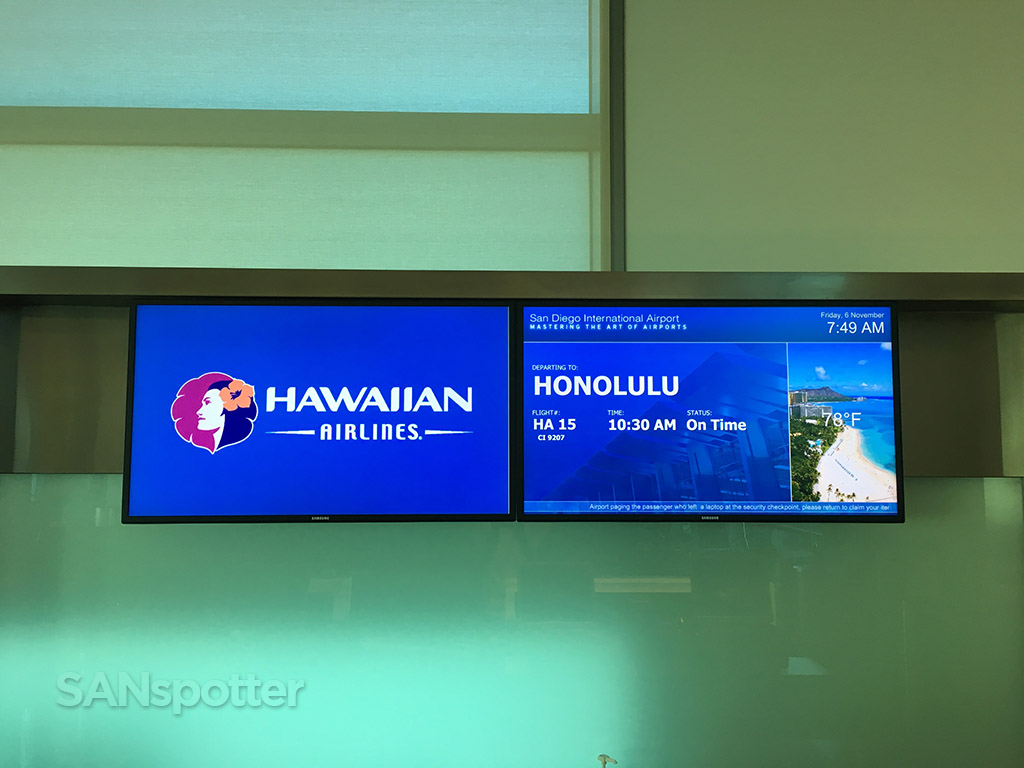 HA15
San Diego, CA (SAN) – Honolulu, HI (HNL)
Friday, November 6, 2015
Aircraft: A330-200
Seat: 3H (first class)
I boarded the aircraft as soon as they called for zone 1 (first class passengers), hoping to be one of the first on the airplane so I could get some unobstructed pics of the first class cabin. It didn't quite work out that way – the cabin was half full by the time I got onboard so I had to make due with what I had.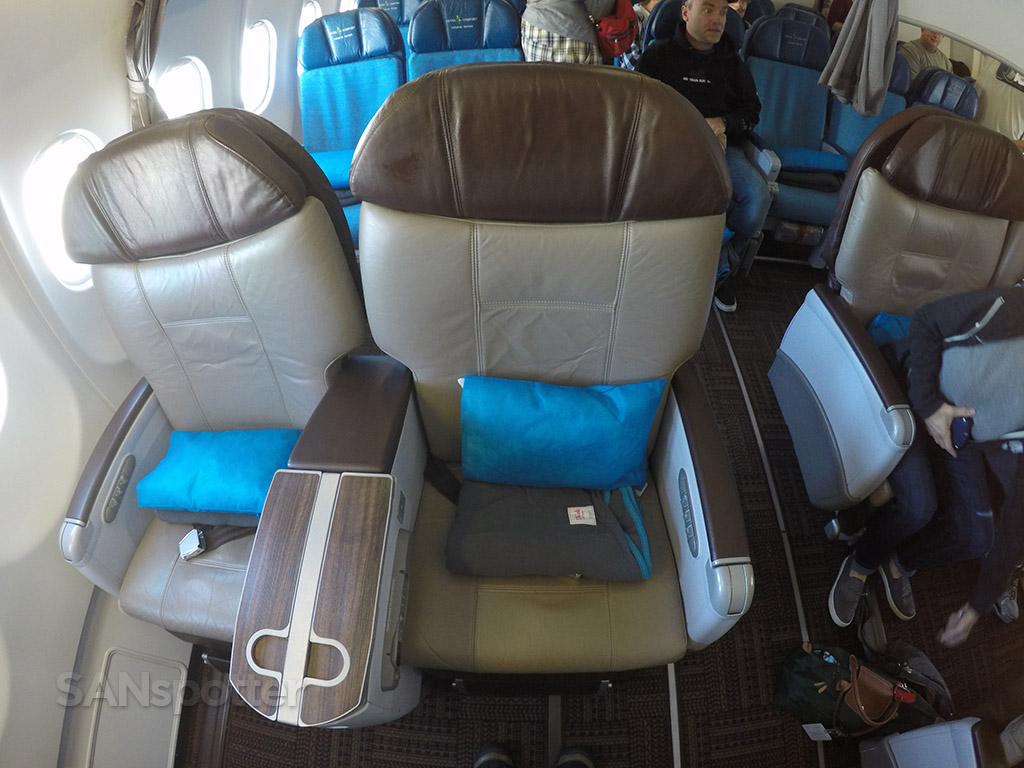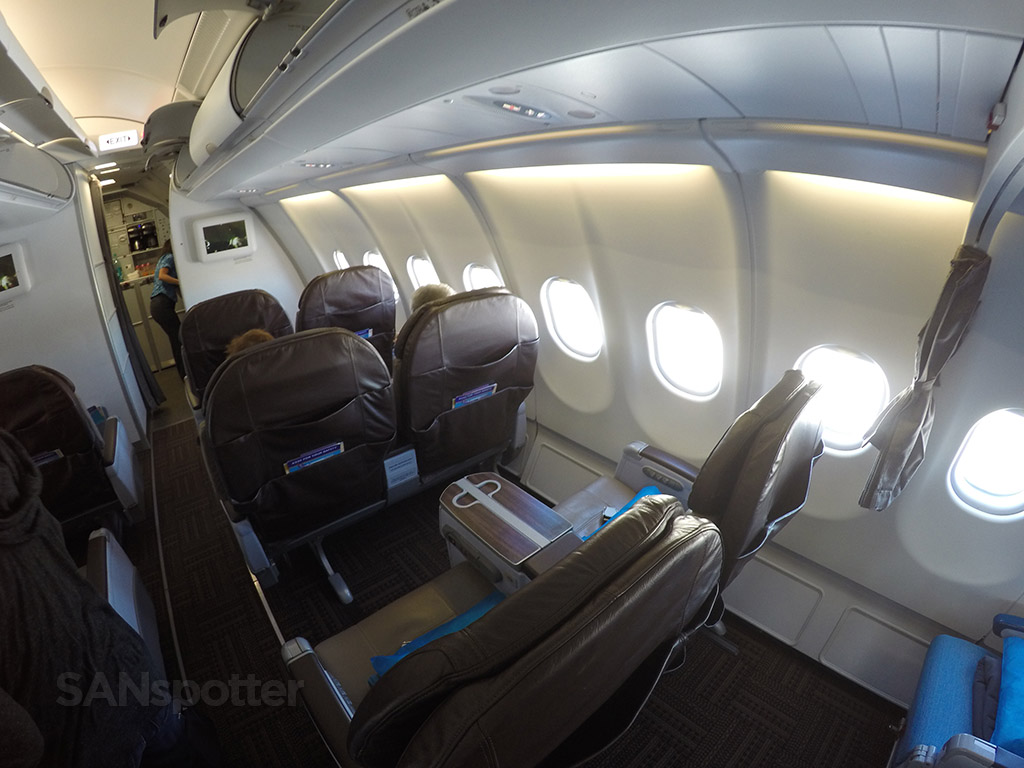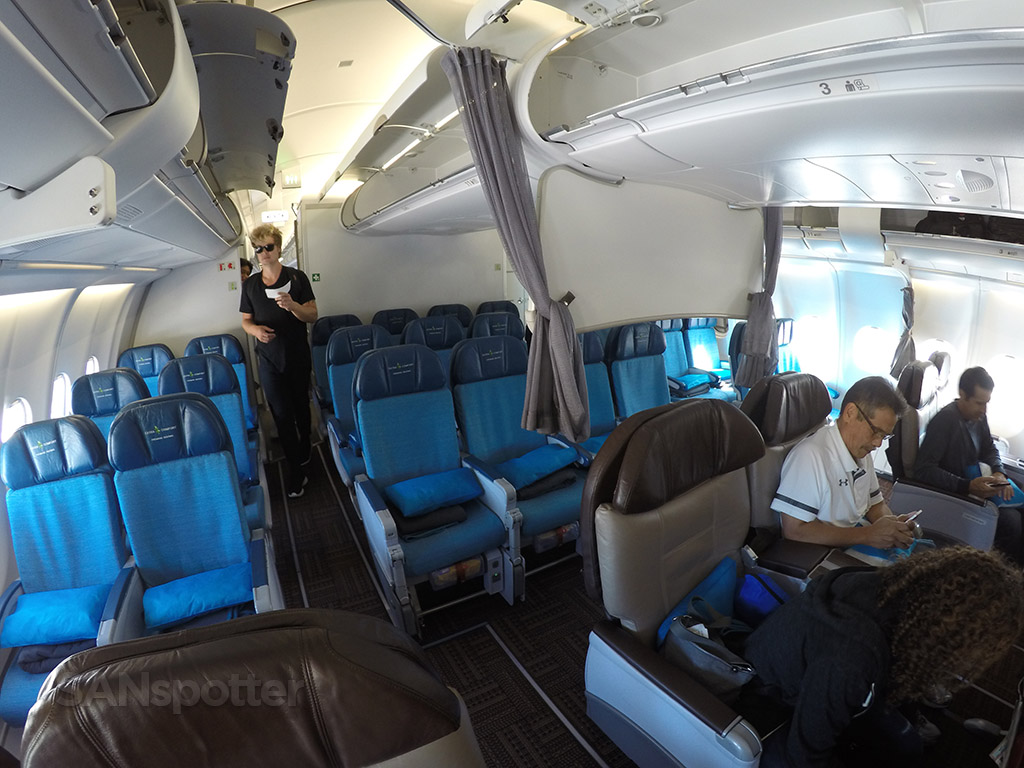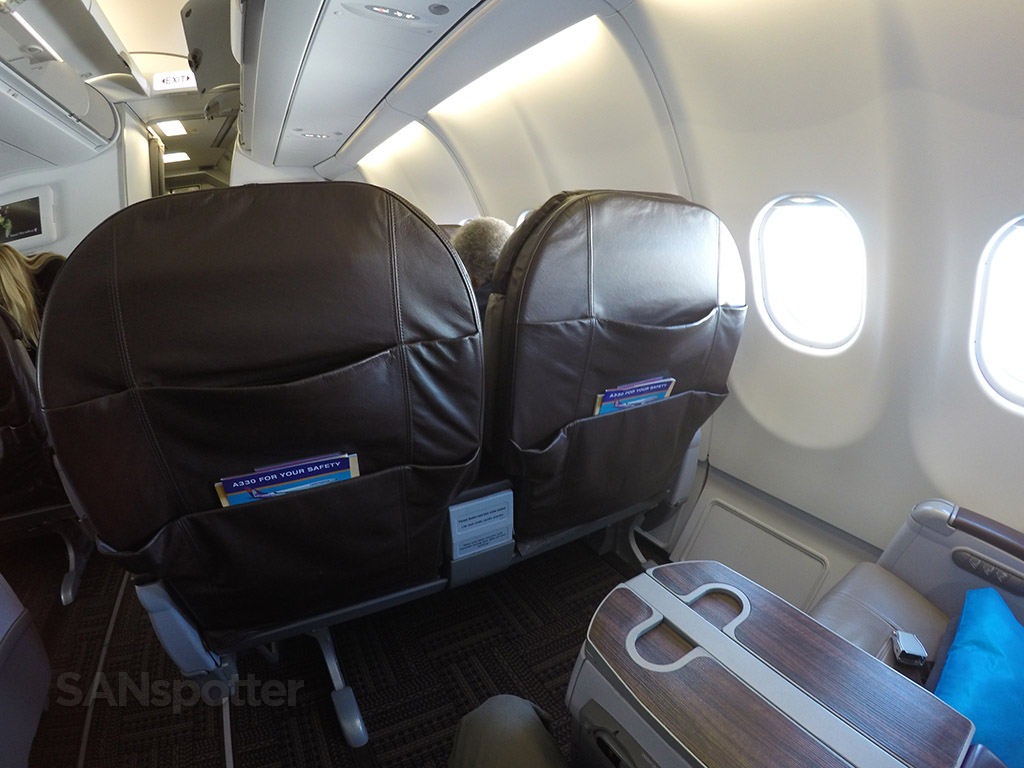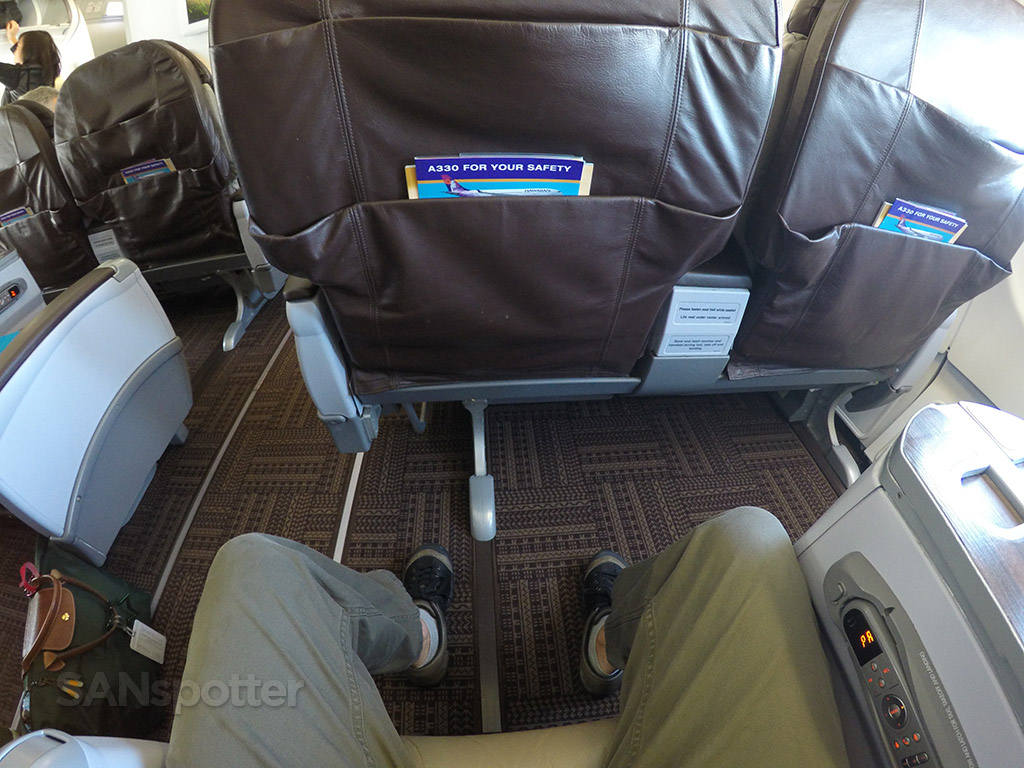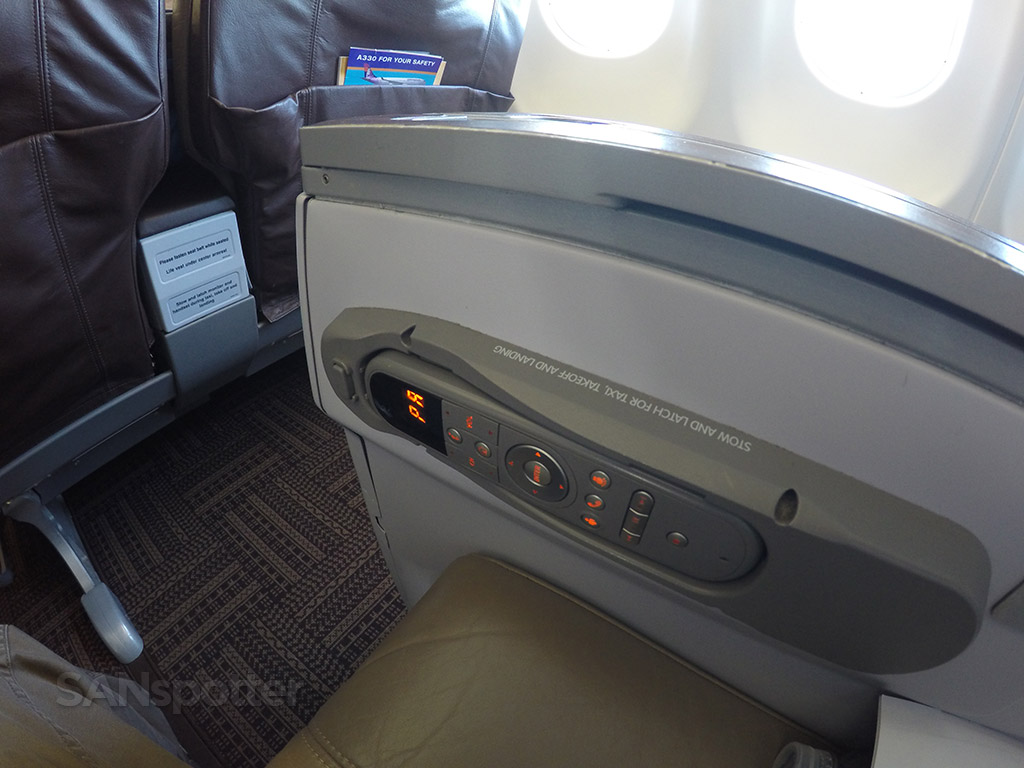 The rest of the first class passengers slowly trickled in during the entire boarding process, with the flight attendants coming by and offering a choice of three beverages: guava juice, champagne, or a combination of both. I went with straight guava juice – seemed appropriate and in theme to kick off a trip to the islands!
The window seat next to me remained empty all the way up until the end of the boarding process, and I was actually getting excited about the possibility of moving over into the window seat. That's what I wanted anyway, but none were available at the time of booking. Alas, it was not meant to be.
A very large (and very friendly) Samoan guy came onboard right at the last moment and claimed it. He later said that he was on his way to visit his family in Samoa, and being the big guy that he is, economy class was simply not an option! He laughed about how uncomfortable flights to Samoa are due to the fact that everyone is (on average) so big…
The flight attendants came through the cabin taking lunch and drink orders, and pushback was right on time. We were off and on our way without delay, and as an added bonus, I discovered that one of the guys I follow on Instagram (@mykingdomphotography) got a great pic of our aircraft rotating out of SAN that morning:
Agriculture forms were distributed just after departure, and I was surprised that hot towels were not. It's not a big deal to me, but that seems like a fairly standard practice for even domestic US first class service. I should note, however, that the hot towels came after dinner – which makes sense I guess. And boy were they hot. Ouch!
Lunch service, as expected, was great. Not as high-quality as something you'd experience in international first class on an Asian airline, but probably some of the best food I've ever had on a domestic US flight. Even the service was top-notch. The flight attendants were super friendly, professional, and most importantly: proactive.
They came through the aisles on a regular basis during all phases of the flight checking up on everyone to make sure their drink glasses were filled and everyone was happy.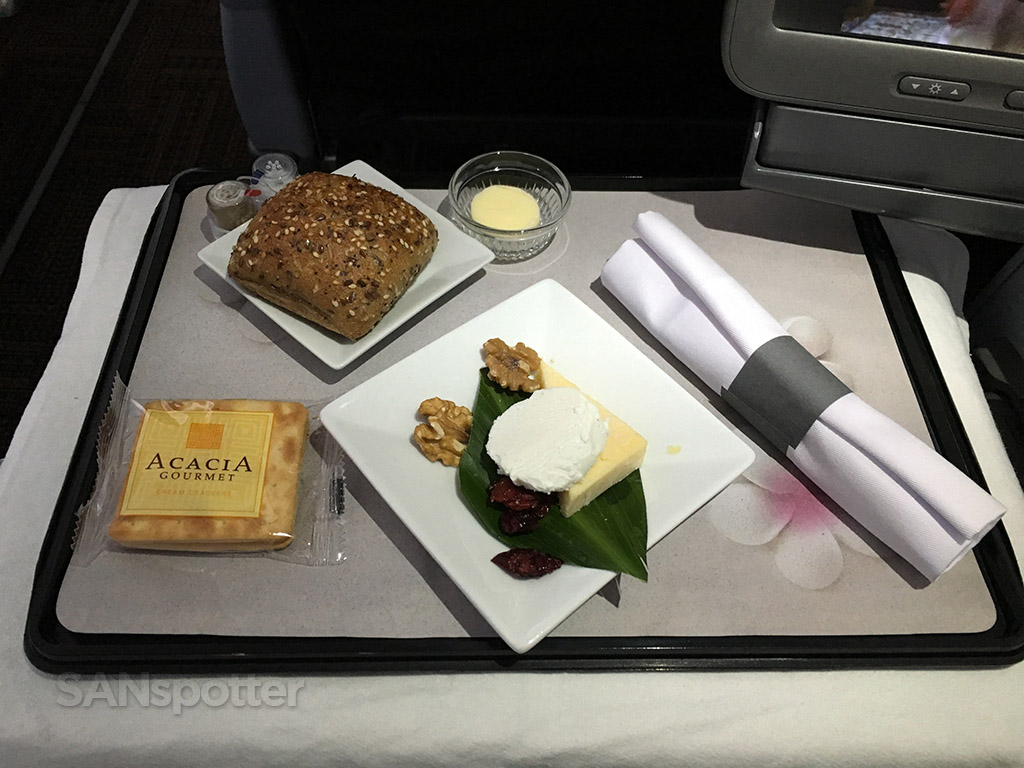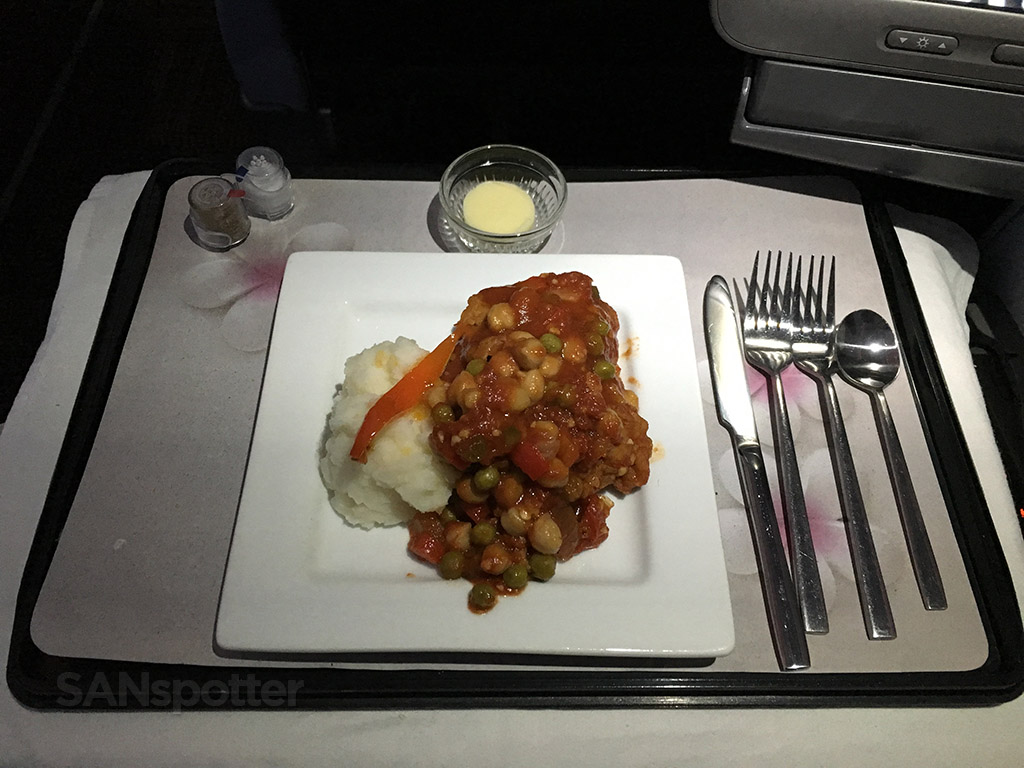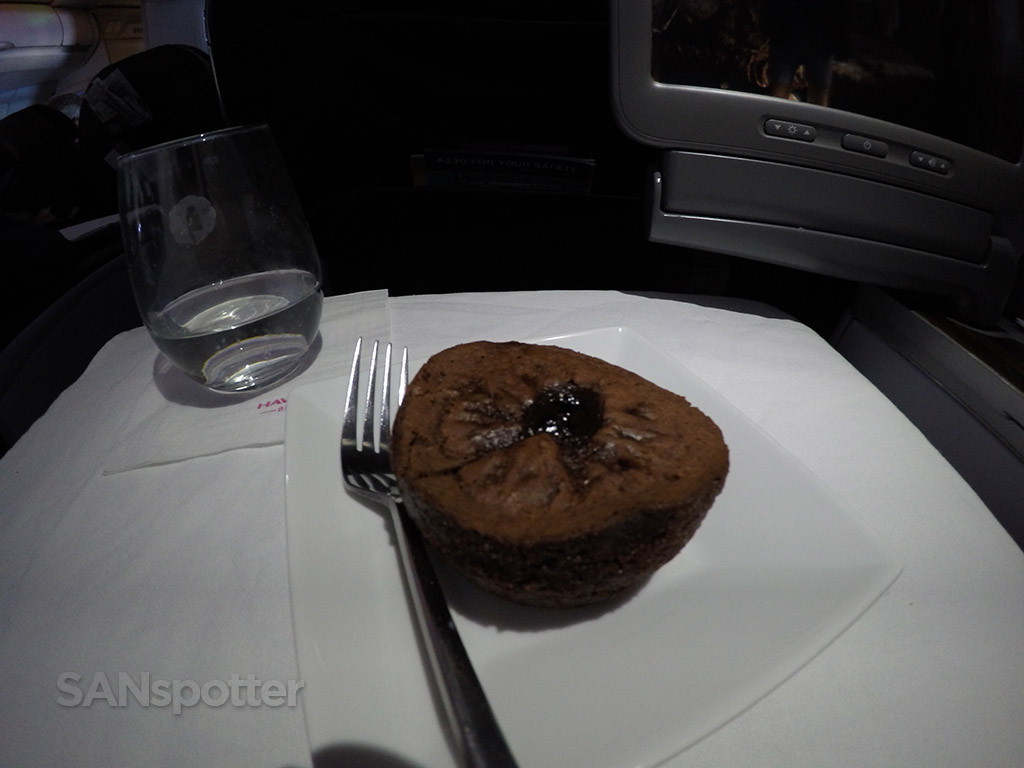 I passed the time watching Entourage and then episodes of Big Bang Theory. The movie was so-so, but I'm a pretty huge Big Bang Theory fan so that's never a bad way to kill time in my book.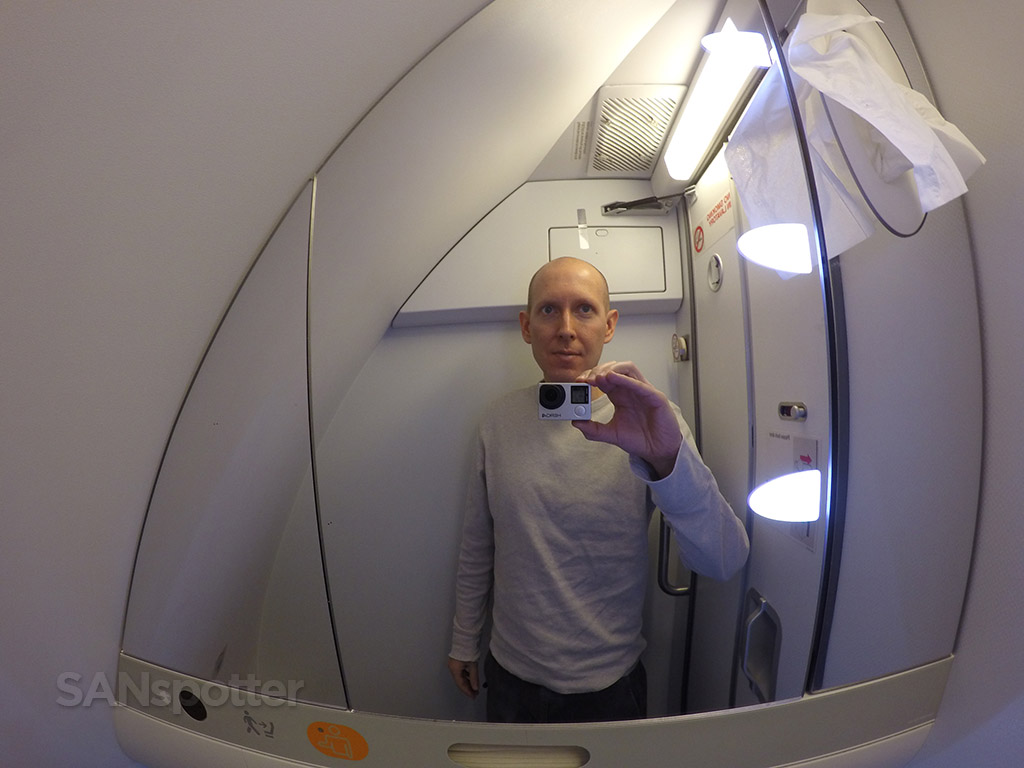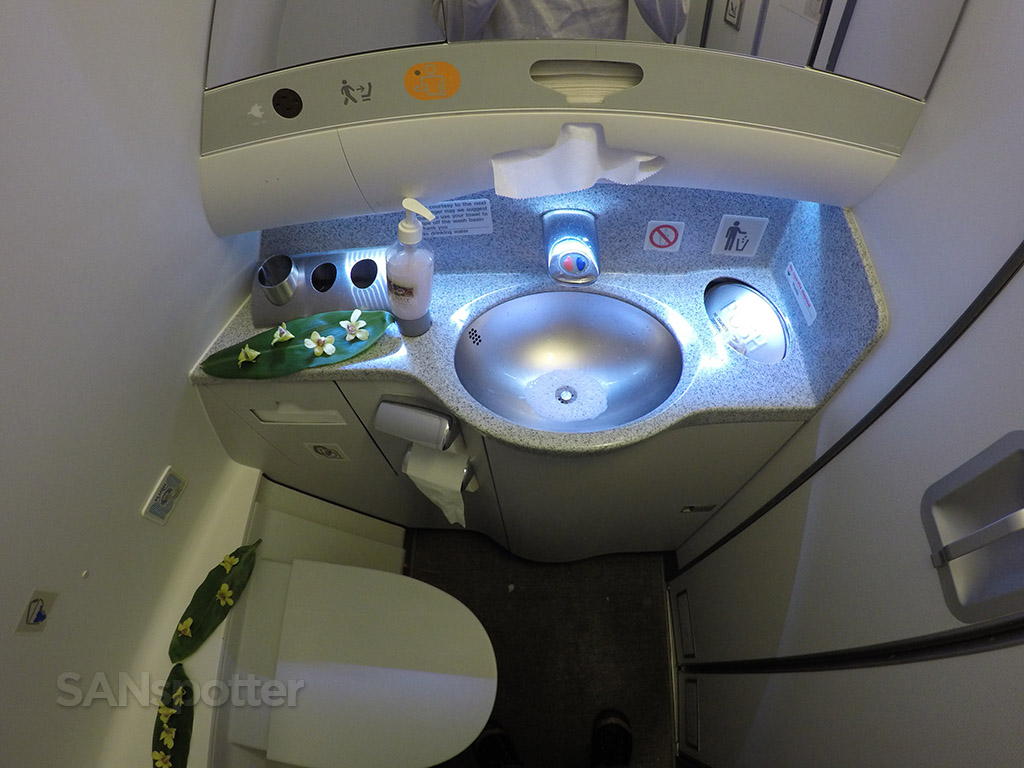 The combination of comfortable seats and top-notch flight attendants made the flight go by in the blink of an eye, and we ended up arriving in Honolulu about 30 minutes early. That was great for vacationers like me, but not so great for my seat mate who was already facing a 3 hour layover before his flight to Samoa.
We chatted for a bit as we landed and pulled into the gate, and yeah…I'm not going to lie when I say that it felt great to step off that airplane and feel that warm tropical air.