I grabbed a taxi from the hotel, and was standing curbside at HNL less than 20 minutes later. That might have been the quickest trip to Honolulu International Airport from Waikiki that I've ever experienced, which didn't really do me any favors since I still had over 3 hours before my flight home to SAN.
I quickly checked into the flight from one of the many kiosks in the main terminal, then wiggled my way through crowds of people to find the end of the security checkpoint queue. It was long. And there weren't any first-class priority lanes other than the Pre Check line that they seemed to be letting anyone use since things were so busy. But all in all it wasn't much of a wait, as I was through and into the main terminal in less than 15 minutes.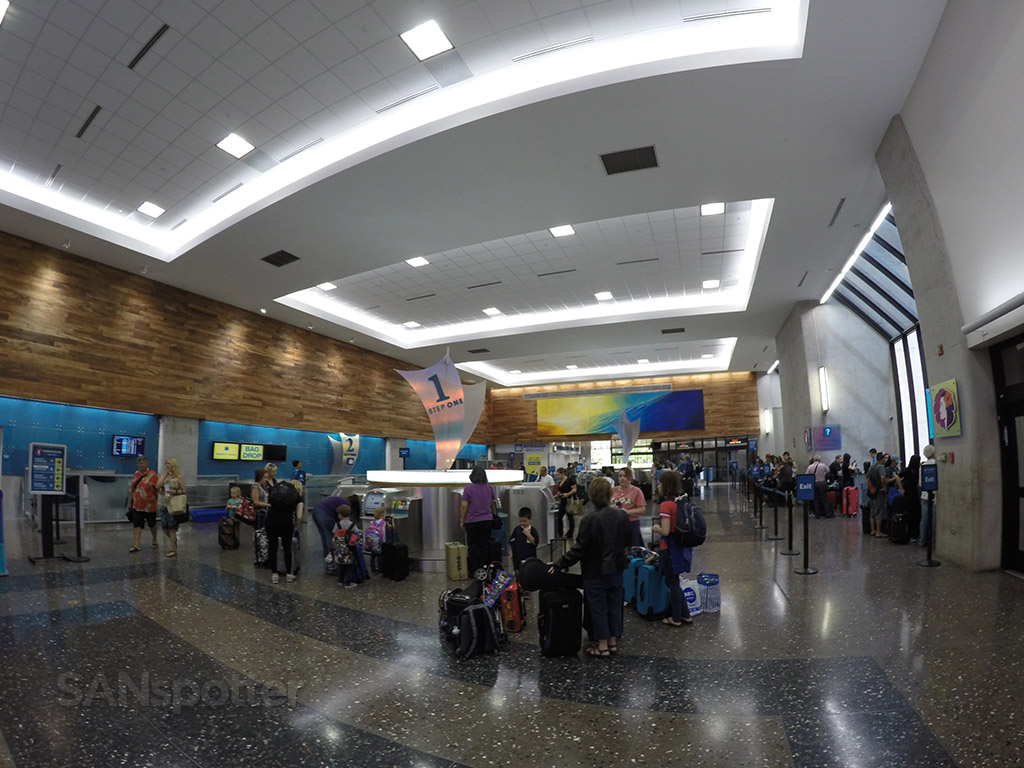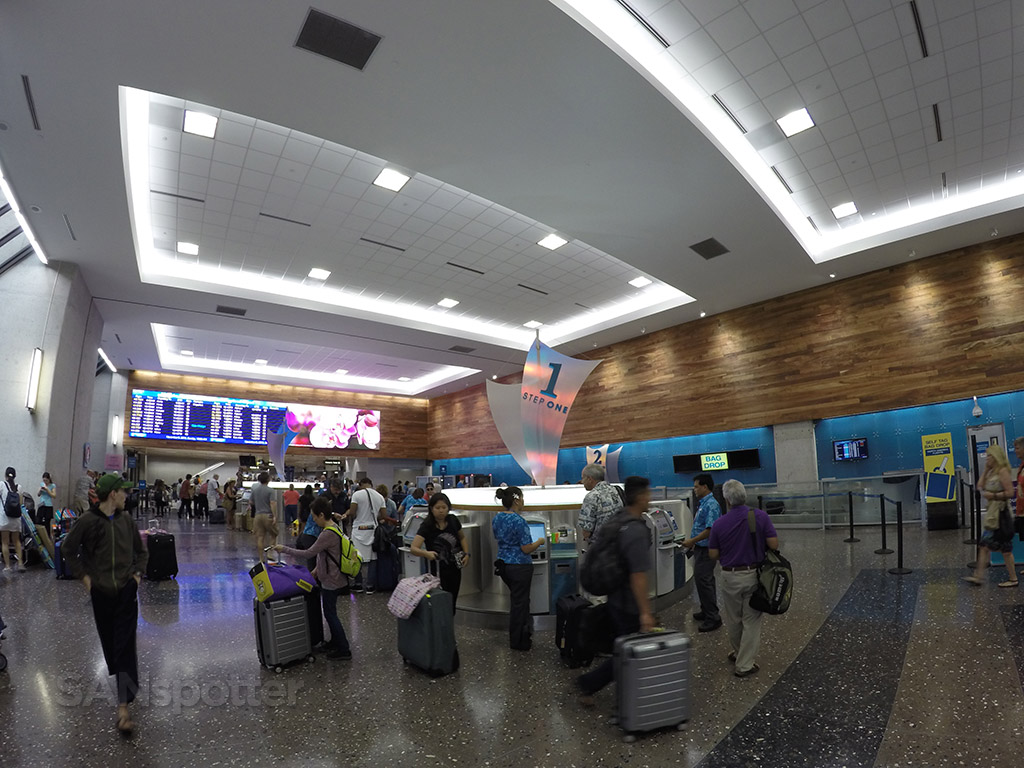 I've said it before, but I love the Honolulu airport. The sense of nostalgia is great here, as the old open air terminal is still standing just as it was before the newer (and more modern) main terminal opened. The old driveways and boarding lanes for the old terminal are still there, just as they used to be, and you can easily imagine how cool it would have been to arrive to this simple open air terminal as opposed to having to go through the hugely modern and soulless terminal that exists now.
I spent the majority of my time walking around, checking out the Hawaiian Airlines lounge, and basically feeling bummed that I had to go back home. Hawaii always does this to me. I don't think I could live on the islands full time, but I would really like to spend extended periods of time here. Sigh. Oh well – time to go home.
HA16
Honolulu, HI (HNL) – San Diego, CA (SAN)
Sunday, November 8, 2015
Aircraft: A330-200
Seat: 2C (first class)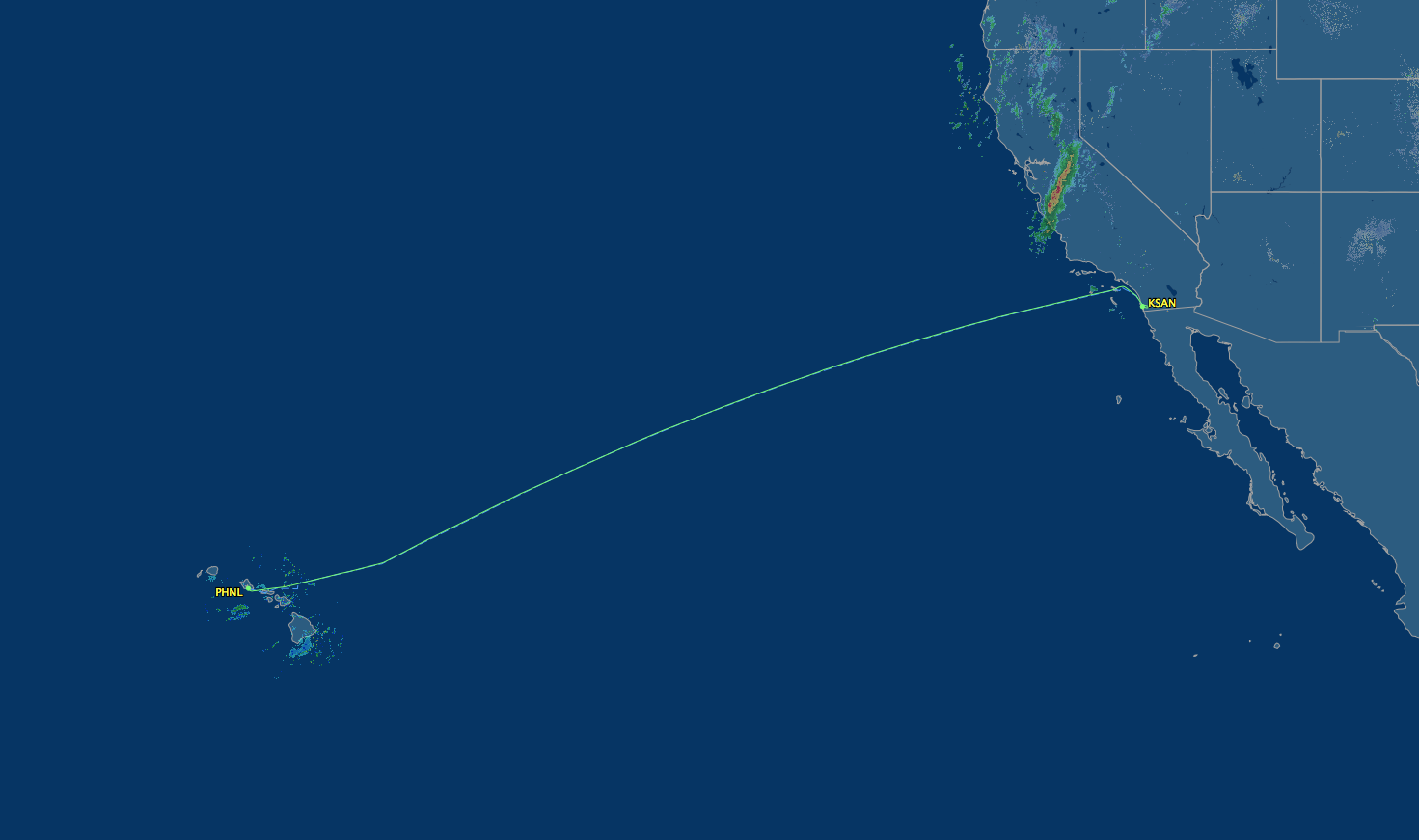 I know that I've already uploaded a ton of pics of the Hawaiian Airlines first class recliner seats in my post about the SAN-HNL flight, but I'm going to to it again now simply because I was seated in the center section this time and the feeling was slightly different than before:
Now that I already knew what to expect from Hawaiian Airlines first class (the flight over from SAN was great!), I was able to feel a bit more relaxed as I was getting settled and waiting for the boarding door to close. Well, I tried to relax – the guy next to me in seat 2D was as fidgety as a 3 year old.
He was about my age, but I swear he couldn't sit still for more than 30 seconds without re-rranging something or sighing heavily and looking around or reading a magazine…or whatever. He was exactly the kind of person I try to avoid contact with on airplanes, because I feel overwhelmingly paranoid that they just want someone to talk to. I don't mind quick hello's and small talk, but other than that I prefer to keep to myself and be as relaxed as possible in my own little world. This guy was truly my nemesis! Lol…
Despite the distraction, I remained focused on my pre-departure guava juice as I perused the dinner menu. I should note that the flight attendants were very proactive so far – they were quite busy welcoming passengers, serving drinks, and taking orders for dinner. Service like that while we are still on the ground is something I definitely like to see!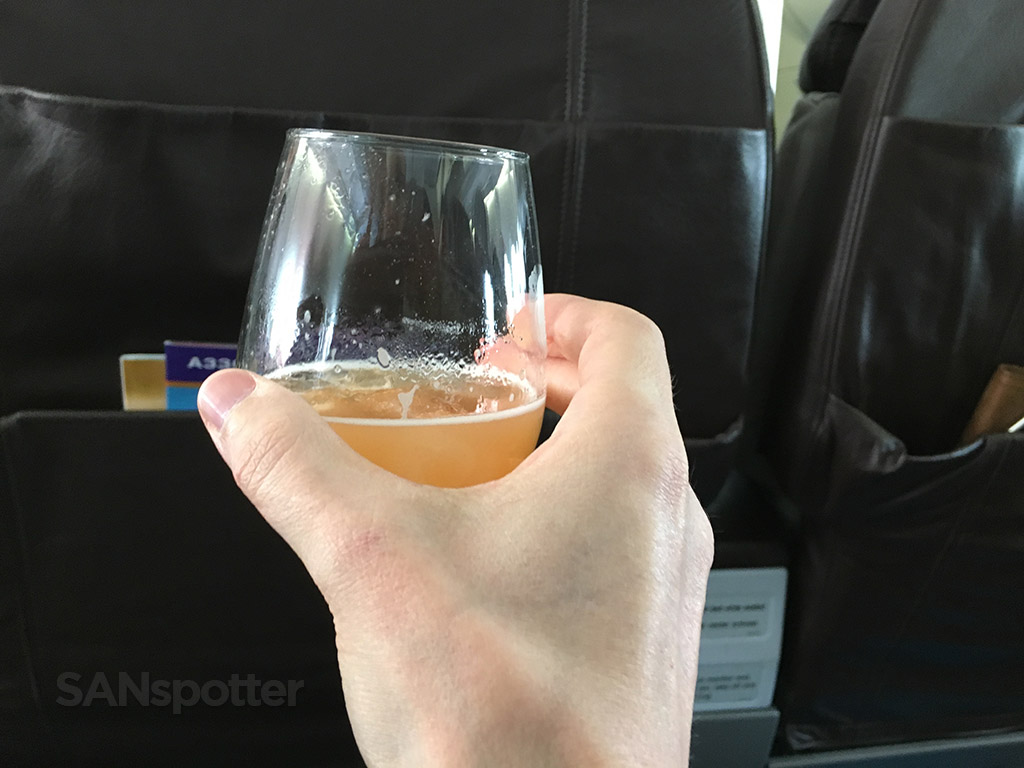 We pushed back right on time and blasted off the reef runway just a few minutes later. Additional beverages and a light snack were served shortly after take off, and I watched a few TV shows on the personal video display while I waited for lunch to be served. I was getting pretty hungry at this point – my last meal was an acai bowl from Island Vintage Coffee earlier that morning, and considering it was now shortly after 4pm, my body was more than ready for food.
Just like on the SAN-HNL flight two days earlier, appetizers were served first, followed by the main course, then finished with dessert. The only notable thing about the presentation of the meal was when the main course was served. The flight attendant simply said "here's lunch…or…dinner…or whatever you want to call it…" as she placed it on my tray.
Not that I was expecting an eloquent presentation of the meal or anything, but her lack of experience came through loud and clear. Not a big deal though – she was very young and obviously new to this, so I didn't think much of it. She'll have to polish her game if she wants to work on an Asian or Middle Eastern airline though!
With dinner complete, I spent the rest of the flight watching watched Friends, Louis, Mike and Molly, and a couple other TV sitcoms while my seat mate continued to figit and bounce from one distraction to the next. The flight attendants continued to be proactive throughout the flight making sure that everyone was happy.
Surprisingly, we started our decent into SAN about 30 minutes early – which was a very good thing since we had been  scheduled to arrive at 11pm and I had to get up early the next morning and go to work. Having that extra 30 minutes was very much a good thing!
So that wraps up this Hawaii trip report. I had a really great time, though I could have easily spent another day (or 10…or 60) there sitting around and doing absolutely nothing. The flights on Hawaiian Airlines were quite good as well – better than I had been expecting actually, and it was a total bummer when the seatbelt sign was turned off and they turned on the cabin lights once we parked at the gate in SAN.
I'm definitely going to make sure it won't be another three years before I'm back in Hawaii!