01. Introduction: Farewell to the domestic Delta Airlines 767-300
02. Delta Airlines 767-300 first class San Diego to Atlanta
03. Delta Airlines 737-900/ER first class Atlanta to Orlando
04. Delta Airlines A321 first class Orlando to Atlanta
05. Delta Airlines 767-300 first class Atlanta to San Diego
It's really hard to fathom that we won't be seeing Delta 767-300's in San Diego much longer. The've been a highlight of my spotting adventures here at SAN ever since I moved here in 1997, and they certainly will be missed. For those of you not in the know, Delta flies domestic-configured (non-ER) 767-300's to and from SAN on a daily basis from ATL and occasionally DTW. Those domestic birds will be retired soon (within a matter of months I believe), and unless DL starts using internationally-configured 767-300/ER's to San Diego, that's it for the daily 767's.
The soon-to-be retirement is what made this trip more special to me. I've flown on countless DL 767's between SAN and ATL over the years (you can read my last trip report here) , but knowing that this was likely my last time was kind of a bummer. Oh well – that's progress for you.
By the way, I shot some video during the course of the flight, and here is what I managed to put together. Check it out, then make sure to come back and read about all the details down below!
Now, on with the trip report…
Luckily I managed to grab an Uber ride at 4:40am to get me to the airport (I wasn't expecting to get one so early), and once there I was able to breeze through security in no time. I was expecting the crowds to be downright nasty since this was a holiday weekend, but for the most part, it seemed like a normal Saturday morning to me. Nice!
DL1592
San Diego, CA (SAN) – Atlanta, GA (ATL)
Saturday, July 2, 2016
Aircraft: 767-332
Registration: N1402A
Seat: 5C (first class)
I had a bit of time to kill before the flight started boarding, so I found a quiet spot at gate 48 to sit and relax for a while (and snooze a bit, since it was so early still). But I didn't have to wait long, and I finally wandered down to the very crowded gate 51 about 10 minutes prior to boarding.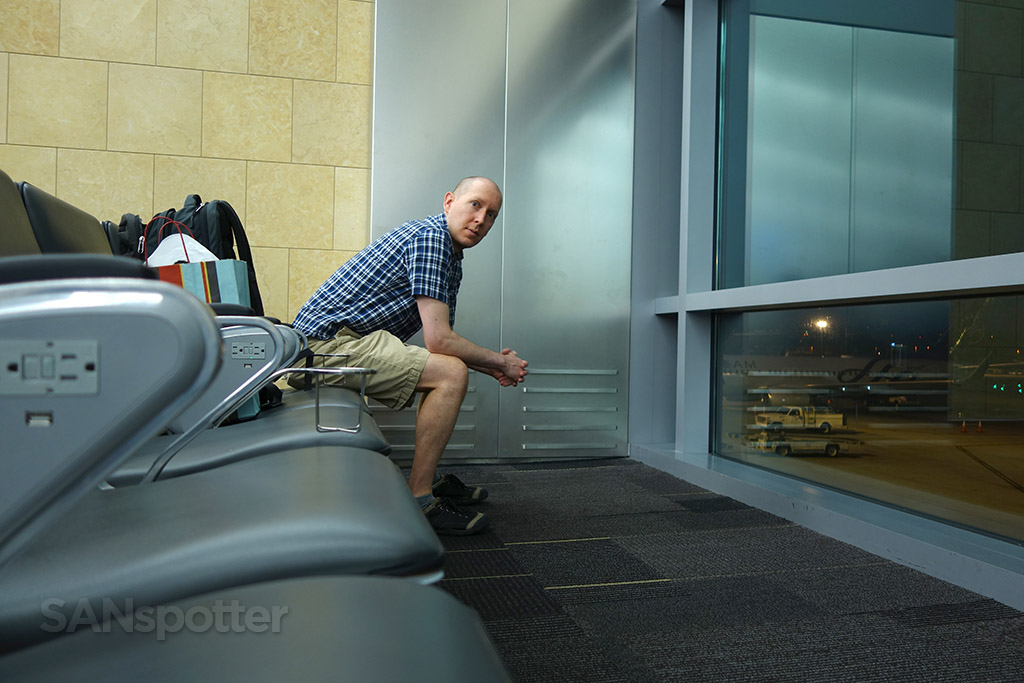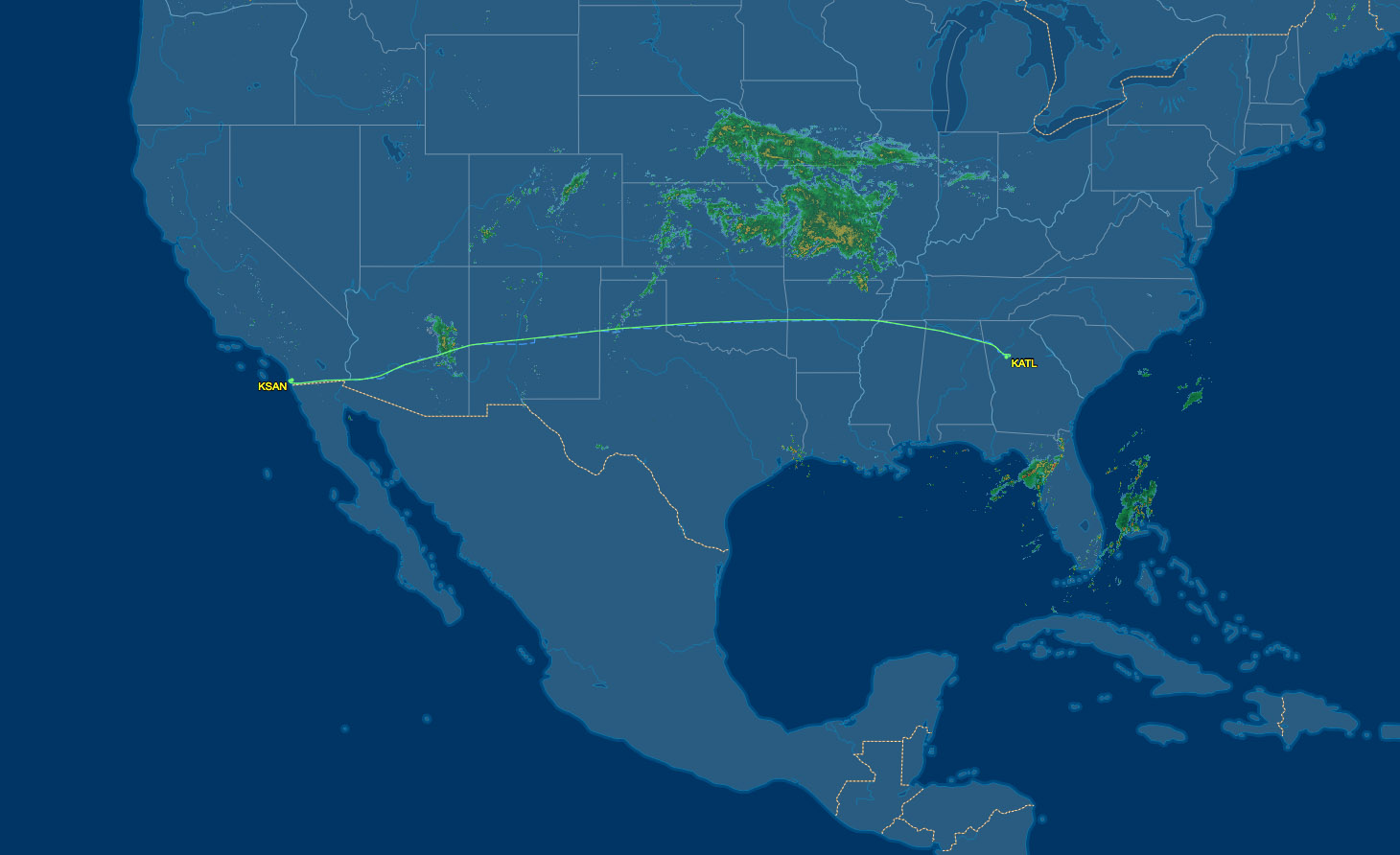 I boarded as soon as they called for first class, and I thought I was one of the first on the airplane, but first class was pretty much full by the time I got onboard. My seat was in the very last row of first class, strategically selected for the photo ops from that vantage point. Knowing that this would likely be my second-to-last ever DL non-ER 767 flight, I wanted to have a seat with a view of the entire cabin so I could get decent pics along the way. There really isn't a bad seat up there in first class, but the only downside to being in the last row is that I would be one of the last to eat. Oh well – that's the sacrifice I had to make in order to make this trip report complete!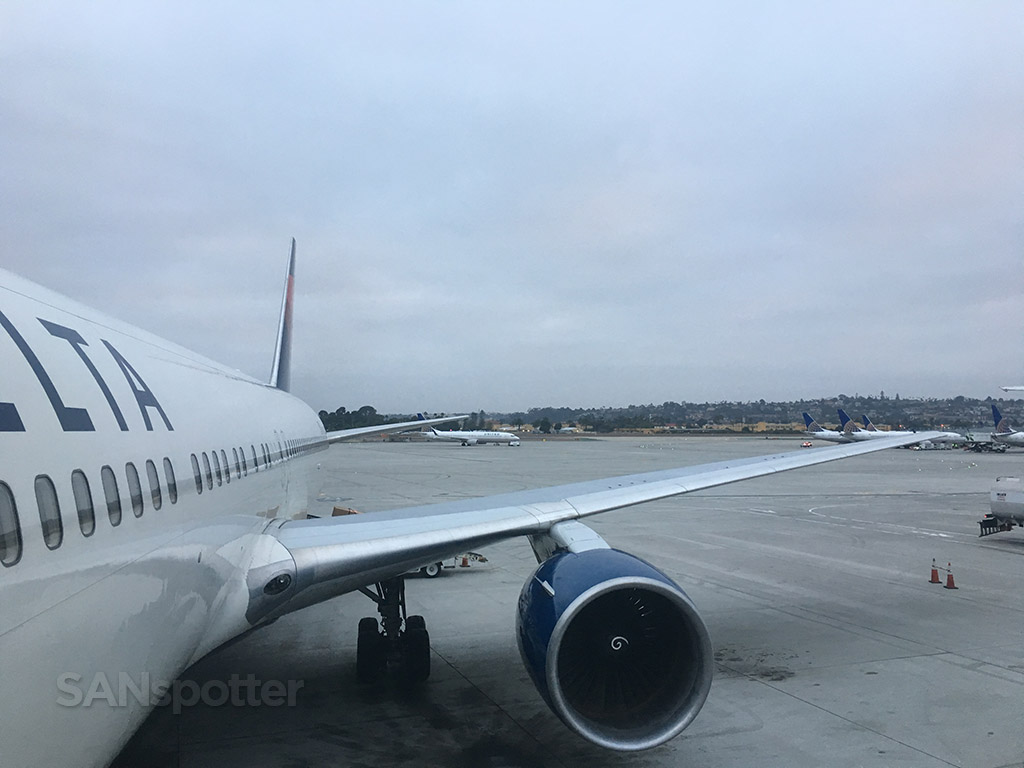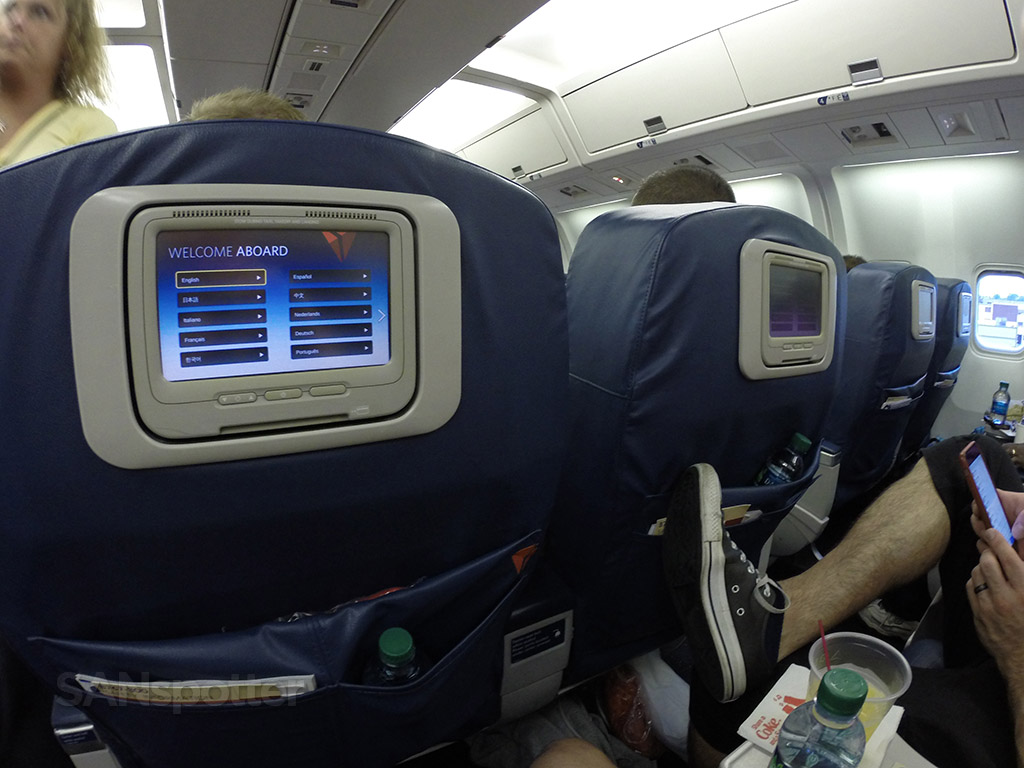 I don't fly Delta all that often anymore, and its not often I recognize flight attendants, but right away I was happy to see Marsha working the front cabin today. She's worked several of my Delta flights to and from SAN over the years, and I've got to say that she's one of the best in the business. Happy, energetic, and she addresses all passengers by name at most every interaction. Truly a class act.
Breakfast orders were taken from the front of the cabin right before pushback, with the choices being an omelet or oatmeal. Either one sounded good to me, which was a good thing because they only had oatmeal left by the time they reached me in the last row. Other passengers weren't as happy about that, and most refused breakfast altogether when they found out that the omelet was no longer available.
I was already regretting my choice for an aisle seat as we were taxing out to the runway – it looked to be a beautiful morning out there, and I was really itching to get pics of the departure. I've been doing these trip reports for years now and it seems weird to me when I can't take window shots on a flight. Weird – but it's the truth.
The hot towels were distributed immediately after take off, followed by a quick beverage service before they started serving breakfast. They didn't serve snacks with the drinks, but I couldn't tell if that was planned or if they just ran out of time. They did seemed rushed trying to get breakfast put together, though it was a slow enough service that the first three rows had already finished with their meals by the time they even served mine. That's not a complaint or anything – I'm just stating that as an unfortunate consequence of choosing a seat in the very last row of the cabin.
An overwhelming feeling of sleepiness overcame me immediately after breakfast, and I pretty much slept for the remainder of the flight. It wasn't quality sleep though – those domestic-style first class recliner seats aren't all that comfortable, so the best I can ever do in those things is just nap on and off. In all the tossing and turning I did for the last two hours of the flight, I did see the flight attendants come around with the snack basket a few times (as well as offering continuous drink refills), so I'd say the service was pretty good on this flight.
Once again during the landing I was having a really strong urge to be taking pics from the window to document the landing process. But being stuck in an aisle seat, all I could do was…well…pretty much wish I was sitting in a window seat!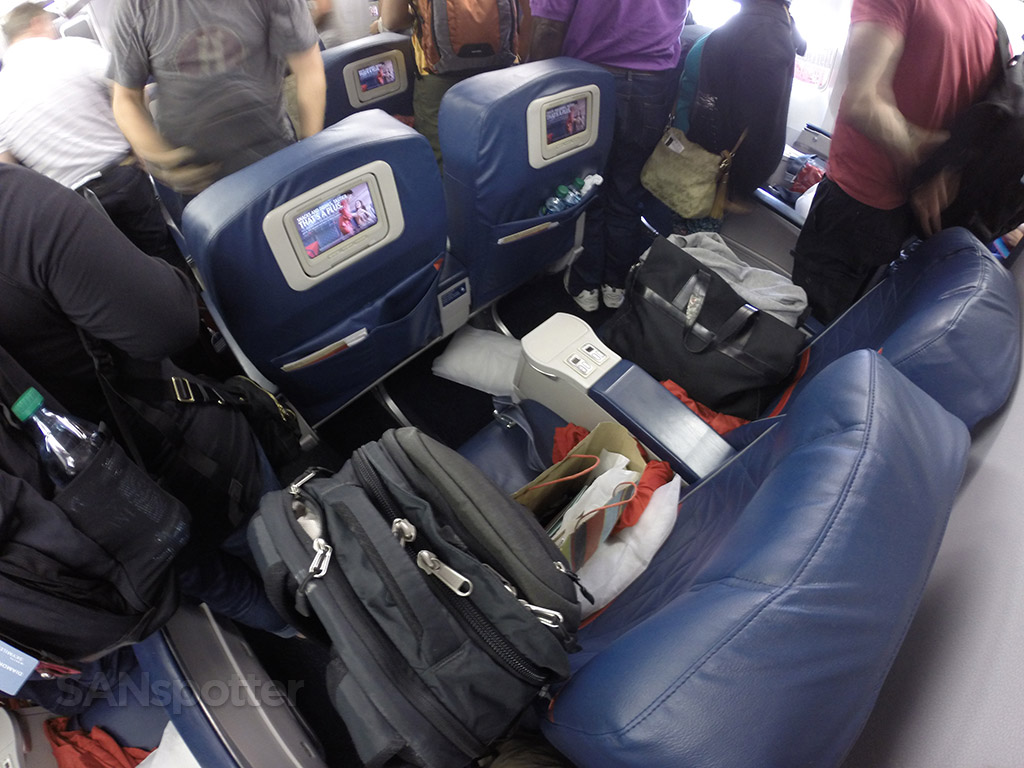 And that wraps up what was probably my last ever DL non-ER 767 flight from San Diego to Atlanta. I still have one more of these flights (ATL to SAN – the final leg of this trip report), but it is still kind of sad to know that from here on out, it'll pretty much be 737-800/900's whenever I fly on DL out of SAN.