01. Introduction: I swear I'm not a Delta fanboy!
02. Delta Air Lines 757-300 economy class San Diego to Atlanta
03. Delta Air Lines A321 economy class Atlanta to West Palm Beach
04. Delta Air Lines MD-88 Comfort + (premium economy) West Palm Beach to Atlanta
05. Delta Air Lines 767-400/ER Comfort + (premium economy) Atlanta to San Diego
Having just survived a long transcon wedged into firmly into a middle economy class seat in the bowels of a 757-300, I had a pretty good feeling that this flight down to West Palm Beach was gonna be cake. Yes, I would be sitting in another middle seat somewhere near the back of the airplane, but hey – flying time was scheduled to be just over an hour and that's nothin' compared to what I had just endured. Besides, the equipment for this flight was a brand new A321, so I was pretty sure it was going to be a decent experience with the LED mood lighting in the cabin and large personal video screens in the seat backs.
Our layover here in ATL was a short one this evening, but we had enough time to shop for food to bring onto the airplane – this would be our dinner tonight, and it ended up being a difficult balance of finding something tasty that wouldn't stink up the entire airplane. I've sat next to other passengers who brought really stinky food onboard before, and it's a miserable experience – so I had my fellow passengers best interests in mind as I made my selection.
DL1359
Atlanta, GA (ATL) – West Palm Beach, FL (PBI)
Friday, December 23, 2016
Aircraft: A321
Registration: N311DN
Duration: 1 hour 33 minutes
Seat: 31E (economy class)
This flight counts as the second time I've been on a Delta Air Lines A321, the other time being a short hop from MCO to ATL back in July of this year. I was up in first class for that flight though, so this was sure to be a different experience. If you're curious, be sure to read my latest Delta A321 first class review to see what that is all about.
But to be quite honest I was looking forward to seeing what economy class is like on these new A321's. This aircraft type is likely going to be a major part of the domestic Detla fleet over the next 20 years or so (at least) so it was fun just to get a preview of what it's going to be like flying on DL for the foreseeable future.
Boarding was called right on schedule, and our zone 1 boarding passes allowed us to get onboard immediately after first class. I really have no idea why we had such a good zone number for this flight, but it may have something to do with the fact that we were seated so far back in the main cabin. Usually it's the window seat passengers who have the best zone numbers, so perhaps they changed things a bit since the last time I flew DL economy.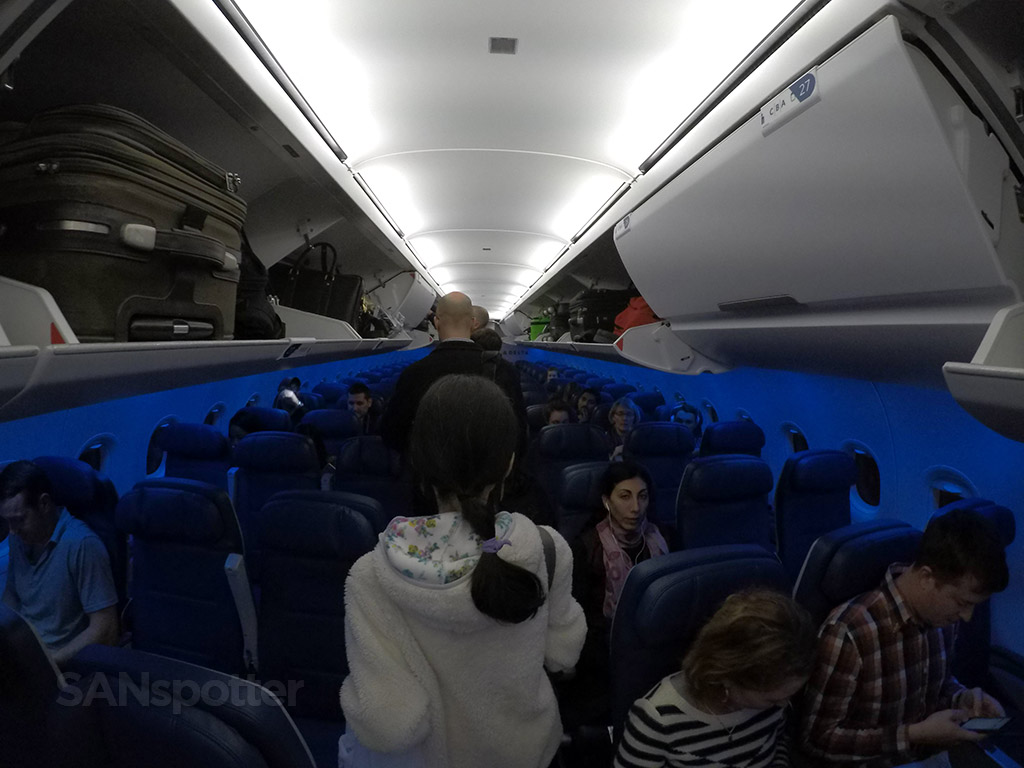 Greeting us in our row was the window seat passenger who had taken claim of the middle seat (mine). She seemed totally nonchalant and laid back when we informed her that these were our seats, and she stepped out into the aisle to let us in. My wife and I kind of looked at each other in confusion for a second before I asked her what seat she had, thinking perhaps that she wasn't supposed to be seated in this row at all.
But she kind of rolled her eyes a bit when she admitted that she had the window seat, then reluctantly stepped back in and took her seat. I'm not really sure if she was trying to get out of sitting there, or if she didn't really understand what seat she had at first, but oh well – we all sat down, tried to be friendly, and prepared ourselves for departure.
Boarding was fairly quick, and since it was completely dark outside and I was sitting in a middle seat, there wasn't much to do except close my eyes and get some rest while waiting. It seems so weird not sitting in a window seat – and it's actually quite disorientating not knowing where we are at any given moment as we taxi out to the runway!
It's impossible not to notice the process of taking off though, so I am happy to report that all went well and we did it right on time. Hmmm…describing the takeoff procedure without using a ton of pics as a visual aid is quite difficult! It feels like there's a big hole in this trip report because of it, and I feel so out of place not being able to show you anything. That's life in the middle seat I suppose.
Service started within minutes of departure, and I wasted no time into digging into the turkey sandwich I purchased at the airport and brought onboard. Trying to eat quickly while crammed into an economy class middle seat is hardly what I would call fine dining, but that's one of the downfalls of life on the road. The drink cart finally reached our row just as I was enjoying the last bites of my sandwich – but it didn't really matter since I brought my own bottle of water onboard (anticipating the delay).
The rest of the flight went by in a flash, and the deep blue LED mood lighting casting a cool glow on the entire cabin made for a very nice and calming experience. It was so calm, in fact, that I actually started to fall asleep as we were on our descent into PBI. The lower we went, the farther I drifted off. Then, BAM! We hit the runway with a bang, jolting me awake in a way that was anything but gentile. What? Who? Where are we again? It actually reminded me of this scene from Fight Club:
Welcome to West Palm Beach!