Although I'm no rookie to air travel, China Southern Airlines reviews have been notably absent from my blog for longer than I care to admit. I travel to China at least once a year, and being one of the country's largest air carriers, even I am surprised that I have managed to avoid them for as long as I have.
Spoiler alert: the "f-g-l-t-o-w-m" keys on my keyboard were still completely functional after I finished writing this review. Yup – I actually didn't have to use as many lol's, wtf's and omg's as I thought I would!
CZ3585
Shanghai, China (PVG) – Guangzhou, China (CAN)
Wednesday, January 22, 2020
Aircraft: A321
Registration: B-8966
Duration: 2 hours 4 minutes
Seat: 56A (economy)

My video review for China Southern Airlines flight number 3585 to Guangzhou
Even though I said in the intro that this experience wasn't as shocking and unexpected as I thought it was going to be, I still had some difficulty scraping up enough content to put together a video review of this flight. I am not one to make excuses or anything, but it was really dark, really late, and I was really tired (especially since I had just got off a 14 hour flight from Los Angeles). I did what I could.
Despite my difficulty in putting together this review, finding the exact music I wanted for it was effortless. Thanks to the vast music catalog over at Epidemic Sound, I was easily able to find a few tracks by J.F. Gloss that fit perfectly with the dark and lazy vibe of my footage.
Hey everyone, my name is Scott, I'm the founder and author of SANspotter.com, and I've got the post-international business class / pre-coronavirus blues.
The new satellite terminal at Shanghai Pudong airport is kind of nice
The boarding process for China Southern flight number 3585 to Guangzhou
China Southern Airlines A321 economy class: first impressions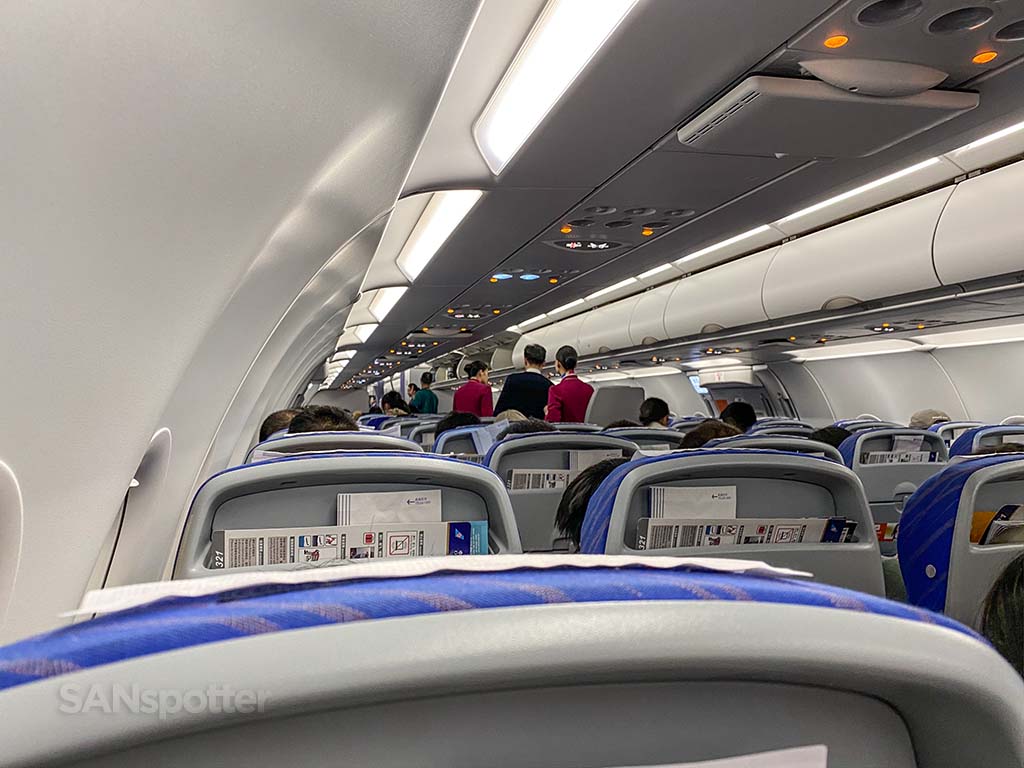 A few pics of the departure sequence
What is China Southern Airlines economy service like?
The arrival into Guangzhou
How much did I pay for this China Southern flight to Guangzhou?
To be honest, I'm not really sure! Well, technically, I paid 85,000 Delta SkyMiles for this flight – but that sounds really bad (and embarrassing) when saying it like that. I'm not lying though. I did have to shell out nearly 100K frequent flyer points to get a seat on this cramped A321 down to Guangzhou.
You see, this was the second leg of my one-way 85,000 mile business class award from Los Angeles to Guangzhou that I was able to snatch up on the Delta website. The first leg (LAX-PVG) was in China Eastern 777-300/ER business class, but my only option for the second segment (PVG-CAN) was in China Southern Airlines A321 economy. Not the most ideal situation, but it was a short flight anyway so I didn't mind so much.
As I mentioned in the post about that China Eastern flight, I paid exactly $135.30 in taxes and fees for this ticket. I earn most of my airline points via the American Express Platinum and Blue Business cards. I get 5X points on all airfare spend with the Platinum, and 2X points on everything else with the Blue. It's a rather potent combination for a frequent flyer such as myself. The points add up fast!
How I pay for all my travel expenses
The American Express Platinum Card
100,000 welcome points (woo-hoo!)
Earn 5x points on flights and prepaid hotels
$200 hotel credit + $200 airline fee credit + $155 Walmart credit + $240 digital entertainment credit (and much more)
Transfer points to a wide variety of global airline and hotel partners
Sign me up!
Note: I may earn a commission if you make a purchase, at no additional cost to you.
What I use for everyday spend
The American Express Blue Business Card
2X Membership Rewards points on every purchase
Points can be transferred to a wide variety of global airline and hotel partners
No annual fee
Sign me up!
Note: I may earn a commission if you make a purchase, at no additional cost to you.
Pros and cons of China Southern Airlines A321 economy class
I usually jot down a lot of notes as I travel, helping to ensure that I remember the little details about each of my flight experiences. The funny thing about this particular china southern experience was the fact that I returned home with a long list of cons and exactly zero pros. Maybe it was because of the fact that I had been awake for 36 hours as I stepped onto this airplane?
However, to be completely fair and impartial, I was able to think of a few more good things about this flight that are worth noting. In hindsight, it wasn't completely miserable.
Pros
They actually served a hot meal. Yes, it was small, but it was hot and substantial enough to fend off my grumbling stomach (for a little while).
As best as I could tell, nearly the entire cabin crew spoke very fluent English. As matter fact, all announcements were made in Chinese and English and I didn't feel out of the loop on anything.
The plane looked to be extremely clean (in and out) and very well-maintained.
They got me to my destination safely and (mostly) on time. Can't fault that.
Cons
The seat pitch was absolutely miserable. It should be noted that I'm not excessively tall or anything (5'-10"), but I was most certainly feeling cramped for the entire flight.
You know that hot meal I just mentioned in the "pros" list? It wasn't very good.
This isn't a dig against China Southern Airlines or anything, but more about flying economy class in China in general: Basically, there's no sense of organization and politeness when trying to get out of the seat at the end of the flight. It's a total free-for-all, and you gotta be aggressive if you don't want to be the last off the plane!
The most important thing for you to know is that China Southern Airlines economy isn't all that bad. But they aren't all that great either. As long as you go into it knowing that it's not much better than basic transportation, you're likely to have a decent experience.
FAQs about flying China Southern Airlines economy
You know me. Because I want to make one of the most thorough and helpful China Southern Airlines reviews possible, I'm going to end this one with a detailed list of frequently asked questions (FAQ's).
Not only are these questions that I've been asked directly from my subscribers on YouTube, but they are also questions that I was asking myself before getting on that plane. I really wish I would've known some of the stuff before hand. It wouldn't have made the flight any better, but at least it would've helped me to set my expectations straight and there would have been no surprises.
How uncomfortable is China Southern economy class for anyone over 6 feet tall?
With a seat pitch of only 32", it's not going to be comfortable at all. The best way to describe it is to make a comparison to other airlines that you may already be familiar with: For those in the US, it's very similar to what it's like on Spirit. If you're from Europe, imagine it being just like EasyJet.
Do they serve free meals in economy class on China Southern Airlines?
Yes. Note that it's nothing very substantial, but it is free. For this flight from Shanghai to Guangzhou, we were served a hot bun / dumpling filled with "beef". This is obviously more hearty than the usual peanuts and pretzels you get on US/European airlines, but I do have some doubts about the quality of the meat they stuffed inside of that thing. Speaking of which:
How was the quality of the meal?
While most other China Southern Airlines reviews will simply tell you that "the food was terrible", I'm going to the one step beyond and quantify it with a number. It's the SANspotter way!
(Drumroll please)…it gets 4 out of 10 stars from me.
What is the baggage allowance in China Southern economy?
China Southern allows 2 pieces of checked baggage for economy class passengers, which must not exceed 50lbs (23kg) each. The fee for going over that weight is CNY230 (approximately $33US). Click here to see the latest baggage allowance information.
What's it like flying domestic economy class in China? I've heard horror stories about rude and annoying people.
This is something that I've never seen discussed in other China Southern airlines reviews, so I'm just gonna use this opportunity to voice my opinion on the matter. No, it's not anything specific to this airline, but it certainly applies (quite well actually).
My opinion is this: of all the economy class flights I've taken on Chinese airlines over the years (Sichuan Airlines and Hainan Airlines for example), I've never found the overall vibe of my fellow passengers to be rude and arrogant. As a matter of fact, I generally find people on domestic flights in the US to be the most rude and arrogant.
Anyway, the only time that I've ever noticed rude/arrogant passengers on Chinese flights is during the de-boarding process. People in China generally aren't as courteous and polite when it comes to letting people go ahead of them, so stepping your foot out of your row and into the aisle to get off the plane requires both confidence and aggression.