I'm getting to the point now where I've flown enough airlines that I feel like I can make fairly educated comparisons between some of the worlds best. In order to test that theory, I'm going to do a extensive comparison of American Airlines via Delta – two of the largest airlines in the US, and ones that I have the most experience with.
According to my flight log, I've flown Delta Air Lines a total of 192 times. American Airlines is in fourth place on my "most flown" list, coming in at 48 times. Although I've flown Delta nearly 3 times more than I have American, I can confidently say that I know a thing or two about both. Not only the good, but the bad as well!
My process for comparing these two airlines
The best way to compare these two airlines is to break it down category by category. I'm going to start with the facts and figures, then the booking process, and then I'll go through every major event leading up to the conclusion of the flight (and more).
At the end of each category, I'm going to give each airline a rating from 1 to 10. 1 will be the worst, and 10 will be the best. At the very end of the article, I will add up all the points and the winner will be declared.
Grab a Biskoff cookie or two (maybe even a bag of peanuts and you're if you're into that sort of thing), and let's jump straight into the American Airlines vs Delta battle royale!
Comparing American Airlines vs Delta by the numbers
When taking into account things such as fleet size, destinations, passengers carried, and revenue, Delta Air Lines is the second largest airline in the entire world. American Airlines holds the number 1 spot. Here's a brief comparison of some of the more important facts and figures (as of February 2020):
| | | |
| --- | --- | --- |
| | Delta | American |
| IATA / ICAO: | DL / DAL | AA / AAL |
| Headquarters: | Atlanta, GA | Ft Worth, TX |
| Founded: | March 2, 1925 | April 15, 1926 |
| Frequent Flyer program: | SkyMiles | AAdvantage |
| Alliance: | Sky Team | Oneworld |
| Fleet size: | 945 | 909 |
| Destinations: | 325 | 350 |
| Revenue: | $47B | $44.5B |
| Employees: | 86,600 | 128,900 |
As you can see, these are very similar airlines when looking strictly at the numbers. However, the numbers don't tell the entire story.
Please note: everything from this point is completely subjective. My opinions are completely my own, and everything in this article is based on my own personal experience flying both of these airlines hundreds of times over the past 10 years.
Delta.com vs AA.com: which is better for booking reservations?
As of just one month ago, this was a total no brainer. I was of the opinion that the Delta Air Lines website was leaps and bounds better than the American Airlines website in nearly every relevant category:
Functionality
Reliability
Visual design
The biggest problem I had with the American Airlines website is the fact that it was pieced together from old web architecture.
The homepage and flight selection screens was very well-designed and very intuitive to move through quickly. However, award redemption searches (for example) were built on a legacy platform which visually looked nothing like the American Airlines homepage. It was old, outdated, and I found it to be extremely buggy and headache-inducing when searching for award redemptions.
But then…they finally got their act together and the entire website is now fully consistent (and as beautiful / functional) throughout. Good for them, because I was prepared to slam them really hard in this category.
On the other hand, the Delta website has been extremely modern and consistent throughout for several years now. Just like the new version of AA.com, every single page uses the same design language, and it's a very fluid experience from beginning to end.
I personally like the visual design of the Delta website quite a bit, though I know that there were a lot of people who think it's cumbersome. I've heard a lot of complaints about it being more flashy than it is functional, but my experience is anything but.
Because of it's cleanliness and copious use of white space, I'm a bigger fan of the American website than I am the Delta website. Consistency from page to page also helps, and it's the reason why I'm giving American the first win in the great SANspotter American Airlines vs Delta debate.
Winner: American (9pts) / Loser: Delta (8pts)
Mobile apps: which airline offers the better experience?
Just like the new version of their website, I do have to say that the American Airlines mobile app is quite good. I find it to be very easy to navigate, I can find all the information that I need quickly, and the notifications I request get pushed to my devices flawlessly every time.
The same thing can be said about the Delta Air Lines mobile app. As a matter of fact, I feel exactly the same amount of satisfaction using this app that I do when I use the AA mobile app. I've never once felt like throwing my phone (or watch) across the room in frustration as I struggled to find something. The notification systems are near perfect.
Because I have no gripes about either mobile app, both of them get the same score in this category.
Tie! – Delta (9pts) / American (9pts)
Checking in at the airport
Remember what I said earlier about this being an incredibly subjective comparison? Well, it's especially true in this case since nearly all airport check-in experiences are different. Both airlines are somewhat consistent with their check in process from airport to airport, but there are some notable exceptions.
For example, here at SAN (San Diego International Airport), checking in with American Airlines is extremely frustrating due to the limited space in Terminal 2 East. It's a very confusing process having to find an open and available kiosk to check in. Then you've gotta figure out which line you need to go to to drop your bags off. The situation at STL isn't much better:
Delta, on the other hand, has a much more fluid and simple process here at most airports – including here at SAN (no doubt because of all the extra space that they have in terminal 2 West).
Because I know that every airport is different, I'm going to base my opinion entirely on the kiosks themselves. These are the only consistent elements from airport to airport, and it's probably the fairest way to make a direct comparison between American Airlines vs delta in regards to the check in process.
In my personal experience, I find the Delta kiosks to be slightly easier to use thanks to the fewer number of clicks needed to end up with a boarding pass (and bag tags) in hand. It's not a huge difference, but it certainly helps.
It's also worth noting that I tend to see more American Airlines agents roaming the kiosk area than I do Delta agents roaming the room. Having someone nearby to help is definitely a plus when things go awry.
Winner: Delta (8pts) / Loser: American (7pts)
American Airlines versus delta: who has the better lounges?
Again, this is just my personal opinion, but I tend to feel that American Airlines lounges are more stodgy and old-school then Delta SkyClubs. While Delta seems to be more in-tune with current interior design trends, nearly every American Airlines lounge I've ever stepped into felt like taking a step back in time to the mid-1990s.
To be blunt, American Airlines Admirals Clubs are on the more beige and brown side of the spectrum. If I had to use a single word to describe them, I'd have to go with "corporate". This isn't the case everywhere of course, and there are exceptions. For example, the American Airlines Flagship lounge at JFK is very modern and quite nice. Then again, it is a Flagship lounge, so it better be nice.
Delta SkyClub's tend to be bright and colorful throughout the entire network. However, Delta doesn't have a premium lounge brand. They are all marketed as SkyClubs.
Based on what I've seen during my journeys all over US, I'm giving Delta the slight edge due to having slightly better lounges (in terms of overall design). For what it's worth, I think both the American Airlines and Delta lounges are terrible in the food department (American Airlines Flagship lounges not withstanding).
Winner: Delta (7pts) / Loser: American (5pts)
Comparing the boarding processes
Both American Airlines and Delta flights are boarded by groups. Long gone are the days when they load by row numbers (starting in the back and moving forward), and now the only way to ensure to be on the plane before everyone else is to have elite status.
Although the boarding processes between these two airlines are quite similar, the main difference is that American Airlines has more group numbers. The exact number changes from time to time, but the highest that I've ever seen (just one month ago) was group 9. In contrast, the highest group number I've ever seen on Delta was 7.
Since I am a really big fan of simplicity, I prefer the Delta way of doing things (just by a smidgen). Just load the dang plane already. Taking the time to break everything out into more groups just makes the process take longer in my opinion.
Winner: Delta (6pts) / Loser: American (4pts)
Comparing economy class seat comfort
The topic of seat comfort (and how one airline compares to another) could be the topic of an entire 10,000 word article, but I'm going to keep things simple for one very good reason: economy class seat comfort levels are nearly identical between these two airlines. That's just my opinion.
Both American Airlines and Delta feature similar seat pitch (space between the seats) on nearly their entire fleet. Of course there are subtle differences – some aircraft are tighter or more spacious than others, but for the most part it's a draw.
Tie! – Delta (6pts) / American (6pts)
Comparing domestic first class seat comfort
Just as it was with my comparison of American vs Delta economy class seat comfort, I'm not picking a clear winner for domestic first class either. Neither airline is far superior to the other in this category (food and and video entertainment notwithstanding – which I'll get to soon).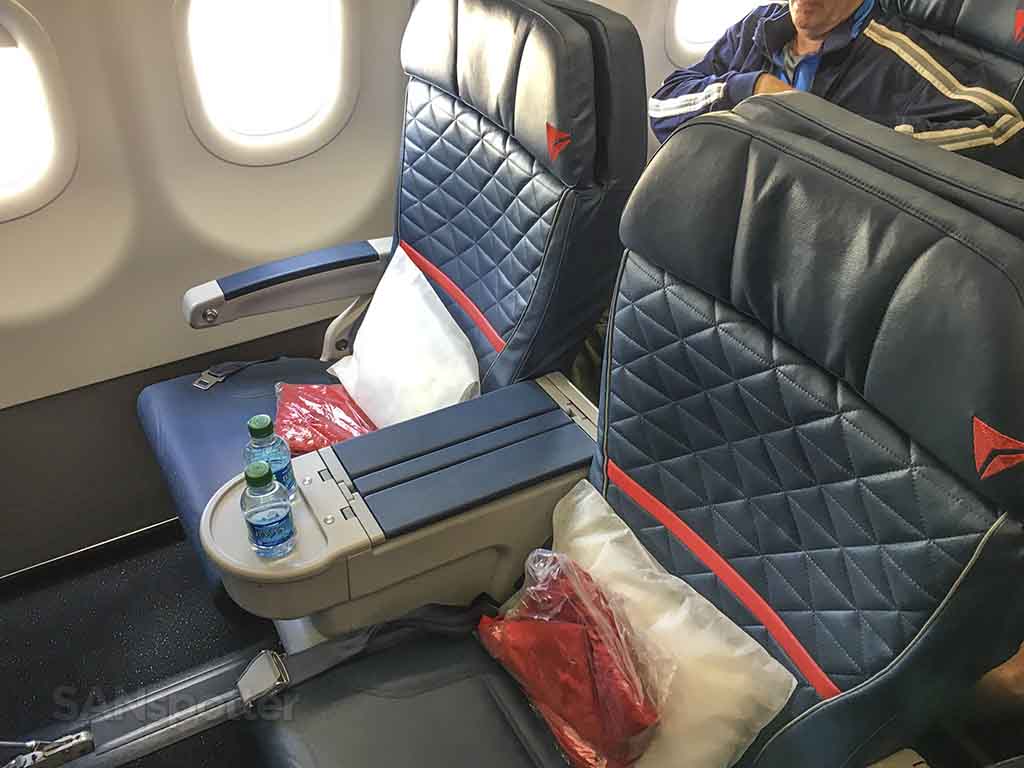 Of all the domestic US American and Delta flights I've taken over the years, first class seat comfort seemed pretty much the same to me.
Tie! – Delta (6pts) / American (6pts)
Comparing the international first and business class cabins
In my opinion, this is the really fun part of the American Airlines vs delta debate. You see, both airlines take a slightly different approach to international premium cabins, and I like both methods.
American Airlines is one of the few airlines left in this world that offers a first class cabin on many international flights. This first class product is quite good, and most certainly competitive with airlines from all over the world. The seats are fantastic, though the soft product (service from the cabin crew) leaves a bit to be desired. Still, I consider it to be a very comfortable way to travel internationally.
In contrast, Delta's premium international product is called Delta One. It's marketed as a business class product, though it's so good that I'd argue that it encroaches on the quality of the American Airlines first class class product.
Delta has spent billions of dollars over the past 10 years modernizing their fleet, and the updated Delta One cabins show it. The seats are comfortable, the food is fantastic, and the cabin crews are some of the best in the world.
The American Airlines international business class product is pretty good as well. Some aircraft feature different (and more modern) seats than others, so do you be sure to check and see what kind of aircraft will be flying on before making a decision one way or another. At the time of this writing, the 787 business class seats are far superior to the 777 and 767 business class seats.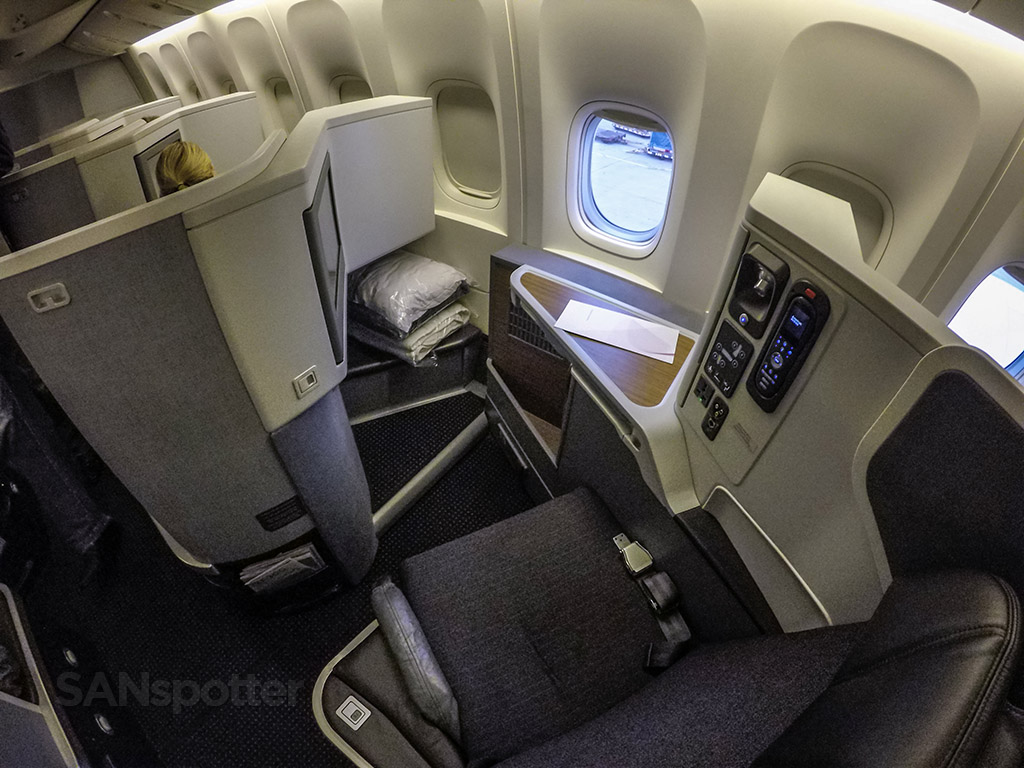 If it weren't for the first class cabin on American Airlines international flights, Delta would be to clear winner in this category. However, I have to give credit where credit is due, and therefore I'm declaring this category a draw as well.
Tie! – Delta (8pts) / American (8pts)
Delta vs American Airlines premium economy
Domestically within the US, I don't think there's much of a comparison in my opinion. Delta Comfort + and American Airlines Main Cabin Extra is virtually identical on domestic aircraft – and the service is pretty much the same.
Things get a bit more complicated when talking about international aircraft (such as the 787, 777, and 767 on American and the 777, 767, A330, and A350 on Delta).
Both airlines are working hard to reconfigure their international flights with a high-end premium international product, and at the time of this writing, not all aircraft features these upgrades. Inconsistency between aircraft notwithstanding, both Delta and American offer a really good international premium economy product.
Delta refers to their international premium economy as Delta Premium Select, while American Airlines took the less-exciting approach by simply calling theirs Premium Economy.
Seat width and seat pitch are increased on both airlines, and the seats themselves are essentially what you would find in domestic US first class.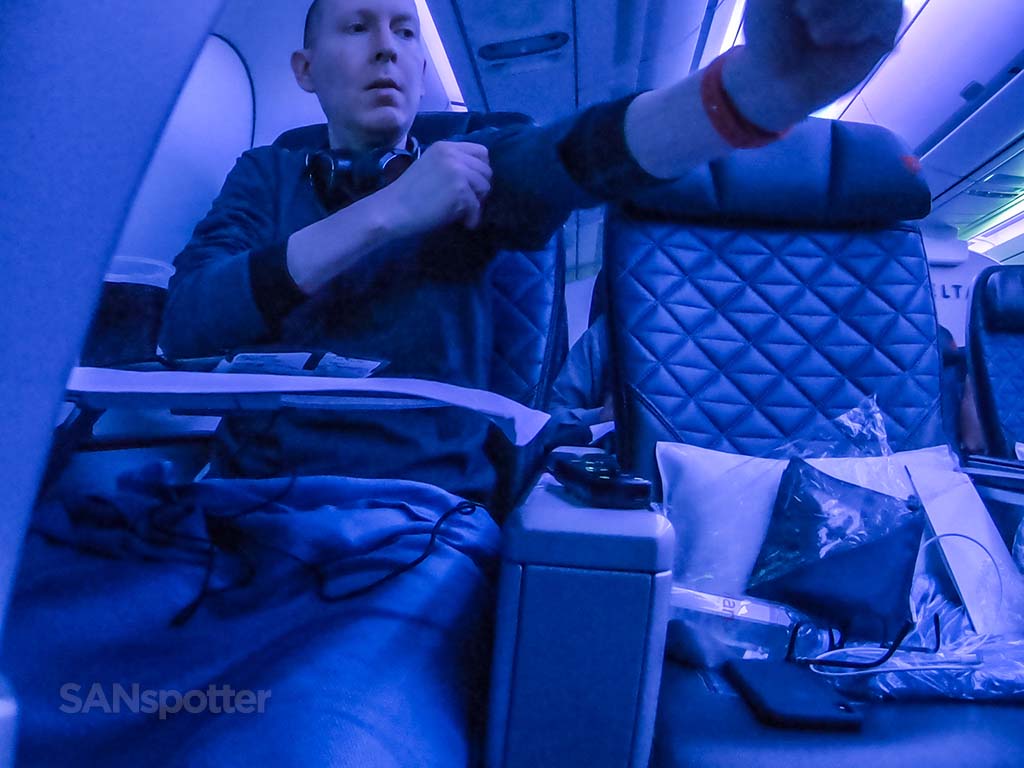 Food options are upgraded over regular economy as well, and I've had decent meals in both products – more on that in a moment.
Since both airlines are making huge strides in increasing the quality of their international premium economy products, I'm going to be kind once again and bestow upon both a similar score. Don't worry though – there are some major differences coming up…
Tie! – Delta (9pts) / American (9pts)
Comparing the in-flight entertainment systems
In an effort to keep from dragging this out too long, I'm just going to come out and say that I consider the Delta in-flight entertainment system (Delta Studio) to be far superior than what American Airlines is offering.
While American Airlines does offer decent in-flight entertainment options (with both seats back video screens and streaming entertainment) it's a massively inconsistent product from one aircraft to the next.
For example, I recently took a trip from San Diego to West Palm Beach with a change of planes in Dallas. The flight from San Diego to Dallas was an A321, while the flight from Dallas to West Palm Beach was a 737–800. Both planes were clean and modern, though the Airbus was far more feature-rich with huge video screens at every seat.
In contrast, the Boeing was far more sparse with the only option being streaming entertainment. Unless of course you forgot to download the American Airlines app before the flight. If you didn't, well…then you were completely out of luck.
Delta Air Lines is far more consistent when it comes to in-flight entertainment. There are seat-back video screens on nearly every aircraft, which is nice because you always know what to expect from one flight to the next.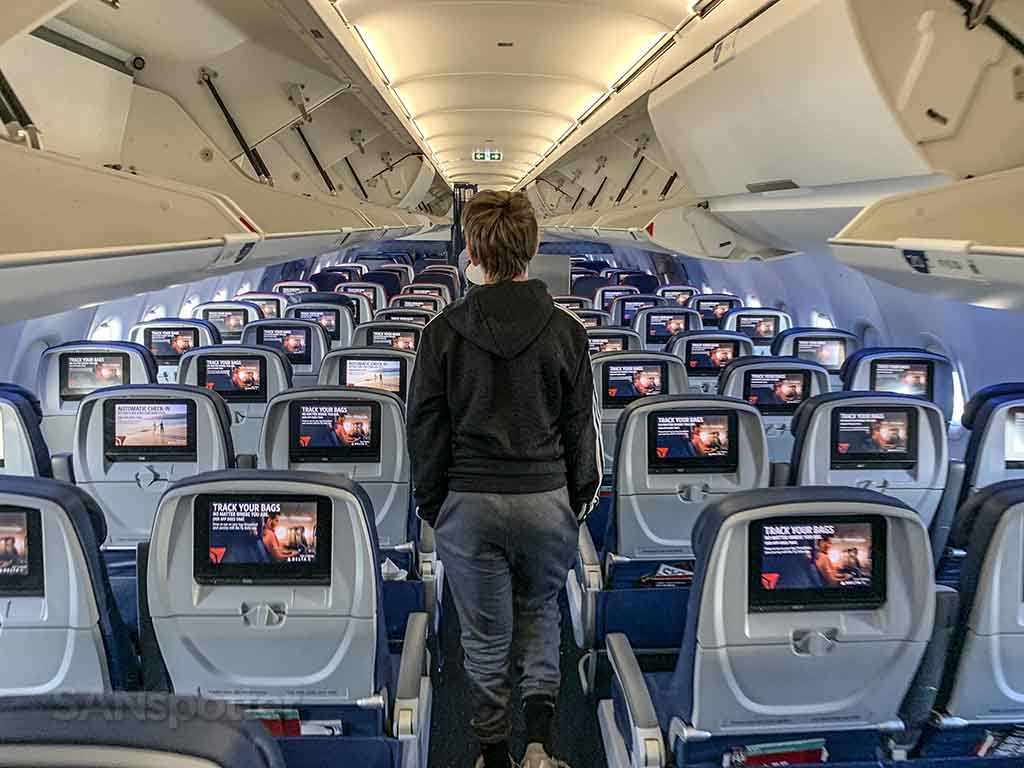 Winner: Delta (9pts) / Loser: American (6pts)
What about the food? Which airline does it better?
Again, this could be the topic for an entire article in and of itself, but I'll do my best to sum up my thoughts on this matter as briefly as possible.
When it comes to in-flight dining and snacks, comparing American Airlines vs Delta isn't all that difficult. Both airlines offer the same kinds of food in every cabin, though the quality isn't exactly the same. Let's have a look at the individual cabins:
Economy class (domestic)
As you might expect, The domestic economy class cabins are where most of the overlap happens. Both American and Delta offer complementary snacks and beverages, while supplementing it with a menu of other more substantial items you can choose for an extra fee.
Economy class (international)
Again, nearly identical overlap here. All snacks and beverages are complementary – including alcohol. Full hot meals are served on both, and I do give a slight edge to Delta for a smidgen better quality. That's just my opinion anyway.
Premium economy (domestic)
Both Delta and American offer upgraded meal options in domestic premium economy. The quality and the amount of food depends entirely on flight length, but the most important thing to note is that you're only going to get a full meal on select flights (generally coast-to-coast flights over 4 hours). All snacks and drinks are complementary.
I will note that I found that Delta cabin crews seem to be more proactive and attentive than American crews in regards to keeping premium economy passengers happy. I can't count the number of times that a Delta flight attendant has come through the aisles in Comfort + with a snack basket during the course of a flight. That has never happened to me in American Airlines premium economy.
Premium economy (international)
In addition to complementary drinks and snacks, both airlines provide upgraded (near business class quality) food in their international premium economy products. Again, I give a slight edge to Delta for a better menu. For comparisons sake, here is what American is offering.
First class (domestic)
All snacks and drinks (including alcohol) are complementary in American and Delta domestic first class. As well, hot meals are served on flights longer than three hours.
However, based on my own personal experience, Delta absolutely mops the floor with American when it comes to the quality of the first class meals. Not only that, I've heard a lot of complaints lately about American Airlines domestic first class food catering, so I'm definitely not alone in this thinking.
First class (international)
No contest, primarily because Delta does not offer an international first class product. I will say, based on my own experience and what I've heard from others, the food in international first class on American Airlines isn't any better than what you would get in business class.
Business class (international)
All snacks and drinks including alcohol are complementary in international business class on both airlines (duh). The quality of the food is slightly different though, with Delta offering some of the highest quality airplane food in the sky at the moment.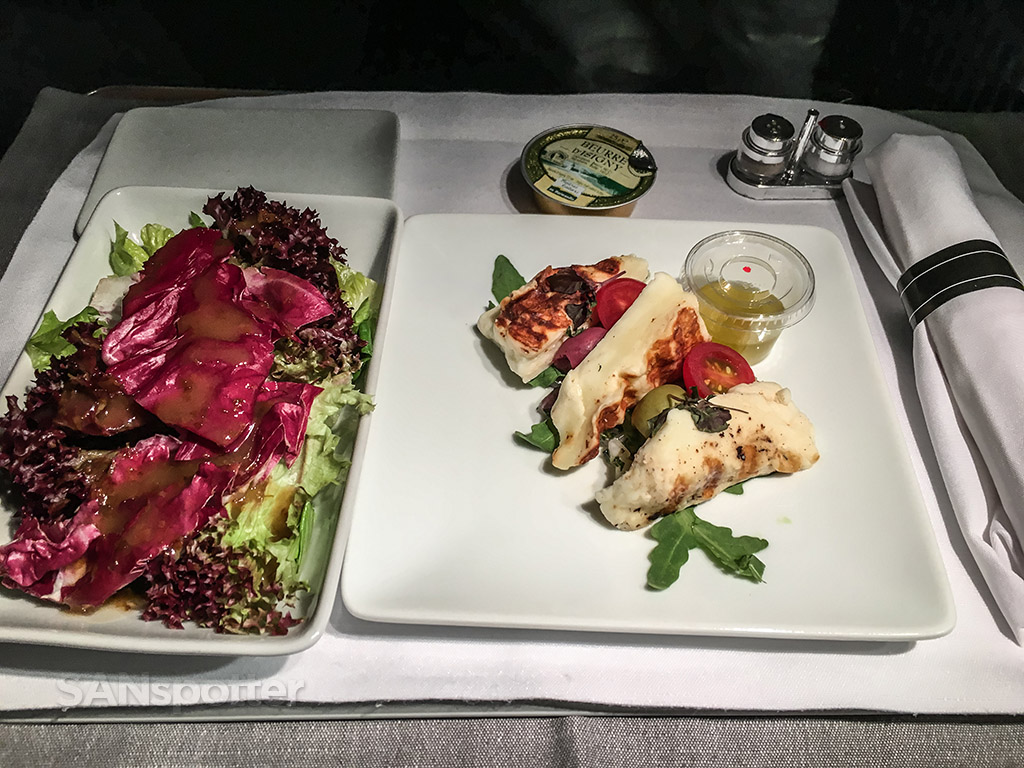 Don't get me wrong. American Airlines business class food can be really good at times, but I'm giving them a lower score because of how inconsistent they seem to be. Sometimes it's good, and sometimes it's just not. Delta delivers every single time.
Winner: Delta (8pts) / Loser: American (6pts)
Comparing the frequent flyer programs: SkyMiles vs AAdvantage
I personally don't have much to say about the respective frequent flyer programs of either of these two airlines, because (quite frankly), they both suck.
Both SkyMiles and AAdvantage are revenue-based programs, meaning the you earn points and status based on how much money you spend – not by how far (or often) you fly. This makes earning points and status difficult for anyone on a budget, and as much as I hate to say it, is exactly the way things ought to be. Airlines are for-profit businesses, and it behooves them greatly to reward their most valuable customers.
When comparing SkyMiles vs AAdvantage award redemptions, American Airlines is slightly more generous than Delta. For example, good luck finding a business class seat on a Delta A350 or 777 (or any aircraft configured with the updated Delta One suites) between the US and anywhere in the world for under 350,000 Sky Miles. That's flat out robbery!
In contrast, I've had much better luck finding good deals on American AAdvantage award redemptions (even international first class). And for that, American gets another win in this comparison:
Winner: American (7pts) / Loser: Delta (3pts)
Delta vs American customer service
The easiest way to determine who wins this category is to spend a few minutes scrolling through the twitter feeds of both American and Delta (be sure to read the comments on each post). Maybe it's just me, but I tend to see far more "I'm never flying your stupid airline again!" tweets from angry American Airlines passengers than anyone else.
Delta isn't perfect of course (no airline of that size could ever be), but their customer service seems to be more in tune with the needs of their customers. Again, this is my opinion only based on all the airline-industry blogs and social media I consume on a daily basis.
Thankfully, I've never run into a situation where I needed an employee of either airline to help untangle a mess for me. That being said, I've been proactively upgraded from domestic economy to first class on Delta more than I have on American. Come to think of it, that has never once happened to me on any American Airlines flight!
I've also been given free drinks (alcohol) on Delta for simple things such as agreeing to be reseated so a family could sit together. Wanna guess how many times that's happened to me on American? Nada.
It's a hardly scientific conclusion, but…I'm of the opinion that Delta employees are (generally) happier and more helpful than American Airlines employees.
Winner: Delta (8pts) / Loser: American (5pts)
The final score: which is the better airline?
I didn't really mean to hate on American Airlines as much as I did in this post, but it just sort of happened naturally once I started quantifying everything with numbers. And to prove how much I don't hate them, I did say some really good things about AA in my American Airlines vs United comparison.
Anyway, the final score in this comparison is:
Delta:
96


American:

87

So…what is your option? Do you agree with my comparison? And more importantly, would you be interested in seeing other comparisons such as this? Do let me know!