I sort of knew that I was going to regret flying Alaska Airlines to Florida, and it all started when my parents asked me for my flight details so that they could prepare for my arrival. "Alaska Airlines flight number 760 from San Diego" I said, already holding my face in the palm of my hand in anticipation of a confused reply loaded with silly questions.
You see, Alaska airlines isn't very well-known in the eastern part of United States, as it's only been in the past few years that they've made an aggressive push eastwards in an attempt to grow their network beyond the West Coast. Simply saying the words "Alaska Airlines" is enough to make some people in the east (such as my parents) think of old and rickety DC-3's flying pallets of fresh salmon down from the Arctic.
"No mom, they are actually a major airline with a hub in San Diego, and they fly to a lot more places than just Alaska. Including Orlando." A long and awkward pause followed, and I knew that I would be spending a majority of this trip explaining the Alaska Airlines business model over and over to my entire family.
AS760
San Diego, CA (SAN) – Orlando, FL (MCO)
Saturday, March 24, 2018
Aircraft: 737-990/ER
Registration: N486AS
Duration: 3 hours 59 minutes
Seat: 4A (first class)
Fancy a video to go with this written trip report? Ask and ye shall receive (soundtrack courtesy of Epidemic Sound):
I love flying out of San Diego International Airport (most of the time). Its not so fun when I have to get out of bed at 3am to catch a 6am flight, and flying out of terminal 1 sucks pretty bad too.
The pinnacle of suckage involves a 6am flight out of T1, but thankfully I didn't have it that bad this morning because my flight wasn't scheduled to depart until 10-ish. So things were only half sucky, and I tried to keep my mind focused on the positive as I walked in and queued up in the security line.
I did fairly well timing my arrival to the airport so that I wouldn't have to spend very much time waiting before the flight. There is absolutely nothing to do here in terminal 1 ("Circle of Death" sounds better don't you think?), and good luck finding a quiet place to sit and relax.
This terminal is far too overcrowded at most times of the day thanks entirely to Alaska Airlines and their very aggressive growth here in San Diego over the past few years. They have pushed terminal 1 to it's absolute limits, and it's going to be so much better when they move over to terminal 2 east soon.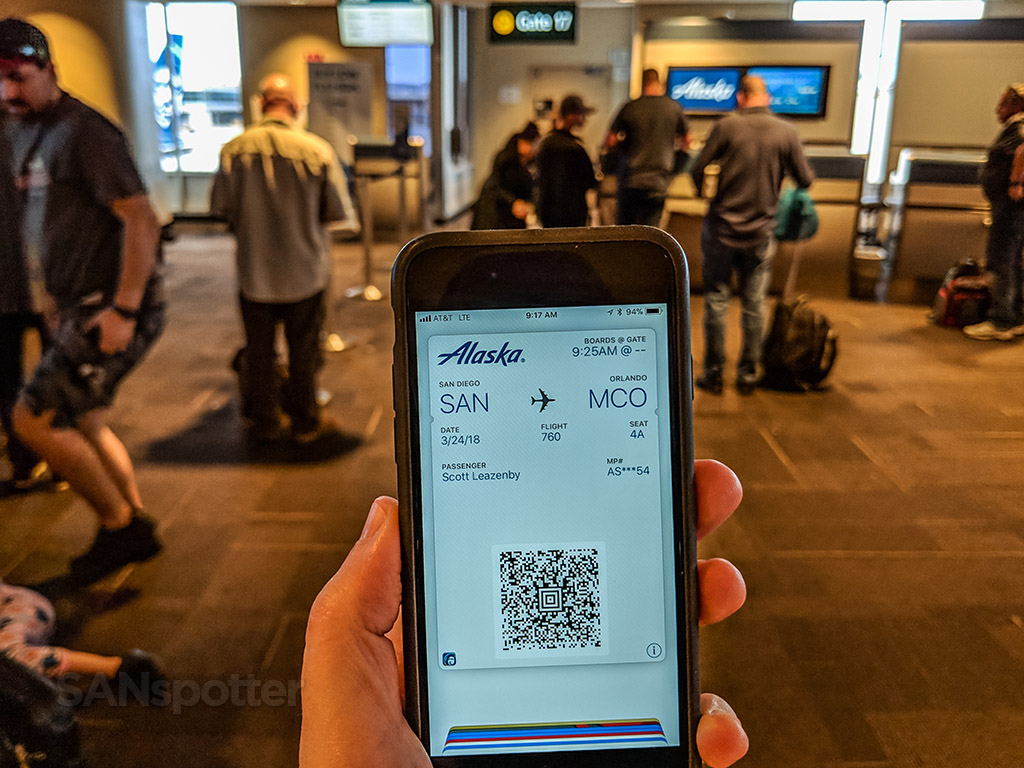 The pain of being stuck in the Circle of Death for more than 20 minutes caused me to not even notice if we boarded on time. I think we did, but I really can't say for certain.
It's been several years since I've last been in Alaska Airlines 737-900 first class, and I guess I was sort of expecting things to be a little bit different than last time. I mean, they just swallowed up Virgin America, so it would seem logical to think that maybe they learned a thing or two from that transaction about being hip and offering a fun and competitive first class product. My hopes were high as I walked down the jet bridge and onto the plane.
Unfortunately, I quickly discovered that this was the same old Alaska Airlines 737–900 first class product that I remembered from several years ago. Absolutely nothing had changed – the seats were still exactly the same and covered in that familiar blue leather-like material (there's no way that's real leather), and the Alaska-style markings on the bulkheads hadn't changed either.
(Update: the all new Alaska Airlines first class product is much better!)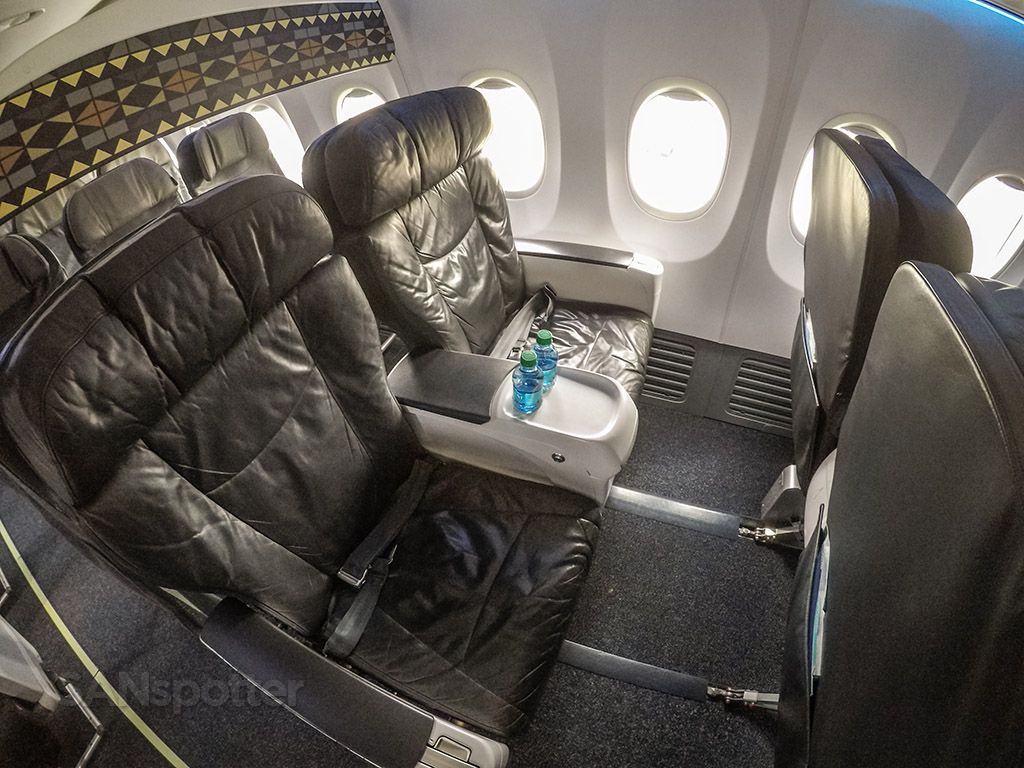 Despite things looking the same as I remembered from last time, there was one big change that didn't reveal itself until all of the first class passengers were onboard and we were just about ready to push off the gate. That's when the flight attendant came through the cabin handing out menus for the lunch service.
It turns out that Alaska Airlines had just revamped their entire menu several weeks prior, offering a much higher quality product with some very delicious (and fancy) options. My last meal in Alaska Airlines first class was hardly memorable, so I was very much looking forward to giving this new menu a try.
For the record, I actually pre-ordered my meal on the Alaska Airlines app several weeks prior, which ended up being unnecessary since both options were still available when the orders were taken.
It was a dark and gloomy departure out of San Diego this morning, but the skies cleared and the sun shined just as expected just minutes after take off. It's always a treat to look down on the city I love so much, though it does make me start to feel a bit of homesickness even before the trip really begins.
The flight attendant came through the first class cabin handing out little balls of fire (extremely hot towels) 10 minutes after departure, and it wasn't long before they came through again taking drink orders.
A little unexpected treat was the fact that they also served warm nuts with the drinks, which really hit the spot considering that I was starting to feel hungry. Remember, I flew out of terminal 1 this morning, which has very few options for a quick and delicious breakfast.
Next up was the distribution of portable video players, which was complementary for all first class passengers. These same video players were available to those in coach today as well, for a cost of $10 per person. I passed on it, not exactly feeling in the mood for movies or TV. Lunch was the only thing on my mind at this point, which was perfect because that's what's coming next…
Overall, the lunch service on today's flight was pretty good, though a bit on the slow side. I was seated in row four, and by the time the flight attendants reached me, the people in the first two rows had already finished their meals and were waiting for their trays to be cleared.
So, I guess that means if you want to be one of the first ones to eat on Alaska Airlines, you need to sit in the first two rows. Those of us in rows three and four had to suffer a bit as we waited our turn to feast.
I devoured my meal completely, making me realize that I was much hungrier than I thought I was. It wasn't the best first class meal I've ever had, but it was pretty darn tasty and I had no complaints.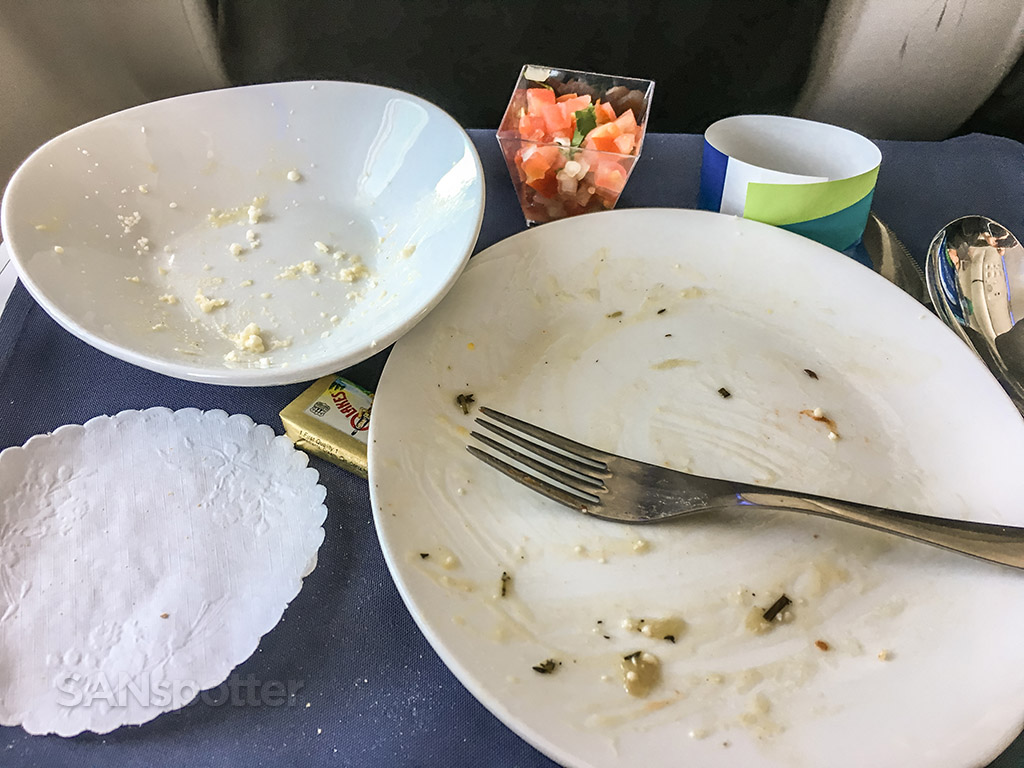 But wait, there's more! Another unexpected little treat were the little containers of Nancy's Fancy vanilla ice cream they handed out about an hour after the meal service. I
thought for sure that there would be nothing else other than a snack basket for the rest of the flight to Orlando today, but they came through in a big way with that ice cream and I had fun for the next 30 minutes chiseling away at it with the fork they served it with.
It eventually thawed enough to eat, and it was a nice and flavorful complement to the view outside of my window as I bobbed my head to an eclectic selection of music.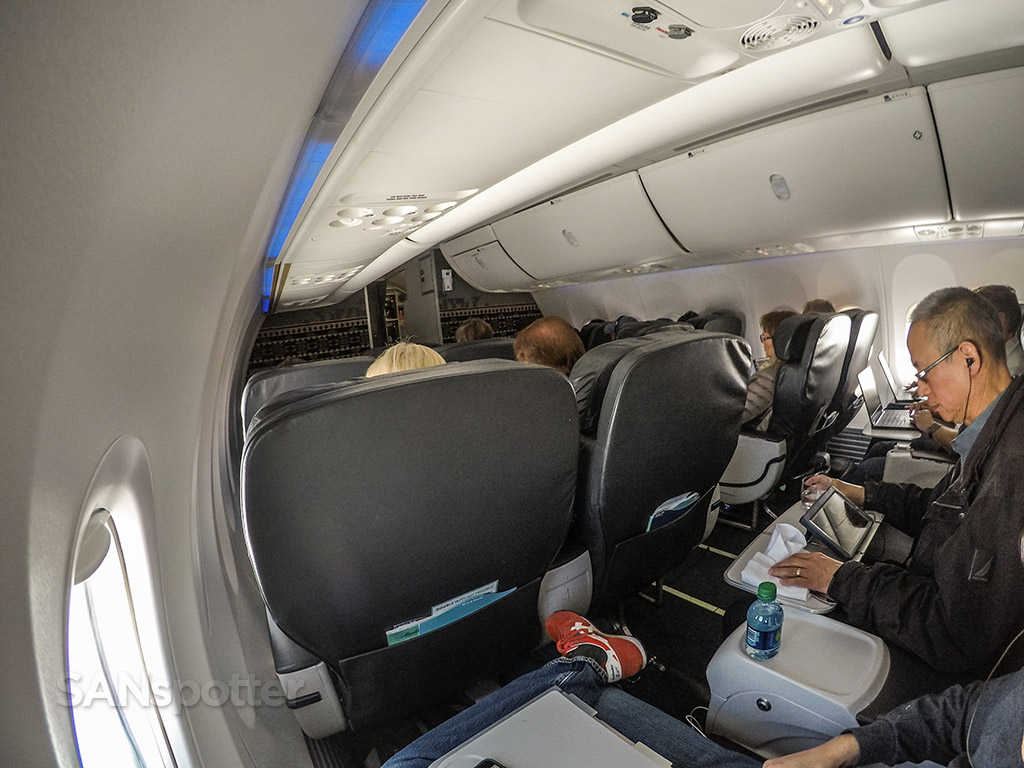 I think I napped for a little bit once I came down from the sugar high, because I woke up just as we were approaching the Western coast of Florida. We came in right over top of Tampa, which seemed odd to me considering that it's so much farther south than Orlando and it seemed to be a little bit of an awkward way in to MCO. But then again, I'm not a pilot so what do I know?
The most interesting thing about the approach into Orlando was the fact that there weren't any clouds in the skies above Florida today. Seriously – flying into Florida in the late afternoon can be a scary experience with the notorious storms that bubble up here on a daily basis, but there was none of that happening today.
It was the most beautiful and clear landing that I've ever experienced at any airport in Florida, and it honestly felt a bit weird. The last time I flew into MCO, the storms were fierce and the butt-pucker factor was pegged in the red zone.
Once on the ground, the pilot left her in high gear and we darn near flew over to our arrival gate. It was the fastest taxi that I've ever experienced, and combined with the sunny blue skies overhead, it was sensory overload.
Unfortunately, that fast taxi over to the gate sort of bit us in the ass because we had to sit and wait for about 20 minutes for our gate to open up. I'm not sure what the hurry was if our gate was already occupied, but they were very much in a rush to get us over there as fast as humanly possible. Weird.
The only benefit for having to sit there and wait was the fact that it gave me some time to think about how I was going to respond to all of those silly Alaska Airlines questions I was sure to get from my family over the coming week.