01. Introduction: San Diego to Anchorage on Alaska Airlines
02. Alaska Airlines first class San Diego to Portland
03. Alaska Airlines first class Portland to Anchorage
04. Comfort Suites Anchorage Airport
05. A day and a half around Anchorage
06. Alaska Airlines Board Room Anchorage
07. Alaska Airlines first class Anchorage to Seattle
08. Alaska Airlines first class Seattle to San Diego
Most people would probably call me crazy for flying all the way to Alaska and only spending a day and a half there. My wife certainly thought I was nuts – and the reason why she didn't go with me was because she totally dreaded the thought of spending that much time on airplanes and in airports vs. the total amount of time spent on the ground. Yeah, I'm not denying that it was sort of stupid. I have been wanting to take her to Alaska, but since I only had a short amount of time off of work to spare, I decided to go anyway and enjoy it as best as I could.
Day 1: June 7, 2014
My flight arrived into a dreary and gray ANC in the early afternoon, and my first priority after landing was to grab a rental car and find that awesome spot for aviation photography that I discovered during my last trip here over 14 years ago. I honestly had no idea where it was (I didn't even check out any maps of the area beforehand), and I thought that it would be easy enough to find simply by driving around the perimeter of the airport and following the airplanes.
It didn't quite work out that way. I drove around until I saw some aircraft landing on 7R, then tried to find some roads that would take me as close as possible. Google maps on my iPhone wasn't much help, as the network connection around the perimeter was spotty at best – so it was pretty frustrating trying to find it. I eventually gave up, thinking that the spot I was at 14 years ago must have disappeared – and I was totally bummed.
With nothing else to do, I drove back to the airport entrance and decided to drive around the other way to see if I could find another photo spot. Jackpot! After all these years, I thought that the photos I took were from 7R – but the perimeter road that goes along the west side of the airport (along runways 14/32) was the awesome spot for aviation photography were I spent an afternoon all those years ago. I parked the car, pulled out my photo gear, and was in my happy place for the next 4 hours.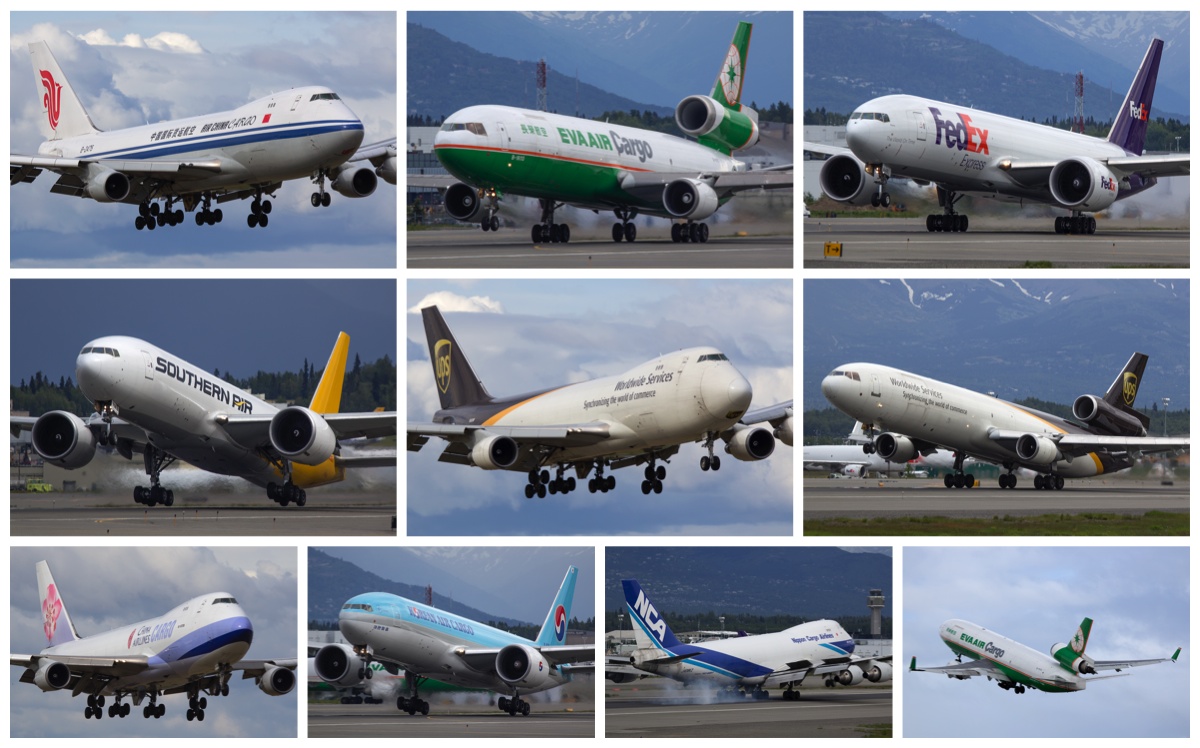 Hunger (and a strong desire to use the bathroom) got the best of me shortly before 5pm, so I set off in search of the hotel (Comfort Suites Anchorage Airport).
Once at the hotel and checked in (and freshened up), I decided to try and find a local grocery store to grab some healthy food to bring back to my room.
I ended up finding a place called New Sagaya City Market, which was decent – but expensive! I quickly grabbed some tuna, crackers, yogurt, and some fruit and drove back to the hotel so just sit and relax for the rest of the evening. I watched a bit of TV after dinner, then fell asleep shortly thereafter.
Day 2: June 8, 2014
The morning of my second day in Alaska greeted me with light rain and cool temps, but none of that discouraged me from the drive that I had planned. Perhaps "planned" isn't the best word to use here, since I didn't really have any plans at all. The only thing I knew for certain was that I wanted to drive south on Hwy 1 (towards Seward), but other than that, I was going to totally wing it.
I was showered, dressed, and fed by 9:30 and I headed out in search of some really good scenery. It didn't take long to find it! You don't have to drive too far outside of the city limits of Anchorage to see some really pretty landscapes, and within 20 minutes I found myself revisiting the same sights I saw back 14 years ago. Luckily, it hadn't changed a bit and it was still as spectacular as ever.
I kept driving south on Hwy 1, seeing the signs for Seward being about a hundred miles away. "I'm not going to go that far today" was what I kept telling myself, but I kept driving along, the distance becoming shorter with each passing mile. "Maybe…it depends how I feel" was my next line of thinking, just as I was trying to find a place to stop and use a bathroom. I saw some signs for the Portage Valley Cabins and RV park just off of the Portage Glacier Hwy, so I decided to venture down that way to see if there were restrooms there.
But I found something better. Much better. A quiet turnout overlooking a small lake and huge mountains on the other side. Absolutely mind-blowingly beautiful:
From there my sense of adventure had heightened quite a bit, so I committed myself to drive all the way to Seward. I knew that it would be another 90 minutes of driving, but I figured that it wasn't that far so I might as well go for it.
It was a beautiful drive, as expected. I drove it non-stop without any breaks, so unfortunately, I didn't get any pictures along the way.
I really had no idea what to expect of Seward, but after driving through miles upon miles of vast nothingness, I was relived to see that it was a pretty established town with lots of shopping and restaurants.
I was able to gas up the rental car, stroll the docks along the harbor, and stop by a big grocery store to get a salad from the salad bar for lunch (which I ate in the car in the parking lot of the grocery store – not very adventurous I know).
All in all, I spent about an hour total in Seward before heading back to Anchorage. The drive back seemed to go by much faster than the drive out, but I was totally ready to get out of the car for two reasons once I made it to the city: 1). I was exhausted from all that driving, and 2). the weather was shaping up to be pretty nice and I was anxious to get back out to ANC for more aviation photography.
I made a quick stop at a grocery store to grab some food for dinner later, then dropped that off at my hotel and grabbed my photo gear. From there, I made a beeline straight to the photo spot along runway 32 for a great afternoon of aviation photography. I was a happy boy with the photos I got that afternoon:
I stayed at ANC until 6pm (ish), and then returned the rental car and grabbed a shuttle bus back to my hotel. I promptly ate dinner, watched a bit of TV and a movie (Vanishing Point) while packing. I was beat – but very satisfied with what I had accomplished during my stay.
I went to bed very early knowing that I'd have to be up very early for my 7am flight down to Seattle the next morning.